What are the mistakes new freelancers make? Plenty. And it's generally because you don't know what you don't know…
Starting out as a freelancer isn't easy. There are mistakes you'll make along the way. When I first started, I made some pretty bad ones. Ones that cost me money and ongoing client work.
If you don't want to make these same mistakes, you'll find the rest of this blog post invaluable.
In the beginning, I started out looking for jobs on sites like oDesk, Elance (both now Upwork) and Freelancer. It's likely you'll do the same, although you should definitely spread your net far wider if you want to diversify your income sources.
There is nothing wrong with getting jobs from these sites, despite what others may say, I established myself as a freelance writer quite well on oDesk (now Upwork) and always found great clients to work with.
[Tweet "There is nothing wrong with getting jobs from outsourcing sites…"]
No, the issue isn't in getting jobs here, the issues arise when you're a new freelancer, just starting out and not really knowing or understanding the 'lay of the land' so to speak.
To help you out, even if you're an experienced freelancer—some of these might still hit home—here are the top seven mistakes new freelancers make when starting out freelancing and how you can avoid making them too.
7 Mistakes New Freelancers Make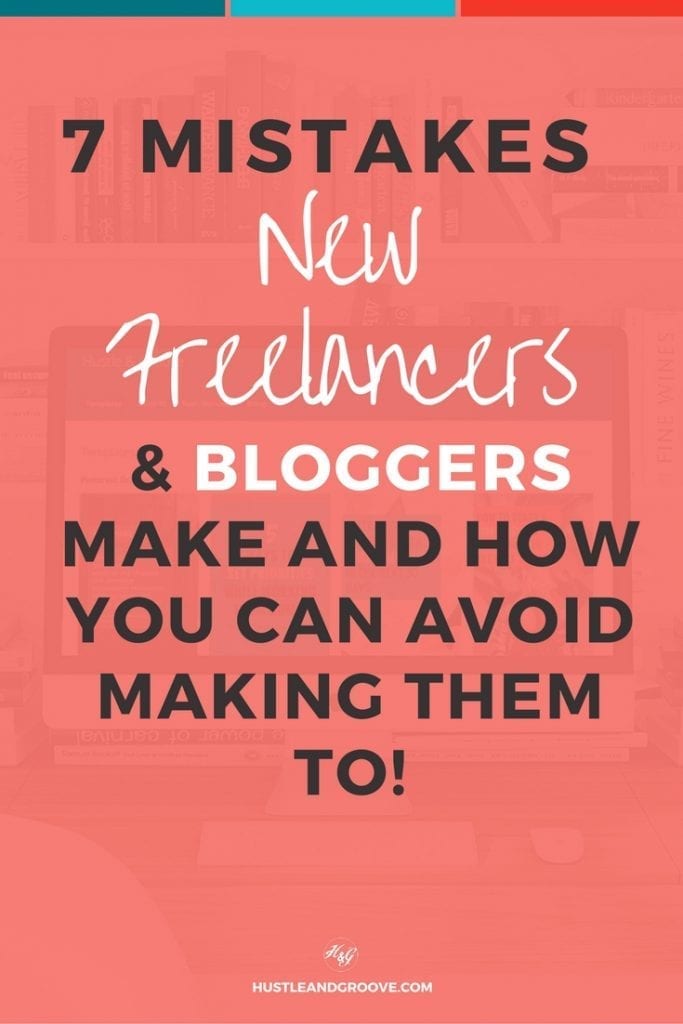 Mistake 1: Time (miss) Management
When I first started freelance writing, I was still working my 9-5 job. I made the mistake of not scheduling my deadlines in and missed a few, which resulted in the loss of a great client and a bad review on my oDesk profile.
I learned this lesson the hard way.
You can avoid this by making sure that you schedule in your deadlines, but make sure that you schedule them to be completed 24-48 hours AHEAD of the actual due date. This way you've got a bit of a buffer if other stuff comes up!
Mistake 2: Charging Too Little for a Job
This is probably one mistake I regret the most.
When I initially started on oDesk, I was charging low rates, because I didn't have a profile rating. And while this is a good strategy initially, you should move to charging higher rates within 3-5 jobs or within your first month on the Upwork platform.
I didn't and got stuck with a low rate for months. It sucked big time and made it quite difficult to raise my rates with existing clients.
Aim to charge what you're worth as quickly as possible, regardless of where you're getting jobs from.
Mistake 3: Lack of Clarification
This is probably one of the more common mistakes new freelancers make, and not just as a newbie. It can happen to experienced freelancers too.
Communication is key in any relationship and this is even truer when you work with clients remotely. Make sure that you understand the client requirements from the get go.

I made the mistake with one job of just running with what I thought they wanted, only to find that when I delivered the work, it was nothing like what they needed. I had to re-do the whole thing again. Super annoying and also a cost in my time.
Ask questions if you're not sure of anything and always clarify back to the client what they want with each job you receive. That way they have the opportunity to make changes or clarify things if you haven't understood exactly what they need.
Be sure to add this to the contract as well, so it's down in writing should anything go awry…
Mistake 4: Picking the Wrong Clients
I made this mistake with the first client I worked with on oDesk. They weren't payment verified and I never got paid for the $1,000 worth of work I did! It can be an easy mistake  to make, particularly if you're not familiar with working with clients remotely or just new to freelancing in general.
There are a couple of things you need to make sure are in place if you work with a client on sites like Upwork.
make sure that their payment method is verified,
make sure they have positive feedback on their profile, and
make sure you can clearly see who the company or person is that you will be working with.
If you're working direct with a client, make sure you have a contract in place that outlines everything, including how and when you'll be paid.
NEVER work with a client if they can't provide this information to you.
Mistake 5: Getting Angry at Clients
This can still happen now! Sometimes, you might not agree with what a client asks for or directs you to do.
This happened to me within the first 3 months of my freelancing career. A client emailed me and asked me to make some ridiculous changes to a document that was outside the scope of the initial project.
Instead of simply clarifying and stating that this work would cost extra, I sent back an email rant about how unreasonable the client was being!
Oops, definitely a big no-no.
As you can imagine, the client promptly ended the job and I lost a client. Want to avoid doing the same?
Re-read through your emails before you send it to a client and keep your emails direct and clear.
If you still can't figure out what's going on, arrange a phone or Skype chat and get it resolved as quickly as possible.
And if you need to vent, do it with a friend or peer, never to the client.
Mistake 6: Doing Work You Don't Like
I know that there is a line of thought around taking on every and any job that comes your way when you start freelancing, but I would caution doing this.
It is one of the quickest ways to send you scrambling back to your job, because doing a whole bunch of work that you're not interested in is a quick way to kill your freelancing dreams.
It's also a quick way to find yourself doing things you don't like, just because you're good at them.
No matter what, stick to your guns and only take on work that aligns with where you want to take your freelancing career.
Make these strategic decisions early on and you will see your freelancing career expand and grow that much quicker.
Mistake 7: Taking on Work You Can't Do
"Fake it till you make it," right? No. This should not be taken literally when it comes to promoting a skill you can't actually do.
This saying is more of an attitude to adopt rather than something to put into practice from a skill point of view.
NEVER say that you can do something if you don't have some idea of how to do it or a way to get it done in the timeframe the client is looking for (i.e. you can outsource it).
Clients are savvy and know when you don't know what you're talking about. Stick to what you know, can learn quickly, or outsource and you'll have a much better time at finding and retaining clients.
The Key Takeaway
The key to avoiding these mistakes new freelancers make is being aware of them.
Bookmark this page so that you can come back and check to make sure you're not making them with each client you take on.
I still run through this mental checklist when I'm looking at working with a new client.
[Tweet "The key to avoiding these mistakes is being aware of them."]
Awareness is key. Keep your eyes wide open and stay true to who you are as a freelancer and you'll enjoy success much faster than if you're making all of these mistakes.
Have you made any of these mistakes? How did you deal with them? Leave your comments below!