As a service-based business owner, you need the right tools and apps in your arsenal to ensure you're successful.
Without the right tools and apps, you could find yourself wasting time on things that you shouldn't be wasting time on, such as chasing clients for payment, managing deadlines, and managing projects…
When I first started out, I didn't have a clue what tools I should be using nor what ones would work best for me.
A lot of it can be trial and error too, as what might work well for you, might not work well for another. If you're anything like me though, you'll love this list I've pulled together for you! Shiny new objects anyone?
These are the tools I use every day in my freelancing business. If you're new to freelancing, you might not recognise them, but I'm sure that you'll find at least one or two of these are already in your arsenal…
7 Tools and Apps for Successful Freelancers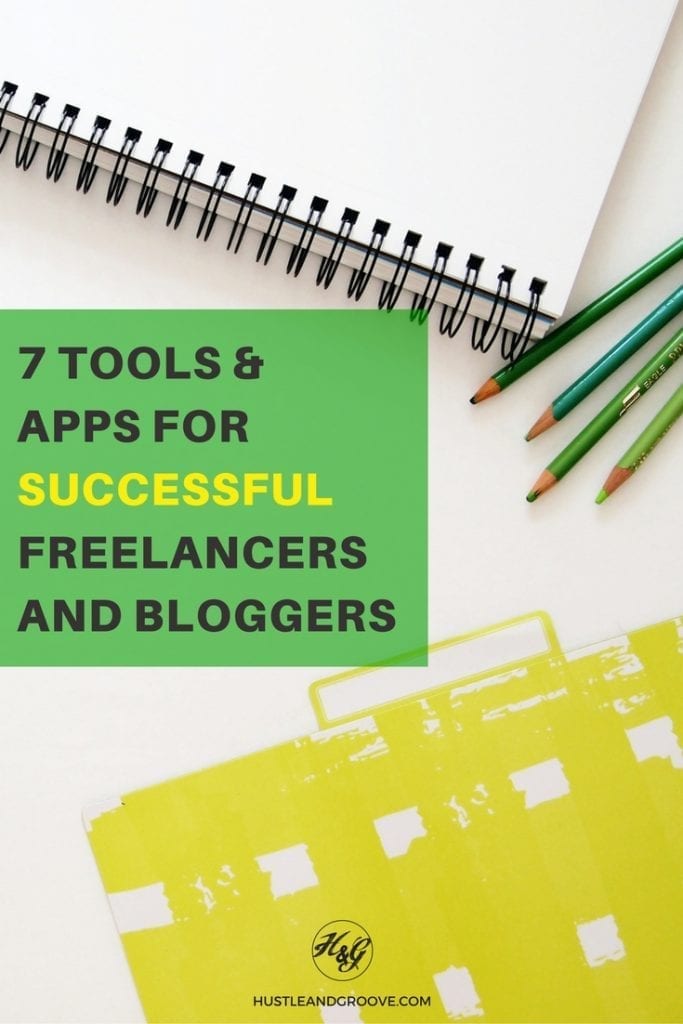 1. Dropbox [WIN/MAC/iOS/AND]
I have a pro subscription to Dropbox which gives me over 1 Terabyte of storage. I store EVERYTHING here. This means that I don't 'store' anything on my physical hard drive (…this isn't quite true. If you have the Dropbox app on your computer, it stores files both locally and in the cloud, something to be aware of). If you don't want to have all your files synced and stored locally, taking up valuable space on your hard drive, read on to learn what to do.
The easiest way around this is to use the "selective sync" option. This is where you choose the folders that you want to always have access to, and then deselect everything else. I only have the projects I'm working on right now synced across all my devices, and my screenshots (these save directly to Dropbox!). Everything else I can access via the web interface. It's important that you backup whatever you are NOT syncing to your computer. As Dropbox then becomes your archive, not a backup. You still need a backup of you archive, right?!
2. Google Docs [WIN/MAC/iOS/AND]
I use Google Docs with my team, whether that's writers, my VA or my clients. I like to keep everything in the cloud, so that should anything happen to my precious Macbook Air, it doesn't matter because I can jump on my iPad or another computer and have immediate access.
Google Docs has some pretty robust features and if you don't have Microsoft Office on your computer, it's the perfect replacement.
Once you're ready to "ship" a document, you have a variety of options when it comes to downloading it. My favorite is that you can convert any of your documents to PDF, which is awesome if you're on a Windows machine, where that option isn't available in older versions of Microsoft Office.
3. Trello [WIN/MAC/iOS/AND]
This is my go-to project management tool. It connects to Google Drive and Dropbox and is one of the "prettiest" tools I've used to manage projects. I've tried things like Asana and Basecamp and neither were overly user-friendly from my perspective.
What I love about Trello is that it's visual. I create a "board" for each project and then assign "tasks." Those tasks are displayed like small 5×9 cards and you can add people to each task, as well as assign colors and due dates.
4. Freshbooks [WIN/MAC/iOS/AND]
This is my go-to accounting program. Completely in the cloud, it allows me to have up to 25 clients for $19.95 per month. I can invoice them, track time against specific projects, and track expenses.
Freshbooks will automatically send out recurring invoices and will also handle late payment notifications and allows clients to pay me via Paypal, credit card, or direct credit (if local).
5. Todoist [WIN/MAC/iOS/AND]
Used in conjunction with Trello and Google Calendar, Todoist is my daily to-do list that keeps me on task. I have the pro version ($36 per year) that gives me access to unlimited projects and labels as well as keeps track of how productive I am in a day.
Between Trello and Todoist, I never miss a deadline!
6. Evernote [WIN/MAC/iOS/AND]
Evernote is my virtual notebook. I use it for everything. I keep all my ideas, thoughts, and project notes in Evernote. I love the app on my iPad, and this is where I use it the most.
Add Skitch into the mix, and you can annotate pictures that you upload (including screenshots or clips from the web) for additional ways to keep track of your ideas.
I also have the premium version of Evernote so that I can take my notebooks offline as needed. Evernote is a great place to outline projects and to save research as well, which is how I use it when I'm writing books. Premium is $5 per month.
7. WordPress/OptimizePress2  [WIN/MAC]
On this blog, I run the WordPress platform with the OptimizePress2 theme. I use WordPress for all my websites because it's so powerful and Google loves it.
There are hundreds of thousands of free plugins you can add to a standard WordPress configuration to make it do what you want it to do. I know that there are other options out there when it comes to websites, but my preference for ease of set up and SEO compatibility is WordPress.
Bonus: LastPass [WIN/MAC/iOS/AND]
When it comes to password management, you should NOT be using the same password for all your sites. You should have something different for each one … but that's extremely hard to remember and manage, right? Well LastPass takes care of all of that for you. Once you've signed up, use LastPass to auto-generate passwords for you. You only need to remember the master password. But make sure it's something you remember, because if you lose it, you're going to need to prove who you are to access your passwords again.
I wouldn't be able to do what I do on a daily basis without the above tools in my arsenal. If you'd like to know about even more tools that might work better in your freelancing business, check out my book "101+ Tools, Apps and Programs to Help You Run a Successful Freelancing Business" – available on Amazon in both Kindle and Paperback versions!
Do you have any tools you'd like to add to the mix? Leave your thoughts in the comments below!