What are the best online classes to learn an online business or grow a business you already have? 
Online classes are a great way to learn a side hustle skill. Easy to access at a time that suits you best, you can go at your own pace and they often include lifetime access and free updates. 
Or if you feel stuck in your current small business, enrolling in an online class is often the best way to get unstuck and gain clarity.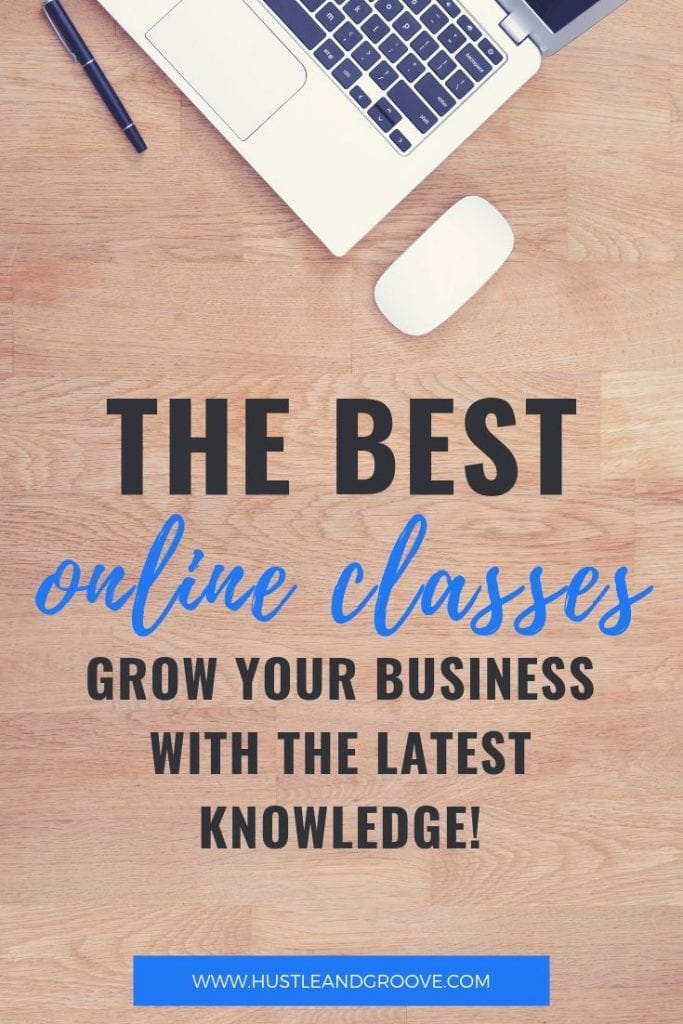 And I get it. You know how to Google to find the answers, but how long does it take to find those answers… I'm all for working smarter, not harder. And even though I'm a self-confessed Googler myself, there are times where I will be like, "Lise, how much time do you wanna spend doing research when you could just pay for the solution and implement almost immediately?"
I'm guessing you can pick which option I roll with. So while I know you're smart, my fellow creative entrepreneur, sometimes you need a little reminder that Googling the answer isn't always your best line of action.
So I've pulled together some of the best online classes to uplevel your side hustle or online small business. Many are suitable for both beginners and advanced. And I guarantee you'll learn at least one thing, even if you are a seasoned creative entrepreneur like moi 😉 
Best Online Classes For Your Digital Business
There are 4 buckets in your business that are always in need of upskilling or simply keeping your skills current. 
The online world is constantly evolving and changing. Keeping up-to-date with the latest information is essential for your business. Those buckets are:
Email marketing

Productivity

Content creation

Paid advertising (FB and Pinterest are my two favs)
Below I've linked to some course ideas that are exceptional in their bucket! Just click on the course title to learn more.

Email Marketing Knowledge 
Do you understand that you own your email list? It's a valuable resource and is said to equate to $1 of revenue per month for each person in your list, so it's well worth mastering.
One of the best all-around courses for building your email list (ahem, shameless plug ?!), this course will show you how to gain 30 new engaged subscribers every month, as engaged subscribers are the most valuable kind to have.
If you're looking to build an email list from scratch, this is a great all-around foundation course. With over 1800 students enrolled and an average review of 4.1, students report liking the examples used, the easy learning style, and expert content.
Learn how to segment your subscribers to create focused email campaigns targeting their specific interests. Learn about opt-in forms and pop-ups, custom landing pages, custom fields, automations and more. 

Productivity
I have a passion for helping people become more productive in their life and work. I also have a passion for helping people create a business they love, which is why I created Hustle HQ, a membership that includes access to my Productive Profit Plan to predicting consistent income month after month. You can learn all about it inside my free training here. 
The first part of the course addresses why overwhelm leads to procrastination. If you've got more on your plate than time on your hands, then you can identify with this problem! Learn how mindset and energy levels affect productivity and develop a plan to improve.
Sometimes productivity comes down to personal confidence. When you can draw on the internal belief you can do more and become worthy of receiving. This course addresses that fundamental issue by uncovering fears, addressing habits, body language and more.  
Designed for the student to complete one lesson each day for 30 days, this course is based on research conducted on already successful business owners, entrepreneurs, and high achievers.
It promises to increase happiness, success, focus, and productivity to achieve your goals on your terms. There are so many interesting topics in this course including understanding gratitude, understanding that crisis means opportunity, and materially improving your health. It could be just what you need to stop procrastinating and take action in your business.  

Content Creation
No, blogging is not dead! It's more important than ever to promote your online business. But changes happen quickly, so updated knowledge is a necessity. 
And since the stats support going all in on video, make your content visible by starting a YouTube channel. 
Good for both newbies and upleveling you existing blog, this class will take you through building a profitable business around your niche and content. Learn free promotion techniques, how to be a better writer, optimization, email list growth, how to build a WordPress site and more.
Ever wonder how to make money on YouTube? Learn about marketing funnels, optimization and conversion, YouTube ads and where to place them, analytics, and more. If you're just starting there's a section for starting a channel too. Grow your small online business using video.
Get purposeful across all social media outlets and strategically create original content. Learn to create, repurpose, batch, brainstorm, social syndication and more. A class for both entrepreneurs and virtual assistants of all levels.
Grow your business by creating exceptional content aimed at your most profitable customers. Create content that is inspiring, motivational, and practical. Learn to build a digital marketing plan focusing on your most important customers and take them on a journey. 

Paid Ads (Facebook and Pinterest)
Advertising on the web doesn't have to cost a lot. In fact, some strategies are completely free. Optimize your time and money by learning advertising strategies to promote your business online. 
As a side note, this is a great niche to start a side hustle business in. Social media marketing is an in demand niche with many online entrepreneurs looking to hire out to experts when they themselves don't have the time to dedicate to it.
Master online marketing in Twitter, Pinterest, Instagram, YouTube, Facebook, Google, and more. This course could teach you the skills needed to start your own Social Media Marketing empire! Learn and master these skills in 8 hours of video that other online entrepreneurs don't have time to.  
This course teaches Facebook marketing from beginner to advanced, all in one course. You could even use this course as a jumpstart to a new side hustle of Facebook Ads Manager.
Pinterest is one of the main drivers of traffic to websites. Don't miss out on the opportunities available for your business by being part of the Pinterest search engine. Learn the basics plus pick up some advanced tips as well.
Bottom Line?
If you want to learn a new skill set and start an online business, these are some of the best online classes to get you started. Take the fear out of the unknown by learning from experts.
On the other hand, if you're already elbow-deep in your online biz and want to upgrade your knowledge and skills, you can use an online class to grow your business too. Use them to keep current in your niche.
Either way, these classes are a great way to stay current in the online business world. 
Action Step
So those are some of the best ideas for online courses for your digital business. What appeals to you? Are you just starting out or are you leveling up and growing your established biz? Let me know what appeals to you or if there are other courses that you're looking for that aren't mentioned or you've used ones that you'd like to share here!
Comment below with your thoughts and suggestions.