Today's guest post is from Sami of Orange Juice Diaries. Sami is chatting to you about how to design your course, something that you might not have thought about when planning and building a course. Make sure you bookmark this one for later, it's a keeper!
From the outside, building a course is a little like magic. You have all of this content in your head; you have an audience; and then, boom, you have a course.
If you're thinking about creating your own, or just curious about what goes on behind the scenes, read on to learn more.
The steps I'm about to share with you are a modified version of the ADDIE model.
ADDIE is one of the big methods in course design today, providing course designers the world over with a flexible sample framework.
ADDIE was originally developed at Florida State University, with the model evolving into its current form in the mid-1980s.
When I built courses for the Department of Defense, our team used a modified version, iADDIE, which I'll break down for you today so you can design your course easily and with less stress.
Building a Course Using the iADDIE Framework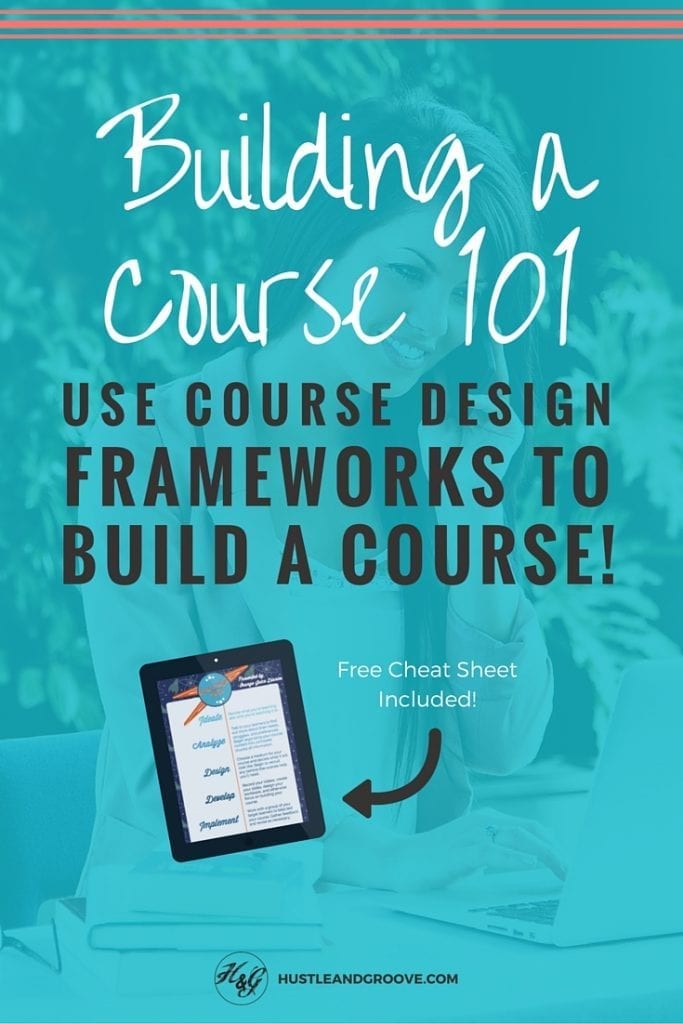 Ideate
Ideation is the first stage of designing your course. You want to figure out what you're teaching and who you're teaching it to.
When it comes to what you're teaching, think about your niche.
What problems do they have? What problems can you solve? More specifically, what will your learner be able to do after completing your course, and what will they need to know to do it?
The answer to this question should be specific. Think "my learner will understand how to use Google Keyword Planner for SEO," not "my learner will be an SEO guru."
The idea here is to come up with something that is concrete, and has specific, actionable steps to go along with it.
It's likely that figuring out what you're teaching will help guide you in answering who you're teaching, but not always.
In our example, SEO is a pretty broad category.
You might have learners coming to you who have only just learned what SEO is and why it's important.
You might also have learners coming to you who have been doing their SEO for some time and are looking to pick up a new strategy.
Are you going to cater to a wide variety of learners, or focus on just one group?

Analyze
This is your time to really get to know your learners.
If you've ever done target market research, you're probably at least familiar with the framework for the process.
The idea is to go out and interact with people who fit into your ideal learner profile. Talk to them, get them to tell you about their struggles, and where they could really use some help.
Ask them about how they fit learning into their day, about what their favorite way to pick up new content is.
Will they access your course from a computer? How about a mobile phone or tablet?
The more information you dig up, and from a wider a variety of sources, the better off you'll be.
It's also time to really look at your content. Make a brain dump of everything someone learning about your topic would need to know, then break it into chunks.
Each chunk should either be a complete piece of knowledge (e.g. how to access the Google Keyword Planner) or an actionable step.
Every chunk should get your learner one step closer towards the overall course goal.
Design
It's time to choose a course delivery method — audio, video, text, module, or something else entirely.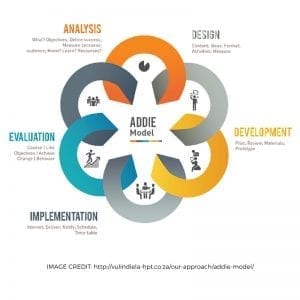 Your decision should be based on both the needs of the course and your learner's preferences.
That SEO course doesn't make much sense in audio format –- your learners may need a visual reference for what to click and where to locate information –- but it could be great in video or workbook format.
Being able to match your learners' needs with an effective delivery style may take some thought, especially if you're teaching something that isn't a cut and dry skill.
If you'll be doing a series of modules, Powerpoints, or workbooks, it's also time to consider how you want them to look.
If you aren't a designer, I strongly recommend finding someone whose vibe you like and whose style appeals to you as a collaborator through this part of the process.
Course design is stressful enough; take any opportunity to relieve some of the pressure when you can.
If you'll need anything else to launch your course successfully, such as building a website for marketing or hosting, or will need behind-the-scenes help to actually create your material, such as a videographer, this is also the time to seek them out.
Develop
This is where you'll put in the bulk of the legwork.
You'll write out your content, create scripts, record audio or video, assemble your workbook, or complete whatever tasks you need to actually build your course.
Expect development to take up a significant portion of your time.
Once everything's built and bug-tested, you might fall into the trap of thinking you're done.
It's so tempting to launch from here, and believe me, I do understand that temptation. You've put so much work in; haven't you earned a break?
Yes, yes, you have. So go, cut yourself a slice of cake, and come back, because there's still two very important steps to go.
Implement
Despite the name, you're not launching yet.
Implementation is a time for you to gather a group of users who are in your target learner pool, and have them actually work through your course.
Your test group doesn't necessarily need to be large, but you should aim for a group of at least 7 to 10 wildly dedicated testers.
You also want your test group to feel comfortable giving you feedback on the course itself, without worry of hurting your feelings.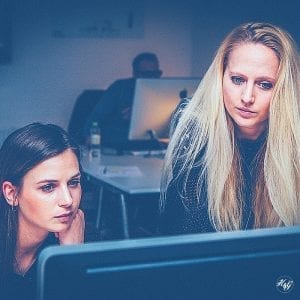 Yes, you've put a lot of time, love, and effort into you development process, but it may not be perfect. Things may pop up. You might find that your approach doesn't quite work.
That's okay.
We implement before we launch because of the one great truism in learning design: you are not your learner.
It's not a reflection on you, or your readiness to build a course. It's just something that happens. User testing lets us find these kinks before we launch, saving us heartache and headache further down the line.
During implementation, you may want to institute anonymous pre- and post-surveys to see what kinds of gains your learners have actually made without the pressure of attaching names to it.
You might also ask your learners to hop on a Google Hangout or phone call with you after going through the course; the idea here is to have them talk about their experience while you listen.
This can be tough, for both learner and designer, especially if the revisions needed are major. Deciding which path to take is really up to you.
Evaluate
Evaluation can be a tough stage because it never really ends.
You'll take a look at your feedback from implementation and adjust your course accordingly.
Depending on how much you changed, you may need to go back and implement again. The implementation-evaluation cycle can be vicious.
If there's a possibility for multiple trips through the cycle, how can you even know when you're ready to launch?
The answer is that it's a tough call. If your test users are able to provide honest, concrete feedback, then you'll be ready to launch when that feedback is mostly positive; if you can't tell if your learners are giving you honest feedback, you may just need to take the risk and launch.
Now, here's the big, dirty secret of course design: it's never really done.
You may need to go back and update or provide additional content. You may need to restructure certain sections. Your course may be built, but it's never really done.
So, there you have it — a brief look inside the black box! It's a lot prettier than making sausage but no less messy.
If you'd like to take a crack at it, check out the free printable I've created for you!


Sami is a course and graphic designer with a M.Ed in Learning, Design and Technology from Penn State, as well as a BA in Art. You can connect with her further at Orange Juice Diaries.