Clarifying expectations with clients, when should you do this?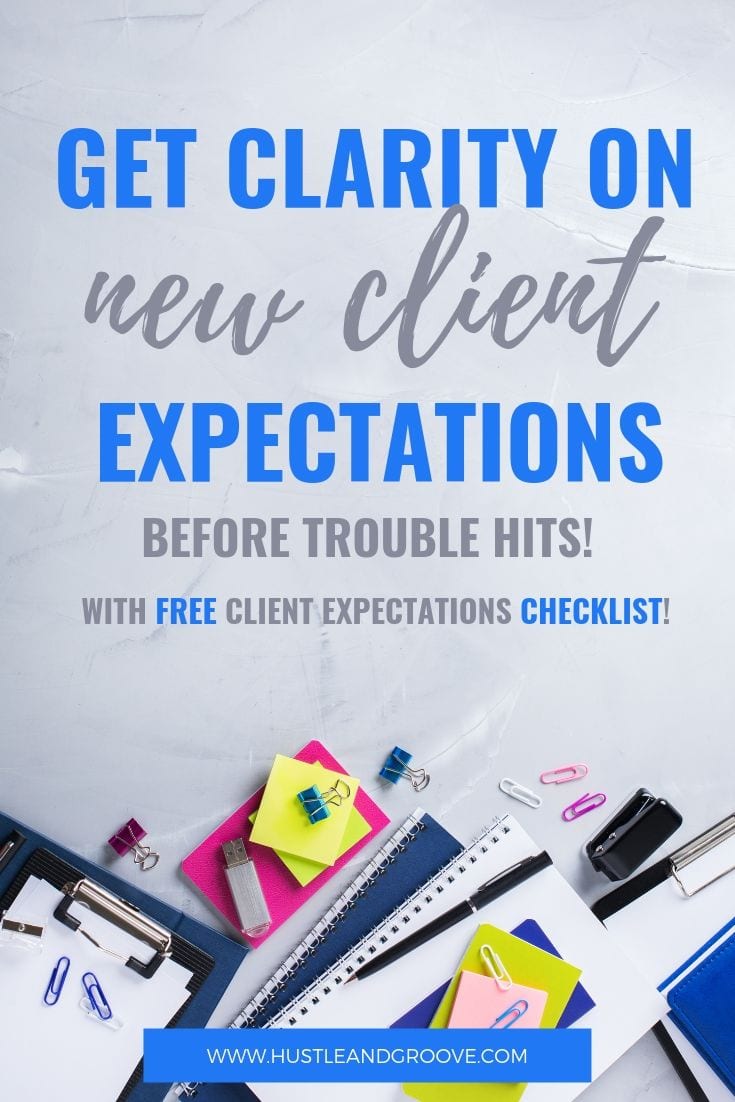 You've landed yourself a client, wahoo! You're excited, ready to hit the ground running when you suddenly realise – you don't actually know when the deadline is, how the client wants the work delivered or whether you need to submit daily progress updates. Ruh roo….
When I started out as a freelance writer, this scenario was a common occurrence…
No matter how professional a client is during the interview phase, that doesn't necessarily mean they have everything organised – and often, they don't know what YOU don't know and you don't know what you don't know… phew! Confusing.
What I like to do at the start of each new client project, is to clarify details with the client.
This helps ensure that I've understood the exact requirements and also lays things out so that everyone knows where they stand. I like it when things are clearly laid out for me.
Tips on Clarifying Client Expectations
Here's what you need to know to make sure you're across everything that the client wants and that you've explained to the client what you expect of them too.
Implement a client contract even if they don't insist on one. It will make your life easier and also restate what you've already spoken about
Clarify with the client about the scope of work, aka what you're being paid to do. If you're unsure, it always pays to restate back to the client what you've understood to avoid any confusion
Make it clear who owns the final product. In most instances, this will be the client, but it pays to make it clear and if it's not the client, make it clear who does
How many revisions will you include in your fee? Make sure that is spelled out to your client so you don't end up going back and forth, back and forth until any profit you were planning to make is eaten up by all the hours you've spent on revisions!
Do you know the deadline? Does this include revisions? Get it in writing
Do you know when you're going to be paid and how? Get that clear upfront and BEFORE you commence any work
If this is an ongoing contract or retainer, make sure you spell out early termination terms
Check to see how often the client wants progress updates and how you'll communicate. Via email, Messenger, text or some other way?
Follow Up With Clients
Once you're clear on the expectations, use this sample email to follow up with a client following confirmation that you've been hired. It restates what you've discussed:
Dear [client name]
I'm really excited to start working with you and just wanted to clarify everything following our interview and subsequent email exchange.
The agreed deadline has been set as 31 July 2020
You would like me to provide daily progress updates via Trello
The final product should be uploaded to the shared Dropbox folder you provided
We didn't discuss image sources – did you want me to create the images for each blog post? I am happy to do this at no extra charge to you.
If you could respond and let me know that I've understood your requirements clearly, that would be great.
I look forward to speaking with you soon.
Many thanks
Lise Cartwright
This is the exact email that I send to clients, with additions etc as needed.
I like to clarify the deadline, progress updates and delivery method. If there is anything else I'm not quite sure of, such as payment etc, I would also include that at this point.
I also like to make it clear that I won't begin work until I hear back from them via return email or the deposit has been made.


Expectations will define the type of experience you have working with a client. It's difficult to provide exceptional work when you don't know what you're meant to be providing.
[Tweet "Expectations will define the type of experience you have working with a client."]

It helps to guide clients in this way because not only does it show that you know what you're doing, it also gives them an opportunity to provide you with further information or make changes.
Clarifying expectations in writing makes it very clear for both parties to understand the outcomes – if the client reads these and decides to revise, it's better that this happens BEFORE you begin work, rather than after the fact.
Action Step
Once you've won the new freelance client, follow-up by clearly spelling out in writing the expectations of both sides. And don't forget to get it approved in writing — adding your signature last so no changes can be made without your consent — with both sides retaining a copy for their records.
Have you had any issues clarifying expectations with a client? Ever run into difficulty getting expectations out of clients? Leave a comment below, I'd love to chat more about how you deal with this issue!