This is a guest post from Kelsie McKenzie. She knows her stuff when it comes to productivity and we were chatting recently about our routines when she mentioned what she does on a Sunday, and I loved it so much that I asked if she'd share her tips below to help you start off your week on the right foot and she agreed!
Lazy Sundays.
We all love them. I used to take lazy Sunday to the extreme. Sundays were for watching shows and reading all day long, never leaving the comfort of my couch. As life started getting more and more hectic, I began to really dread Monday mornings. The thought of tackling everything I needed to get done was just overwhelming.
Eventually, I found myself constantly struggling to keep up. Forget getting ahead on things, I was lucky if I got the majority of tasks completed that week that I wanted to…
I knew things had to change.
So, I turned in my lazy Sundays for a more productive approach.
Don't get me wrong, I still take plenty of time to enjoy my shows and catch up on a good book, but I also use some of the day productively to lower my stress during the week.
10 Tips to Make Sunday's Work for You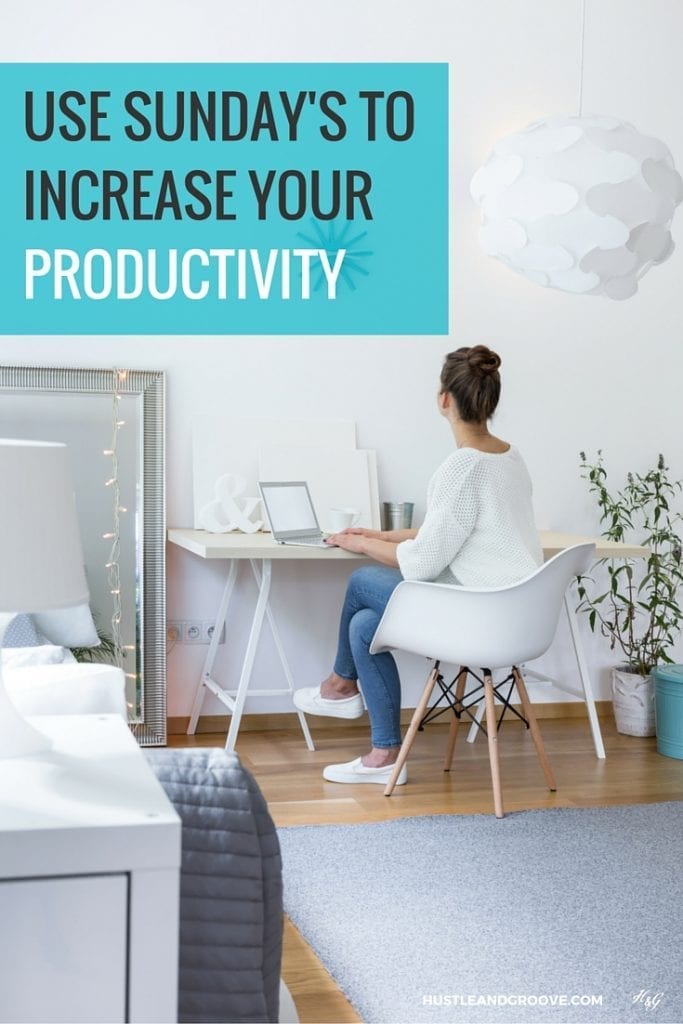 #1: Clean your desk
Do you really need all of those sticky notes? Really…? If you're anything like me (and please tell me I'm not the only one), you have an entire pad of sticky notes spread out across your desk with little reminders…
Now you have a desk full of clutter and a bunch of reminders buried under other reminders.
Rather than leave your desk a sticky note mess, compile all of those notes into a single sheet of paper. After you've created your neat, little list, throw all of those stickies away!
Now you have one list of tasks/reminders that you can easily work your way through.
#2: Prepare/plan meals for the week
How often do you just order delivery or grab whatever is easiest after a long day? That's certainly something we all do! Rather than try and meal plan at the last minute, get everything sorted on Sunday. This can include preparing recipes, cooking lengthier items, or simply mapping out your week.
Whatever you choose, just make sure you have a plan so that you aren't trying to think what to eat and defaulting to takeaways.
We are all at our most productive when we have good food nourishing our bodies. Sometimes, it's easier said than done. We all live busy lives and tend to put ourselves, and often our health, last.
Take some time for you and always remember, you are a better mom, wife, worker, etc. when you take care of yourself.
#3: Brain dump
Grab a pen and notepad. Take ten or fifteen minutes and just let the creativity flow. Write down any thoughts you've had that you've just kept in your mind. These can be business thoughts, personal growth thoughts, family thoughts, or just life in general thoughts. Get everything down on a piece of paper.
When you're searching for blog post ideas or struggling to set goals for the week, you'll have a great place to turn to.
#4: Schedule social media posts
I am a HUGE fan of scheduling my social media posts for the week. If I don't take some time on Sunday to get everything scheduled, I find myself wasting time searching for sharable content during the week. It can take me multiple hours when done on the fly, but if I take time on Sunday, I can have everything scheduled in less than an hour (and that's managing two blogs!).
In order to get all of my social media posts scheduled, I use a few different tools.
For Twitter and Facebook, I do all of my scheduling through Buffer. Buffer makes it extremely easy by choosing the times when your audience is most active to post. Simply find your content and Buffer will take care of the rest.
For Pinterest, I am loving Tailwind for scheduling posts. Much like Buffer, it finds the times your audience is most active to share your pins.
Lastly, Latergramme has been very helpful for scheduling Instagram. While the platform doesn't allow direct posting to Instagram, it allows you to create all of the content and set a posting reminder.
#5: Get started on your blog posts
This step will save you a lot of headaches throughout the week. If you haven't started utilizing a content calendar, now is the time to do it!
Alleviate the 'it's 8 pm and I have no idea what I want to post about tomorrow' stress by having a blogging schedule.
The easiest way to start is by determining how many posts you want written each week. Then, use a simple content calendar to schedule your posts so you never have to stress about ideas the night before.
Take Sunday to get a head start on these posts. Maybe you get one completed or write a few paragraphs of each. Do what works for you and it will help you be successful during the week
#6: Write your to-do list for the week
Back to the list of sticky notes we created earlier! Write down everything you need to get done over the next week. Don't leave out things because they feel mundane to you. If you want to get a haircut that week, write it down. If you want to hike that trail you've been talking about, write it down.
Once you have your lists of tasks, roughly break it into tasks for each day. Depending on the amount of time each task typically takes you, you should be able to set realistic expectations for yourself.
If you don't know how long it normally takes you to write a blog post, try the Pomodoro technique. This technique will help you determine task completion time so you can see a definite increase in productivity.
#7: Set goals for the week
What constitutes a successful week for you? It is writing three blog posts? Maybe getting a workout in four times that week? Whatever you want to achieve, write it down. It's important to ensure that your goals are realistic and you set yourself up for success.
If you struggle to get one workout in each week, don't shoot for five! Push yourself, but don't set yourself up for failure.
Hopefully, you're seeing a common thing here: writing things down. Our memories are never as good as we think they are so we tend to forget things or aimlessly work through the week.
With concrete goals, you know where you want to get and when.
#8: Set priorities
Even with the best Sunday night planning, unforeseen circumstances can still arise…
Your kid ends up getting sick or a last minute event pops up that you need to assist with. Regardless of the circumstances, there will be some weeks that you just don't get to everything you wanted to.
When setting priorities, it can be helpful for some people (including myself) to look at overall days, especially if you have a lot of tasks going on.
For example, Monday and Friday are dedicated to school work, Tuesday is for working on blog #1, Wednesday for blog #2, and Thursday for course creation. This is a rough outline, but gets the point across.
When planning your week, determine the things that have to get done that week, things that should get done that week, and things that if necessary, could be put off a week.
#9: Clean out your inbox
We already loathe Mondays enough, do we really want to wake up to an overflowing inbox? Now, this doesn't mean you need to read all of the newsletters you've subscribed to or respond to all of the emails that are waiting for you.
Simply declutter your inbox instead.
Decluttering your inbox can mean very different things to different people. For me, it means getting my actual inbox as close to zero as possible by organizing the emails I currently have. Are there a few emails you absolutely want to respond to on Monday? Put them in a folder.
Are there emails you want to respond to over the week? Put them in a different folder. Are there newsletters you want to catch up on when you have some free time? Use another folder. See where I'm going here? You don't need to read and respond to each email, simply organize them.
#10: Go to bed early
The most important thing you can do on Sunday for a productive week is to go to bed early! It can be tempting to stay up just thirty… more… minutes… to get your current task accomplished, but it's really important to get a full night's sleep.
Adequate rest will help you to function at your best Monday morning and get your week off to a great start.
When you use Sundays to get ready for the week ahead, you'll no longer dread Monday morning. The nauseating feeling of tackling your inbox or trying to get your tasks in order will cease to exist. You'll be prepared to take on the week and be the most productive you ever 🙂
Download Kelsie's free Sunday Productivity Workbook to get a strong start to your week! This workbook includes links to our social media planner and ultimate content calendar (both free!).
[javascript]
[/javascript]
I'm Kelsie and I'm the founder of Pyrs and Pinot, where I teach bloggers and creative entrepreneurs how to monetize online. After growing my dog blog, It's Dog or Nothing, by over 500% in less than a month, I set out on a mission to help talented individuals, like yourself, achieve the success they deserve. Pyrs and Pinot is not about Pyrs (Great Pyrenees) or Pinot (Pinot Noir), but we'll be the bestest of friends if you have either.

Kelsie McKenzie Pyrs & Pinot