I'm really excited about today's guest post, because Instagram is a platform that I barely make use of, but I know I should be! Amy is here to school us on how to use Instagram in our side hustles!
Instagram is huge!! Despite all the recent changes and a bit of an outcry over them, it is still a great place to reach people, engage with your audience and so much more.
Whether or not you've decided to create an instagram specifically for your side hustle or if you just want to use your personal profile to share your content, there are a few important tips for using instagram effectively.
Check them out below…
Having a Converting Bio
A converting Bio? What in the world is that? A converting Bio is one that takes people from simply viewing your profile, to actually becoming a customer or client.
Here are three simple things that will make a huge difference in getting a converting bio working for you.
#1: A Professional Profile Picture
It can be a logo, but most people agree that for small businesses, your lovely face makes more of an impact.
Make sure that your photo is a good quality photo. You don't actually need to hire someone to take this. Really all you need is a smart phone camera, a simple background, natural lighting, and a friend with a steady hand.
Oh, and make sure to smile 🙂
#2: A Clear Description
Let people know exactly what you do, and more importantly how you can help them. The more specific you can be, the more likely you will get people following you who are your ideal customers.
I could say, "I teach social media classes." and that would be true, but if I say, "I show side hustlers how to use social media to become profitable full-time hustlers."
Which one would you more likely click on?
#3: A Call to Action
This, my friends, is the most important part. I could write the most amazing bio and you might even like it, but I need to tell you what to do about that information you read.
A CTA is basically telling people what you want them to do. Most people have their website in their bio, but you also need to tell people to click on it.
Putting step 2 and 3 together would look like this: "I show side hustlers how to use social media to become profitable full-time hustlers. Click the link below to start hustling like a pro!"
Now that you've got a converting bio happening, there is one other thing that you need to focus on to make your Instagram account work to the benefit of your side hustle…
And it's all about the photos and images you share.

Let's Talk About Quality Photos
Let me tell you a little secret: people like pretty things. They want to be impressed. They are engaged by visual appeal.
I'm sure you have been on a profile that had amazing photos that you couldn't help but keep scrolling through because they were so inspiring.
I bet that they weren't grainy, dark, or awkward photos. I'm sure they were crisp, clean and easy on the eyes.
As a brand on Instagram you're using photos to promote your brand, and if you post bad quality photos, people will view your brand that way, too. Again, you don't need to hire a professional to make your images look great.
Use your smartphone, natural light and stick to images that match your brand. 
Sell a Product? Check out the details below.
Product Photos
If you're selling products, you need to have good clean photos of them.
Even if you have the coolest shirt in the world, if the photo doesn't catch my interest because it's a bad photo, I am not going to buy your shirt.
This might sound like a difficult or expensive task, but it's really not. You can take great photos on your own.
Smartphone cameras are so advanced these days, you don't need a DSLR to take good pictures (although once you start full time hustling, you should consider it an investment).
Just take your stuff outside and find some indirect sunlight. This will eliminate harsh shadows and give them a soft, clean focus.
You can also use something as simple as a white sheet to give your products a clean background.
Using Stock Photos
If you sell e-products, stock photos are your best friends!! You don't have to do any work! (And these images are done by professionals so they will probably look way more amazing than if you or I tried to create them ourselves).
What's awesome is that you can find really good ones for free. This is especially helpful for when you're first starting out. Although I would suggest eventually investing in buying some too.
Some free options to check out:
There are only so many great free stock photos out there. They'll begin to get over used and you'll want to look fresh at a certain point.
There are a few different options when it comes to buying stock photos.
You can buy an individual photo as you find them, or you can join a monthly stock photo subscription. Just be sure that you really like the style of photos that are being provided, you don't want to spend the money for just one or two that you'll end up using.
Being Consistent
What I really love about this is that it can mean two different but equally important things.
#1: Cohesive Look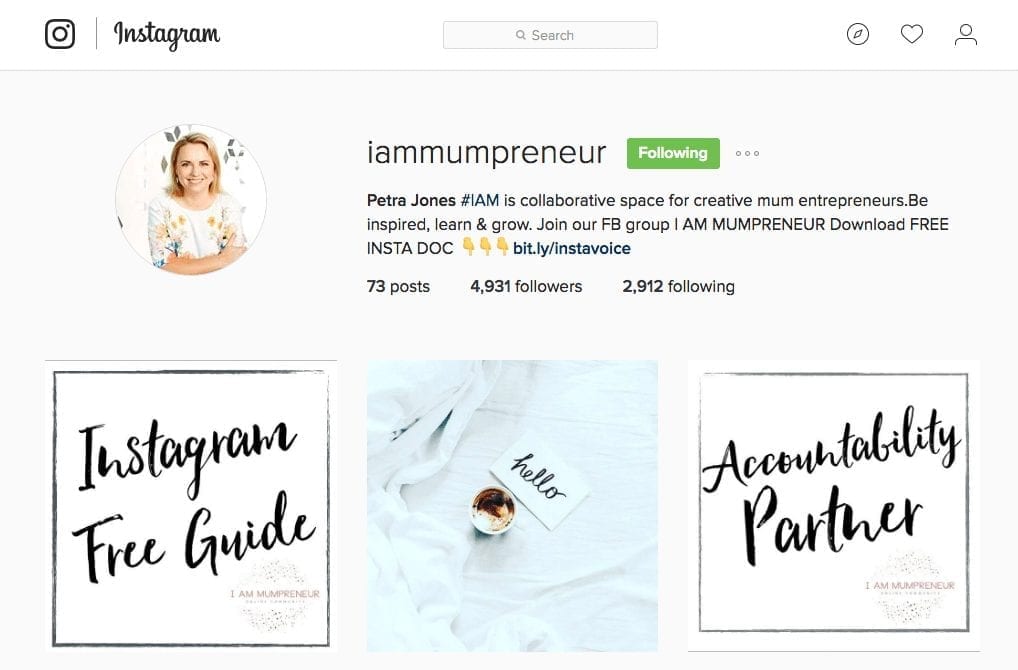 When people click onto your profile, they instantly see about 9 different images all at once. They don't see them individually, they see them collectively. Because of that, those photos need to look as though they belong together.
I've clicked on many a profile that may have cute images, but they just don't go together. Not only does it look unattractive, but it doesn't promote a brand image.
In order to accomplish a cohesive look, stick to a few select colors. What colors do you have in your logo or on your website, consider using these as the majority of color on your profile.
You can also use a few select textures. If you post photos of clothing that is all different colors and styles, try to keep the backgrounds similar.
A cohesive look draws people in and it shows them who you are.
#2: Interact Regularly
Another major part of consistency is in your posting schedule.
Now, let's get one thing straight; this doesn't mean you have to post every single day. It means having a routine versus posting sporadically.
The amount of posting that you do will really depend on the nature of your side hustle, so you need to find what works for you. However, the key is to do it enough that you don't get lost in the commotion, but neither spam your audience.
Another thing that you need to do routinely in to engage with your audience. That's one of the coolest aspects about Instagram is the community that can be established.
You don't want to post an image and then be totally silent. When people comment, reply to them. You're a real person who does what you do to help them, so don't ignore them. This is the perfect place to show people that you care about them.
One final little bonus personal tip: Don't give up! It's easy to get discouraged. You'll post something that you think is amazing, and it will get only a few likes.
You'll have the most amazing product photos, and no one will buy it. This will happen. Some people can make instagramming look so easy, but it is hard work! Stick with it and soon you will see results.
Amy Helfrich is a Social Media Marketing Strategist and is soon launching her website at PinkPrismSocial.com. She is majoring in Sales & Marketing and Media Studies at Arizona State University and currently is the social media intern over at Boss Lady Blogger. She loves to score a good deal at the thrift store and she is learning how to keep her room clean. She uses her own experience and struggles to help other bloggers to excel with their Social Media strategy.

Amy Helfrich Pink Prism Social