Today's guest post is from Caroline, an avid blogger and writer who loves educating people. I love any tips and tricks I can get on productivity, which is why I'm excited to start implementing some of Caroline's tips!
Enter, the dreaded Monday morning. An all-too-familiar scene that sees you wake up to the weight of a new working week, usually with the comfort of caffeine.
Weekends are a great idea, there's no doubt about it. They give you the chance to adjust your perspective and recharge. But two days off can also hurt your weekly routine and motivation.
Think of Monday as breakfast for your week. It has the potential to set the tone for your productivity and attitude until the next weekend.
Like all good meals, it will fuel your energy and help you to push through. Every hour of the day (and every day of the week) is important, but Monday presents a particular challenge for most of us.
Overcome your Monday morning blues with these essential tips for a more productive start to the day!
7 Productive Ways to Kickstart Your Monday Morning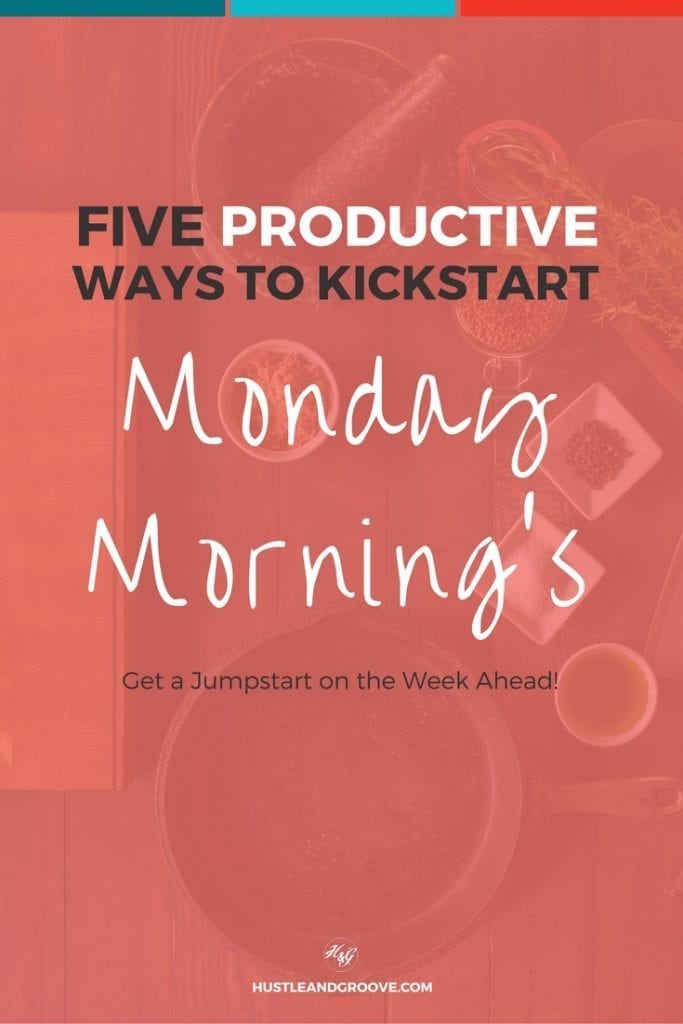 Get An Early Night's Sleep
It can be tempting to stay out that bit later on a Sunday to savour the last hours of your weekend, but in the long run, a reasonable bedtime will prove more valuable.
An adequate amount of sleep, usually between 7 to 8 hours, will allow you the chance to recover in time for the workday and improve your memory.
If you plan to pound the pavement first thing the next morning, this small change will make all the difference.
When the alarm starts blaring for your lecture time and that inside voice tells you to hit snooze, ignore that — not your alarm.
Eat A Balanced Breakfast
Although the notion of eating right isn't groundbreaking, a balanced diet will go a long way to improving your work ethic and quality of life.
There's nothing worse than being distracted during an important meeting because you skipped breakfast, or feeling unwell as a result of indulging in Sunday's leftover takeaway instead.
Lasting productivity requires a wholesome and nutrition-packed meal in order to maintain concentration, alertness and an ability to analyse and solve problems.

Exercise Before You Get to Work
A brisk walk in the morning will get the blood pumping, instantly increasing your alertness and leaving you refreshed ahead of time.
Most people prefer to exercise first thing in the morning, to get it out of the way.
If that doesn't suit, ie, you just can't drag yourself out of bed that early, then consider heading out on a walk over a coffee break or getting off the bus one stop early on your commute. The fresh air will ease the mental pressure and help you to leave your Monday blues behind.
Keep the Good Times Playin'
A positive attitude is a pillar of great productivity. What better way to encourage the good vibes than with upbeat music, especially if you're carrying out a repetitive or immersive task.
When the majority of professionals tend to tackle the smaller challenges first thing in the morning, this encouragement is important.
If you work in a noisy environment, music will provide an escape for you to organise your thoughts and find a space to be creative. Try to select songs that aren't too overwhelming or word-heavy, as this could distract you instead!
Talk With Your Co-workers In Person
It can be tempting to rely solely on email while you slowly sink behind the piles on your desk. If you're at this point, then it's time to square your shoulders, clear up your work space and put on a smile to ask your team about their weekend.
No matter what profession you're in, engaging with your peers is the most effective method to stimulate thought and discussion.
Always begin the week the same way you intend to finish it — productively!
Start With A Smoothie
Smoothies are super easy, delicious motivators for your Monday morning.
While stumbling to the coffee machine might be your normal routine, fresh fruit and vegetables will leave you feeling awake and healthy — inspiring a positive start to the day.
Of course, the benefits of a smoothie will depend on the ingredients you choose to include. Peanut butter, coconut and yoghurt, in moderation, are all shown to stimulate energy, perfect for class or work on-the-go.
Take Up A Hobby or Side Project
Having something to look forward to during the week will stop you dwelling on Monday morning and encourage better work/life balance.
Hobbies are something we all enjoy, they offer us a new experience to potentially meet different people and challenge our existing skills. Anything from an evening ballet class to a community workshop, side project or short course will only take a small amount of time, with a big return.
Productivity isn't only about producing content or information, it's also about processing it. A hobby will show you new ways of thinking and fresh ideas that you can apply to your personal and professional life as well.
At the end of the day, your Monday morning is only going to be productive if you implement one of the tips mentioned above. Choose the one that makes the most sense for you, is easy to put in place and then just do it!
Author Bio: Caroline Schmidt writes the blogs for Kangan Institute. She is passionate about education, careers, and giving advice to students of all ages.