Today I'm excited to bring a special guest post from a new friend of mine, Krista Dickson, who know's a thing or two about social media. I asked her to share her best tips on how creative entrepreneurs can make the most of her Pinterest time-saving tips in their side hustle. She definitely delivered. Take it away Krista…
Pinterest is a side hustler's best asset when it comes to getting their name out there, directing traffic back to their website, and finding new clients or customers.
It's the perfect mix of social media and search engine, which is what makes it so great for marketing and promotion.
Unlike other social media platforms (Twitter, Instagram, Facebook) your pins don't get "buried" in the archives after a few hours, where they're never seen again.
Instead, a pin can be re-pinned by thousands of people, seen by tens of thousands of people, over a span of months and even years.
But of course, like everything else, Pinterest takes time…
To build up your following and become successful on Pinterest, you have to be willing to devote time and energy to growing your account. If you're busy working away on your side hustle, maybe you don't have an hour or two every day to spend on Pinterest.
Which is where today's post comes in!
Below I'm sharing 4 quick tips for maximizing and growing your Pinterest account while on a time crunch. These tips have helped me grow my own account from 0 to 500 followers in just over 2 months, and to expand my reach from 0 to over 75,000 people per month. Not too shabby!
Wanna learn how you can do this too? Let's dive in.
4 Pinterest Time-Savings Tips for Busy Side Hustlers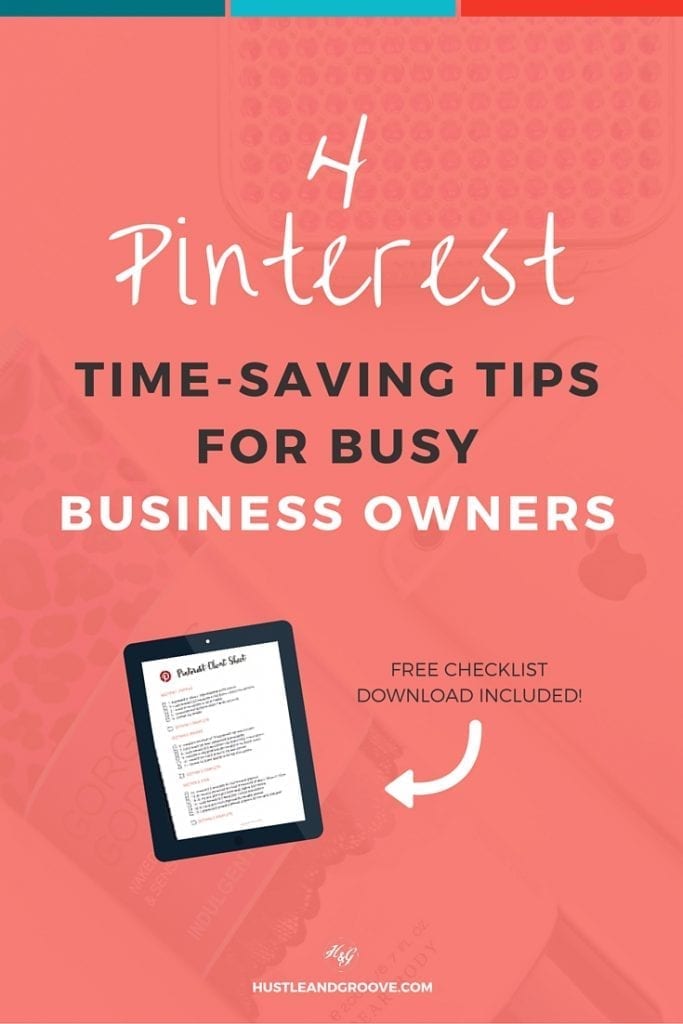 1. Invest in a scheduling tool
My favorite scheduling tool is BoardBooster, and I recommend it to absolutely everyone.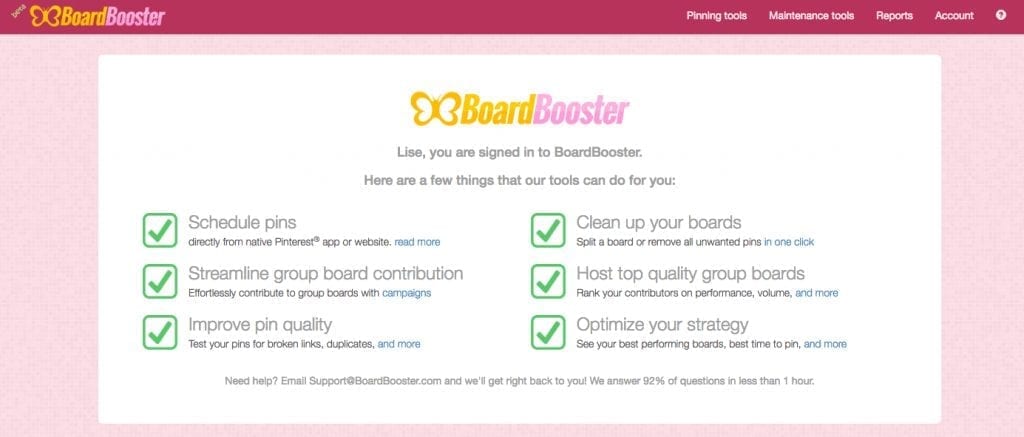 BoardBooster has a "looping" feature, which re-pins all of your pins (think YOUR blog posts) in chronological order, making you look active on Pinterest all day long (even when you haven't logged on in days!)
I've written an entire (super lengthy) blog post about the amazing features BoardBooster has to offer, which you can read here if you're interested.
What I love about BoardBooster is that it essentially does 90% of the work for you.
Once you've set it up, you only need to spend 5-10 minutes a day adding fresh pins and content to your account, and BoardBooster takes care of the rest. It's honestly a miracle worker.
BoardBooster plans start as low as $5/month. If BoardBooster isn't for you, other Pinterest scheduling tools you might want to check out include Tailwind, Ahalogy (free), Buffer, and Viralwoot.
2. Follow accounts and boards in your niche
I'm sure we've all experienced this: You log on to your Pinterest account, start scrolling, and the first 20 pins in your feed are either ones you've seen a million times, or things that aren't interesting or relevant to you.
This is why it's so, so important to be following the right kinds of people and boards.
When you only follow accounts in your niche, you're developing a curated home feed with tons of great content you can then turn around and share with your own audience.
To develop this curated home feed, start by looking at the accounts and boards you currently follow.
Unfollow any that aren't regularly sharing content that's related to your niche.
Next, use the Smart Search bar at the top of Pinterest to find your peers, as well as any popular boards in your niche, and follow them.
Type in a term that's related to your niche (e.g., freelance writing), press Enter, and then filter by "Pinners" and "Boards" to find what you're looking for. Follow all that are relevant.
Following your peers is also a great way to grow your own Pinterest following, because a lot of the time those people will follow you back. So it's a win-win!

3. Skim read what you're repinning
I've never been an advocate of re-pinning something without actually visiting the website the pin originated from. You should do this for two reasons:
To make sure the link works and that it goes back to the correct source
To make sure the content is relevant and useful for your audience
However, reading through the entire article before re-pinning it would take ages. And you're on a time crunch! So what should you do instead?
Skim!
Make sure the link works correctly, check out the introduction and conclusion of the article, and look over the headings. You'll be able to grasp the general idea of the post, and determine whether it's a good fit for your audience.
Once you've developed the curated home feed we talked about in Tip #2, you'll get to know which bloggers and websites consistently share great information that's valuable for your audience.
If an article comes from one of these "trusted" sources, you can confidently re-pin their pins without having to read the entire article – which will be a huge time-saver for you.
4. Hire a Virtual Assistant
If all else fails, you can always hire a Virtual Assistant to manage your Pinterest account for you.
A great VA can completely transform your account, while still making it look like you're the one running the show.
Pinterest is the first thing I recommend outsourcing, because while it can make such a huge impact on your success, it can be tedious and time-consuming.
Looking to discuss a Pinterest VA package? I'd love to chat with you! Click here to send me an email so we can get to know each other and see if we'd be a good fit.

And hey, if you'd rather DIY it, that's cool too. In fact, I've created something special just for you! Print off and work through this 40-point checklist for Pinterest perfection, and I can guarantee that once you're finished, you'll have a brand new Pinterest account.
For full details on how to complete each item on the list, be sure to check out this blog series on BlogBeautifully.com.
About the Author
Krista Dickson is a full-time Pinterest Manager + Blog Coach, and the author of BlogBeautifully.com. She helps bloggers grow their email lists, rock their Pinterest accounts, and start making money doing what they love. Follow her on social media: Twitter | Pinterest | Bloglovin' | Blogging Beauties