Today's guest post is from a close friend of mine, Sarah. She has a great website that focuses on how to change your relationshiop with money and as part of that, she decided publishing a coloring book on the same topic, would be a great idea! You know I'm all about diversifying your income, so this little side hustle is a perfect example of what can be done when you put your mind to it…
Creating challenges for yourself is a great way to not only get something done, but also fun. If you feel like you're constantly doing the same things again and again or are feeling a bit unmotivated about your business (and yes, side hustles are still businesses!), challenges can be a way to ignite that spark again.
That was one of the reasons I thought I would challenge myself and see if I can produce a coloring book in 30 days. I was moving back to the US from living overseas in China for 8 years and transitioning into a full-time freelancer.
A Side Hustle Challenge: Publishing a Coloring Book in 30 Days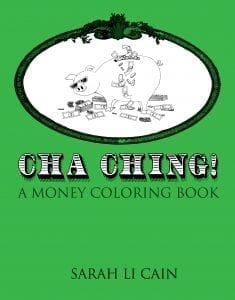 It was a two-month process involving lots of packing, unpacking, purchasing necessities for the new apartment, visiting family and friends, all while trying to make sure my 8-month-old didn't get into too much trouble. As you can probably tell, I was a bit burnt out and feeling a bit uninspired.
The idea for a coloring book came while looking for a new coloring book. I love drawing (I actually illustrated a children's book for my ex-students) and thought it would be fun to have images about money and different characters like a piggy bank.
The barrier to entry is really low (as you'll see later on), so I thought, why not?
I gave myself the following timeline:
2.5 weeks to draw images
3-4 days to finalize, fix images and design cover of book
1 week to format, order proofs and approve the book
The goal was to do 2-3 drawings a day, so I'd have about 30-35 images in total for the book.
How I Got Started
First, I picked a topic that was near and dear to my heart: helping people feel better about their money.
I brainstormed and looked at inspirational images that had anything to do with money. I also doodled and came up with a few characters: a "cool" piggy bank, Mr. Moneybags and family, and a dollar bill person.
Then I made sure I had the necessary equipment to start.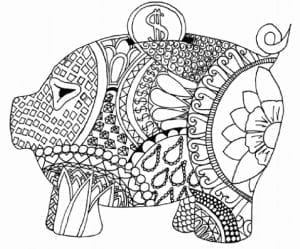 If you're into digital drawings, a drawing tablet is great. I had one, but I prefer pen and paper.  
I used thin sharpie markers
and regular white printer paper. Sketchbooks
are great too, but I had to make sure the paper wasn't too textured or else it'll show up on the scanner.
There are actually some great Facebook groups out there that can help you with figuring out how you want to create your drawings. But if you're drawing by hand, you just need to make sure you have drawing supplies, paper, a good quality scanner and imaging programs.
I used Photoshop
and Inkscape
.
All I really did was make sure to tell my husband about the challenge, and set aside time to do it. I drew my heart out!
After that, I curated the images I liked best and picked 30 to go into the book.
Then I scanned the images, cleaned them up and formatted my book in a word document. I designed the cover and uploaded everything to CreateSpace (a self-publishing platform for print books) and waited to get it approved.
Challenges and Lessons Learned
The biggest challenge was mostly technical issues and self-doubt. Throughout the whole drawing process, I obsessed over Facebook groups and Amazon listings to compare my drawing skills to others. I kept thinking I needed complex drawings, then realistic ones and even ones with different sizes…
You get the point.
I decided to stop and tell myself I have a unique drawing style, and as long as I make sure to give what my audience wants, I'll do fine. You can't please everyone.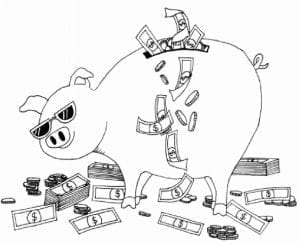 I realize not everyone may like my style of drawing or the topic matter at hand, but I made sure the work I did was my best.
It wasn't a bad idea to look at coloring books to see what people would like to buy, but don't obsess over it like I did.
As for technical issues, it was converting images to vector. You can totally skip this part, but my scanned images didn't have smooth lines and I wanted them smooth.
The free program I used kept freezing up, I converted the vector images wrong and had to redo everything multiple times.
Formatting was easy, but I had to try a few times to get the images to a better quality. I also sent the wrong proofs and had to delay everything by a week.
But the biggest lesson learned is that I need to be patient and trust that the book will turn out fine. I had friends encouraging me when I really wanted to give up, and at times I wondered if my deadline was too unrealistic.
At the end of the day, I am happy I did this and it showed me that I really enjoy producing books! I'm planning my next one as we speak.

To celebrate, I've decided to give away three copies of my new coloring book! Please visit this page to see how you can enter.
Thanks Sarah! Do you have anything you'd like to ask Sarah about the process? Leave your thoughts in the comments below.