Today I'm deviating a little bit from our normal programming to bring to you my 90X goal planner review. I have talked about this planner for so long and I haven't even given you a review on it. So I wanted to share my thoughts with you as well as my top three planner hacks.
90X Goal Planner Review
I'm going to dive straight in and walk you through using my last 90X planner because I have just started a new one. So let's walk through some of the things inside this last one.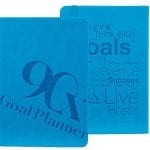 This is from the Maya collection and this is the blue option. I love the matte finish, but it's soft, it's leather and it feels really good in my hands. I love that there are all these positive, inspiring words on the back. They say things like Believe, Think BIG, Hustle, I am perfect, Believe in yourself etc. Just a bunch of little things to remind you of how amazing you are.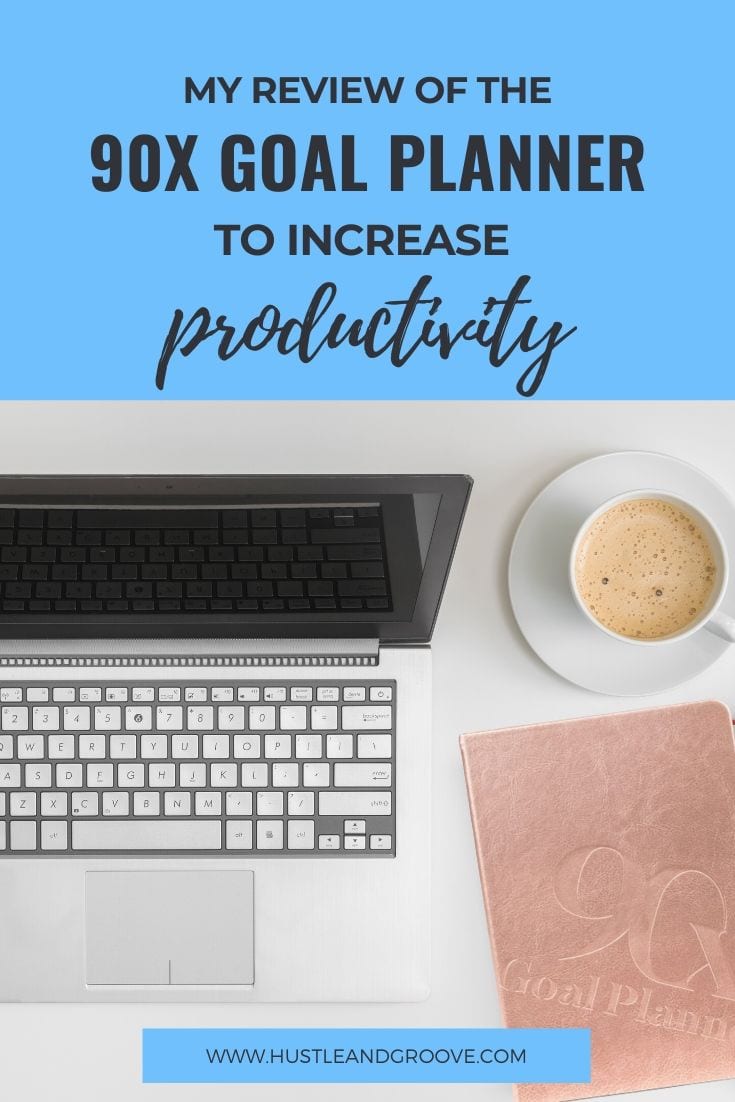 The words are embossed, or set into the actual cover and so when you run your hands over it you can feel the words embedded in the cover. It has a luxurious feel, which is not necessarily something that I really care about but it's nice to have.
I have tried a lot of planners, and I keep coming back to this one for a couple of different reasons. One, it's a 90-day goal planner. I have a 90-day plan set up in Trello, so it works perfectly in alignment with that.
Secondly, it consistently reminds you to rewrite your actions and rewrite your goals so you're always looking at them front and center. You go to a lot of trouble to set goals and this is consistently reminding you what those goals are.
Lastly, and probably my biggest love for this amazing planner, is that it's a two-page spread per day. When I review in my mind what makes a great goal planner, the 90X stands out for me because of that 2-page spread. That means that I have all this space to write down my thoughts, to keep track of anything that I need to follow up on, all those types of things.
How to Use 90x Planner 
So let's walk through how I use it.
First off, you should know that it is not a traditionally dated planner. It covers 90 days, and that can start at any time of the year, or month, that you want.
I start filling it out with my goals and then my actions. The goals align with what it is I'm trying to achieve in the next 90 days. I take everything that I want to accomplish in that 90-day period and break it down.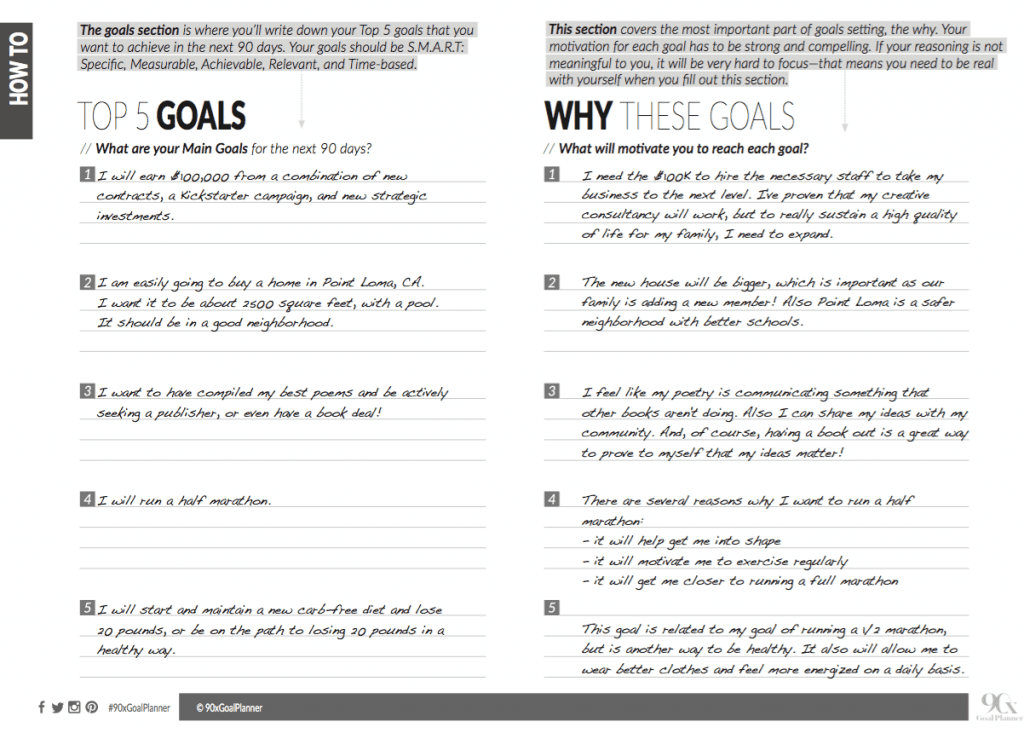 Then it prompts you to write your top goals for the remaining days left within your 90-day timeframe. So it's always reminding you where you're at in the process.
You'll only ever be focusing on five main goals that support your biggest one or two overarching goals. So make sure that you're super clear on what those overarching goals are. If you need more help getting clear on that, check out these blog posts:
Further reading: 2019 Goals and Planning
Further reading: The 90-Day Plan
Daily Reminders of What's Important
What I love is that not only are you rewriting your goals, you also have to identify how you are going to achieve those goals. What are the actions that you're going to take to do that? That's what goes in the column titled "rewrite your actions". If you need help determining your priorities, check out this blog post.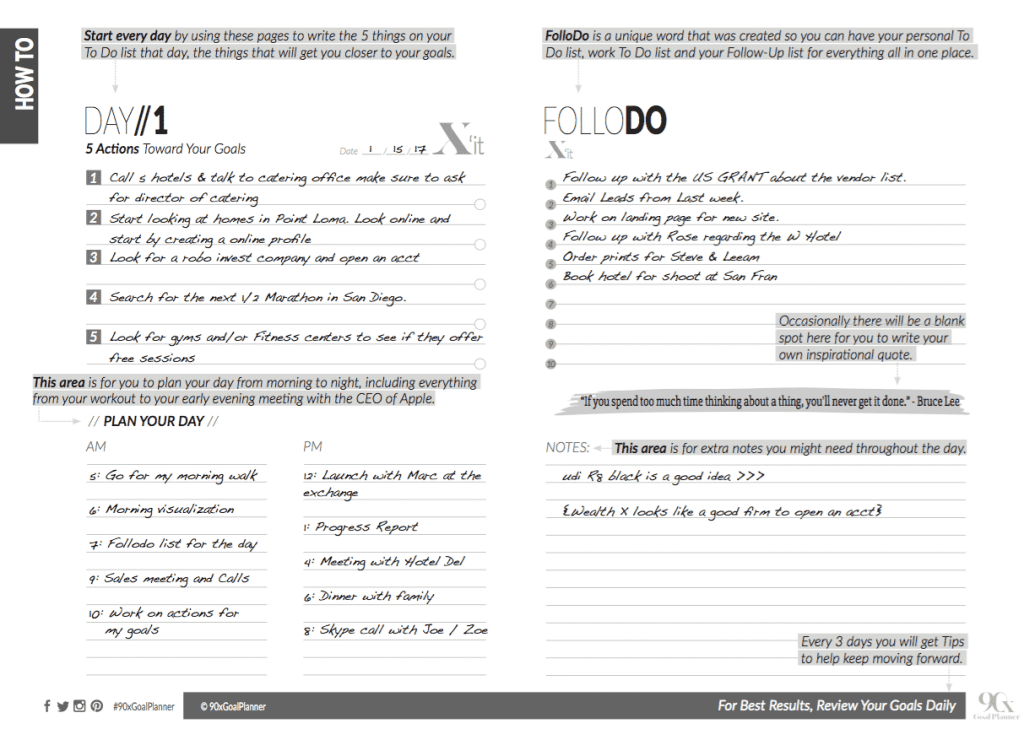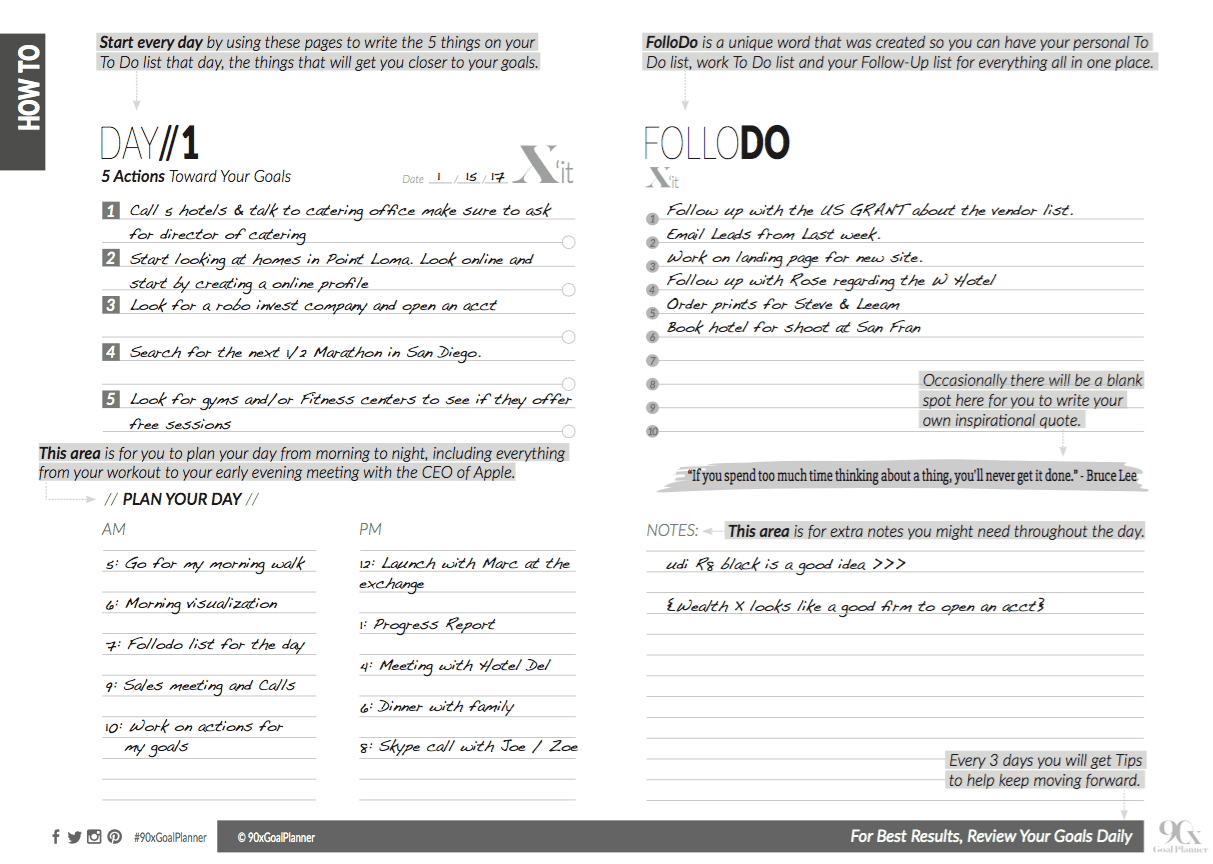 So for example, I have put that my overarching goal is to increase my streams of income so that I can reach $12,500 per month by December 31, 2019. So I put a date around it. That's a big overarching goal that I'm focused on.
My action steps are always going to be different depending on where I'm at in the 90-day plan.
So for this 90-day block, I've written down that I'm going to create a profit plan that includes affiliate income, online courses, and do a few book launches for biz owners. So I'm listing all the different things that I'm going to do to get to those goals. Then my first hack is that I use stickers to keep me motivated.
Hack #1: Stickers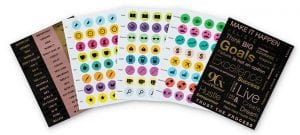 So the guys at 90X have these beautiful stickers that you can purchase, they're free sticker packs, you just cover the shipping. They're full of all of the words that are on the back of the planner plus some actual things that help you keep on track with what you're doing. Words like:
Do It!

Important

Focus

Idea

I did it!
I'm a huge sticker fan. I'm also a massive color person, so I use color throughout this entire process.
Hack #2: Color 
It wouldn't be a complete review without mentioning how I use color in my 90X goal planner.
On each of the daily pages, I highlight the main headings "5 Actions Toward Your Goals" and "Plan Your Day". This draws my eye to those areas and makes me take notice.
I also use color to highlight when a coaching call is completed, or when I've completed a task, so that I know it's done.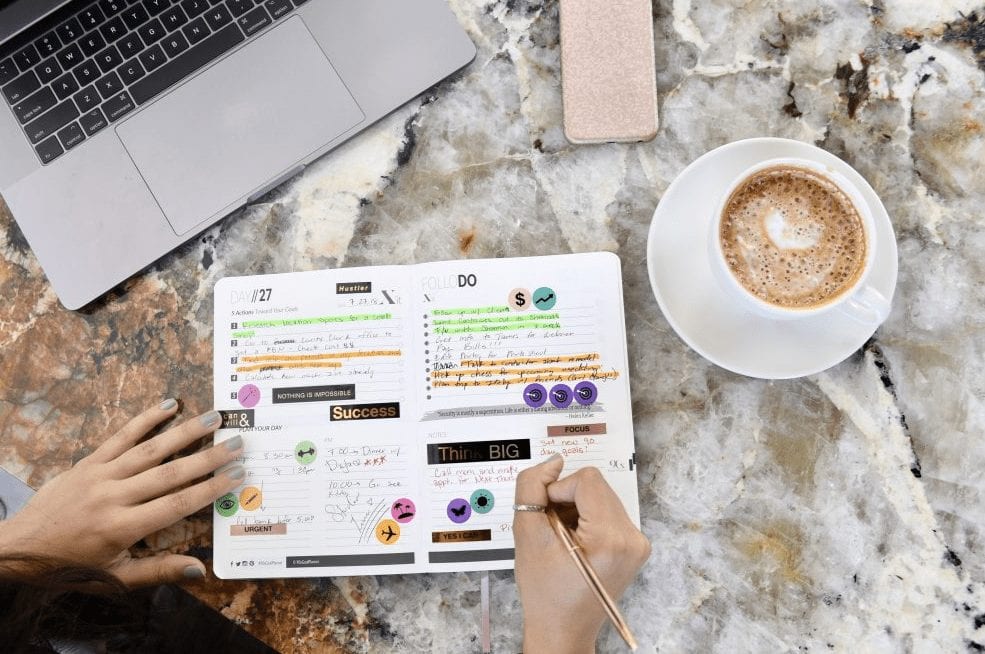 Color allows me to get a quick stocktake of where I'm at and what I might need to focus on for the next day if it's not completed.
I want to encourage you to have fun in your business.
My motto of "Do What You Love" really comes down to having more fun and more joy in your life. Remember how much fun you had as a kid, using every color in the crayon pack and putting stickers on everything? That feeling of joy is something we can bring into "adulting" and feel good about. You may have heard about adult coloring books and art therapy to bring a sense of calm into your life. This is just another aspect of that.  
Weekly Overview 
You'll see I use color and stickers here. This allows you to just high-level write down your week. What does your week look like ahead? Ideally, you're doing this on a Sunday. You're doing it at the beginning of the week so you're prepping for your week ahead.
Then it prompts you to think about the things that you learned from the previous week. Write those down and reflect on what you might need to adjust.
Next, it prompts you for thoughts for the next week.
What are you worried about?

Are you concerned about something?

What do you need to make sure you don't forget?
I like to use stickers for that too.
Hack #3: Review it Every Evening 
Make sure that you review your planner every night. I plan the night ahead during my evening routine.
Taking the actions that you identified a few pages back, now you're breaking it down into the five actions you need to take to reach your goals for the next day. So you're breaking those actions down into all the nitty gritty to-do tasks.
I identify my top five things that I need to make sure I get done every day, and the top two of those are the things that I do first thing in the morning. They are the most important things and I do them before I do anything else. So before I check email, before I check or start client work, anything like that, these two are my top priority. Then everything else doesn't necessarily have to be done on that day, but it needs to be picked up by the end of the week.
Next, I get to plan my day, so there's AM and PM spaces. That is open to however I want to plan that out. I'm a coach so I write down all the different time blocks or the times that I'm coaching people. Then I can highlight them as I work through them.
Over on the other side is a space to write down anything that I need to follow-up on.  There is also a space for notes; a space for ideas, thoughts, all those sorts of brain dump things.
I love the 90X goal planner and my review of it is long overdue. It's simple but allows me to customize it as much as I want to whilst keeping me within the bounds of a 90-day plan.
So if you're looking for a goal planner, go and check out the 90X and review its features to see if it's a fit for your biz. It's on Amazon, or you can go and check them out at 90xgoalplanner.com.
Action Step: 
Plan out your next 90 days with a goal planner of some sort that reminds you to keep on task, reminds you daily of what's important, and gives you a place to plan out your business. Make sure it aligns with a 90-day plan to 100x your goals too.