Best business ideas for introverts… who knew they even existed? Can you really run a business if you're an introvert? And you don't really wanna put yourself out there when it comes to creating a side hustle.
What can you do?
What are the Best Business Ideas for Introverts?
In today's post, I'm going to guide you through some of the best business ideas for introverts who wanna start a side hustle.
This is a question that I get quite often from my introverted friends and subscribers who are just not wanting to put themselves out there.
Believe me, I get it!
I might look like a massive extrovert when you see my smiling face on my YouTube channel and website, but I can be introverted as well. There are definitely times when I just wanna hide my head under the covers and not talk to anybody. I think they call it being an Ambivert. Whatever you wanna call it, it sometimes doesn't always support you in the best way when you want to create a side hustle, right?!

So how do you figure out what your business model is if you really are completely introverted and you just don't wanna have to deal with marketing, talking to people, coaching calls, creating YouTube videos or all of those types of things?
A Side Hustle for Introverts?
Business ideas for introverted personalities aren't as limited as you might first think. Surprisingly lucrative side hustles for introverts are plentiful. Basically, any online business is going to work for you. The beauty of it is that you get to choose exactly what that business looks like.
Introvert + Home Office + Side Hustle Bliss
Are you super passionate about ideas you want to share with people? Do you like to hide yourself from the world and write about anything and everything?
If so, being an author would be a great option for you. You could create fiction or non-fiction ebooks and burrow yourself in a little cave while writing to your heart's content.
But What About Marketing?
When it comes to the marketing side of things you can get away without having to put yourself front and center, even when you're the author. You can use tools like BookBub ads, Amazon ads, and Facebook ads to drive traffic to your book. You literally don't have to be front and center at all.
Hello, Introversion bliss!
Become a Course Creator
Then, the other part of that is, you could actually transition into creating an online course. Now you, again, don't need to be on camera like I am because you can just do this on your own by sharing your screen.
You don't need to be speaking in front of somebody either. You could create a course with yourself on camera without a camera crew, and no one would be any wiser. In fact, your audience would feel like she is being coached one-on-one.

Another option might be to still create online courses and just not be on camera. Particularly if you're teaching something online, you can simply share your screen and walk people through the skill you're trying to teach.
You can see how easy it is to actually be an introvert and still have a thriving side hustle.

Open an eCommerce Store
One more option to consider is running an eCommerce store. If you are passionate about your French bulldog, for example, and you want to sell products that you know other dog owners would love, fantastic. Source those items and sell them on your eCommerce store.
If you use a platform like Shopify you don't even have to be involved in the day-to-day. You could just record your French bulldog doing all the crazy things they do. You could create an Instagram account just for your dog, thereby having a face for your company but it just isn't your own! So there are lots of different ways you can create an online business if you're an introvert.
And One More Idea…
You could also start an Etsy store if you are wanting to sell things of your own creation. If you're wanting to sell any type of printable or digital related product that you create, Etsy has a wide viewership and again, you are not having to put yourself out there. You're just focusing on creating the product for sale and connecting with your customer from the comfort of your computer screen.
The Side Hustle Bottom Line?
No matter what you identify with being, whether it's an introvert, ambivert or omnivert, don't let any of these stop you from starting your own side hustle. There are so many options.
Now more than ever, having an online business is perfect if you're even the slightest bit introverted.
Your Action Step:
If you wanna get started, your immediate next step is to figure out what your online business is going to be.
What side hustle are you going to start?

What are you passionate about?

What are your natural talents or skills?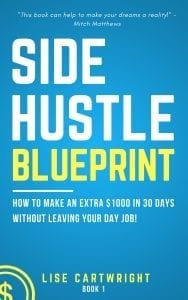 My book series, Side Hustle Blueprint
1 and 2, can take you through the entire process step by step. From idea discovery right through to launch, I cheer you on and never leave your side. I even give you tips on possible pitfalls and how to avoid them.
Starting something new can be overwhelming, but I break it down for you into simple easy-to-follow steps.
And if you need help to figure out your next steps to success, check out this blog post.
Get started. Take that next step.
Imagine how good it's going to feel when you're enjoying the rewards of your business because you took action every day towards your goal.
You got this!