As a freelancer or coach or consultant, it's more than likely that you have some type of customer workflow in place… but how effective is your workflow? Do you know what's meant to happen and when it's meant to happen?
Do you have everything on hand that you need to send to your new client when they complete the job application form?
Have you thought about what it would look like if you automated your onboarding workflow? Do you have a systematic workflow, or are you flying by the seat of your pants every time a new client purchases your packages and services?
I can relate to the latter… when I first started out in my side hustle, I had no idea what it looked like to run a successful online business, let alone automating my client onboarding process.
What process, right?!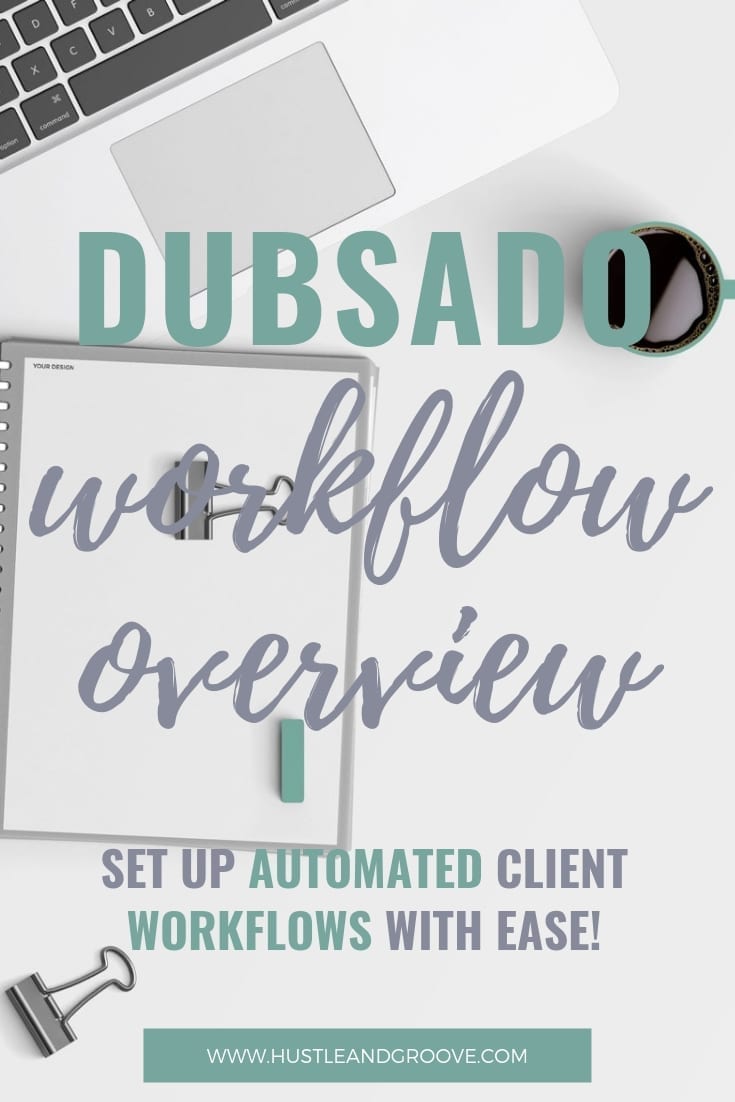 Enter Dubsado. Once I learned about Dubsado and how amazing their workflows are, I went from Overwhelmed Onnie to Successful Sally in a matter of a few hours!
Wanna be a Successful Sally too? Then you're going to love the Dubsado workflow overview video walkthrough I've created just for you.
But before we dive in, there are a few things you'll need to have in place first.
Do you have these three things?:
A lead capture/application form, aka how does a new client get started working with you?
Questionnaire (everything you need to know about them before you start working together)
Contract (so everybody knows who's responsible for what and when it will take place etc)
Once you've got those three things in place — and if you want to make life even easier for yourself — then you should set up canned email responses or automated email responses too.
You'll learn more about those in the walk-through video below, then I go into detail below the video on what's included.
My Dubsado Workflow Overview
WARNING: You'll need about 15 minutes to watch this (or less if you put me on 1.5x playback speed)!
The key to a great onboarding workflow is mapping out everything you need to make this process flow smoothly.
You'll notice that in the video, I mentioned having everything set up first before I created the workflow.
To get to that point, I sat down and mapped out everything that needed to happen from start to finish.
My Client Onboarding Process
Here's a look at what I mapped out before creating this inside Dubsado:
Month 1
Lead capture filled out by client
Questionnaire and Contract sent to client
Once contract signed, invoice and payment schedule email sent
Once first payment received, email link to book in first coaching call
Trello board created and shared with client
First call takes place
Postable card sent 14 days after payment received
Email link sent to client to book in second call
To-do created to update Trello board with notes and tasks
Month 2
Shout out on social media to-do created and actioned
Weekly check-in emails scheduled (first one sent out week 1 of Month 2)
Email link sent to client to book in third call
To-do created to update Trello board with notes and tasks
To-do created to send coffee voucher to client
Email link sent to client to book in fourth call
To-do created to record tutorial video for client
Month 3
Email link sent to client to book in fifth call
To-do created to update Trello bard with notes and tasks
To-do created to start set up of 90-day plan Trello board for client
Email link sent to client to book in sixth and final call
To-do created to update Trello board and share 90-day plan
To-do created to send Postable card and schedule birthday card for client
Set up 30, 60, and 90-day follow-up emails
Take it a step further and figure out how often you want a process triggered, whether it's dependent on another process happening first, and when something needs to be manually ticked off by you.
I can guarantee that you'll feel a whole lot more in control if you can get to this part of the process.
Are you a Productive Paula or Successful Sally?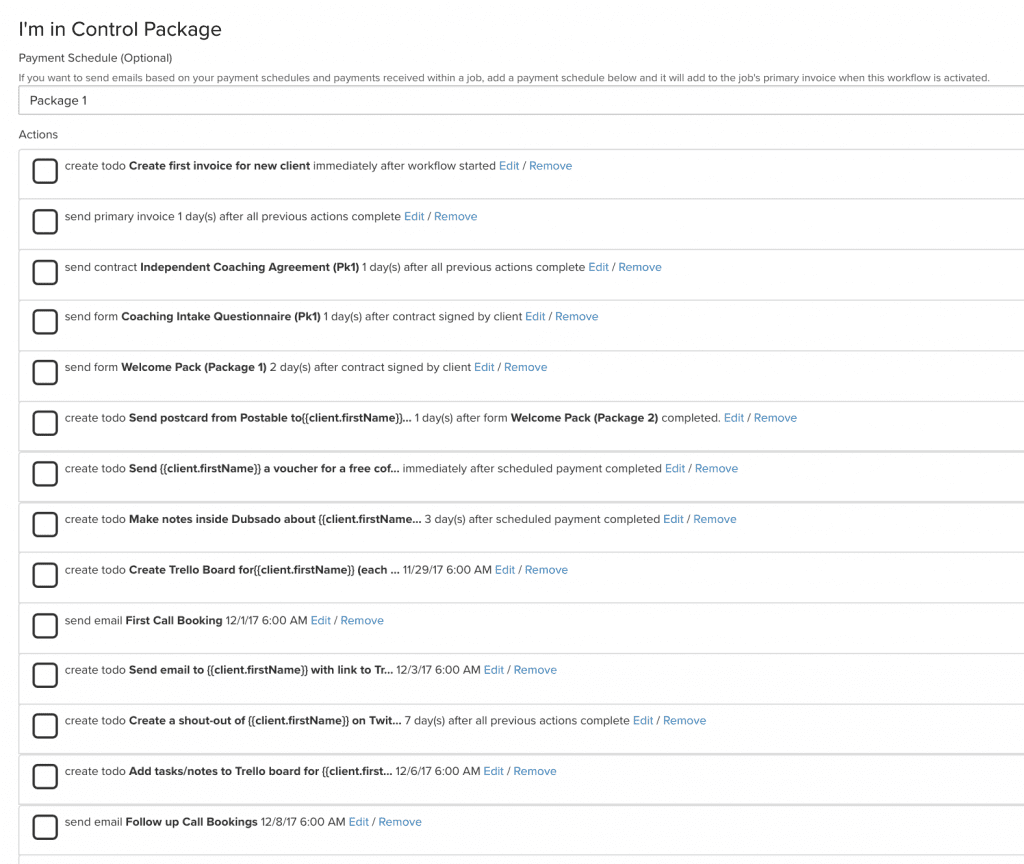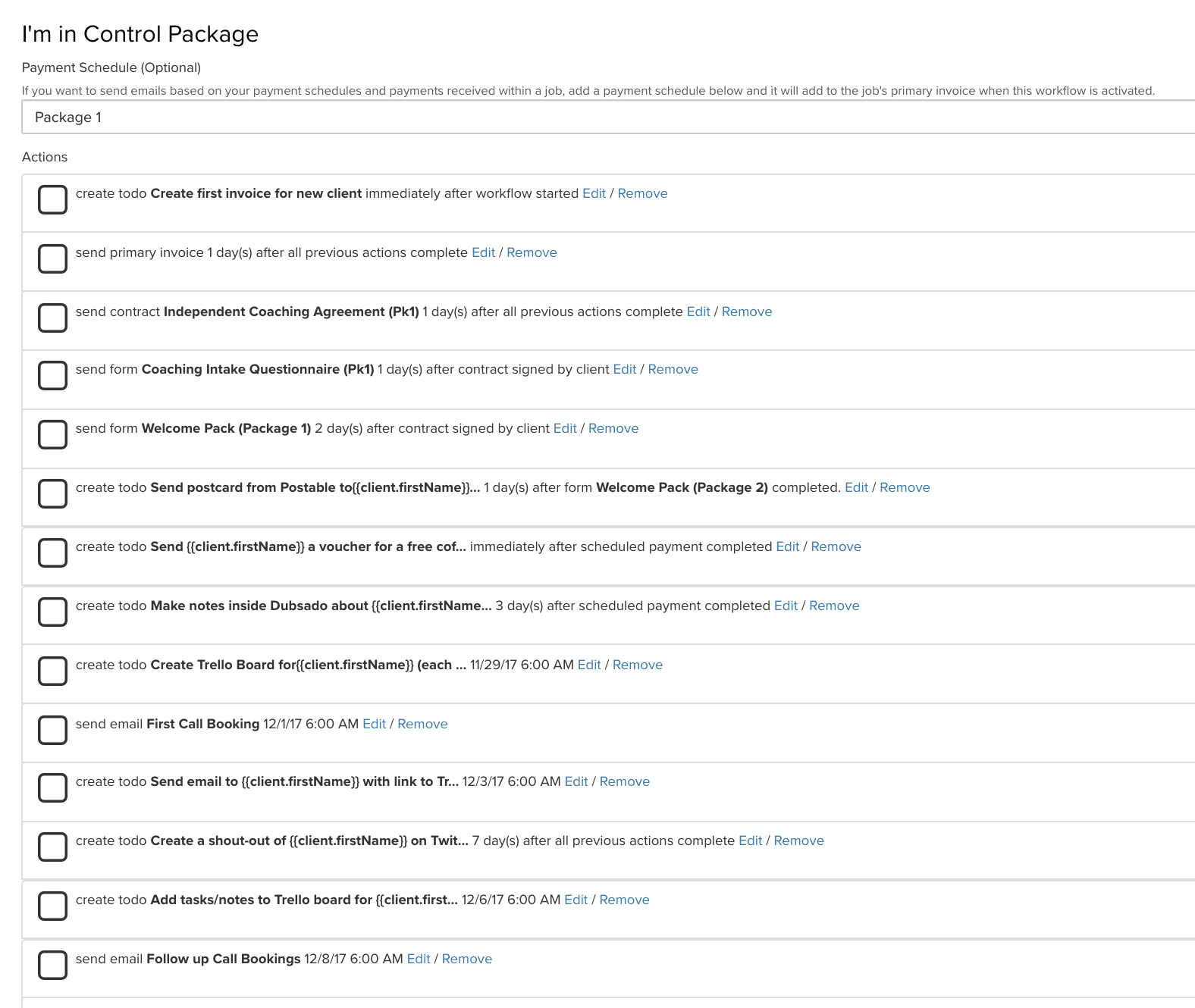 You could stop here and feel a lot better and be a more Productive Paula, but if you want to be Succesful Sally, then automation is key.
Before you set up any automated workflows to manage your onboarding and offboarding process, you need to map out what this looks like for all the services and packages you have and then you can create the automated workflows, preferably using something like Dubsado.
This does take time to set up, but once you've completed it, it's done and all you'll need to do is make small tweaks and adjustments as you use it more and more.
Now instead of running around trying to figure out where you saved the last contract you created and what email to send your client, you'll simply have to create the invoice or payment plan and the workflow will do the rest.
Dubsado makes this whole process a lot easier, but if you don't want to start paying for a service just yet, you could automate this through your email platform, Zapier, and a Google Form.
Use a Google form to be the lead capture and then Zapier to feed that into your email platform and then your email platform to automate your canned emails. The only missing step will be your to-do's, which you'll need to manually set up in your task manager, but much easier to do when you don't have to worry about the rest, amiright?!
Action Step
Your immediate action step is to sit down and map out your onboarding processes. Once you're clear on what that looks like, you can then create the workflow.
Even the process of mapping out a Dubsado workflow overview should give you a better picture of what it takes to wow your clients.
By automating your workflows like this, you finally free up time to focus on your clients and grow your business.