Do you wonder how you can improve your writing? Maybe you're like me and struggle with (on a regular basis) the number of thoughts and emotions that swirl around in my head at any given time.
I'm not always able to get these thoughts down on paper when they are happening, which can lead to difficulty in getting to sleep. Or being woken up in the middle of the night because my thoughts have gotten so loud I have no choice but to write them down.
[Tweet "I'm not always able to get thoughts down on paper when they are happening…"]
Does any of this sound familiar to you? God, I hope so, otherwise, I might actually have a problem, lol!
What I've been doing recently to combat this is a form of freewriting in a journal.
I'm still not always able to get my thoughts out at the times they come to me, but what I am doing is making sure that I commit to free-form writing for at least 10 minutes every night before laying down to sleep. I also do this as part of my morning routine.
Improve Your Writing With Free Writing Strategies
Using Free-Form Writing Skills
This term was something I'd heard mentioned a number of times by writing groups I belong to, but I'd always just pushed it aside, thinking that it was more suited to those writing fiction rather than non-fiction, which is where the majority of my writing sits.
This all changed when I read an article from Writing Through Life that explained the benefits of freewriting.
It would help me not only get those thoughts out but also help me to recognise the emotional issues that I was not facing or dealing with head-on.
As writers, it can be super difficult not to self-edit, in fact, even as I write this, the annoying red squiggly line showing a few lines above is telling me that there is a (perceived) spelling mistake.
This is distracting and I have to actively NOT go and fix it.
Freeform writing can help with this.
Here're the 'rules' for free-form writing:
Set a time limit, 10 minutes is a good place to start.
Start writing
Do not stop until the timer finishes
Do not edit anything you write during this time
Keep the words flowing, and flowing and flowing…
That's it. It's pretty simple but very powerful to just write without thinking about what you're writing.
I've found that since I've actively been free form writing, I don't self-edit anywhere near as much as I used to.
How Free Form Writing Improves Your Writing Craft
[Tweet "It's pretty simple but very powerful to just write without thinking about what you're writing."]
Freeform writing is a great way to improve your writing skills, both from a writing and editing perspective.
As a writer, when you're freewriting, you just write whatever comes to mind, no matter whether it makes sense or not. The more your free write, the more your thoughts will come together more coherently.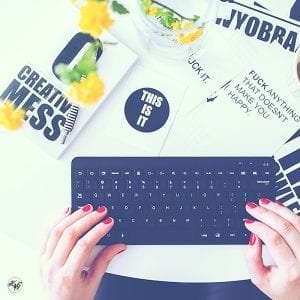 Freewriting also allows you to develop and generate new ideas for future books or projects. This is a benefit that I wasn't exposed to before.
Sure, I'd have ideas here and there, but since free-form writing, I find that I actually have more ideas coming to the forefront of my consciousness.
One of the cool things about freewriting is that no-one else actually sees what you're writing — you're not writing for a client or your fans, you're writing just for you.
Freeform writing helps you to connect with your innermost thoughts, and this helps further develop your craft.
From an editing perspective, it helps to develop this skillset further too. You can quickly identify separate ideas, sentence structures, and grammatical mistakes because, let's face it, if you're freewriting, these are going to happen!
Next Steps
So if you want to improve your writing in just 10 minutes a day, start free-form writing now.
All you have to do is grab pen and paper, set a timer for 10 minutes and start writing.
I'll admit, it can feel a little 'clunky' initially, but give it a few days and you'll feel the flow better and actually enjoy what you're writing.
I've already discovered I have a few fiction stories up my sleeve, which I hadn't thought about before starting the freewriting exercise, so who knows, maybe my next book will be a fiction piece!
Watch this space!
And if you want to take things to the next level, try attending writing conferences, where you can network with other writers, learn more about improving your writing, and figure out your next book idea!