In this first of a series of roundup posts, I'm shining a light on all things side hustle and the resources you need to get one started. 
Many of you want to work from home for many reasons… from spending time with your kids, to doing work you love to supplement retirement income. And everything, and I mean EVERYTHING in between!
You're in good company. There is lots to love about working online and from home.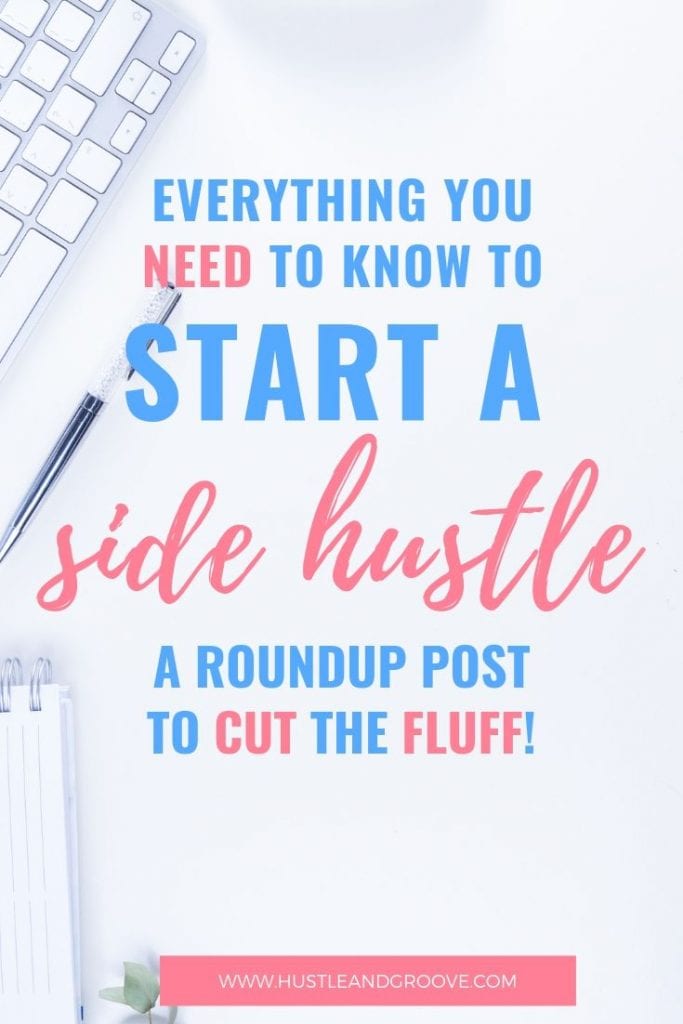 An online business allows a lot of flexibility in hours, the clients or customers you work with, and is an excellent choice for a new business start-up. 
But do you know where to start?
The Ultimate Guide of Side Hustle Resources
I get many questions about starting an online business, so I've decided to pull all my best advice into this post of side hustle resources. 
Whether starting with a part-time side hustle or diving in head-first full-time, all online businesses start at the beginning:
Find A Side Hustle Idea 
A profitable idea is a great place to start, but how do you know if your small business ideas are going to make you money?
And why are you looking to start a side hustle?  The number one reason why people seek out a second job is because they need some extra cash… but starting a side hustle doesn't guarantee that you'll make money — unless you get started the right way. 
Read: Start a Side Hustle: Make $1k in the Next 30 Days!
Read: Start a Side Hustle When You're Struggling to Make Ends Meet!
But a niche business that you're passionate about makes working in it so much easier. That's where you'll find your drive to get things done on days when inspiration has left the building.
Business with a purpose. A passion project. Whatever you want to call it, it comes from finding meaning and fulfills your question of why; why are you doing this business?
Don't be shocked when I tell you this: money isn't the sole driver for many people. While it might be the initial driver, it's not the thing that keeps moving them forward…
Making a difference in the world is a fundamental drive that I'm hearing from a lot of women as being the reason they seek out profitable small business ideas. Yes, money can make life easier, but it's not the only indicator of success. Contributing to something bigger in meaning can be very appealing. If you want to change the world, you have to start with one person.
Starting an online business allows you to do just that.
Empowered women empower women!
So how do you find an idea? 
Start with the awesome-sauce quiz! This quiz will help identify your strengths, your 'side hustle' personality, and suggest side hustle businesses you would be suited for. 
Read: 5 Ways to Determine the Type of Side Business You Want to Run 
This post will help you determine the business model you'll need to be using.
Read: 5 Side Hustle Businesses You Could Start in the Next 30 Days
This post shares five great side hustle job ideas to get started in fast.
After you've got your idea sorted, it's time to start. Nothing happens until you take intentional, strategic action!
Starting Your Online Side Hustle 
You've got a stellar idea, one that fulfills your why. Now it's time to implement.
Read: Start a Side Hustle: Make $1k in the Next 30 Days!
This post has a lot of great side hustle small business ideas, as well as the steps you need to take to start making money. It also includes tips for creating your online presence, finding clients, using job boards, pitching clients, and interview considerations. 
Read: Starting a Side Hustle? 5 Important Things You Need to Know
This post is a primer for what to watch out for, both professionally and personally. It has helpful rear-view mirror advice I wish I'd known or thought about before digging into my side hustle. From how to respond to questions from family and friends, to considerations for domain names, it will help you handle those tricky questions when they eventually come your way. 

Read: How to Stay Focused in Your Side Hustle
Managing #allthethings is hard when work and life intermingle. Do you work from home or home from work? This post will help you get clear on work vs life balances. Define work habits, work availability, how you'll deal with interruptions, defining a workspace, and how to create a schedule (including app suggestions that make it even easier).
Read: 15 Top Side Hustle Strategies to Master Your Business
Oh, I love this post! It's the A-Z post of side hustle resources that has it all. In it, I talk about choosing business models, creating a website, determining your pricing, setting up goal cards (you NEED these!), growing your email list, and mastering your schedule to get it all done.
And that was only strategies 1 through 8!
The other strategies include scheduling, automating, planning, goal setting, and growth. Whew! It's a longer post but so full of stellar information if you need a bird's eye view of side hustle strategies for success.
Read: 5 Easy Productivity Hacks for Balancing Your Side Hustle
If you've got your side hustle shiz together, keep skimming. This post is for those that could use a little help with doing more than just getting it done. Batching, scheduling (including my favorite apps for this), timing, morning and evening routines, and designating a proper workspace, all make living your best life much easier to achieve. 
Read: How to Start a Side Hustle in 30 Days or Less
This post will guide you through prioritizing your work obligations. It is literally a step-by-step process (complete with time stamps so you know how long things should take!) to starting a side hustle. 
Whew! Using the above side hustle resources, now you know exactly how to start and grow your online business.
Now that your side hustle is underway, the next focus will be on getting productive!
Next in the roundup series we dig into Productivity (da da daaaaaah!), aka get more done better in less time. So you can use that new-found time in any way you want!
See you there!