So you've heard about people starting side hustles from home, and starting your own business has been your dream for years. But you're frustrated because you have no idea what kind of side hustle business you actually want to start, or what those business models even look like. How do you choose a side hustle business model?
[video_player type="youtube" style="1″ dimensions="640×360″ width="640″ height="360″ align="center" margin_top="0″ margin_bottom="20″ ipad_color="black"]aHR0cHM6Ly95b3V0dS5iZS8yQzZLdGVTTGZaQQ==[/video_player]
I get it.
This is in my wheelhouse since I have a degree in business management (which I never use!). As it turns out, there are four online business models you can follow to quickly launch your side hustle ideas into an online business based on you're passions and abilities.
4 Side Hustles From Home
Let's start by talking about side hustles from home that you can start quickly and easily.
Before we jump in, I'm specifically talking about online business models because they're the easiest to get started.
You can side hustle in almost anything that you want and it doesn't have to be online. But if you're looking to get up and running quickly, an online side hustle from home is your best option. If you're looking for a different kind of side hustle (like dog walking, meal prep, landscaping, tutoring etc), we'll talk about that in another post.

For today, let's cover some of the options you might consider when it comes to starting your online side hustle business from home.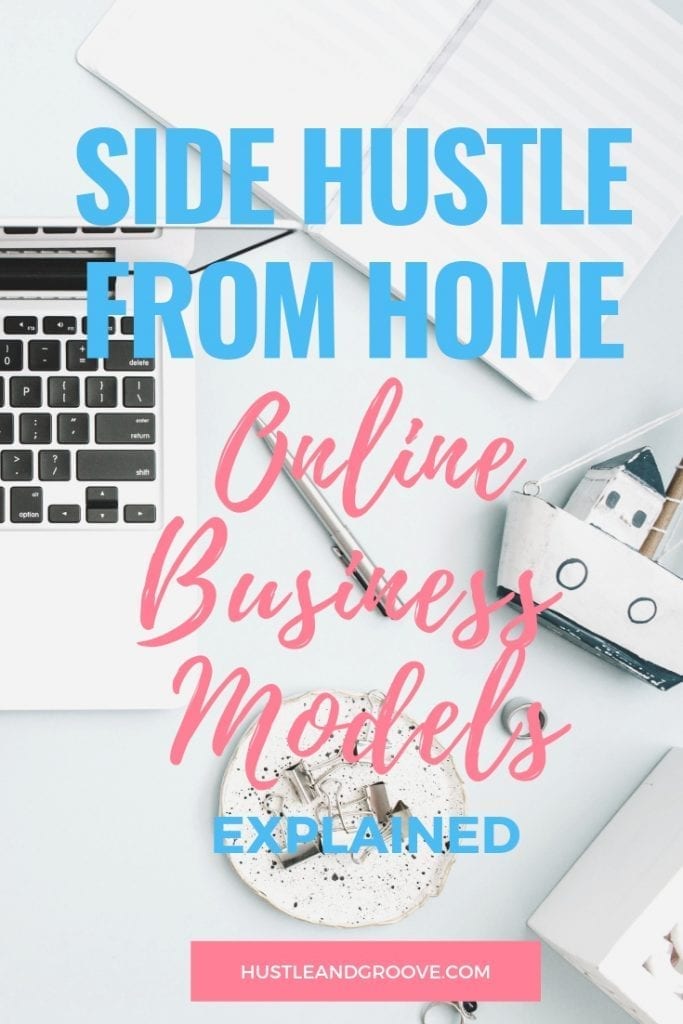 #1: eCommerce Store
In this type of business, you're selling some type of physical or consumable product. It can also include digital products like printables, templates, digital planners, and anything like that. You'd sell items online through an eCommerce platform.
Platform options
Some that you may be familiar with are Shopify, which is one that you can set up for yourself as your own website. It's very similar to setting up a WordPress website, if you're familiar with that platform.
Another eCommerce platform is Etsy. You're probably familiar with it if you've spent any time looking for something crafty or handmade. But it's also where you would find the most amount of printables, templates and that sort of thing. Etsy would host your product instead of you needing your own website.
If you're thinking you want to start an online business and want to sell any type of physical or digital product that you've created, then an eCommerce platform could be the best online business model for you. Or, if you're planning to sell to other people based on your passion (maybe you love dogs or cats), you could sell some type of product related to that passion.
Further examples of this include selling your self-published books (either physical or ebook), selling woodworking crafts or tools, or starting your own clothing line. The sky is the limit. Whatever you can imagine creating and selling, you can do through an eCommerce platform.
#2: Freelancing
I started out as a freelance writer, and you can pretty much freelance any skill online.  For example, small tasks like helping someone with their Excel spreadsheet, right up to macro things like graphic design, project management, or helping someone create an entire website. That can all be done through the freelancing business model.
Freelancing is geared around working for multiple clients. You don't necessarily need to have your own website to be successful. However, it helps if you're wanting to create a brand and this is going to be your 3-5 year business focus. You could set up a personal profile within websites like Upwork or Freelancer to find freelance clients.
What's your skill base?
Freelancing is a really good option to consider if you're just starting your side hustles from home and not really sure what your skill base is, or what it is you want to do. It can lead to so many different opportunities. Maybe even things you hadn't considered.
For instance, when I wanted to leave my 9 to 5, I knew my love for writing was a natural fit to start from home. I started freelance writing–blog posts, SEO articles, ghostwriting etc. for other companies–while still maintaining my day job.
I learned how to juggle work from multiple clients, build an ongoing client base, and gained confidence. All without leaving the safety of my day job.
Through the years it morphed into a full-time passion where I now create my own ebooks, workbooks, and courses. Gratefully, freelancing propelled me to where I am today.

Some other freelancing side hustle ideas that you can do from home include proofreader, editor, virtual assistant, speech writer, book cover designer, website designer, technology assistant, etc.  Freelancing is a great option if you like variety because you can expand on the skills you provide over time.
#3: Service-Based Business
This is similar to freelancing in that you are working for various clients, but it goes a step further by specializing in one thing. You can definitely morph your freelancing business into a service-based business by having your own website, creating your own packages, and serving clients based on very specific needs.
Choose a Niche
This is a niched-down online business model. Niching down allows you to specialize and focus your efforts on a select few things — for example, the type of client you want to work with, or the packaged services you offer–and be an expert in your field.
For example, if you were a graphic designer, you might choose to only work with dentists in creating all the graphics they could potentially need in their business.
The same is true with freelance writing. You could transition into having a service-based business where you supply blog posts or captioning for eCommerce products. Anything related to writing can be an online business.
You could even extend it out to something like specializing as a copywriter. Service-based businesses are great if you want to offer packages of specific services. They are a fantastic way to transition out of freelancing and into having your own business.
Some other service-based side hustle ideas are Pinterest virtual assistant, social media manager, and business consulting.
#4: Content Creator
Many of the things covered above could come under this heading. The reason why I'm putting content creator separately is that it's about some very specific things. Specifically, I class content creator as someone who is generating content on or for the web. For instance, someone who is creating YouTube videos, podcasts, or has their own blog. Those types of things are what I would classify as a content creator.
Intentional Marketing
The difference with content creation as a business model is that there is intentional marketing and strategy behind the content creation.
Affiliate marketing also comes under content creation. If you're someone who wants to make money through the things you recommend or the things you love, then affiliate marketing definitely fits under content creation. You need to create content to get that in front of people and be intentional with your marketing efforts.
For example, to promote your favorite pair of shoes you'd have to, first of all, have a website. Then you would register as a commissioned affiliate with another website that sells that shoe. You'd then promote that shoe in the public domain through your social media accounts and maybe paid advertising on sites like Facebook and Instagram. You'd definitely want to utilise Pinterest too.  
Examples of content creator side hustle ideas are podcaster, blogger, and YouTube personality.
Here's what you can do today
Those are just some of the online business models that you could consider when starting a side hustle from home.
Which model does your potential online business fall into?
Choose one, write it down, and start. No worries, you can always pivot later if necessary.
I want you to succeed with your side hustle ideas. If you're not sure on your next steps, I've got you covered. Check out the video and post on How to Start a Side Hustle.
I'm here to help, so if you've got questions make sure you pop them in the comments below.