"Track your author business Lise" was something I was told early on in my author career. But this is always easier said than done, particularly when you have more than a few books to keep track of!
So when it comes to your author business, do you know what you should be tracking and why?
Have you taken the time to sit down and map out exactly what you want your author business to look like?
This is where a lot of authors fail…
They struggle to look at their writing as a business. They don't put their business hats on and figure out what they want their author business to look like.
Don't be that author.
If you want to be a successful, profitable author, you're going to need to have a plan.
Just like you would if you were starting a brick and mortar business, you need to treat your author business seriously.
Now, this doesn't mean you need some boring business plan in place (I mean seriously, who has time for those?!).
What it does mean is taking some time out to answer a few questions for yourself so that you can then begin to track things in your author business.
This way, you can figure out how you're doing and what you might need to change.
Because there will be a time where you need to make changes, but how will you know what changes to make if you haven't been tracking a thing?
Track Your Author Business: What does it look like?
When you sat down and wrote your first book, what prompted you to do this?
Was it to share your message with a specific person or group of people?

Did you want to reach more people than you could in a workshop?
Make a note of your answers and then move onto the next question.
What do you want your author business to achieve?
Do you want it to be one of your main sources of income?

Do you want to quit your day job and be a full-time author?
It's important that you're clear on these things before you start tracking, so you know what you're tracking!
I like to create a goal card and vision, mission and values card each year.
Both of these help to keep me focused on what it is I'm looking to do in my business and so I don't chase after shiny new objects all the time.
Once you're clear about all of the above, you can now get into the tracking part.
What to Track in Your Author Business
Below are my top four areas that I want to keep track of inside my author business.
When you track your author business, your numbers might differ slightly, but the first two will be your most common metrics for tracking.
Why?
Because these two give you a very clear picture of just how well your author business is doing. And once you start comparing numbers per quarter and then per year, you'll start to see trends.
This will allow you to better plan for the year ahead and help you to identify where things aren't going quite right.
In my opinion, number one is THE most important success barometer for your author business.
#1: Book Sales
I'm sure you'd agree that this is the most important number, for various reasons…
Number One: Your book sales determine your book royalties. If sales are low, then your royalties are going to be low. You can't quit your day job if that's happening…
Number Two: You can see which books are doing better than others, and which books you might need to kill.
Often, you'll see that there are one or two books that bring in 80% of your income. Those are the books you'll want to keep tweaking and focusing on.
Number Three: In your goal card above, you would have written down an income figure for your book business (if you haven't done that, do that now). By tracking your book sales, you'll be able to see when you can quit your job and start planning the day you can walk into your boss's office and hand them your 4-weeks notice!
I'll tell you this, it's one of the BEST feelings in the world… but it can also cause a few unexpected emotions too. 
Like sadness that you'll be leaving your workmates behind.
Anxious about what lies ahead.
A sense of loss, that a big part of your life is about to end…
But all of that quickly dissipates on the first Monday morning that you DO NOT have to crawl out of bed and force yourself to get in the shower and make yourself look presentable at a job you hate!
But I digress… back to what we're talking about. Book sales.
There are a few ways you can track your book sales.
1: KDP & KDP Print
You can use the reports that KDP and KDP Print (plus any other marketplaces you're in) provide each month. They can be downloaded as .csv files and allow you to manipulate them as needed.
This is the best free version available but will require a bit of Excel knowledge.
Personally, I find these clunky and prefer to use a couple of different apps to manage the tracking of book sales, such as these ones below:
2: BookTrakr
This is a paid app that allows you to track sales from ALL marketplaces, not just Amazon. So if you have your books in multiple places, this is the best app for you.
Pricing starts at $4.99 per month.
You receive daily emails (if you want) and it gives a snapshot of where you're at.
It also tracks your ranking and your reviews, so a bit of a powerhouse when it comes to tracking your author business assets.
The more books you have, the more this app makes sense!
The minute I had more than five books published, was the minute I signed up for BookTrakr. Spreadsheets are NOT my jam, so I was ecstatic to not have to worry about those again.
Here's a screenshot of what my dashboard looks like: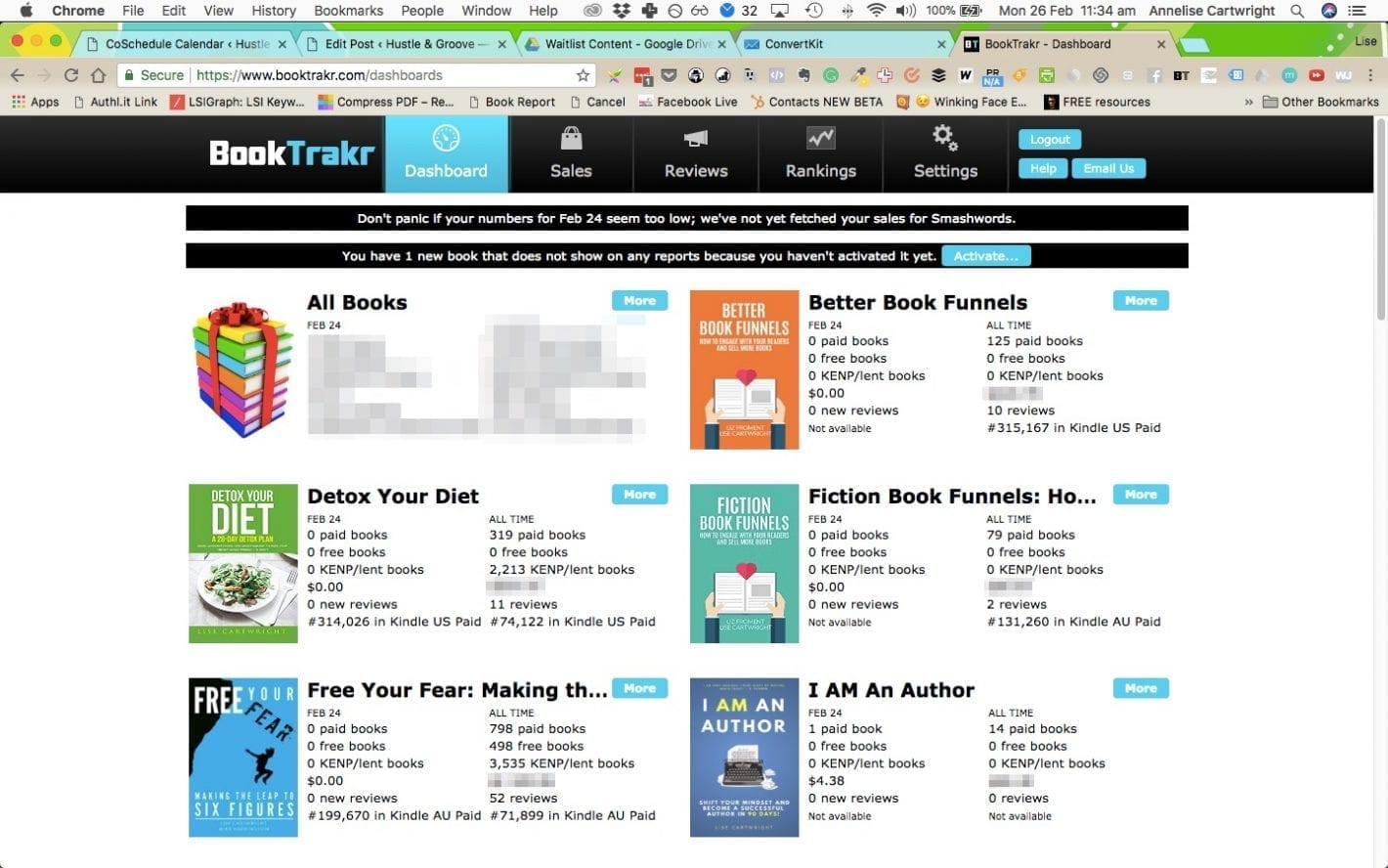 You can check out BookTrakr here.
3: Book Report (Amazon only)
If you're only selling your books on Amazon (both KDP and KDP paperback) then Book Report is your best option.
It provides you with real-time sales as well as which books are selling the best and you can look at your book's historical data too.
It's a much easier interface than trying to figure this all out using the KDP dashboard reports.
Here's an image of what the daily dashboard looks like: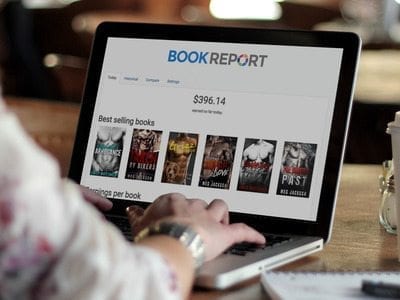 #2: Email Subscribers
The other key tracking measurement you need to track in your author business is your email subscribers.
I like to track this monthly, so I can see how I'm doing.
If you're using ConvertKit, they provide you with a running low-down on your subscribers, as well as which forms are getting the most sign-ups.
When compared with your website traffic, you'll be able to see which lead magnets are converting the best and which you might need to scrap.
#3: Website Traffic
Your website traffic is another important indicator of how well your author business is doing.
Now, you might be thinking, "Lise, that's easy, I just log into Google Analytics and I can see my numbers" and while that's true, do you know where your traffic is coming from??
Specifically, do you know if they are coming from your website, from your guest posts, social media, from YOUR BOOKS?
To be a successful author, you need to be tracking all these things so that you can figure out what converts well and what needs to be improved.
Remember, if you're not tracking it, then you can't know if it's truly working or not.
So how do you go about tracking all these things?
By using specific tools to help:
a. Tracking traffic to your website
This is the easiest metric to track.
Simply install Google Analytics and you'll be able to track clicks to your pages. These will then correlate with what you have inside your email platform.
But if you want to get better at tracking these, set up goals inside Google Analytics so you can track your conversions.
This will also help you figure out just how well your lead magnets are doing.
This blog post from Monster Insights explains the process.
b. Tracking from guest posts/social media/your books
Most authors simply provide the website URL for their lead magnet, not realising that by taking an extra few steps, they could be tracking where their traffic is coming from.
The best way to do this is to use PrettyLinks, bit.ly or Google's URL shortener.
Here's a quick rundown on how you should use each one:
1. PrettyLinks WordPress Plugin
This plugin is free (although the pro version gives you a few more bells and whistles). You install it on your WordPress site and then when you're ready, you can create 'pretty links' to track where your traffic is coming from.
I use PrettyLinks for tracking specific URLs from my books. This way, I can see how many people have clicked the link and then inside ConvertKit, I can see how many people signed up.
Then I can work out my conversions from there.
Here's an example of a PrettyLink:
https://hustleandgroove.com/scrivener
To create your PrettyLink, you grab your URL and then decide on a word or number to make it "pretty". See the image below.

You can take it one step further and create a UTM code so that you can also track this inside your Google Analytics.
You can do this for ANY URL you have BEFORE you shorten it.
Here's what a UTM code could look like:
https://hustleandgroove.com/igt-program?utm_source=authorbizpost
The key here is to make sure that you include the question mark directly after the original URL.
What this will do is track clicks and show up in your Google Analytics under the following path:
Behaviour > Site Content > All Pages
Then you'd click on:
Secondary Dimension > Acquisition > Source
This will then pop out a new column and show you the source which referred traffic, including this UTM code.
You should add this to ALL your guest blog post lead magnet links, social media campaigns and book links.
2. Bit.ly (web tool)
Similar to PrettyLinks, bit.ly allows you to add your URL (don't forget to include the UTM code too!) and then it shortens it to a small link.
You can choose to add your own tag or leave what bit.ly assigns.
See the image below for this in action.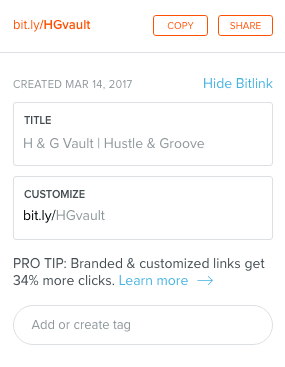 3. Goo.gl (web tool)
This is Google's URL shortener and is attached to your Google account, so if you like to keep things all in one spot, this is your best option.
You cannot customise the shortened version of your URL, but you can add in your UTM codes and track the clicks.
The image below shows you a snapshot of what my dashboard looks like.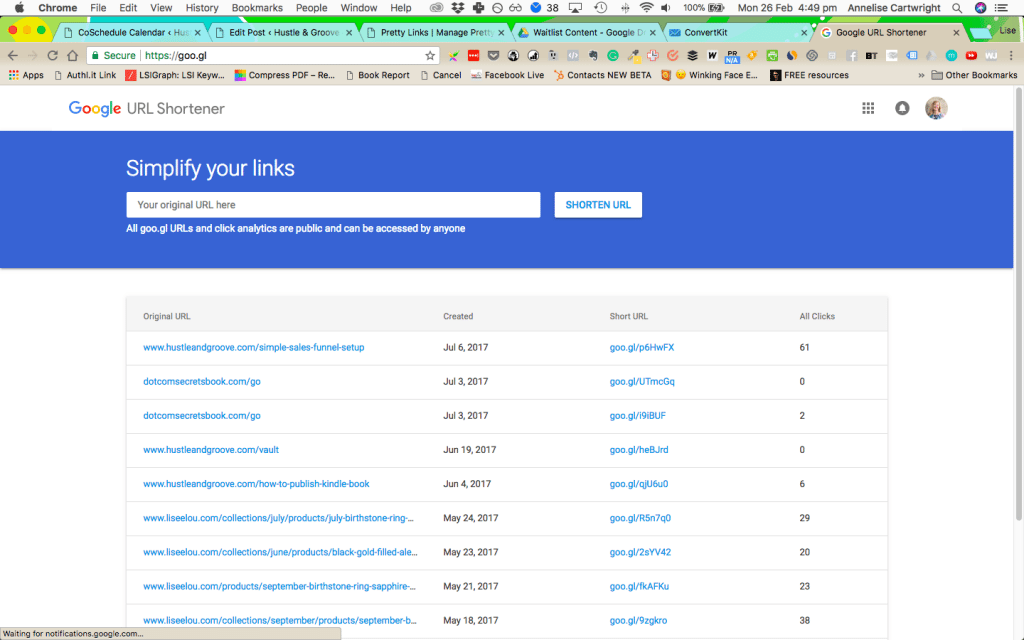 It doesn't matter which URL shortener you use, it just matters that you use one or two. This will allow you to really understand what's working and what's not!
#4: Book Reviews
You might be wondering why you would track the reviews on your book because, as authors, we can tend to shy away from even looking at reviews.
There is a school of thought that recommends that you NEVER look at your reviews, but I disagree with that.
Checking in on your reviews every quarter allows you to see where you can improve your book and also if trolls are trying to sabotage your success…
Either way, it's good to be informed.
I like to track three things when it comes to reviews:
Number of reviews for each book

The number of 3-star reviews per book

The overall review rating for each book
Ultimately, you want to have as many reviews as possible, and you want the reviews to be coming in consistently.
If they're not, then maybe they indicate an issue with your book… maybe people aren't buying it, or maybe there's not enough of an incentive/reminder for people to leave a review.
You can fix this once you know about it.
The reason I'm tracking 3-star reviews is that those are often where you'll find the most constructive feedback. It's where you'll be able to see where your book can be improved.
And obviously, the overall rating of the book plays a big impact on how Amazon promotes your book, so the higher it is, the better.
Where to Store Tracking Data
You might be wondering where I keep track of all this information… because it's a lot of stuff, right?
I use Trello to hold all this data. Trello makes it easy for me to keep on top of things and I update it each quarter in line with my 90-day plan and review.
You might choose to use something like Asana, or you might have a spreadsheet. Choose what works best for you.
Here's a look at what my Trello board looks like: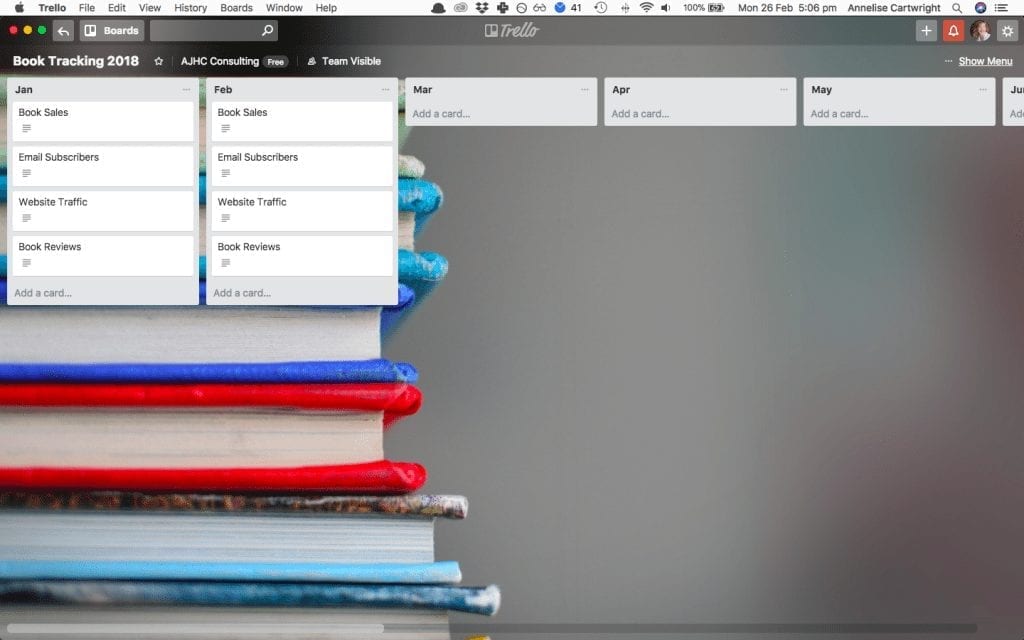 Want a copy of this Trello board for yourself? Click here to grab it!
You can create this yourself inside Trello just by creating a board and setting it up in a similar way to mine. Or just grab the template!
I've split mine up into months and I've simply made a copy of each card as I move along each month so I can keep a cumulative number of all the data.
Tracking data is an important part of treating your author business like a real business. If you do this consistently, you'll also get real business results!
This data will help you flesh out your 90-day plans and even provide you with ideas on what your next book projects should be.
Are you tracking your author business? If you are, do you track this information or have I missed something?
Let me know in the comments below!