Using Pinterest and wondering how to automate Pinterest marketing so you're not spending a ton of time on the platform? Looking to free up your time and make the most of the traffic that you're getting?
Then this blog post is going to rock your socks off!
I originally published this post back in 2016 when I was using Boardbooster to automate my Pinterest marketing. As most of you will know, Boardbooster was forced to close it's door earlier this year because Pinterest was no longer supporting their API.
Now it's Tailwind all the way if you want to automate Pinterest marketing for your business.
But what is Tailwind and how is it different to Boardbooster?
Since I implemented Boardbooster (and now Tailwind) back in April 2016, I've increased my Pinterest account from 900 followers to over 44k followers and over 165,000 monthly views! That's an increase of over 2,300 followers every month.
All of this is completely automated. I barely touch my Pinterest account these days, except to add new blog posts to the H&G Board as well as join new group boards or Tailwind Tribes.
If you want to jump on the Tailwind train, read on and learn how I use it to automate my Pinterest marketing efforts.
Automate Pinterest Marketing: Start With Your Blog Posts
Before you can get Tailwind working for you, you need to make sure that your blog posts have pin-worthy images.
The easiest way to do this is to create a Pinterest image for each of your blog posts in Canva.com.
I use a template, so it makes it super easy to create these for each blog post.
Where it can take a ton of time is going back through your old blog posts and adding these pin-worthy images… but it's worth it because why wouldn't you want new people to read your awesome stuff?
Once you've got pin-worthy images on your blog posts, you need to make sure that all your old blog posts have been pinned to your blog board on Pinterest.
Action Step: Create pin-worthy images for your blog posts (old and new) inside Canva and add them to your blog posts
If you don't have that board set up yet, get to that now. Here's what mine looks like on my Pinterest account: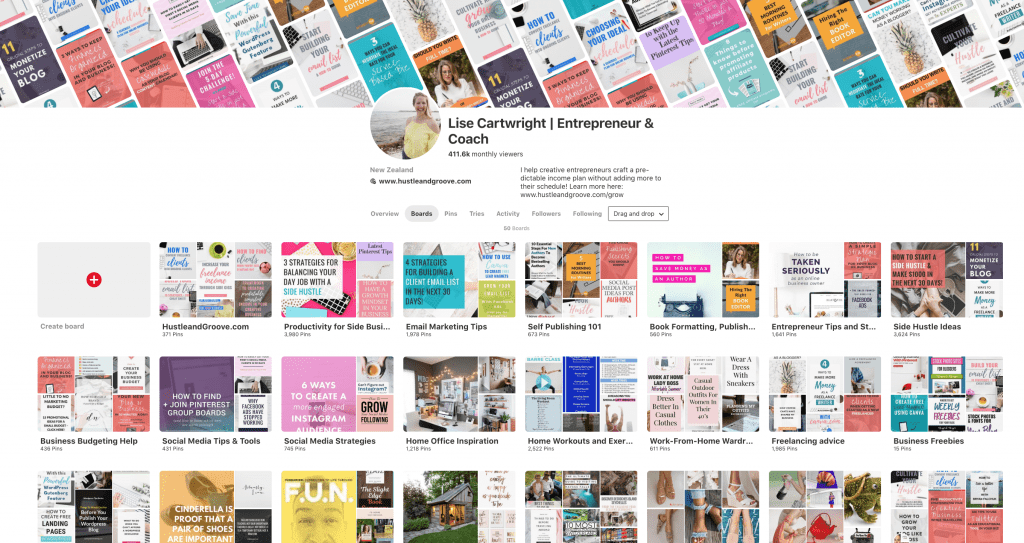 This is the only board that is dedicated to your blog posts, nothing else. All of your other boards will have a mixture of your content as well as other people's content, but this board — it's just for your posts.
When you're ready, go ahead and start pinning your posts to this board. I'd recommend you do that using a scheduling tool like CoSchedule or Buffer for further automation.
Whatever you do, do not pin all your blog posts in one go. This will 'red flag' your account to Pinterest and cause your pins to drop off the Pinterest map!
Schedule your old blog posts out over the next few months and always share new blog posts as they are published.
Action Step: Go ahead and repin your blog posts from your blog's board to other boards within your account too.
This is where Tailwind's new SmartLoop feature will make life a lot easier for you in a little bit, but for now, do this for the initial posts you have in your blog-specific board.
The reason you're repinning and not just scheduling them using CoSchedule or Buffer to these other boards is that repinning shows Pinterest that those pins are worth being shown to other pinners.
It's all part of their algorithm. So always repin from your blog board to any other board, this is the golden rule.
Join Pinterest Group Boards
Before you jump into using Tailwind to automate Pinterest marketing, it helps if you've joined a few group boards and/or Tailwind Tribes.
This will also increase your Pinterest followers and allows your content to be shared more than what you could do from your own boards.
Wondering where to find group boards? Try this website: http://pingroupie.com/
You will also find some groups on Facebook that list Pinterest group board invitations. Do a quick search on Facebook and see what you can find that's relevant to your niche. Join and then start requesting to join Pinterest group boards.
Wondering how to find the right Tailwind Tribe? This blog post gives you some great places to start.
The more the merrier I say, however, there is a caveat to this.
Make sure that any Pinterest group boards or Tailwind Tribes you join meet the following criteria:
Have recent pins within the last 3 days

Have more than 5k followers

Have pins that link to the content they are meant to (no spam)

Have pins that only align with the board topic (no random, non-relevant stuff)
If the group boards and Tailwind Tribes check out against that criteria, then you can happily join. If they don't, walk away or come back and check them in a few months, once they've been cleaned up or have more followers.
Action Step: Research group boards and/or Tailwind Tribes and use the criteria above to choose group boards to join.
How Tailwind + SmartLoop Automates Pinterest Marketing
Now that you've got your Pinterest account loaded with all your content and have joined some groups, it's time to set up your Tailwind account.
Note: Tailwind is free, but to access SmartLoop and their advanced Pinterest marketing features, you'll need to have a Pro account, which starts at $15 per month, making it affordable for what they offer!
Tailwind can be difficult to set up, particularly if you were used to Boardbooster's interface and also because there is a lot involved in what you need to do.
So allow yourself a good 3-4 hours to do this, but once it's done, it's done and you don't have to touch it… except to add any new group boards to it that you join.
Using SmartLoop to Automate Pinterest Marketing
It was tough to see my beloved Boardbooster go, but I opted to join Tailwind for the simple fact it's a sanctioned partner with Pinterest so I expect it will be around for a long time.
It wasn't entirely intuitive at first, but once I found the SmartLoop icon under Publisher (within my dashboard area), the rest was pretty easy.
When setting up a new board you have a choice between evergreen content that loops year round, or seasonal content where you can set start/stop dates.
What are the main differences between Boardbooster and Tailwind's SmartLoop?
There were bound to be differences between Boardbooster and SmartLoop, and the one immediate difference is in the numbers: SmartLoop's free Beta version grants 250 SmartLoop pins vs Boardbooster's 500 free pins, so pinning your best content, not all content, using SmartLoop makes sense. (Of course there are paid powerups, but those are options you can decide on later.) It's worth noting how they count posts: each board a pin loops to equals one post. In my account, I have 194 pins that are being looped.
A great feature of SmartLoop is that, like your regular Tailwind pins, it provides ongoing analytics on the success of each pin. You can then decide whether it's performing for you or needs to be replaced.
Liked Boardbooster, new pins added to the loop go directly to the top of the list and push the older ones back in the cue. What a great feature for getting more eyes on your hard work!
SmartLoop lets you pick and choose which pins you want included in the loop. You can either pick an entire board or pick a select few from that board, including secret boards and group boards.  
Here's a video on how it all works:
Below is a breakdown on what I consider to be the pros of Tailwind.
Pros:
Pinterest endorses Tailwind and SmartLoop so you don't have to worry about your scheduling suddenly disappearing or doubting your scheduling service provider

Implements board rules across all your looping pin schedules!

You can hand select pins from your own boards, group boards, or even secret boards

Pinterest analytics applies to loops as well, allowing you to curate your loops to include only the best performers

Easy to add new a new blog post pin to loop content

Board rules will be enforced over all the loops you've created, preventing you from over-pinning to boards that have strict rules

Can choose to pin during select dates. Great for season-specific content

You can also pause any boards and they will stop looping until reinstated

A great way to repurpose old content!
Cons:
It is not one and done. This is only for select content. If you have 100+pins in your archives and many group boards, the free option slots will disappear quickly unless you upgrade to a paid package. As Tailwind itself says,

Helpful tip:

What counts as a SmartLoop "Post" is a little different from a count of Pins posted per month. Each Board a Pin is set to loop to counts as 1 Post. So, for example, a Pin looping to 10 Boards would count as 10 SmartLoop Posts, no matter how many times it actually publishes each month.

Adding pins manually to group boards through regular the Tailwind schedule does not take into account what is going on inside the Loops, so you need to be mindful of board rules outside of the loop

Some have complained it's not as intuitive as Boardbooster. Like anything new, there is a learning curve. But it's not overly difficult once you dig in.

It doesn't replace Tailwind scheduling. You still have to do that. But the best of your best is on autopilot!
For a limited time, Tailwind is offering 50% off PowerUps during the Beta phase. Remember, this is only available to Pro users right now, so if you don't want to pay for Tailwind, you'll need to continue manually setting up your scheduling.
As you can see from the tutorial video, Tailwind's SmartLoop takes a little while to setup but is so powerful in helping to automate Pinterest marketing.
Action Step: Go ahead and setup your Tailwind account. Decide whether you'll grab a pro account (accessing SmartLoop), set up scheduling for your boards and group boards, and looping on your own personal boards. Allow 3+ hours to get this all done.
Tailwind does take a little longer to get set up, but once it's done and you've mastered the scheduling and SmartLoop functions, you'll be well on your way to increasing your followers and directing traffic back to your blog.