When it comes to passive income ideas, it can be a little confusing on where to get started…
First, you need to understand what passive income is, the types of passive income ideas available, and how to make passive income work for the way you want to run your business.
The problem with passive income is that there are a ton of different ways to make money online, but not all of them are truly passive.
In fact, it's been said that there is no truly passive way to make an income, but you can earn a passive income… it's a subtle difference.
Pat Flynn from 'Smart Passive Income' has built an entire business around this terminology, but even he admits, truly passive income is hard to find:
On his 'Start Here' page, Pat says,
"Generating passive income is NOT easy and it takes a lot of hard work."
The passive income definition that I've always understood to be correct is that you do the work once and get paid many times over for that work.
And while this is true—to keep your passive income ideas rolling along—you still have to put in some effort. But that effort is nowhere near what you'd have to do if you were working with a non passive income business, such as coaching or offering services.
Once you understand the fundamentals of passive income, it can make life a lot easier because then you've got a clear path on where to get started with your passive income business.
In today's post, I'm going to cover:
[bullet_block style="size-16″ small_icon="16.png" width="" alignment="center"]
Types of passive income
Understanding the difference between passive income vs non passive income
How to make passive income online
How to get started with your own passive income business
[/bullet_block]
I've already touched on what passive income is but to explain it even further, passive income is NOT trading time for dollars. That's what you're currently doing in your day job or in any type of consulting, coaching, or freelancing business setup.
Again, those businesses are fine to be in if that's what lights you up.
You can turn some of these businesses into passive income through automation, but there are limits. We'll discuss this further as we dive deeper into this post.
Let's jump straight to it!
Types of Passive Income Ideas
There are thousands of ideas when it comes to passive income. And with the advance in online technology, traditional non passive income businesses can now be (at least partly) converted into a passive business.
But let's start with the more common types of passive income options:
Investing in real estate
Investing in the stock market
Writing and self-publishing a book
Affiliate marketing
Online courses
Podcasts
Digital products
Investing in real estate or the stock market requires a lot of cash upfront, so these types of passive income ideas aren't accessible to everyone.
But the rest? Anyone can do these passive income ideas.
Now, remember how I said that almost any type of business could be converted to passive income? Wanna know what I'm talking about?
Well, here's a couple of great examples:
My friend Monique from Keep Chasing the Stars, recently wrote about how she started making passive income from selling t-shirts.
Now, this type of online business idea isn't normally associated with passive income… until recent changes in technology and the way online retailers do business, that is.
In Monique's article, she talks about how she uses a print fulfilment company to handle all the parts that would normally need her to be there to manage it all…
Things like printing t-shirts, fulfilling orders, and shipping them out.
And what's great about using a print fulfilment company is that there is no inventory, so you don't have to pay for anything upfront.
The print fulfilment company will drop ship the t-shirts for you as well, so you don't have to do a thing except get people to your t-shirt sales page!
How awesome is that?
You can read the full story here: http://www.keepchasingthestars.com/generate-passive-income-with-tshirt-line/
Another passive income idea is creating printable's and selling them on Etsy or using a platform like Shopify.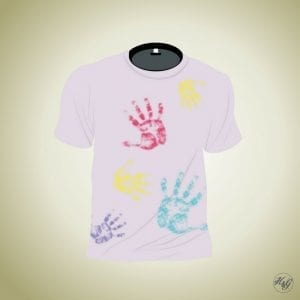 The great thing about creating printable's is that you create the product once, but you can continue to sell it forever, without having to touch it or put too much extra work in to sustain the income.
For great tips on how to have a successful Shopify store, check out this helpful article.
If you use a platform like Shopify, the digital delivery of the printable is automated. So as soon as a customer makes their payment, Shopify will then turn around and deliver the printable for you.
I love this idea!
The key to making a business idea passive is in automating as much of the process as possible. As Pat Flynn says in his own definition of passive income:
"Building online businesses that take advantage of systems of automation that allow transactions, cash flow, and growth to happen without requiring a real-time presence."
It's that real-time presence that is the key. If you're not having to be there all the time to run your business, then you can consider it to be relatively passive.
Remember, passive income businesses aren't truly passive, they still need some input from you, but you can leave them alone for a while before having to step in and get involved.
That's why I love passive income businesses and why 80% of my income comes from passive income products!
The main issue with true passive income ideas is that they take a lot longer to get up and running and earning compared with non passive income ideas, like freelancing or consulting.
This is why I encourage my students in the E.F.P. Program to focus on low-ticket offers initially.
Then you can branch out into multiple passive income options once you've got extra funds coming in to relieve the financial stress you might be under.
Understanding the Difference Between Passive Income vs Non Passive Income
Hopefully, by now, you've got a fair idea about the difference between passive income vs non passive income.
In case you're still not sure, here're a couple of examples that help illustrate the difference:
Toni is a freelance writer. She's been working her freelance writing side hustle for about 6 months now. She enjoys working with clients and earning extra income on top of her normal pay from her day job.
The only issue Toni has is that she is getting a little tired of getting up at 5am every morning and working till 9pm every night. She has taken a break once during the last 6 months from her side hustle, but as soon as she did that, her side hustle income dried up.
She wishes there was a way that this didn't happen…
The example I've shown above is non passive income. The next example is passive income.
Jane is a full-time author. She has been self-publishing her books for just over 12 months now and loves the entire process. While it's a lot of work upfront writing, publishing, and launching her books, once that work is done, it's done.
Jane receives a royalty payment from Amazon and other retailers every 30 days. In a lot of instances, she is receiving income for books she wrote over 6 months ago.
And while Jane doesn't have to write more books, she does have to review and update her books every so often, as well as continually promote them.
But the time it takes her to do this is far less than what it would take her to write a new book or work with a client one on one.
Now can you see the big difference between passive and non passive income?
Toni and Jane are both writers, but one is working with clients (trading time for dollars) while the other is writing books and selling them forever.
How to Make Income Online
There are many ways to make passive income online. It starts with figuring out your online business idea and then going from there.
Most ideas won't be passive initially. Remember, there is a lot of work that needs to be done upfront, but once that work is done and you implement automation, then your online business can become passive.
Here's what I mean:
Let's say you've got a blog. You write a blog post at least once a week and you gather email addresses from these blog posts.
As you become more experienced in your writing and more aware of what your readers are looking for, you start to get ideas about what it is you'd like to do with your blog.
You decide that you're going to create printable's and an online course.
Your printable's business will be set up using the Shopify platform so that you can automate the entire process.
Your online course will sit on the Teachable platform, where you can host your course and continue to sell it forever.
The key components of making passive income online include:
A business idea that can be automated
A website
An email list
Once you've got these in place, making passive income becomes a process that you can rinse and repeat as many times as you like.
How to Get Started With Your Own Online Business
If you're ready to get started, then the first part of the process is figuring out what idea you're going to run with.
To get you started, follow these steps:
[bullet_block style="size-16″ small_icon="12.png" width="" alignment="center"]
Write down everything you're good at
Write down everything people say you're good at
Write down all the skills you utilise in your day job
Write down what you're passionate about, or what your hobbies are
Once you've got all these ideas down, identify those that can be done online
Next, out of these online ideas, identify those that you can do right now. These are the ideas that don't need any further training on your part. You can literally hit the ground running tomorrow with this idea
[/bullet_block]
Once you've got that one idea, it's time to set up your website.
Once your website is up and running, decide on how you're going to build your email list. You'll need a lead magnet and a landing page to capture email addresses too.
Take your lead magnet and share it everywhere you can daily. This means you're constantly building your email list, which is what you want.
Once all that is done, you need to decide on your promotion strategy.
What I mean by this is you need a way to drive traffic to your site, so that people can get on your email list—so that you can eventually start selling to them.
Obviously, you're going to provide them with a ton of value first, but eventually, you want this to be passive, right?
Some options for promoting your site, lead magnets, and blog posts:
Pinterest group boards
Facebook group promotional days
Reposting popular blog posts to Medium
Sharing on your own social media platforms
Guest posting on other people's blogs
Paid advertising such as FB ads or Promoted Pins on Pinterest
Once you've got your business to this point, you can start to devise a passive income strategy through automation rules.
If you're going to be selling online courses, then this will be fairly easy once you get your course set up on platforms like Teachable, where they handle student registration and delivery of your content.
If you're going to be selling any type of product where the ordering and shipping process is automated (like the one Monique did with her t-shirts), consider using Shopify.
This platform has a ton of plugins (like WordPress does) that will help you with this.
Now it's Your Turn
Now that you understand what passive income is and how to get started, it's your turn to try it for yourself.
And if you're not sure where to get started, The Passive Income Product Planner (with bonus Passive Income Launch Planner Template + Prompts) will walk you through the exact steps you need to take to create your digital product from scratch!