Struggling with writer's block? Watch the video below to hear why I don't believe there really is such a thing as writer's block…
[video_player type="youtube" style="1″ dimensions="853×480″ width="853″ height="480″ align="center" margin_top="0″ margin_bottom="20″ ipad_color="black"]aHR0cHM6Ly95b3V0dS5iZS8zbmtqUkxtUTBvRQ==[/video_player]
Today I want to talk to you about something that I see a lot of my students inside my author coaching programs really struggle with… writer's block.  
I've probably mentioned this a couple of times before but I don't really suffer from writer's block anymore.
I believe it's kind of a bit of a myth to have writer's block because when you start the writing process, and if you do things the right way — follow a plan — you can't have writer's block.
What it comes down to is motivation and knowing what you're meant to be doing and when.
Ditching The Myth of Writer's Block
A couple of things that I want to cover today are a few of the things you can do to help you avoid writer's block.
Here's what I'm going to cover in this post:
Why it's important to ALWAYS outline
Why you need to PRACTICE writing every day
How  a CHANGE in scenery can make a difference
Why you should MOVE around to interrupt the block
How FREE writing in a journal can help
Why you should RECHARGE by taking a break

Plus more
#1: Outline first
The first thing I want to chat about is making sure that you always have an outline for your content, so whether it's writing your book, writing a blog post, writing your course — anything like that, it helps if you have an outline first.
So that you never sit down to a blank page or blinking cursor (because that is the most demotivating thing that you can do when it comes to beginning your writing process); outline first. 
Sitting down in front of a computer, looking at a blank page and sitting there thinking, "what am I going to write" — it just isn't the best way to get yourself into a good writing mindset.
Mind Map
Always start with an outline and when I say this, I mean start with your main topic in mind and mind map it out.
Whenever I write a book, I mind map the main idea first.
I will sit down with pen and paper because I love color, and I will start with the main topic of my book in the middle of the page and I then sit down, set a timer for about 30 minutes and then go nuts and write everything down that comes to mind about that topic.
You can apply it to a blog post, writing a course, writing a video script, basically any type of content — you can apply mind mapping to.
Once the initial mind map is completed, I will look at my mind map and I will pull in similar ideas and start to craft an outline.
I will start with some headings, or tentative chapter titles, but understand that none of this is set in stone, everything is flexible at this point.
I want you to know that none of this is about getting everything right from the outset, it's about enabling you to be able to write when you've got the time to write.
Let's get back to outlining, right?!
Grab those similar ideas from your mind map and put them onto your outline. As I mentioned, I'll start with a heading or a chapter heading, and then I will bullet point the ideas that are going to go under that heading.
Those bullet points are generally at least one-two sentences long. This gives me a good idea of what I want to cover in that actual chapter when it comes time to write it. Then I'll transfer that to whatever writing program I'm using.
Writing Program
If I'm writing a book this is gonna be Scrivener, and if I'm writing a blog post, I'm using Google Docs.
You can use Scrivener to do your blog post, that's totally fine, I just like using Google Docs because it's part of my process and that's what I work in.
When you're writing blog posts do not write them directly into WordPress. You can lose all of your work that way — it's happened to me a few times (as I was doing this post! I didn't follow my own advice and wasted 2 hours!) and it won't happen again!
This is why I use Google Docs. It automatically saves for you as you go, so you don't even have to worry about it. If you're using MS Word or WordPress, you've got to remember to save.
And remember. Outlining is one of the best ways to avoid writer's block.
#2: Practice makes perfect
The second thing that can help with avoiding writer's block is making sure that you write every day. Practice makes perfect.
Writing is not something that you are born with being amazing at. Some of us are; some of us have this as a God-given skill — but writing is not something that you can learn by osmosis. You have to treat it like a skill.
Think of it like learning a new instrument. The only way that you're gonna get good at playing an instrument is by practicing, and writing is exactly the same. So do whatever it is that you need to do to write every day and get in your practice.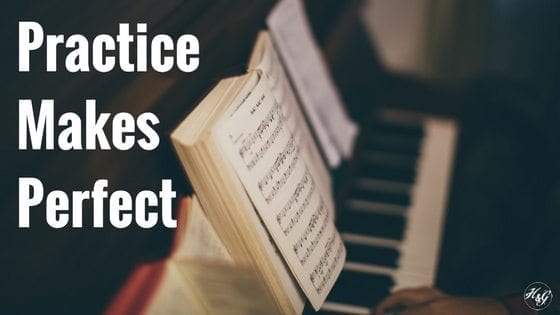 For me, I live and breathe writing. I'm either writing in my book, writing a blog post, writing email content, or I'm writing stuff for my students or my clients, whomever I'm working with, I'm writing every single day.
You can take it one step further and make sure that you do a bit of writing that is around your creative process.
I journal in the morning, every day, where I hand write that content down and I find that it unlocks my creative process a lot better and gets all the stuff that's swirling around in my head down on paper, and into my journal and then I can deal with it and it's all done – it really helps.
I do this in the morning but you could also do it before you were sitting down to do a writing session.
I recommend this to my students because a lot of them struggle when they come to sit down to write — they're often trying to do it before they go to work or after work and they've got all this stuff going on in their head, which makes it really hard to get into the writing mindset.
The best thing to do for yourself if this is you: is to take a moment, take five minutes, it doesn't have to be a long amount of time and just sit and journal, write whatever's going on in your head, get it out and then you can sit down and start writing.
It's really that simple.
#3: Get a change of scene
The other thing that I like to do if I'm suffering from 'writer's block' aka a lack of writing motivation… is change where I'm writing.
Sometimes you can get a little stale in the place that you write each day.
For me, I'm working from home so I'm generally always within the same four walls but sometimes I need a bit of fresh inspiration, particularly if I'm starting the writing process of a new book.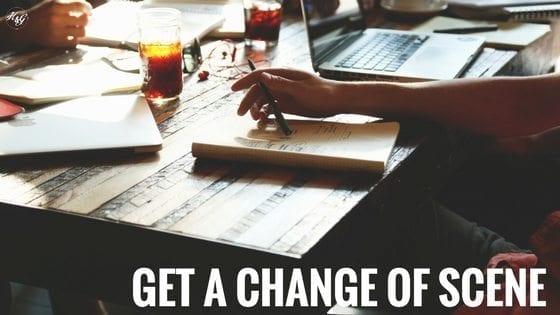 I will take myself out to my local cafe, order a Chai latte and set myself up. I will generally do about two or three writing sessions at the cafe. My writing sessions are typically 90 minutes in length, so I'm gonna be there for about three or four hours as I work through those writing sessions.
If you're struggling, if you're finding that you're not super motivated to write but you know that you've got to do it to stick to your deadline, change where you're writing. Change your scenery.
This could be simply moving from one location to another in your home.
It doesn't have to be a cafe, it doesn't have to be the local library, just move, get yourself out of the kind of stagnant area that you're in;  change it up. Just break the routine and do something different.
#4: I like to move it, move it
[video_player type="youtube" style="1″ dimensions="853×480″ width="853″ height="480″ align="center" margin_top="0″ margin_bottom="20″ ipad_color="black"]aHR0cHM6Ly95b3V0dS5iZS9oZGNUbXB2RE8wSQ==[/video_player]
Another thing that I love to do is… that sometimes, you know, it doesn't matter what you do, you might have gone through all of the things I mentioned above and you can still be struggling to write…
Get up and move. Move your body.
Get up, chuck on some music and dance around the house, that's what I do. You could go for a walk, get outside, just do something that involved moving your body.
What you're looking to do is break the train of thought that is currently running through your head, saying, "I'm not going to write".
That's generally what happens when you sit down and nothing comes… this happens to people who've been writing for years too.
I've been writing for a few years now and I consistently write and publish books, but there are still times where I sit down and I'm not feeling it like I'm just like, "ick, I just don't feel like writing. " 
But you know, stuff has to get done, stuff has to happen and the only way and the only person that's really responsible for that is you.
Nobody else is going to tell you what you need to do and when you need to do it except for you. You're responsible for you.
[Tweet "Nobody else is going to tell you what you need to do and when you need to do it "]
I do whatever I can to make sure that I'm meeting my deadlines and targets, so if I'm still struggling and I've gone through all of the stuff that we've just chatted about and  I'm still struggling, then I will get up and move.
I will either have a little mini dance party or I'll go outside for a walk, particularly right now, as we are coming into summer here in New Zealand so the weather is improving. I'll definitely go out and break that train of thought.
I normally go for about 30 minutes, that's all it takes, and I come back and I'm fresh and writing is a lot easier.
#5: Recharge
The other thing that you can do is recharge.
We are quite often hustling all the time and not taking breaks.
I've already mentioned that I tend to write in 90-minute blocks but I also do focus working blocks too.
Everything that I do is always done in 90-minute blocks and at the end of a 90-minute block, I  have a 30-minute buffer where I can take a break. I can get some downtime, go for a walk, have that mini dance party, whatever.
You could be meditating or lying on your back and looking for shapes in the clouds… that's one of my favorite things to do.
Recharge. You can't constantly, continually be hustling and then expect yourself to be able to just sit there and pump out great content.
It's just not going to happen.
#6: Leave it alone
One of the other things that I like to do, as an aside — it's not really going to help you with writer's block, but it will help you improve your writing — is to always leave my writing for 24 hours before I come back and edit it.
Definitely, do not edit straight after you have finished a block of writing because it's still fresh in your mind and you won't allow your creative juices to build up and flow and come up with more ideas.
Having that distance allows that to happen.
Can we agree: Writer's Block is a myth?!
When it comes to writer's block I'm gonna call BS and say it's more about motivation, or rather lack thereof.
So if you are struggling to motivate yourself to write, make sure that you try one of the strategies that I just explained and that is:
Trying to do an outline or make sure that you're practicing you're writing every day.

Free write in a journal before you sit down to write.

Move around, have a dance party, change where you're working and change 

where you're writing.
Just do everything that you can to break up the monotonous line that's going through your head that says,"I don't want to write" or "I can't write". Any variation on that. Do something to break that continuous pattern.
Wanna make money with your writing? Check out the book, Side Hustle Blueprint: How to make an extra $1000 per month writing ebooks!