And how it'll change your author business big time (like from "oh-no to woah!") in the next six months!
I just wanted to write you about something really cool that is coming your way. It's something you've been asking for too, even though you might not have realized it…
I'm super excited to tell you about the I AM An Author coaching program which is a coaching package that runs for six jam-packed months.
It will take your book biz from blah to wahoo in 180 days!
A little "I Am an Author" backstory…
There was a moment (back in January 2011) where I sat down with my boss to have a frank discussion about my career progression. I wanted to know what my options were and how I could 'climb the ladder' so-to-speak.
Her response? She was like: "Lise, you aren't going to get any type of promotion anytime soon because you are amazing at what you do and you make my life easier for me."
I'm sure you can imagine my response to that statement!
I knew that I really wanted to make real money without having to sacrifice time, without having to deal with office politics, without having to spend my life savings on something I wasn't sure of…
[Tweet ""I really wanted to make real money without having to sacrifice time…""]
So that's why I side-hustled as a freelance writer first, then quit my job and went full-time AFTER I had replaced half of my full-time income… and then I fast-tracked into becoming a full-time author when I invested in myself and got some one-on-one coaching. It was the one thing that made a real difference to my author career.
That's why I'm introducing I AM An Author to you now.
It's everything I know about running a successful author business translated into actionable steps and coaching so that you can take action and move through the maze that can feel like self-publishing and running an online business.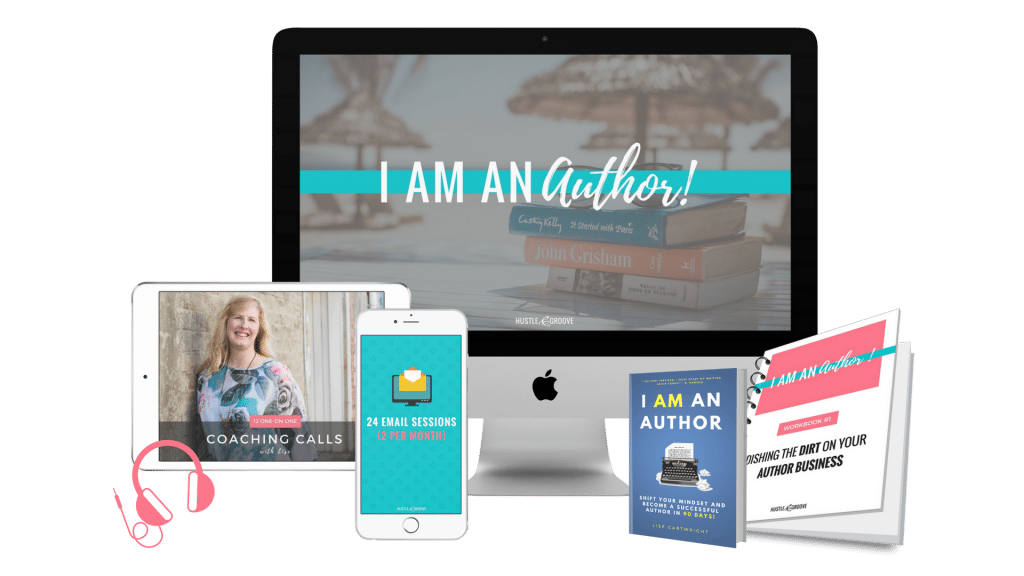 Why I AM An Author?
I made this for you because I've been listening to you and I've heard what you've been saying and you're struggling.
Your book is written, it's done. You've done the hardest part right, but it's not exactly the Cash Cow you thought it was going to be.
Quitting your job—well that feels like a pipe dream right now, doesn't it? 
I get it. It feels like this is just never going to happen… and you're going to have to put up with the office politics for a little bit longer… or are you?
The I AM An Author coaching program is your escape plan. 
It's going to give you strategies and systems that will get your book selling themselves without you having to waste thousands on costly advertising.
You will learn how to make real money with your books so that you can actually inspire and connect with your tribe through your books — sharing your knowledge with the world.
What you'll learn:
You're going to learn lots of different things, like:
how to set up an email marketing plan because that's where it all starts. If you don't have an email marketing plan as an author, you're leaving a lot of money on the table.

how to promote your book without spending money on advertising. There are so many different ways you can do this and I want to share with you how I've done it…
Now I just want to put a caveat in here that these are long-term strategies that we are going to be talking about. We will be working together for six months and as we already know, there is no short-term, quick fix — no get-rich-quick scheme, nothing like that.
Side hustling as an author
A couple of things that I really think are super important for a profitable author business are things like income mapping and monetization strategies.
I feel like what happens right now is that authors write a book and then they need to publish it, launch it and then rinse and repeat this process.
It's certainly the experience that I had when I first started.
I thought all I had to do was write, publish, launch more books, write, publish, launch more books, write, publish, launch more books… and that can get tiring.
I did that for 12 months, writing a book literally every single month and I got really burnt-out.
[Tweet "writing a book literally every single month and I got really burnt-out…"]
So I took a step back and I thought to myself; "What else can I do?"
That's when I started side hustling as an author and really making a serious income from my books.
And that's what I want to help figure out for you — different income mapping strategies and monetization strategies that you can do and include in your author business.
Life After I AM An Author
Let's be honest, you only care about how this will help you. Which is totally fine, by the way. You should focus on you, particularly if you want to be successful and make the jump from full-time job to full-time author…
Here's the top five reason's why you will LOVE this program:
You'll increase your income every month like clockwork

Get invited to speak at conferences and online summits all over the world

You'll have new readers scrambling to get their hands on your latest book

Check off your to-do list EVERY day
Never have to worry about office politics again!
And yes, once you've implemented all these strategies, it's going to happen — you're going to get invited to speak at online summits and conferences around the world, even if you don't want to, it will happen anyway. Just saying 😉
For example, I have been asked to speak at five online summits in the past 3 months alone!
So if being a profitable author is something that you are super keen on achieving, then let's work together and finally make a difference in your author business. I encourage you to have a look at the link below and get started today.
[arrows style="arrow-blue-1.png" align="center"]
I have 3 spots available for this round (Nov 2017). CLICK HERE to secure your spot and achieve a profitable author business so you can finally quit your job!