After completing a 3-month course on how to write a book and get it to be a bestseller on Amazon, I can most definitely confirm that there are some very unique algorithms going on inside the Amazon engine, particularly when it comes to Kindle books, I like to call them Kindle publishing secrets, because they are not easily found.
I think the major problem is; most would-be self-published authors think (myself included), think that Amazon is just another version of Google, which it's not.
People that come to Amazon are looking to BUY! That's the key right there – if you're on Amazon, you're not doing research, you're looking to buy something. You might be looking for the best deal, but you're definitely looking to buy.
[Tweet "The same can't be said for every Google search."]
So, why do we treat Amazon the same? A simple lack of education and knowledge. What you don't know, you don't know.
Because I'm a nice person and I love talking about this stuff, I wanted to share some of the most uncommon things about Amazon (that you may not know) that will help you in your self-publishing career – Kindle publishing secrets as I like to call them!
5 Kindle Publishing Secrets You Need to Know!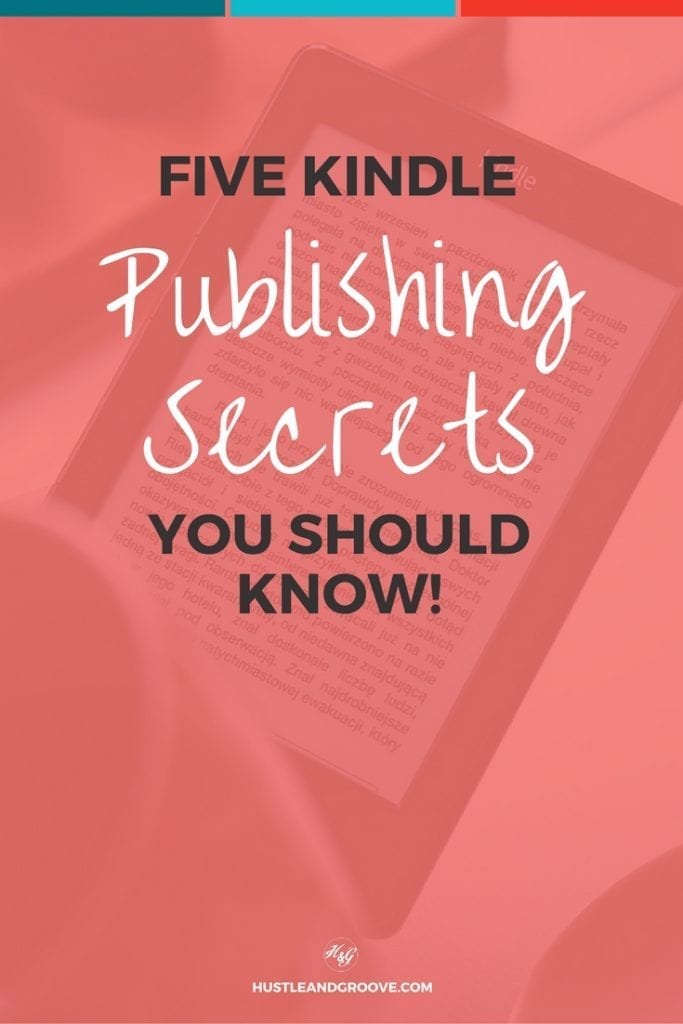 Number 1 – Publish More Books!
I'm not sure if you've heard this one yet, but one of the major secrets to being successful with Kindle is publishing more books. If you haven't heard of Steve Scott, you should definitely check out what he's doing.
He has over 40 published books on Amazon and clears about $60,000 PER MONTH in revenue from his books. His advice when starting out on Kindle? Publish more books!
Pretty simple, but I feel it's where a lot of people get caught up – they publish a book and are caught in the excitement of the launch – but if you want to sustain sales, you need to let Amazon know that you're not just a one-hit-wonder and the only way to do this is to publish more books.
I noticed this myself, I've now published over 20+ books and the sales of the first few books have gone up since the rest became available.
I've also seen a massive increase in borrows and Kindle unlimited access. I'm going to continue to monitor all of this as I release a further 3 books for the remainder of this year!
Number 2 – Build an Author Platform
I can't stress this enough – if you're not capturing emails of people that buy or download your book, how can you let them know when you publish more books? Amazon doesn't share this information with you, so you need to take matters into your own hands and manage this process yourself.
There are a number of ways you can do this, but the simplest and easiest way to accomplish this is to offer anyone that buys your book a bonus gift.
You would link to a landing page on your website (from within your ebook) and they hand over their email to get access to your gift. Then, if you're smart, you link them into your auto responder series and start them on the path of your author awesomeness.
Just be careful of how much you promote your stuff – focus on the 80/20 rule – 80% free stuff or relevant information and 20% your books.
Number 3 – Get Reviews BEFORE You Launch
Reviews are like currency on Amazon. It's part of the guiding algorithm that pushes a book to the top of a best-seller list or hot new release list.
The key to getting reviews needs to be an ongoing strategy – you need to continue to get reviews to stay in the top 100 in your category and to keep making sales.
One of the things a lot of authors don't do is to have people review their book BEFORE they launch. This means that when you launch your book to the world, you already have a number of reviews about your book, which provides more credit to your author status.

The easiest way to do this is to shoulder-tap your friends and family. Provide them with a free copy of the book and ask them to leave a review before a specific date (ie, your launch date).
This means your books needs to be live on the Kindle store for them to do this. You should upload your book and hit publish no more than 3 days prior to your launch date so that you can have people leave reviews.
[Tweet "Get your review requests out as soon as the book is finished."]
Reviews are one of the hardest things to get, it's literally like pulling teeth. Tim Grahl lays out some great ideas on how to ensure you can get 25 reviews on your launch date, but in my experience, I'd recommend having those reviews go live a few days BEFORE your official launch date.
The main reason for this is that if you decided to do any type of promotion (free or paid), a number of the sites you would use require at least 5+ reviews on the book. This is my preference too – just adds more street cred to your newly created author profile.
Number 4 – No List? Launch Free
If you don't have an email list to promote your list too, or the list is less than 500, launch your book for free.
You will be able to build your audience faster and hit the top 100 list in the Free Kindle Store, which gives you more eyes on your book.
If you've been smart and included a giveaway in your book, you'll be able to gather a good chunk of emails from those who download it.
For my first book, No Gym Needed – Quick & Simple Workouts for Gals on the Go, I had over 7,000 downloads and have over 300 signups from that giveaway. That's a 4.3% conversion, which is pretty good for a cold list sign up, ie, where they don't know you from a bar of soap!
Number 5 – Choose Buying Keywords
When you upload your book into KDP, you have the option to list 7 keywords. These don't have to be just one word, they can be phrases as well.
Choosing the right keywords will ensure that you are also ranked high in an Amazon search result for specific keyword terms as well as the categories you've chosen.
The key to making this work for you is to make sure you include some buying keywords.
How do you know what those are? Use a tool like www.merchantwords.com to help. You can access this tool for free, but you'll only get limited results unless you pay for the full version.
Merchant Words provides you with results based on the keywords you enter, returning results that are based on what is actually being searched on Amazon. It's a really powerful tool and one that I use regularly. The subscription is normally $30 per month, but if you hurry, you can get it for $9 per month forever using this link.
Now that you're equipped with these Kindle publishing secrets, you can hit the ground running. Just remember, the single most effective way to be successful on Kindle is to publish more books!