I don't know about you, but setting your vision, mission and values can be tough when you're setting up your online business.
I mean, what do these even mean, and why do you even need to bother for your business? After all, it's just something you're doing in your spare time, right?
While that might be the case right now, I can guarantee in a few months' time, you'll be starting to think about your next steps, and those next steps will evolve faster if you've got your vision, mission, and values laid out.
Basically put, your vision is what you see your online business providing to your customers or clients.
Your mission is around how you will do this and your values are what your business is governed by.
So you can see why it's important to get these written down sooner rather than later…
Before you get started, make sure you grab the Free Canva template I created for you here.
Setting Your Vision, Mission, and Values
Setting Your Vision
Your vision for your business should be no more than a few lines long. It doesn't need to be grand. Keep it simple and to the point and write it down in your own words.
It should be something you'll remember easily, so practice speaking it out loud so that you've got the right words and you're not stumbling over them.
It should clearly show who you're helping and how you're helping them.
Here's what my vision, mission, and values page looks like: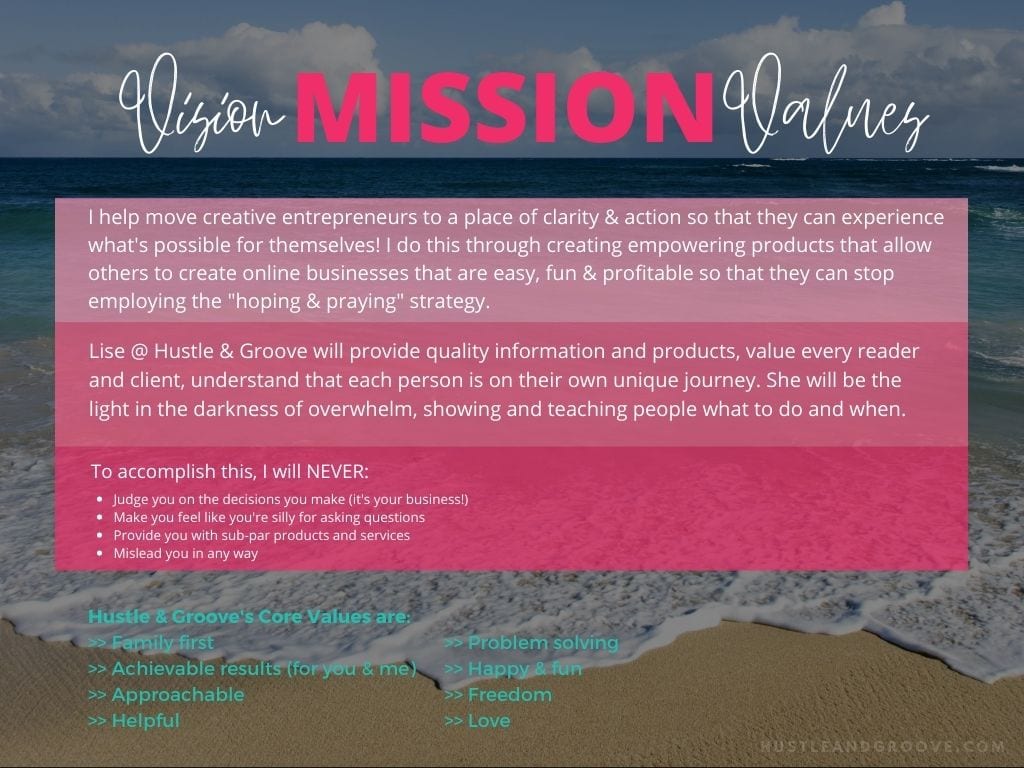 As you can see, the first part is my vision — and the focus is on what do you or your business do? Who do you help?
Answer those questions for yourself before moving onto your mission statement.
Setting Your Mission
The second part of the page is your mission — what will you provide to your target audience?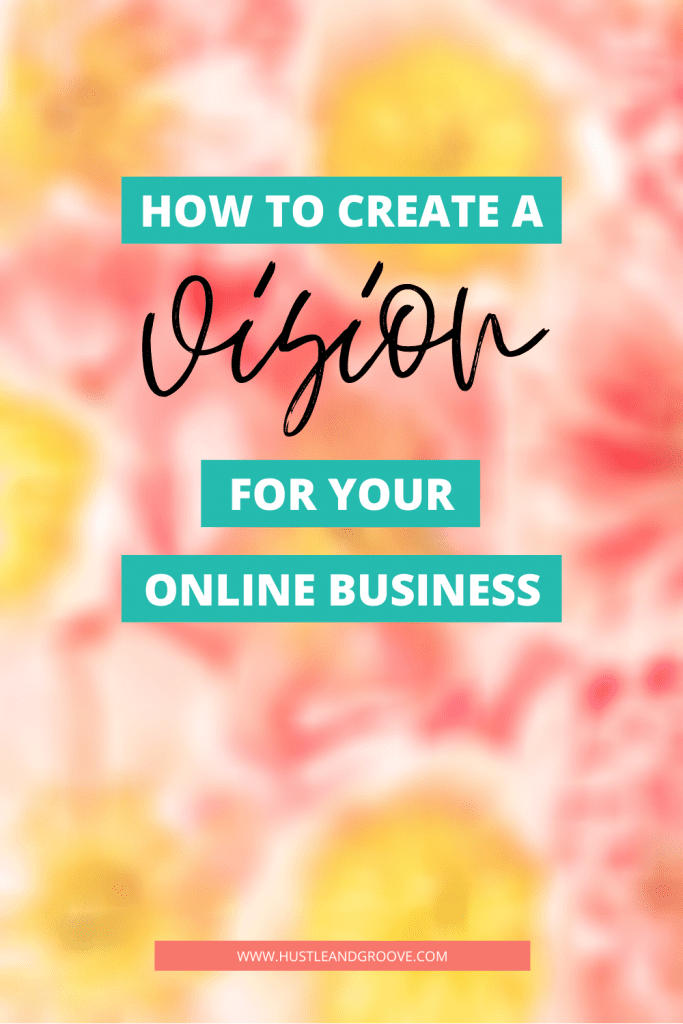 This expands on your vision a bit more but focuses on the delivery of what you're going to provide. Use action words rather than passive to give it more 'omph'.
Within your mission, you'll also see there is a section called "To accomplish this goal, I will never…" — it's important to list the things that you'll never do, even though they might seem obvious, it helps to write them down and share them with your new customers or clients.
List Your Values
The last part of the page is about your values — these govern how you interact with your audience and how you operate your business. They will likely be closely aligned with your personal values too.
Remember, this is your business, so you can write whatever makes sense to you. If you get stuck, refer to mine for inspiration.
Don't get too hung up on this either. Keep it simple, direct, and to-the-point. There is no need for long-winded vision or missions here.
As with your intention card, print this out and put it somewhere prominent to remind you of what you're trying to achieve.
You should review your vision, mission, and values every year to make sure they are still aligned with your business.