Now that I've published 20+ books, I've been wondering how to scale up my business. One area that I've shied away from is in outsourcing the writing of my books. Mainly because it makes me feeling kind of dirty thinking about someone else writing books that I put my name on!
I know that other's don't feel the same… so I've been thinking about it some more and you know what, it still feels kind of icky to me.
Here's why…
[bullet_block style="size-16″ small_icon="12.png" width="" alignment="center"]
Paying someone else to write a book that's not in my voice is a bit weird to me
Selling a book not written by me and taking all the credit – icky!
Not having creative control over the writing process
[/bullet_block]
Now, from a business viewpoint, at some point, you have to figure out whether you're in the indie publishing game to make money or to connect with people and expand your brand.
Once you know what your driving force is, it's easier to make some decisions.
When to Outsource the Writing of Your Book
In the next few years, I am going to look at outsourcing some of my books. Shock, horror I know!
But here's why I'm considering doing this and why you might decide to do the same.
I'm looking at publishing some illustrated kids books. And last time I checked, I couldn't paint like Picasso nor draw like Walt Disney. So it makes sense to outsource that part of the book to someone else.
I'm also not a parent. I don't have kids (yet) and although I'm super close to my nieces and nephew, I don't spend anywhere near enough time with them to be able to really understand what makes them tick.
So, I'm completely outsourcing the entire process aside from coming up with book ideas and marketing them (of course).
You might have a great idea for a book, but no expertise in the subject.

This would be a great time to outsource the writing of the ebook, but rather than having someone ghostwrite it, you could partner with them instead, particularly if you can bring something else to the table.
The issue I see right now with a lot of ghostwritten books on Kindle is that they are complete and utter crap. They are written solely because something is trending right now and they authors are looking to make a quick buck.
Now this is a viable (short-term) business model – just not one I'm interested in pursuing because I'm about quality AND quantity and neither should affect the other.
Not that all ghostwritten books are bad, but there are a lot in the Kindle store that is, more so than those that are good.
Below are a couple of examples of books I've recently picked up, only to discover that the books are filled with spelling and grammar errors, so much so, that it actually hurts my eyes to read the books.
[images style="2″ image="http%3A%2F%2Fhustleandgroove.com%2Fwp-content%2Fuploads%2F2014%2F12%2FScreenshot-2014-12-16-19.59.39.png" width="1440″ align="center" top_margin="0″ full_width="Y"]
[images style="2″ image="http%3A%2F%2Fhustleandgroove.com%2Fwp-content%2Fuploads%2F2014%2F12%2FScreenshot-2014-12-16-20.12.57.png" width="1440″ align="center" top_margin="0″ full_width="Y"]
The only other time I would consider outsourcing is during the research phase of a book, particularly if it was a topic that I wanted to delve deeper into.
I have no issues paying someone to compile research for me and will definitely be doing this moving forward in the future.
When Not to Outsource Writing
It seems pretty obvious to me when you shouldn't outsource, but I'll spell it out so there's no confusion.
If you're looking to establish yourself as a leader in your industry or connect with people on a deeper level – outsourcing the writing of your book is not an option.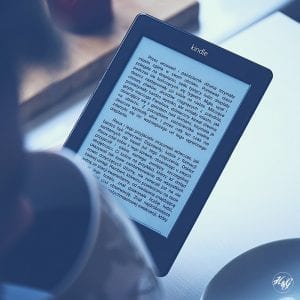 Everyone can learn to write and if you find it hard to write, dictate your book and have someone transcribe it and then pay a great editor to tidy it up for you.
Personally, I don't think there is any excuse in outsourcing a book just because someone wants to make a quick buck. All it does is flood the market full of crap and in the long run, that will damage the indie publshing world.
And Amazon is not stupid – they are getting savvy about the crap that is out there. They have ways that will weed out those books that lack substance.
This is why you will never see a book not written by me, UNLESS it's for the reason's outlined above. And even then, I will more than likely add those people as contributors to the book, particularly from the illustrator point of view.
What are you thoughts on this subject? Do you completely outsource your writing? If so, I'd love to hear your comments below!
[optin_box style="12″ alignment="center" email_field="email" email_default="Enter your email address" integration_type="convertkit" double_optin="Y" thank_you_page="https://hustleandgroove.com/thanksforsubscribing" list="42312″ name_field="name" name_default="Enter your first name" name_required="N" opm_packages=""][optin_box_field name="headline"][/optin_box_field][optin_box_field name="paragraph"]PHA+PGEgaHJlZj0iaHR0cDovL3d3dy5odXN0bGVhbmRncm9vdmUuY29tL3dwLWNvbnRlbnQvdXBsb2Fkcy8yMDE2LzA0L0pPSU4tVEhFLUhHLVNFQ1JFVC1WQVVMVC5qcGciPjxpbWcgY2xhc3M9ImFsaWduY2VudGVyIHNpemUtZnVsbCB3cC1pbWFnZS0zNDYzIiBzcmM9Imh0dHA6Ly93d3cuaHVzdGxlYW5kZ3Jvb3ZlLmNvbS93cC1jb250ZW50L3VwbG9hZHMvMjAxNi8wNC9KT0lOLVRIRS1IRy1TRUNSRVQtVkFVTFQuanBnIiBhbHQ9IkpvaW4gdGhlIEgmYW1wO0cgU2VjcmV0IFZhdWx0IHRvZGF5ISIgd2lkdGg9IjcwMCIgaGVpZ2h0PSIzMDAiLz48L2E+PC9wPgo=[/optin_box_field][optin_box_field name="privacy"]We value your privacy and would never spam you — that's just gross. You can unsubscribe at anytime.[/optin_box_field][optin_box_field name="top_color"]undefined[/optin_box_field][optin_box_button type="1″ text="Access Now" text_size="20″ text_color="#ffffff" text_font="Montserrat;google" text_bold="Y" text_letter_spacing="0″ text_shadow_panel="Y" text_shadow_vertical="1″ text_shadow_horizontal="0″ text_shadow_color="#0eb9cb" text_shadow_blur="0″ styling_width="20″ styling_height="17″ styling_border_color="#027381″ styling_border_size="1″ styling_border_radius="6″ styling_border_opacity="100″ styling_shine="Y" styling_gradient_start_color="#0eb9cb" styling_gradient_end_color="#027381″ drop_shadow_panel="Y" drop_shadow_vertical="1″ drop_shadow_horizontal="0″ drop_shadow_blur="1″ drop_shadow_spread="0″ drop_shadow_color="#027381″ drop_shadow_opacity="50″ inset_shadow_panel="Y" inset_shadow_vertical="0″ inset_shadow_horizontal="0″ inset_shadow_blur="0″ inset_shadow_spread="1″ inset_shadow_color="#0eb9cb" inset_shadow_opacity="50″ location="optin_box_style_12″ button_below="Y"]Access Now[/optin_box_button] [/optin_box]