"Argh! I'm so frustrated! I'm not sure of the steps to take. I need a step by step description of what to do…"
"I'm overwhelmed with so much to do and still working at earning enough from home to quit my draining day job."
"I'm not sure where to start."
Does any of this sound familiar? It should, because you, along with hundreds of other budding full-time authors, have been asking me these questions for a while.
And I want to help.
I know what it feels like to be stuck in the endless cycle of questioning what you should be doing and when.
Start: Full-Time Author
You think you've got a starting point, then something else pops up that logically (you tell yourself), makes better sense to start there… gotta love that Neville (aka that inner negative voice).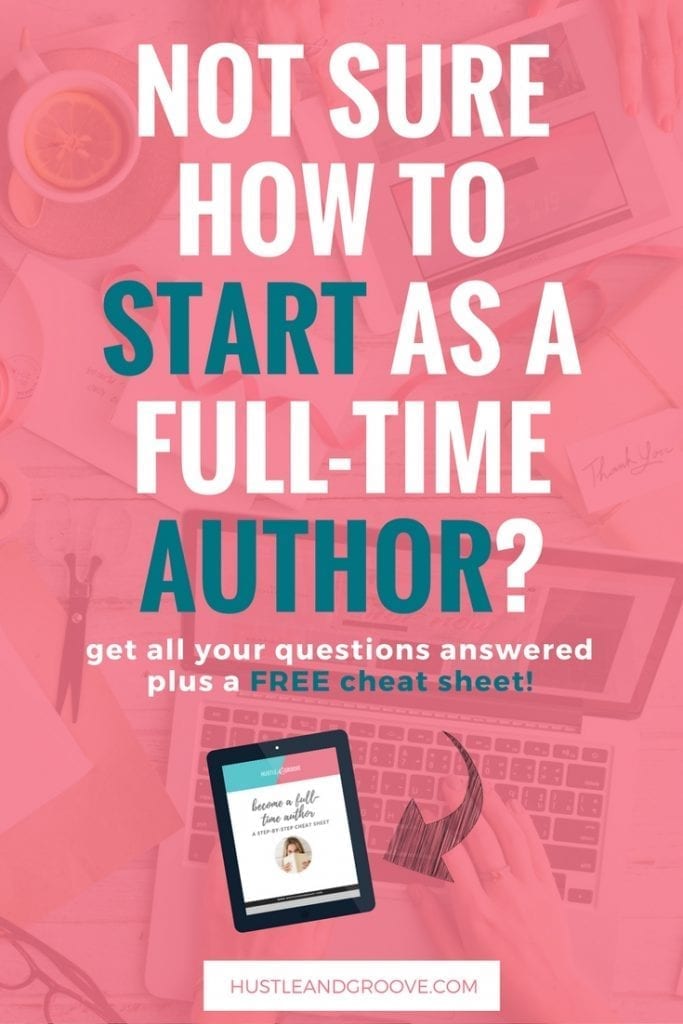 He's the one responsible for stopping you from taking a step forward. I guarantee it.
The thing is this: If you don't have a full-time author business and your day job is killing you slowly, then you need to take care of it.
If you don't, you could end up in a very quick spiral into burn out, a mid-life crisis, or worse, in hospital from stress.
If you're already there, then my friend, it's time to get the heck outta Dodge, don't you think?
So what's the answer?
Having a clear plan, a clear path to take. A step by step description of what you need to do and when.
And that's what I'm going to share with you right now.
If you follow these steps, take action and implement them, your life is going to dramatically change.
Your bank balance is going to have a few more zeros in it each month.
Your boss will be left with his mouth hanging open because you just quit your job.
No more office politics and arse-kissing for you.
The only negotiation you'll be doing is with your cat Larry… about who gets first dibs on your office chair each morning.
Answer: Larry. He always wins ? ? ?
[Tweet "Your boss will be left with his mouth hanging open because you just quit your job."]
The Full-Time Author Business Plan Checklist
Step #1: Turn your website into a reader-capturing spider web (aka opt-in forms + freebie).
Make sure your website is optimized to capture your reader's email addressed when they visit your site. Bonus points if you're already doing this from inside your books!
Step #2: Create an automated sales funnel for your books.
Figure out how you're going to get people to buy your book. Is it through a link in your blog post? What about via a social media platform.
How are you driving traffic to your book's sales page?
Step #3: Optimize your books
Review your current books and add a resource page (freebie) at the beginning plus how they can connect with you at the back of the book (link to your website). 
You're doing this to get them on your email list, remember?
Step #4: Get reader feedback and buy-in
Outline your next three books and email your list to find out which one they want you to write first. Once you've got that data, you'll also be able to see the order you'll write the books in.
Step #5: Create an email marketing plan for the next 90-days.
Again, the question is: how are you driving traffic to your books sales page?
Step #6: Create a content plan around your books and future products.
Have a plan so that when you're ready, you can roll out the content when you need it. This should form part of your overall sales funnel.
Step #7: Brainstorm ideas for your products and/or services.
Always be adding to your income map by coming up with more products and services. Your books are just one aspect of your author income. Don't limit yourself!
Step #8: Decide on monetization strategies.
How are you going to make the most out of your website, your assets, your email list? Will you focus on your products only? What about affiliate marketing?
It pays to have an idea in mind so that you can start preparing for the day when this will need to come into play.
Step #9: Review every 90-days. And rinse and repeat.
[divider style="0″]
Wondering if this really works? Let's look at a couple of examples…
Case Study #1: Steve Scott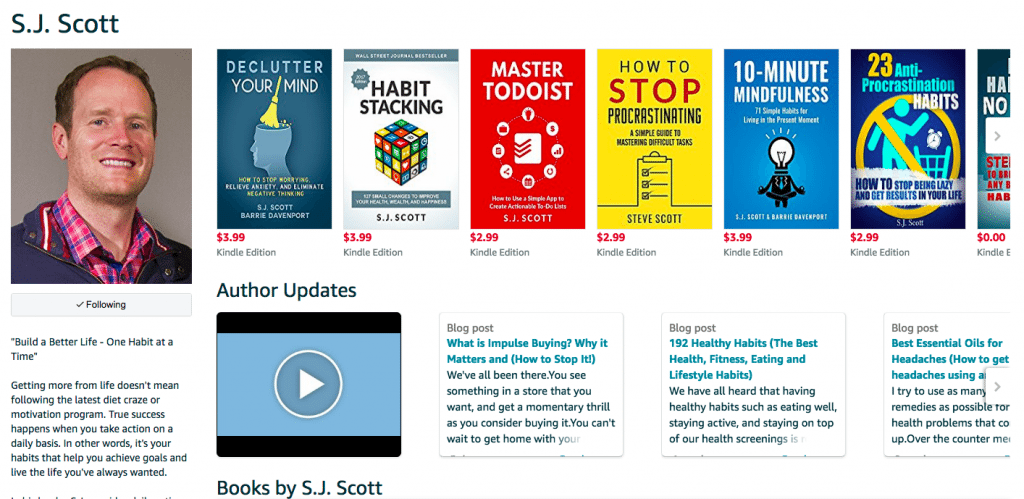 I first discovered Steve back in July 2013 when he was running his website, stevescottsite.com. I consumed ALL the content on that site as well as a number of his earlier books.
Then, in 2014, Steve joined forces with another few authors and created authority.pub where he teaches you how to self-publish.
He also created a niche site called developgoodhabits.com where he talks about developing habits and where the majority of the books he writes, now reside.
Follow our author business checklist above, you can see that Steve hits ALL of the steps, from creating products (see Authority.pub for access to his courses) to capturing email addresses.
Of course, you can't see his email marketing plan or content marketing plan, but if you join any of his email lists, you'll start to get a taste of what he does.
Steve has built a following and an email list that allows him to simply launch his new books to his list and achieve a #1 bestseller.
Steve is my go-to guy when it comes to the strategy behind writing great books and building an author platform.
Case Study #2: Cara Filler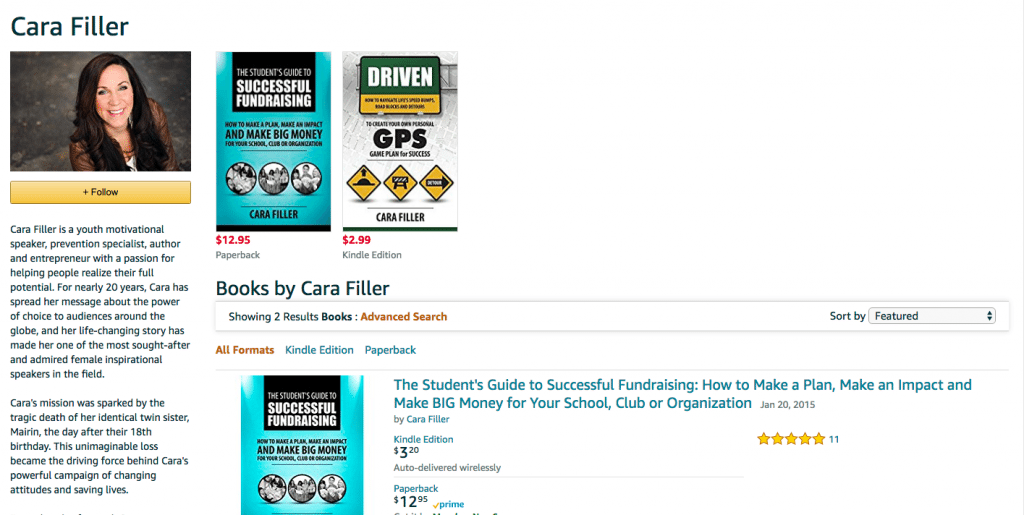 I've worked with Cara a number of times on her book projects.
Cara is a youth motivational speaker. She specializes in speaking in schools around the country about speeding, drinking and (not) driving — educating young people on speaking up if they feel uncomfortable.
Cara has a diversified income through her speaking, books, and other programs she offers.
Her books serve as an entry into what she's about, her story, and how people can book her for speaking gigs.
Following the business plan above, Cara hits most of the steps as well.
You can check Cara out at carafiller.com.
It's about figuring out what your plan is and then implementing it.
Now it's your turn.
Don't let Neville rule the roost (or Larry the cat for that matter!).
Take matters into your own hands and implement like your life depends on it… because it actually does!
Sign up and get the checklists to end all checklists to achieve your own author business plan…
Put your email in the form below and you'll get the Full-Time Author Business Plan Checklist digitally delivered into your inbox within in seconds!
[optin_box style="10″ alignment="center" email_field="email" email_default="Enter your email address" integration_type="convertkit" double_optin="Y" thank_you_page="https://hustleandgroove.com/thanks-for-your-deets" list="288373″ name_field="name" name_default="Enter your first name" name_required="N" opm_packages=""][optin_box_field name="headline"]Here's The Headline For The Box[/optin_box_field][optin_box_field name="paragraph"][/optin_box_field][optin_box_field name="privacy"]We value your privacy and would never spam you[/optin_box_field][optin_box_field name="top_color"]undefined[/optin_box_field][optin_box_button type="0″ button_below="Y"]I WANT IT![/optin_box_button] [/optin_box]