As an author, you have to do a lot more than just typing away on your keyboard.
Today's authors who are successful have the ability to wear multiple hats, whether that's nurturing their inner Hemingway, or taking off their writer's cap and marketing their book.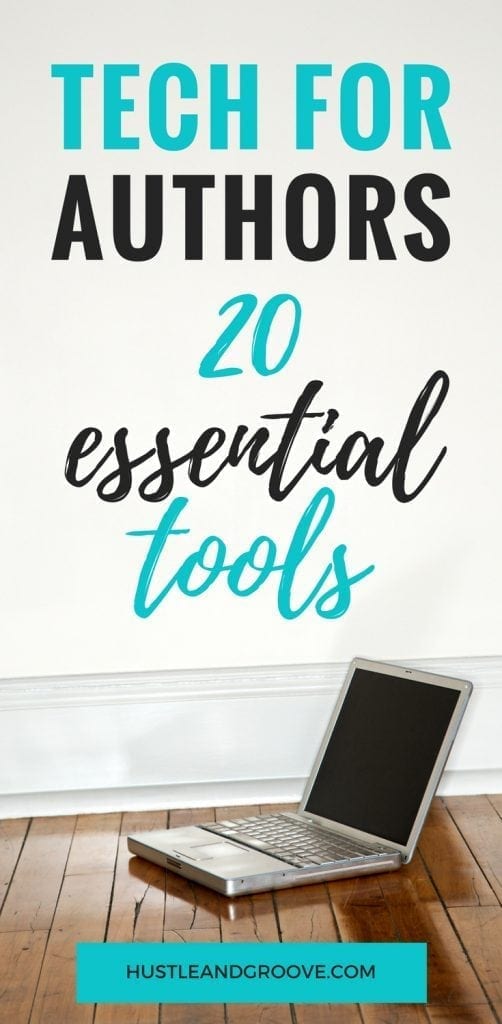 The business of writing is exactly that—a business.
Being an author means not only writing, but researching, editing, designing, publishing, marketing, and selling your books.
I get it. It's a lot. But, you don't have to go at it alone. There is another way.
Below you'll learn what tech essentials are must-haves in your author toolkit. You'll learn about everything from writing software to research tools, to email marketing software that'll help you build a list of raving fans.
Tech For Authors
Writing Software
When you think of being a writer the first thought in your head might be the image of you sitting hunched over a dusty typewriter. Lost in your world, with the only sound being the punch of the keys.
Or maybe it's with a pad and pen, sitting in the corner of a quiet cafe, silently penning away at the next great American novel.
Those are great images, truly.
But, here's a little secret.
As nice as those thoughts are, they can be a little far from reality. Especially if you want to write great books fast.
Luckily, there are a few super awesome tools that'll help you hit your daily word counts with ease, and make it much easier to stay organized throughout.
1. Scrivener
Scrivener has quickly become the industry standard for writers. This little piece of software does have a bit of a learning curve. But, once you understand how to use it, it'll quickly become one of your favorites.
This tool will help you easily organize your book, create multiple drafts, track and hit target and daily word counts, and a lot more.
2. Storyshop
Storyshop is a new addition to the writing software space, from the team at Sterling and Stone. It's built around fiction author's, but it can be used for non-fiction as well.
For those writing fiction, you'll find a wealth of useful stuff like character and location profiles, word count tracking, easy organization features, world-building features, and the ability to create multiple books in the same world. Perfect for those who are in the middle of multiple book series.  
There are a lot more pieces of writing software out there. However, the two above are some of the best. Ultimately the goal when choosing any piece of software should be to help you not only with writing your book, but with the editing, revising, and publishing stages as well.
Editing Tools
You've finished your first draft. That's HUGE! Now, it's time to polish that baby up.
Sadly, most built-in spell checkers are severely lacking. But, there are a few tools that are the equivalent to having an expert editor in your back pocket.
3. Grammarly
For Grammarly, there are two versions, free and premium.
All you have to do is copy and paste your text into the web app, and the tool will highlight any common grammar mistakes or spelling errors you're making.
You'd be surprised at the number of errors this tool will catch. For a deeper editing experience, you can upgrade to the premium version.
4. Hemingway App
Hemingway was the king of clear and simple prose. Now you can write like the master himself with the Hemingway App.
The goal of this tool is to help you simplify your writing. It's similar to Grammarly above, but it has the additional feature of cutting down your prose to only what's essential.
If you tend to be verbose, then use this tool to get to the heart of your writing.
5. ProWritingAid
ProWritingAid also has a free and premium version.
Essentially, it's a combined version of Grammarly and Hemingway app.
When you run your writing through the tool it'll give you a breakdown on over 20 different writing elements, from style to grammar, too overused phrases, to sentence length, transitions, and a lot more.
If you're looking to diagnose your writing strengths and weaknesses, then this tool can help to illuminate any blind spots.
Book Research
There are multiple ways to research your books. But, one very important, but an often overlooked element is keyword research.
If you're publishing your book yourself you want to write for a hungry market that isn't overly competitive. This will allow you to make a name for yourself as an author while making some sales in the process.
The tools below will help you find untapped markets and keywords you can optimize your book listing for, or even create a series of books around.
6. Publisher Rocket
Publisher Rocket is THE tool for helping you find profitable niches and keywords to target. With this tool, you'll get an idea of how much money individual books are making, along with the search volume of keywords related to your book, along with how competitive each phrase is.
With this information you'll know which keywords to target that'll give you the best return on investment.
7. Kindle Spy
Selecting the right categories for your book is part art, part science. Did you know you can choose up to seven categories for every book in your catalog? Plus, Amazon is creating new categories every day.
By having a grasp on the competitiveness of each category, you can get your book in front of new readers, while getting the trusted "Amazon Bestseller" tag on your book listing.
Kindle Spy will help you do exactly that. As a Google Chrome extension just open a book listing page, and you'll be able to pour through all kinds of valuable information.
Website Essentials
By having a website you're giving yourself more control over your career as an author. With a website, you're building a valuable platform where you can attract new readers, and provide even more value to existing readers.
Here's what you need to get started:
8. Hosting
First, you'll need a place to store your website's files.
There are probably hundreds of different web hosts to choose from, and choosing one can be kinda overwhelming.
To make it easier for you, Bluehost, Hostgator, and Siteground. They all have super cheap beginner packages, and enough hosting features to help get your site off the ground.
9. Domain Name
The second part of having a website that's alive on the internet is your domain name.
As an author, even something as simple as your name, or pen name, will do.
You can purchase a domain name through the host providers above. However, some people prefer to separate the two. If that sounds like you, then Namecheap is a great place to buy cheap domains. Plus, it has a very clean and simple interface.
10. WordPress
If you want complete control and freedom, without getting lost in the technical details of site-building, then using WordPress as the foundation for your site is a great idea.
With WordPress, there are literally hundreds of themes you can choose from, as well as some created just for authors like yourself.
WordPress also has a wealth of plugins that can add additional features to your site, and even help you build an email list.
Email Marketing Provider
Speaking of an email list, the sooner you can start building a list of engaged readers the better.
Imagine in the future, all you have to do to launch a book is send a few emails to your list who are eagerly awaiting your next release.
11. MailChimp
MailChimp is a great email marketing tool for beginners. It's intuitive, easy to use, and you can create a free account for up to 1,000 subscribers.
If email marketing overwhelms you, then start with Mailchimp, as the learning curve is very minimal and there's no upfront investment.
12. Aweber
Aweber is another incredibly popular email marketing tool. It's similar to MailChimp but has a more extensive feature set.
However, it doesn't have a free version. So, if you're trying to cut costs, then consider starting with the free version of MailChimp instead.
13. ConvertKit
ConvertKit is a newer addition to the email marketing space, but their tool is top notch.
It's not only incredibly easy to use, but it's super easy to create funnels and integrate with your existing blog. If having an onsite content strategy is part of your long-term marketing strategy, then ConvertKit might be a tool you'll want to check out.
Formatting and Design Solutions
Your book is a lot more than just words on a page.
It needs to be formatted properly and you need a cover to hold it all together.
Without the proper formatting and cover your book will seem amateur at best.
14. DIY Book Covers/Formats
Derek Murphy, the writer behind CreativIndie and Urban Epics has created a few tools to help author's format and create covers for their books.
If you want to do things yourself, then DIYBookFormats and DIYBookCovers will help you create a professional end product, without hiring someone else to do the work.
15. 99Designs
99Designs lets you hold a design competition where designers can compete on the best book cover design for your book. If you want the input of hundreds of professionals, then you can use the platform to help you find the right cover designer for your next book.
You can choose a price point based upon your budget and how many designers you'd like to submit a bid on your project.
16. Fiverr
Fiverr isn't an ideal solution for a high-quality book cover. But, sometimes we just don't have the budget when first starting out. The beauty of Fiverr is all in how you use it. Spend enough time on the platform and you may be able to walk away with a properly formatted book and a solid cover.
17. Calibre
Converting your book to multiple formats doesn't have to be difficult. With Calibre you can convert your existing book file into multiple formats that are suitable to various online storefronts.
Whether you need a .mobi, .epub, .pdf, or something else entirely this tool can do it for you in a matter of seconds.
Book Review Software
So, you've got your book published, you're looking at your book listing, and you feel like it's missing something.
Could that something be more reviews?
Having a solid number of reviews will make your book more trustworthy, open up advertising opportunities, and increase sales across the board.
18. Book Review Targeter
Book Review Targeter will comb through Amazon to find reviewers who are likely to like your book and compile them into a spreadsheet. Then, you can reach out to these people to see if they'd be interested in leaving a review on your book.
Although this shouldn't be your sole method of getting reviews, it can be helpful in populating your page with reviews (and maybe even find a few new readers in the process).
Dictation Software
It's time to boost that word count. A lot of author's swear by the power of dictation.
You might scoff at the idea of speaking your book into existence, but it is effective. If you're looking to write a book as fast as possible, then using dictation software can help you create a first draft in record time.
19. Dragon Dictation
Dragon Dictation is the industry standard for dictation software. You probably already have built-in dictation software into your computer. But, investing in software has one huge advantage, it'll become more accurate in time, which will improve the quality of your drafts.
With dictation software, all you need is an outline, and you can start speaking your book and creating lightening-fast first drafts.
20. Quality Mic or Headset
If you're looking to further improve the accuracy and quality of your drafts, then a quality headset or microphone is a must.
By all means, you can start with your computer mic and the built-in software. But, if you're serious about hitting crazy high word counts, then investing in the right software and microphone is essential.
Some solid microphones include the Blue Yeti USB Microphone and the Audio Technica AT2020. Both great solutions for speaking at your desk.
All the Tech!
There you have it. 20 different tools, software, and tech that'll greatly help to make your life as an author easier, and more successful.
If everything above seems like a lot, don't worry. The purpose of adding tools and technology to your author workflow isn't to overwhelm you, but make your life easier. There might be a little learning curve, but once you integrate and master the above, you'll find that it can actually free up time to do what you love most—actually write.
Are there any tools, or technology that you can't live without? Share your favorite author tech tools in the comments below.
[divider style="7″]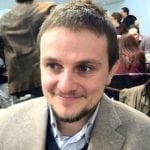 Brian Berni is a bestselling author under multiple pen-names. He blogs for writers and self-publishers at authorstech.com. He is also the co-founder of BookAds (www.bookads.co), an agency that helps authors advertise their books through Amazon's AMS platform.