As 2017 comes to a close, it's that time of the year again… time to do my 2017 annual review process.
To kick things off, I started with the two questions that Chris Guillebeau does as part of his own annual review process:
What went well this year?
What did not go well this year?
Before I reveal the answers to these questions, it's important to provide a bit of context and backstory…
At the beginning of 2017, we were living in Auckland, New Zealand in a two-bedroom apartment. We had only been back in NZ for 6 months.
Guy, my husband, had been at his new job for 4 months and we had finally gotten a car!
We hadn't had wheels in over 3 years.
I started off 2017 using the Passion Planner. It's a paper planner that has some great structure around planning out your year and keeping track of your daily tasks.
At the end of 2016, I filled in my Passion Roadmap, which you can see below.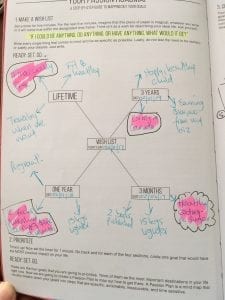 Once you've got your Passion Roadmap, you create your first 90-day Passion Plan. This is like the 90-day plan that I follow today.
You can see what mine looked like back in January 2017 below.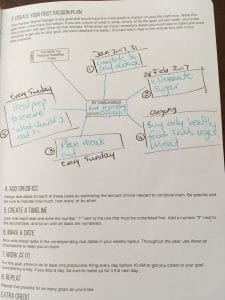 At the beginning of each month, inside the Passion Planner, you're asked to map out your month from a whole month view.
Then you break it all down into a mind map and action plan for the month in the pages that follow (aka the weeks that make up your month).
From there, you are asked what the main focus is for the week and you're also asked to write down what good things happened that week.
Then each day, you write down what you're focusing on and then your day is broken up into half-hour blocks.
See example below: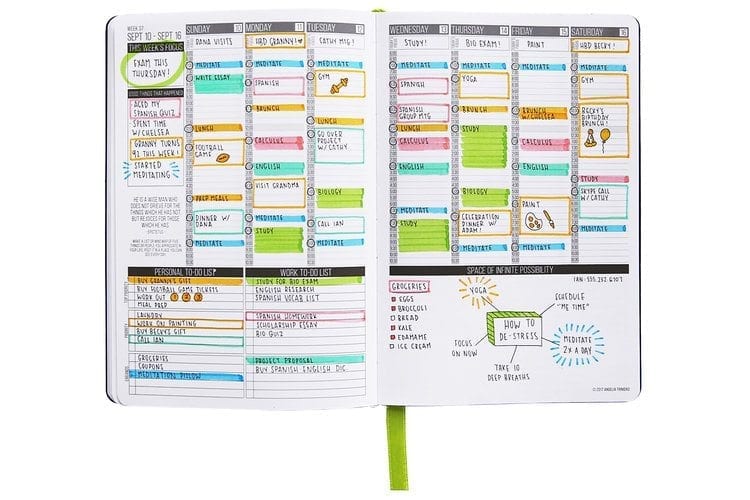 Ok, so now that you know where I was at when I started 2017, let's look at the answer to those two questions first:
What went well this year?
What did not go well this year?
2017 Annual Review – Reflections
#1: What went well in 2017?
I must admit, it was a lot harder to answer this question that I thought it would be.
Taking time out to reflect and look back isn't always easy.
And if you're not in the right frame of mind when you do your annual review, it can influence how you see things — and this might not be a true reflection of the year that was.
When I started this process, I was feeling a little meh and found that because of this, I was viewing everything through a 'meh' filter.
I stopped doing my annual review process and left it for a few days. Then I got myself into a space where I felt good, open-minded and excited about the year ahead.
When you do this for yourself, make sure you've got some fun music playing, you're in a great space, well fed and in an open frame of mind so that you can approach this with an open heart…
Ok, back to my review.
Writing Goals
The #1 thing that went really well for me in 2017 was writing down my goals each week and setting a 90-day plan.
As I go back through my Passion Planner, I can see how productive I was and how much better I was at meeting my goals and tasks that I set because I was writing them down.
The other great thing about the Passion Planner is that at the end of each month, you are asked to reflect on the month that was.
This process is super helpful, particularly when you do annual reviews like this.
Here are a few snippets from 2017 to give you a bit of an insight into what was happening in Lise world…
January 2017
Q: What was the most memorable part of this past month?
A: Getting to spend quality time with Guy and take an actual break from working.
February 2017
Q: What were the three biggest lessons you've learned in this past month?
A:
When you're sick, it's hard to stick to your routines, so it's best to chill and focus on getting better
The work doesn't get done without you lifting a finger to make it happen!
Tony Robbins is amazing!
March 2017
Q: Review your planner for the past month and assess your priorities. Are you happy with how you spent your time? If not, what steps can you take next month to adjust them?
A: This past month was my most productive one in the quarter. I wrote a book, started a Shopify store and thought hard about Arbonne from a business point of view.
I also realized I was spending money on some of the wrong things in my business and saved $100 USD per month!
April 2017
Q: How are you different between this past month and the month before it?
A: I'm doing a lot more stuff now! More amazing opportunities flow into my life on a daily basis. My life is full of abundance…
May 2017
Q: What or who are you especially grateful for this past month?
A: My husband, for continuing to push forward despite feeling crap. He inspires me. My friend Sammy, she continues to be one of my biggest supporters and go-to cheer squad.
June 2017:
Q: Name three things you can improve on this upcoming month. What concrete actions can you take to work towards these improvements?
A:
Create funnels and lead magnets that match my ideal customer avatar
Launch first click funnel
Work in 90-minute blocks
Those are all the questions covered in the monthly reflection area inside my Passion Planner.
Those are some great questions to ask yourself and answer each month, so feel free to steal them for yourself, or better yet, just go nab yourself a Passion Planner instead 🙂
I stopped using my Passion Planner in October 2017 and switched to the 90x Goal Planner.
It's different to the Passion Planner and is more focused on the 90-day goal setting that I prefer to follow.
I do miss the monthly reflections of my Passion Planner, so I'll be switching back to the Passion Planner for 2018.
I'm also going to try The Perfect Notebook in 2018.
This takes the 90-day plan concept further by allowing you to break down your tasks into 2-week sprints, which is something I've been doing for the past quarter as well.
Morning Routine
I started my morning routine in March 2017.
I've always had some type of morning routine, but in 2017, I got a lot more intentional with what I was doing with my mornings.
It starts with a 4:30am wake up call.
I know that most of you have probably cringed at the thought of getting up that early, but hear me out…
Prior to this, I was getting up at 5:00am, so getting up half an hour earlier wasn't that much of a stretch for me.
The first thing I do is either have an Arbonne Detox Green tea or an Arbonne Fizz Stick, both help get my system on the right page for a great day… I drink the fizz sticks in the mornings that I have Bootcamp at 6:30am (check out bootit.co.nz for deets on what this is).
I'll then grab the book I'm reading and set the timer for 30 minutes. I'll grab my highlighter and sit and read in the quiet.
Once the 30 minutes is up, I'll then grab my journal and spend some time going over the previous day and what's occupying my thoughts that morning.
Sometimes I use structured journal questions, other times I'll just write what comes to mind.
Then I'll grab my goals journal and write down my life goals (I repeat the same goals every day). Doing this signals the Universe that this is exactly what I want and to get on with bringing it to me 🙂
Then I'll grab my planner and plan out the day ahead, checking to make sure that it aligns with my 90-day goals and my strategic plan.
That normally takes me up to 6am, at which point it's time to get my sleepy hubby out of bed and into the shower!
He has to be at work for 7:30am… so once he's up, I'll either be heading out to Bootcamp for 6:30am — or on the days that I don't have Bootcamp — I'll shower, grab some breaky and fire up my Macbook Air and let all my emails load up.
Then I'll drop Guy into work and be back by 8am, at which point I start my work day.
Since implementing this morning routine, I have achieved a 90% success rate when it comes to ticking off my daily to-do list.
I also feel great and am always able to finish up working around 3:30pm, meaning I can go and do errands or just relax and chill with a good (fiction) book.
In 2018, I am going to try getting up at 4am and see how much more I can get done in my personal development routine!
Who's joining me?!
Finding My Groove
It might have taken me 10 months, but in October things started to click. I committed to helping budding authors create profitable author businesses.
What changed?
I invested in myself and enrolled in Be Booked Out™ and embraced the knowledge-bombs that Miss Halley Gray from Evolve and Succeed gave.
This course has completely changed the way I approach my business. It has forced me to stop and think about the actions I've been taking and who I've been serving.
I realized quickly that I have been talking to the wrong peeps and that my current list isn't interested in what I have to offer.
And that's ok.
It just means that from this point forward, I'll be attracting the right peeps because my website will be geared to them.
Huge breakthrough and a-ha moments during the 8 week course, I can tell you.
I have also learned that every time I invest in myself in a big way monetary-wise, I always make huge leaps forward in my business.
The sad part about this?
The last time I invested in myself was back in 2014 when I joined Self-Publishing School!
My goal for 2018 is to invest in myself more and get help when I need it faster.
Trying to figure this shit out on my own is not fun, and only hinders my progress.
Journaling
I touched on this briefly in my morning routine, but journaling has made a big impact on the last half of 2017 for me.
It's funny, in my younger years (think teenage Lise and you're on the right path…) I always kept a journal.
I would write down all my hopes, fears, and dreams and I never had a Neville running around in my head with stupid, silly, negative chatter.
For some reason, when I reached 30, I stopped keeping a journal. And that's when Neville found his (very loud) voice…
Wondering who the heck Neville is?
Neville is the negative inner voice inside my head. He's responsible for silly thoughts such as:
"You are never going to be a successful author!"
"No-one is going to buy your books Lise."
"You are not worthy of anything good coming your way, so you may as well get used to feeling like shit."
Yep, he's a real keeper… NOT.
You can learn more about Neville and how I deal with him in my new book, I AM An Author
!
What worked from a business perspective
In terms of specific business-related stuff, I thought I'd break this down a bit further.
My main goal for 2017 was to increase my email list to 10,000 subscribers.
I have fallen well short of that goal.
As of today, I have 3,000 people on my list.
This number has remained the same for the entire year.
Why?
Because I also remove cold subscribers from my list every quarter.
But it also shows that I'm not getting enough conversions from the traffic landing on my website.
For the amount of traffic that Hustle & Groove receives, I should be adding 20+ subscribers to my list every day.
But I'm not.
So that's a big leak I'll be fixing for 2018.
What did work well in my list building efforts, was having two main lead magnets. And including a way to access them in each blog post or page on my site.
I also refocused my lead magnets to make sure they were attracting the right person.
I only made this tweak in the last 6 weeks of 2017, so that will not show major results until my quarterly review in March 2018.
The other area that worked well in my business was mastering my email marketing.
I finally feel like I understand the inner workings of ConvertKit, which has allowed me to set up some pretty robust funnels that will kick off in the new year.
I'm all for automation in 2018, so anything I can do to make bringing new readers and customers into my business easier — I'm all for.
Ok, now onto the more difficult question!
#2: What did not go well in 2017?
This question here was equally hard to answer.
Why?
Because I don't tend to dwell on the negative stuff. I always look for the positive and am "annoyingly optimistic" as my husband puts it.
But, you need to know your data and part of that is also knowing what didn't go so well so that you can make adjustments for the year ahead.
So in no particular order, here's what didn't go so well in Lise World in 2017:
Working From Home
This might be a bit of a shock to you, my dear reader, but it was a bigger shock to me.
Honestly, I do love working from home. But I'm also a people person.
I've learned that in the past year, I'm more of an extrovert than an introvert which means, that I get a lot of my energy from being around other people.
That's not really what I'm getting working from home.
There were times where I felt isolated, lost, and completely out of my depth and I know that if I'd been around others, those feelings would have been a lot easier to deal with.
So you know I'll be changing that for 2018.
List Building
My goal for 2017 was to increase my email subscribers to 10,000… well as you already know, I fell well short of that.
I started out really good and then in the middle of the year, I got a little distracted with shiny object syndrome and took my eye off the ball.
As a result, I barely grew my subscriber base by more than 500 new people.
That is a huge fail in my eyes and something that I'll be rectifying in the new year.
Why didn't my list get any bigger?
A few reasons:
The people landing on my site weren't my target audience (so I need to review my traffic sources)
The people landing on my site didn't know what to do, so left without taking action (so I need to review my conversion strategies)
I had a lot more returning visitors who could have already been on my list
Just a few areas to look at and fix for 2018.
Now, had I been looking at my numbers throughout the year, I would have caught this sooner, but as you know, I'm not a numbers gal… but I will be in 2018!
This will be part of my monthly review process.
Listening to Podcasts
This was on my 'FollowDo' list for the past 6 months of 2017 and I still haven't taken real action on listening to podcasts.
I find it difficult to concentrate on a podcast. After about 15 minutes—my mind starts thinking about other things I could be doing with my time.
I am definitely a reader, that always captures my attention as well as video. But plain ole' audio just doesn't cut it for me.
Yet, I know that I'm also missing out on value by taking this approach, so in 2018 I've set a goal to listen to one podcast a day for 15 minutes. Once that time is up, I'll stop and return to it the next day.
If I'm engaged and not thinking about moving onto something else, then I'll keep listening to it.
That concludes my answers to those two questions.
2017 Annual Review – The End
As far as 2017 went as a whole, I'd give it a 7 out of 10.
The year finished with us giving up our apartment in October to go full-time house sitting so we could save (more) money and pay off our debt.
It was also so Guy could start his own side hustle without feeling stressed about money.
None of which we could do if we stayed in our apartment and continued living how we were.
While we were meeting all our financial obligations, it didn't leave a lot of room for anything else.
By giving up our apartment, we are able to save over $3,000 NZD per month, allowing Guy to start his business and me to save funds to invest in my business for 2018.
It was hard to give up our freedom, but sometimes you just gotta do the hard stuff to get to the good stuff.
We had one house sit in October and then nothing for all of November, so we spent a lot of time staying at friend's places and in Airbnb places.
"Failing to plan is planning to fail." ~ Sir Winston Churchill
All this moving around (literally a new place each week or two) was extremely disruptive, but you just gotta do what you can do with what you've got at the time.
Easier said than done, but true nonetheless…
What I learned in 2017
I've learned not to push myself (or my hubby) when exposed to so much change. It's easier to go with the flow instead.
I learned that I always have the answers, but it's knowing the right questions to ask, and that's where having an external person to chat with provides the most value.
I learned that I thrive best surrounded by people vs. staying home alone in my home office.
I learned how passionate I am about helping people inspire and connect with their tribe and that I love inspiring and connecting with others too.
I learned that sometimes, you just gotta take a break and unplug. Being connected all the time to technology is both a blessing and a hindrance.
I learned that Auckland drivers are nuts and that there are waaaaay too many people driving while texting or reading their mobile phones. I find myself verbally yelling at them when I'm driving!
PRO TIP: If you've got an iPhone, enable the "no notifications while driving" functionality. It sends a message to anyone who texts you letting them know you're driving and that you'll be in touch once you're able to. If you have your phone connected to your cars Bluetooth, you'll still receive phone calls.
I learned that I'm not as good a listener as I thought I was and that is something I'll be working on improving for 2018.
I re-learned how much expectations can really stuff you up and that it's best to have none and go with the flow. This was highlighted during my 40th, when things didn't go at all how I expected they would.
I learned that turning 40 isn't that big of a deal.
I learned that it's never too late to get fit and healthy.
But mostly, I learned that I truly am happy with who I am and what I've got.
Sure, I could do more and have more, but that's true for everyone.
The key is to be happy in the here and now. Something I'm leaning a lot into for 2018.
In the new year, I'll be sharing my goals with you and the whole process involved in getting those in place.
But for now, I wish you a happy holiday season and a safe and fulfilling 2018.
"Thoughts become things… so choose the good ones." ~ Mike Dooley