This is part 2 of a 2-part blog series about what digital products to sell to grow your online business. In this second part of the series, I'm covering the four proven micro offers I recommend that sell with ease. They are proven because I've sold all of them with great success.
Let's look at them now.
Four Digital Products That Sell
#1: Live Workshop
This digital product has worked extremely well for me.
Here is my Teachable backend. I don't always sell everything using the Teachable sales pages, which is why some have payments attached to them, and others don't, but what I want you to pay attention to is enrollments.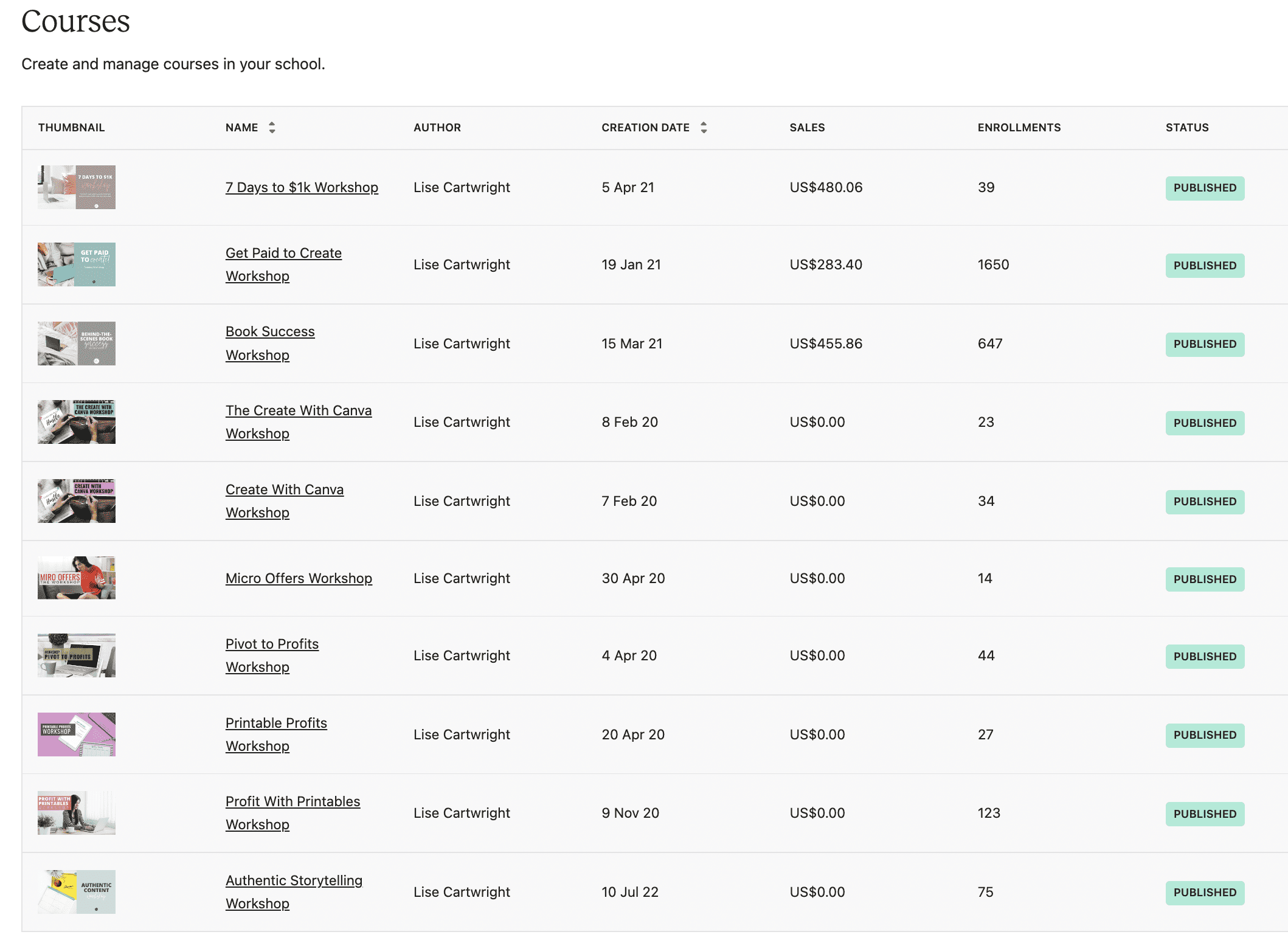 I have done live workshops many, many times and it's definitely one of my most profitable digital products.
If you have something to teach, it is one of the fastest ways to get feedback from your audience. It's also a great way to test any framework or step-by-step process that you want to teach.
If you want to build this idea into something more, a live workshop allows you to take that initial first step, plus the energy that you get from delivering live content is next level, especially for me as someone who loves interacting with people in a container like this.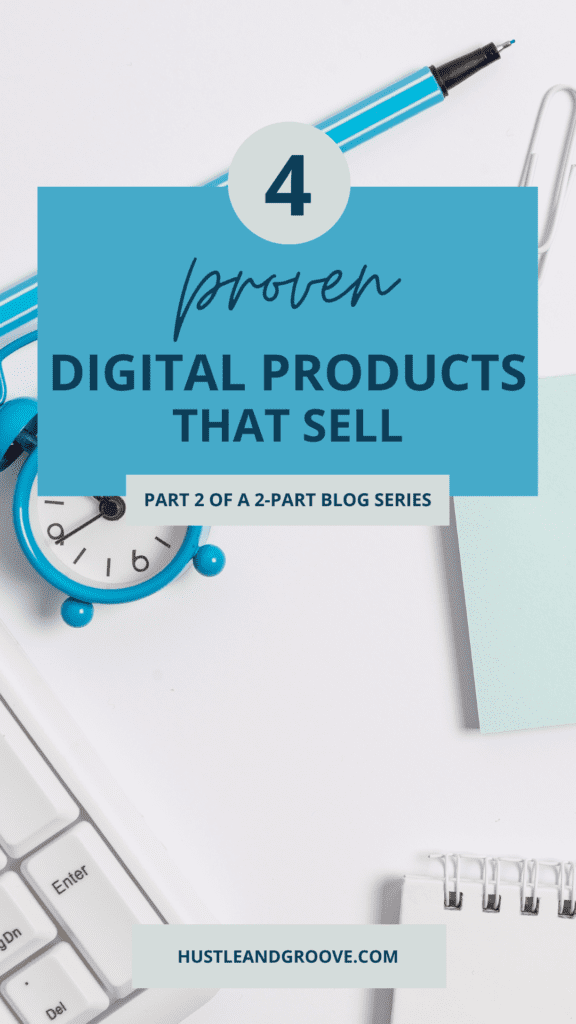 In my opinion, live workshops are amazing. 
One of my most successful workshops is the Get Paid To Create Workshop.
Here's a Bonus Tip: Once you've done a live workshop, you can repurpose it into a mini-training or mini-course, which is exactly what all of these now are.
I have a few that do extremely well, and you can see (from the image) that I have the Profit With Printables Workshop and the Authentic Storytelling Workshop that does really well.
But you'll also see that my best-performing ones are the Get Paid To Create Workshop and the Book Success Workshop.
The reason why there's a huge discrepancy between enrollments compared to all the others is that those two specific workshops are part of a funnel, which is a whole other layer to this.
Funnels optimize your earnings.
What I wanted to point out to those of you who are looking for funnel building and how this works, is that once you've got multiple micro offers, or once you've got multiple digital products, you can repurpose those and put them in funnels and make them tripwires, upsells or order bumps. This is something I cover inside the Digital Business Lab. 
The Get Paid To Create Workshop, for example, is an order bump for the Digital Business Lab.
So when someone goes to the checkout page to join DBL, they'll also see the option to buy the Get Paid To Create Workshop for $27. This is called an order bump because it's being sold on the checkout page. There's no separate sales page for it.
The Book Success Workshop is also an order bump on an author-specific program that I have.
This is just a smart way to automate, what I like to call 'surprise money', because I'm not having to do a launch or anything like that in order to sell these two workshops, which are now mini-courses.
Live workshops are for you if you love doing them live. But you don't have to deliver workshops live. You could pre-record them and drip them out to your audience. There's also that option. 
To be able to deliver a workshop live, you need to host a space where people can attend. Zoom is the most common option for this, but there are other options out there. You obviously want to make sure you're recording these if you do them live.
I always create a workbook and always have slides, and that's just to keep me on track but it also provides your live audience with something to follow along with.
I always show my face and I'm typically sharing and teaching something. 
I recommend offering a replay as well… Which is where repurposing into a mini-course often happens. 
Live or pre-recorded workshops are where I recommend most authors, freelancers, and creative entrepreneurs start when it comes to developing their digital product suite.
It's ideal for you if you are: 
a coach and want to test the waters on a new framework you've developed.

a freelancer and you want to take your service and turn it into a course.

a course creator looking to create content with live feedback from your audience.

an author who wants to take their book and turn it into a course or become a coach.

a printable or digital product creator who wants to take their products and turn them into a course, teaching your knowledge around your offers.
When it comes to pricing your live workshops, these work well at $27-$97. The goal is to keep your workshop to 2 hours or less.
#2: Bootcamps
A bootcamp is a group program, something I typically sell for over $200. I tend to always deliver this live. That's just how I love to roll.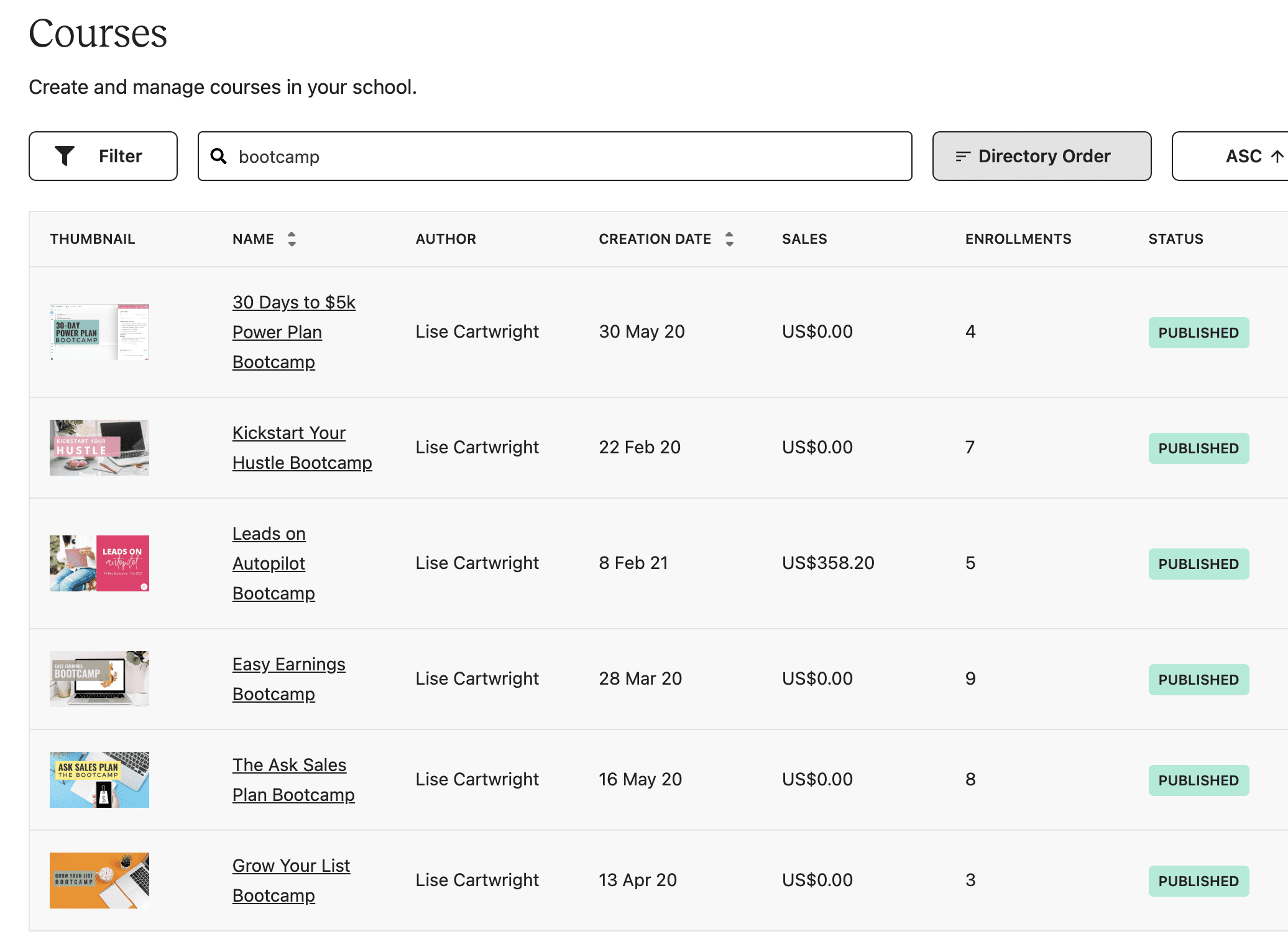 You'll see (from the image) that there are lower enrollments, but that's because the price point is higher.
For example, the Grow Your List Bootcamp was $497. There were three people, which was $1,500. How easy is that? It was 30 days long.
The Ask Sales Plan Bootcamp had eight people also at $497. This was 2 weeks long.
The Easy Earnings Bootcamp was $199. This was 7 days long.
The Leads On Autopilot Bootcamp was $99. That was really easy to deliver because I already had the existing training and I just did a live version of it. This bootcamp was only 7 days.
Bootcamps can be used in multiple ways. 
Let's say you decide to do a live workshop and then you turn it into a mini course. Did you know that you can then turn around and repurpose that into a group program, aka a Bootcamp?
The great reason that this works so well is that the core training already exists and all that the Bootcamp element would have is live Q and A calls with you, coaching calls, maybe some type of community element, and that's it.
How easy is that to pull together? It's why I'm a huge fan of bootcamps and why I've done many bootcamps in the past.
This also allows you to see if you can optimize the content that you already have and maybe then turn it into something more.
For example, the 30 Days to 5K Power Plan, Leads On Autopilot, Easy Earnings, Ask Sales Plan, and Grow Your List bootcamps all helped me solidify my Digital Income Accelerator membership content.
This is my premium membership and all of these pieces of training and topics are inside that particular membership. 
The reason why I started out with micro offers (or digital products) is so I could test lots of different things to see what my audience liked, to see the different ways that I could deliver my trainings and frameworks, and to see what resonated the most.
And with Bootcamps you can deliver them in multiple timeframes too. You can do them in five days or seven days. You could also do this as a challenge, but if you were going to that always make sure it's a paid offer.
If you want to do one too many, that's what a bootcamp really allows you to do.
Bootcamps are ideal for you if you are: 
a coach and want to take your 1:1 and turn it into a one-to-many program.

a course creator looking to turn your course into a coaching program.

an author who wants to take their book and turn it into a course or coaching program.
When it comes to pricing your Bootcamps, these work well priced between $99-$997. This is largely determined by the length and the transformation you're helping someone achieve.
#3: Easy Coaching Model
This third option is a little bit unconventional. 
I'm an online business coach and I love coaching, but what I don't love is being stuck in a chair all day every day.
And traditional coaching has typically been either in person or on a Zoom call, and I've done all of those things. It can be exhausting if that's all you're doing.
And there are certainly times when a Zoom call is needed. But for ongoing coaching programs or for one-off coaching sessions, I'm a huge fan of doing asynchronous coaching, or as I like to call it the Easy Coaching Model.
I do this in a couple of different ways. I actually use this model inside the Digital Income Accelerator.
Here's what that looks like: There is a weekly Voxer Coaching Day. Once a week, all of my Digital Income Accelerator members get to jump on Voxer with me and do asynchronous coaching.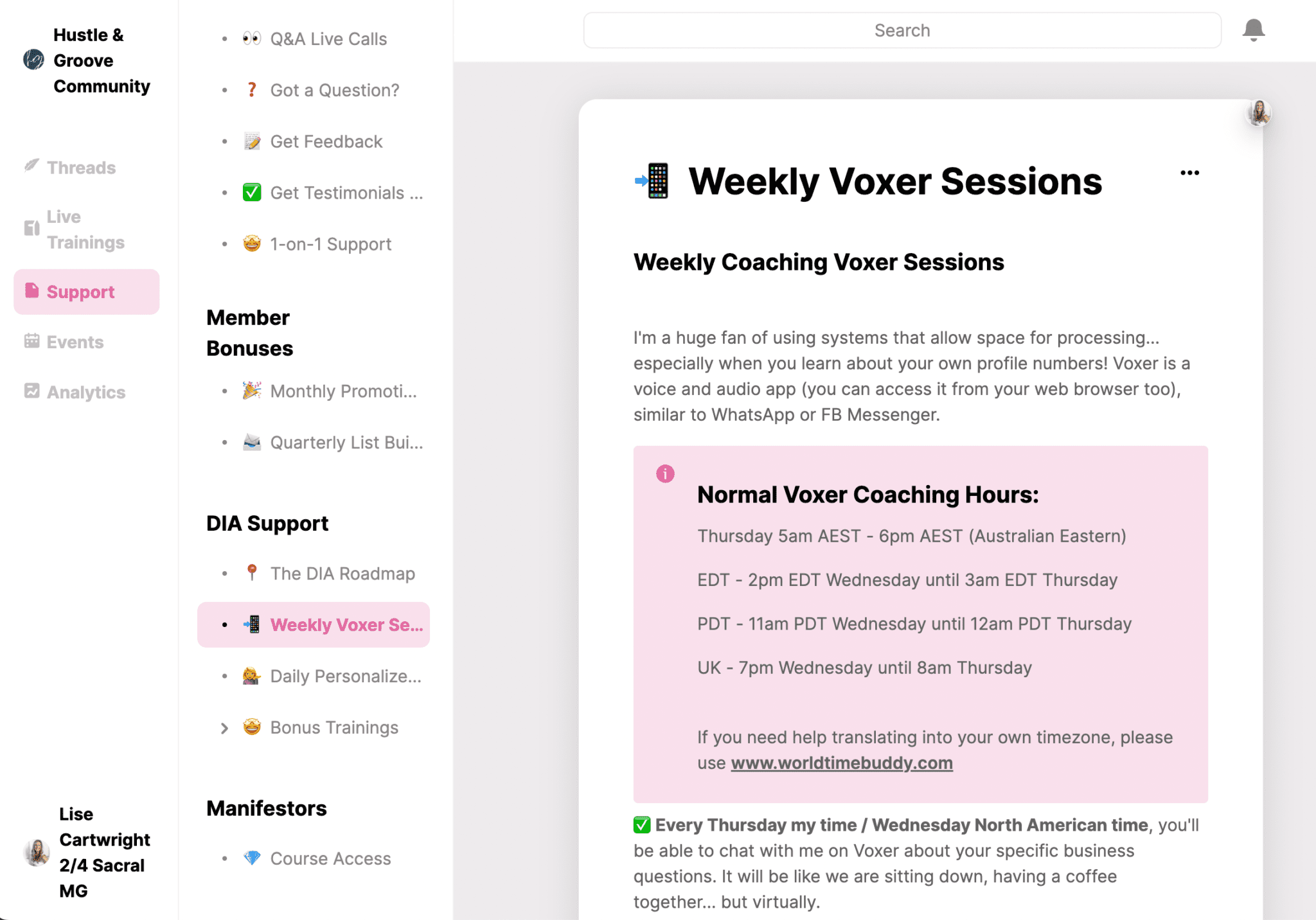 What I mean by asynchronous is that we don't need to be in one spot, on a Zoom call. We don't need to be chatting at a specific time in order for that to work.
With Voxer we can chat back and forth. I can also do Loom videos if needed. So my members literally ask a question and if I need to, I can respond with a Loom video or audio message back inside Voxer.
The Easy Coaching Model is very simple. It is Voxer plus Loom and there's no specific timeframe. So it's not like I need to be in my chair or on my computer for an hour or an entire day doing back-to-back calls.
These weekly Voxer Coaching Days are an entire day, but I'm not spending an entire day on Voxer. It's not the same as a VIP day with a Zoom component.
The great thing about Voxer is you can be out and about doing whatever you want and this is why I love it.
I often do Loom responses for all of my D.I.A. members because that's easy for me and I love doing videos and it also allows someone the opportunity to see the way that I do something or my thought process about something. And it ensures that I don't skip anything or I don't miss anything because when I'm showing something on the screen, they now get to see what that looks like.
Voxer and Loom are really simple to set up. You just need to make sure that you set strong brown boundaries and that you are clear about what it looks like.
You can do it for specific coaching topics or you can have it be more of a general Q and A session/day. It's entirely up to you.
This model is ideal for you if you are: 
a coach and you want to have more flexibility in your schedule.

a freelancer and you want to take your service and offer a VIP day or coaching component.

an author who wants to take their book framework and offer coaching around it too.
When it comes to pricing your Easy Coaching Model, it really comes down to how much time someone has access to you. 
What I do with Voxer is offer two scenarios. I have a Voxer Coaching Day, which is $500 USD, or a 60-minute Strategy Session for $133 USD.
And yes, it's a time-specific session, but again, I can be out and about. It doesn't matter where I am. And it's like sitting down and having a cup of coffee with someone.
The 60-minute strategy session is literally just someone wanting to pick my brains or soundboard their ideas. 
I also typically do a Loom video depending on what the person is asking. So oftentimes someone who books in a Voxer Coaching Day will get an entire custom-made library of training videos because I've done a whole bunch of Loom videos for them to answer their questions.
It's such a great experience if you want to do more one on one without being stuck in a chair all day. 
#4: Low-Mid Content Books
The fourth option is something that you may not be aware of or you might be, and that is self-publishing books.
I have been an author since 2014 and I have self-published over 36 books and counting. There's more coming in the next 12 months.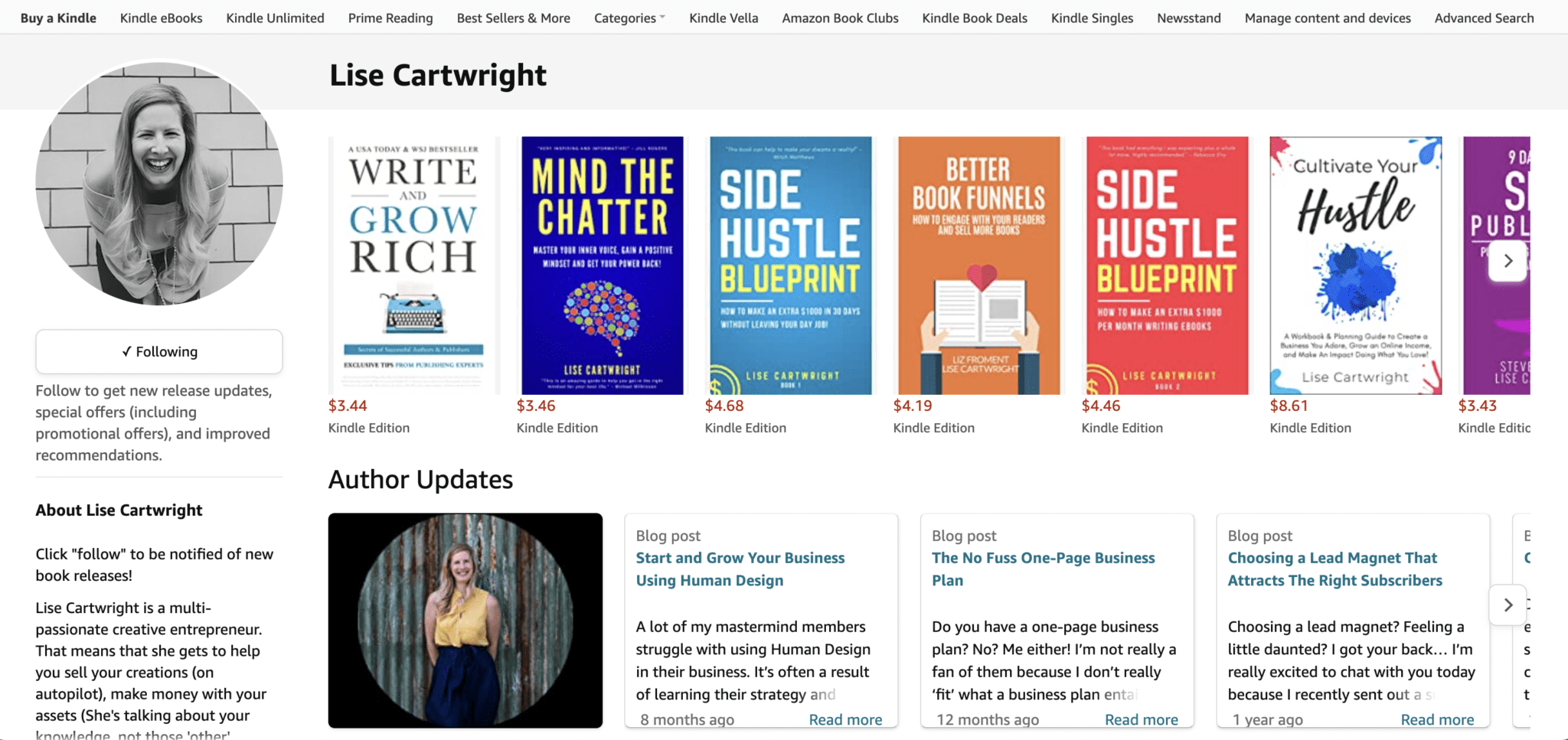 I wanted to show you why I recommend books in particular, and the goal with the book side of things isn't necessarily to make a ton of money, although I have passive income coming in from them.
The way I use them is more lead generation. That is my intention with these books. I have both low-content books and mid-content books.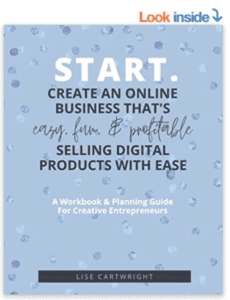 I have one called the Start Workbook and Planning Guide. This is a low-content book. There are about 5,000 words in there.
It's very much exercise-driven, so there's lots of space for people to kind of map things out. 
Then the majority of my books are mid-content books where there are about 20,000 words or 15,000 words walking through a specific framework. 
Books are great for you if you want to use your book in a couple of different ways.
My books are self-published and I always do an ebook and a print version, and now you can do hardcover.
So if you have any desire to do journals and planners, then the hard-cover option at Amazon is amazing. It's high quality, I love it.
This is a really good option for you if you want to have a way to serve a lot of people that can't afford your other offers.
Maybe you have multiple digital products or micro offers and maybe they range from $47 to $997, then this is a great way to serve your audience and at least prepare them for being ready to work with you at a higher level.
Because if your book does a really good job of giving them information to get them started, then once they've done that, they can then work with you on an ongoing basis.
You can check out any of my books online and have a look at what they're doing here.
The way I generally use my books is to get people into my world. I offer lead magnets at the very beginning of the book to get people into my email list, but I also use my books as lead magnets themselves and I participate in some type of collaboration every 90 days where authors come together and collaborate and promote each other's books.
It is a fun time and does such a great job of bringing more people into your world without having to pay for it.
I do walk through a variation of an author collaboration inside the Digital Business Lab. It is the fastest way to build your email list if you don't have any money to invest in lead-generation ads.
My recommendation, if you do have some money, is to do a lead generation ad on Facebook and Instagram. 
Low-Mid content books are ideal for you if you are: 
a coach and you want to impact more people with your framework at a lower price point.

a freelancer and you want to take your service and show people who want a DIY approach but can't afford your course.

a course creator looking to bring more awareness to your signature course by meeting people where they are at.

a printable or digital product creator who wants to become a coach or course creator without having to create an entire program to test the waters.
When it comes to pricing your books, these work well at $2.99 for the ebook and $9.99-$14.99 for print, a little more for hardcover. It's best to check your genre/categories to see what others are selling their books at as a guide. 
The goal is to keep your low-content books under 10,000 words (you want more exercises and lines for writing) or 15,000-30,000 words if you're teaching something.
I wanted to walk you through all of those different digital products because, at the end of the day, it comes down to having a couple of micro offers so that you can create automated funnels… and to do that, you need more than one offer. 
As I mentioned earlier, I recommend repurposing where possible, and if you choose to do a live workshop component to begin with, for example, then you can literally create a bootcamp version, an easy coaching model version, and a low-content book version.
You could literally have one topic and repurpose it into all of those different containers, which is really what a digital product is.
It's just a different way of presenting that information. Hopefully, that makes sense and you can see the progression between each digital product.
What are the easiest digital products to sell?
Now what I want to do is also talk about the easiest way for you to sell your offers.
In other words… What are the easiest digital products to sell?
Well, the four that we just outlined above are a good place to start!
But you also want to ensure that you are addressing a few different elements.
There are a few components that make a digital product really easy to sell, and it might not be what you think.
Number one: having a clear tangible result.
For example, the Get Paid To Create workshop, the tangible result is pretty much in the title of this workshop, get paid to create.
This walks people through the pre-selling process so that you're getting paid before you actually go through and create anything.
I came up with this workshop because I really didn't like going through the process of creating a whole bunch of digital products and then turning around and trying to sell them and getting crickets…
Whereas when you do this process, the get paid to create process, it literally ensures that you are not creating something unless you've got buy-in from your audience.
Another example is my 7 Days To $1k Workshop, again, it's very clear on what that result is going to be. The Book Success Workshop is not as clear, but the tangible result is in the tagline…
"How to validate your book ideas, find keywords that are profitable, and find the right categories to ensure you're a bestseller within 14 days of launching!"
So if you can't get the tangible result into the name of your offer, then get it into a tagline. 
Number two: presenting an offer that saves your person time or money or both.
These all really build on each other. If you've got a tangible result, a really clear tangible thing that someone is doing… for example the Get Paid To Create Workshop. It does both, saves time and saves money because you're not wasting your time creating something that nobody wants.
And it saves you money because you're also not investing any time into creating an offer that your audience doesn't want.
Helping your audience save time and money is always going to be one of the easiest ways you'll sell an offer, but also it's about creating offers that you are excited to sell.
Because 80% of how well a digital product sells is based on how excited you are about it, right? If you have full belief in what you're offering and you can't wait to get it into your people's hands, then that's half the job done.
Number three: solving problems your audience has.
Obviously, you've gone through the process of ensuring that you are solving a problem that your audience believes they have, not something you believe they need.
You can always bake in all the elements that you know that they need, that they might not be aware of, but that's your job to bake that in.
You don't sell from that position though. You're really coming at it from the position of they have a problem and I'm ensuring that I'm addressing that, and it's very clear to your people that I'm solving that problem.
And that is shown in your sales copy and everything that you do.
So to sell digital products with ease, you need to show there is a tangible result, that you're saving them time or money or both. But you need to also be excited about what you're selling. This is why I'm a huge proponent of ensuring that whatever it is that you do, it feels easy and fun for you.
I'm not here to tell you how to run your business. That's why when I talk about these different offers, there are four different potential digital products and obviously, there's more beyond those four.
But in my experience, these are the four digital products that sell easily, but also are the most profitable because they also don't take forever to set up.
We're not talking about creating signature courses here. We're talking about micro offers. And the reason why I talk about micro offers is that they are the fastest to get to market.
You want to get stuff out there. So you've got data. Data is your friend. You need data to be able to make aligned decisions and without data, you are just guessing.
We never wanna do that. We are here to make money in our businesses, not do it as a hobby and pay Amazon, Facebook, Instagram, TikTok, etc a whole bunch of money to advertise our stuff.
Hopefully, you found this blog post helpful. Let me know in the comments! 
What's next?
Sometimes we need to test the waters, which is why these micro offers give you lots of different opportunities. But there's also the ability to repurpose.
To start with one offer and repurpose it in two or three different containers. How awesome is that?
And if you're interested at all in learning more about the micro offer process, how to create these four different micro offers, how to use collaboration to build your email list, any of that kind of stuff…
Then I would love to see you inside the Digital Business Lab. It's $9/month, cancel any time. You are not locked in. That feels icky to me to lock people into something if you don't wanna be there.
You have the option to cancel at any time. It's always your decision. 
We have an amazing community of people who support each other too.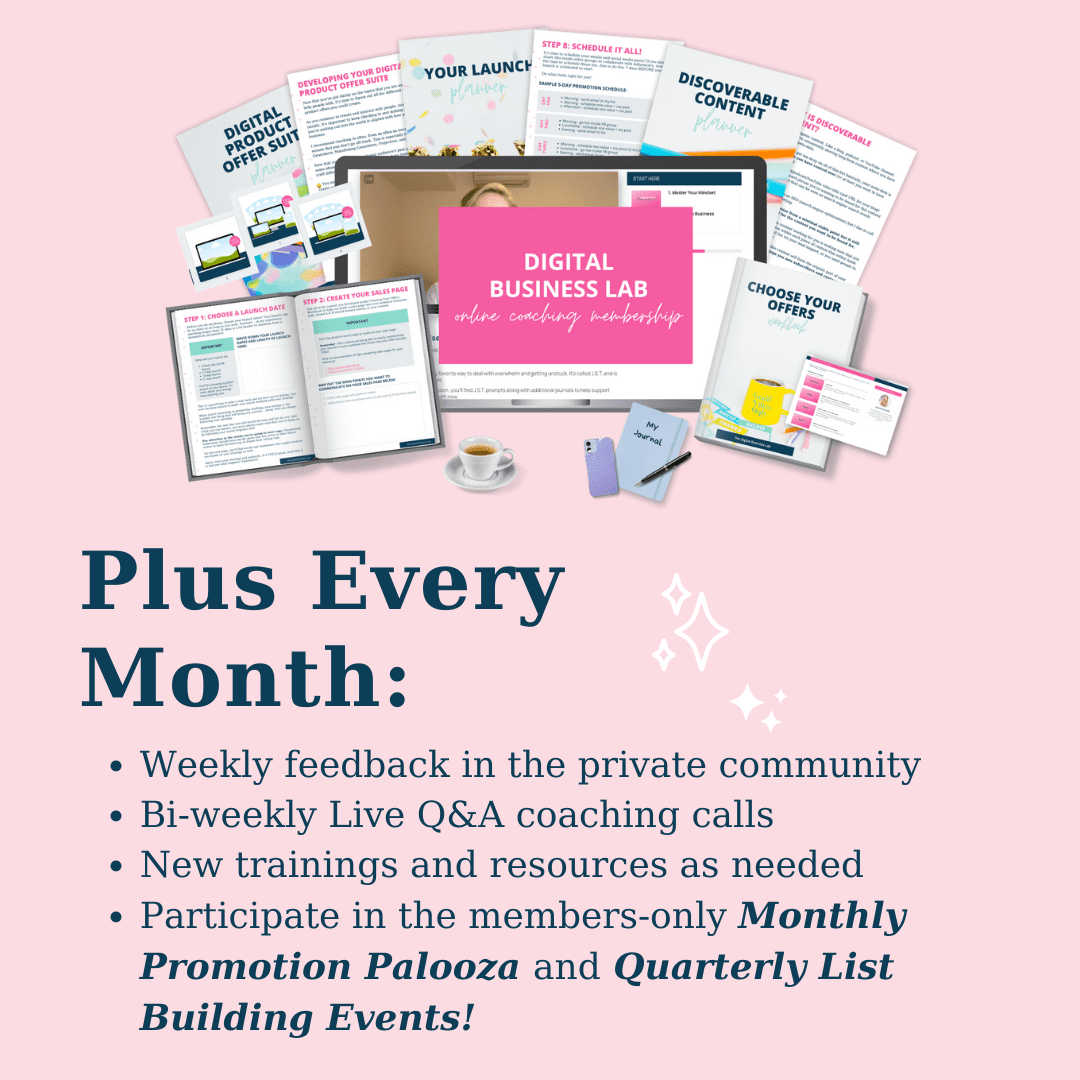 My hope for you is that you're able to do things that feel easy and fun for you. To create a business that you're excited about every single day that provides you with multiple digital products to sell.