Productivity is one area that as an online entrepreneur, you're always striving to get more of, am I right? But which productivity apps and tools are right for you?
How about focusing on the productivity apps and tools that will make a difference in your work day, rather than just picking a whole bunch of tools and trying to figure out how to incorporate them into your business…
First Things First
As a small business entrepreneur (yes, that's what you are, side-hustler!), organization and reminders are key to keeping everything sorted, scheduled, and accounted for. As Richard Tubbs, an IT expert, is quoted as saying, "Productivity is a constant game of doing and reminding yourself to do."
What's in your online business toolkit?
Do you know where you are spending, or wasting, the most amount of time during the day? I talk about discovering that in this post, and writing down what you do hourly can provide great insight into areas ripe for productivity improvement.
So what are the best productivity apps & tools?
Productivity is different for each person, so it's about finding the right tools to fit your specific business model.
Below is an infographic that shows you how these specific apps will improve your work productivity and how they can be implemented and when to use them.
Once you've got the right tools in place, it makes producing your work a whole lot easier.
I've personally tried and used them all, so I've taken care of the guess-work for you.
I can't emphasize this enough:
Don't get distracted by these shiny tools — which can easily happen if you're like me and LOVE trying out new things. The time gains realized from increased productivity can easily be eaten up by Shiny Object Syndrome.  
Choose one new tool to try a week. Make sure it integrates with everything else you have set up in your business. There is nothing worse than getting a new tool (particularly if it's paid) and finding out it doesn't work with your own workflow…
Best Productivity Apps to Run Your Side Hustle Business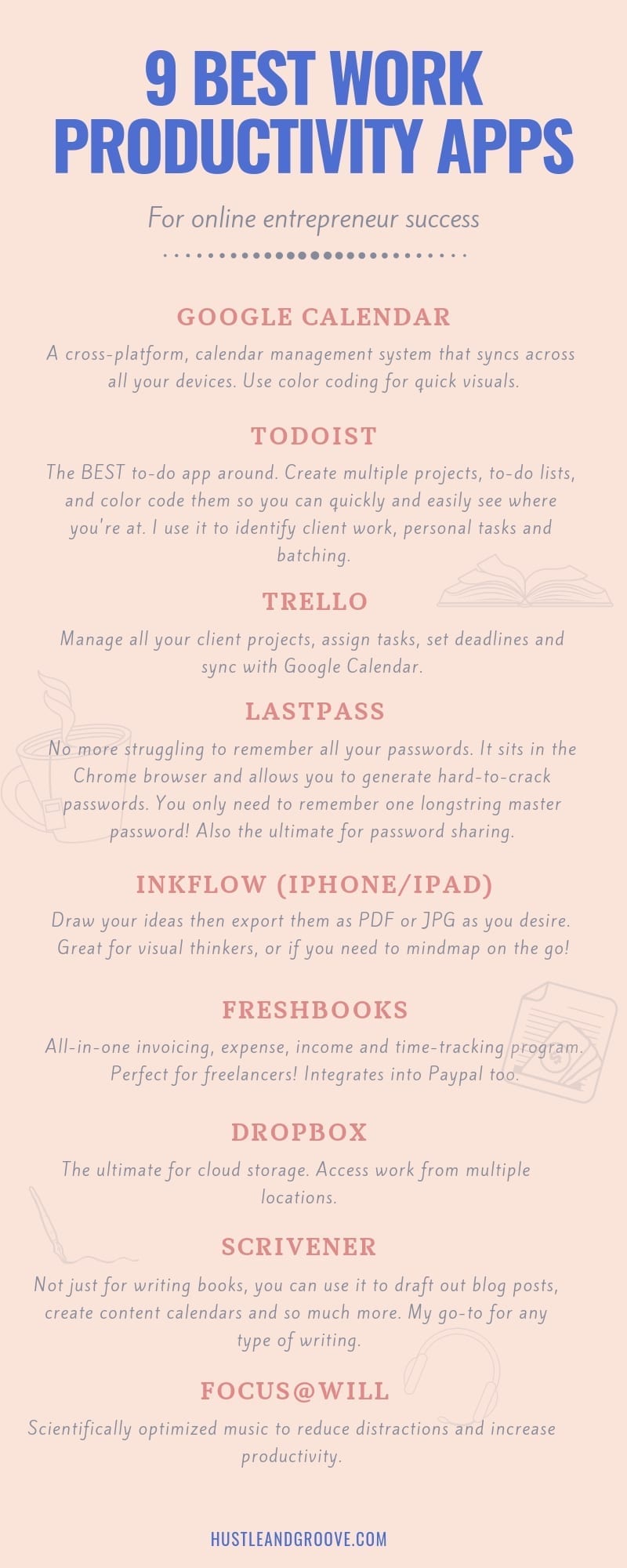 For your reference, you can access all the apps mentioned below:
How I Use Each Productivity App
Google Calendar
A scheduling and time management tool, Google Calendar can't be beat for taking your schedule into the cloud for access everywhere. I've talked about it before, and I continue to love it.
It is cross-platform, so whether you have Apple, Android, or both, it syncs across them all to keep you on top of your schedule.  
The ability to color code takes scheduling to a new level. I can tell at a glance that all things Hustle and Groove are teal, and personal appointments are blue.
I also have different colors for different projects, and those show up in my Google Calendar based on the connections I've set up between Trello and my Google Calendar.
By having the color coding in place, I'm able to quickly see what task or deadline belongs to which project and I don't have to try and keep track of #allthethings because that's what my Google Calendar is for!
And any changes I make in the app on my phone, populate into the browser option too. So if I'm out and about and I need to add in a quick deadline or appointment, I can, knowing that when I get back to my office, it will show up in my browser Calendar.
Honestly, for a free tool, why wouldn't you use it?
Todoist 
I continue to use and love Todoist for its ease, sync-ability to Google Calendar, and color coding joy. Yes, I live in color!  
Create multiple projects, to-do lists, and assign tasks to specific people. It will send email reminders and you earn Karma points when you complete your tasks! I use it for client work, personal tasks, and batching.
While it might seem overkill, by having Todoist, I can get down to all the nitty-gritty tasks, the steps that I need to take to complete a major project or client deadline.
Rather than clogging up my Google Calendar with all these items, I use Todoist to manage my task list.
By using Google Calendar as the high level, big picture overview, and Todoist as the granular catch-all, I can stay on top of everything I've got going on.
Todoist will show me only what's due today or I can see a 7-day view. And did I mention colors?!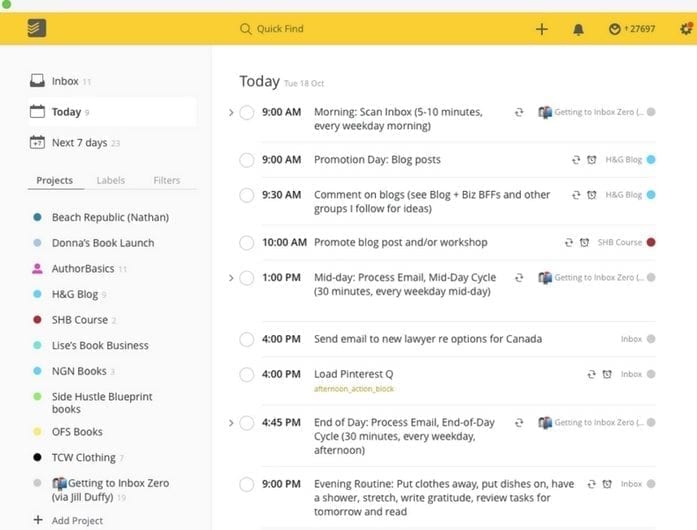 Trello 
A must-have app for keeping your projects organized, Trello is something I can't live without.
Within each card you can add links to documents, keep track of conversations and decisions that are specific to the project, and add checklists and due dates.
This is another app that is great for multiple users since you can add specific people to each card, notifying all associated with the card of any changes.
Trello is where I live. It's the hub of my business. And with some solid power-ups, I can automate a lot of tasks that allow me to operate my business with ease.
If you're a solopreneur, then you'll love Trello and the Butler for Trello power-up. By adding this power-up, you can literally have your own Butler moving cards for you, adding checklists, creating cards, adding people, assigning labels etc, etc.
And did I mention colors?! I truly am a visual person and color helps me to organize all the different projects I have going on.
With Trello, I have a main Calendar board that Butler feeds all due dates into from all the projects I want to see. It gives me a great overview of what's happening in my business and allows me to plan and pivot accordingly.
It's also where my 90-day plan hangs out as well as my content plan, marketing plan and all my book projects.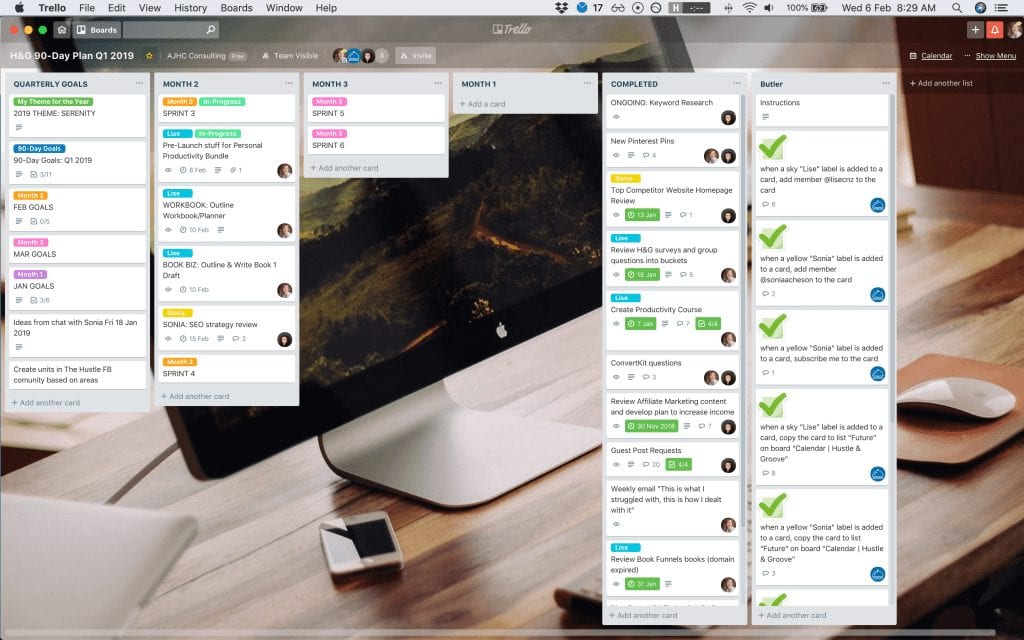 Trello is a visual platform, which is why I love it! 
Inkflow 
Are you a visual person? Love sketching out your ideas or mind mapping? Draw out your notes then export them as jpg or pdf. Available for both iPad and iPhone.  
This is my go-to productivity app when I'm on the go and need to mind map my ideas. As a visual learner, being able to sketch out my thoughts in this way allows me to make decisions quickly.
I need to be able to 'see' something before I can act on it, particularly when it comes to writing a new book or creating a new course.
Inkflow is a tool that allows me to do this quickly. Then when I'm back in my office, I can dive deeper with a physical mind mapping session.
Freshbooks 
This cloud-based accounting software is an all-in-one invoicing, payment and accounting program geared towards small businesses.  
I've used it successfully for the past few years and I love how the app allows you to send invoices and track expenses while you're on the go.
It's a really affordable option if you're just getting started or are a solopreneur. At just $20 per month for up to 25 clients, you can use this to manage all your business financials for quite a long time, particularly if you have recurring clients in place.
Scrivener 
Not just for book writers, Scrivener is an excellent program for all your writing tasks. Consider using it for drafting blog posts, content calendars, school essays, a personal journal, or even as a spot to collect and sort project ideas.
The app for your tablet allows you to sync to your desktop version, meaning you can start writing your book from the comfort of your holiday home and then sync up when you're back in your office. That's how I use it!
I also used to use it to map out my blog posts, as the folder structure in the binder area makes planning for this visual learner so much easier to do.
LastPass 
No more forgetting passwords with this app! Using one master password, you gain access to and generate hard-to-crack passwords. It sits in the Chrome browser and can be accessed from all your devices. It's also the ultimate for password sharing.
Since using LastPass, I've had zero issues with hackers on my website and into my Gmail accounts. Plus I don't have to remember a whole bunch of passwords because LastPass takes care of that.
The only password I have to worry about is the master password. With every new site you create an account with, LastPass prompts you to save this site there, and I always aim to use the generate password option.
Just make sure you grab the app for your smartphone, otherwise you'll end up having to write down the passwords for your social media apps and email. Super annoying!
Dropbox 
Access your documents and folders from multiple locations when you store it in the cloud. The free version offers 2 GB of space, with options for paid upgrades up to 2 TB (2,000 GB). Great for team document sharing, too.
I've used Dropbox right from the beginning and love that it's cloud-based. The couple of times where my computer has died, I've been able to get back up and running with minimal fuss because I simply had to log into my Dropbox account to access it all.
I love that you can easily share documents and the collaboration option is also awesome for teams.
I also use Google Drive to a lesser extent, preferring to keep most of my stuff in Dropbox.
The new 'online' only option is super helpful if you don't want (or need) to access files and folders often. Frees up a ton of space on your computer.
Focus@Will 
If you want to get in a "flow state" of productivity genius, there is no better app. Said to increase productivity by 4x, it uses neuroscience to scientifically optimize music based on your personality type to reduce distractions.   
This is my go-to writing app. I love the various options for music and sounds, and typically switch between the Uptempo music at medium intensity when I'm writing and the Cafe Sounds for when I need to get in the zone and drown out my surroundings.
I love that you can set a timer and track your productivity with the app. At the end of a timed session, the app will ask you to rate your productivity. Over time, you'll see that you'll stay 100% focused on the task at hand 99% of the time.
It has been a game-change for my book writing business.
How Much Time Can I Save?
Learning new productivity apps can feel like it's taking more time than it saves. But once the initial time investment has been made, get ready for compounding results.
It may take you 30 minutes to get up and running on Todoist, for example, but using it for scheduling and accountability saves over the long term.
Don't forget that some of these business productivity apps, like Todoist, can be used to schedule family tasks too. Assign household chores to the kids so it's no longer a guessing game of who's turn it is to take out the garbage or do the dishes. That alone can save you peace of mind!
Want more? Check out the Power Productivity Plan!
Work Smarter, Not Harder
Productivity is about getting work done faster and with more efficiency, so find apps to get more done in less time and repurpose those found hours.
When you take a moment to recognize where there's room for productivity improvement, finding an easy solution such as a download onto your phone makes good business sense. Time is money. Spend it wisely.
Energy Management as a Form of Productivity 
Energy management is about scheduling tasks according to your specific peak times. If you know, for instance, that you need simple tasks first thing in the morning to gain momentum, schedule mindless tasks for the first hour of the workday.
If you are prone to a mid-afternoon slump, schedule important meetings for your peak hours, whenever that may be.
Bottom Line?
When looking to increase your side hustle business productivity, consider using a benchmark.
How will you know if or when you are becoming more productive?
When you know where you spend your time, you have a better idea of what areas to tweak. Productivity apps can help your business be more profitable.
Action Step
Your immediate action step is to identify one area in your life where you could increase productivity and pick ONE app to learn and integrate for a week.
As always, do what you love.
[optin_box style="12″ alignment="center" email_field="email" email_default="Enter your email address" integration_type="convertkit" double_optin="Y" thank_you_page="https://hustleandgroove.com/thanksforsubscribing" list="42312″ name_field="name" name_default="Enter your first name" name_required="N" opm_packages=""][optin_box_field name="headline"][/optin_box_field][optin_box_field name="paragraph"]PHA+PGEgaHJlZj0iaHR0cDovL3d3dy5odXN0bGVhbmRncm9vdmUuY29tL3dwLWNvbnRlbnQvdXBsb2Fkcy8yMDE2LzA0L0pPSU4tVEhFLUhHLVNFQ1JFVC1WQVVMVC5qcGciPjxpbWcgY2xhc3M9ImFsaWduY2VudGVyIHNpemUtZnVsbCB3cC1pbWFnZS0zNDYzIiBzcmM9Imh0dHA6Ly93d3cuaHVzdGxlYW5kZ3Jvb3ZlLmNvbS93cC1jb250ZW50L3VwbG9hZHMvMjAxNi8wNC9KT0lOLVRIRS1IRy1TRUNSRVQtVkFVTFQuanBnIiBhbHQ9IkpvaW4gdGhlIEgmYW1wO0cgU2VjcmV0IFZhdWx0IHRvZGF5ISIgd2lkdGg9IjcwMCIgaGVpZ2h0PSIzMDAiLz48L2E+PC9wPgo=[/optin_box_field][optin_box_field name="privacy"]We value your privacy and would never spam you — that's just gross. You can unsubscribe at anytime.[/optin_box_field][optin_box_field name="top_color"]undefined[/optin_box_field][optin_box_button type="1″ text="Access Now" text_size="20″ text_color="#ffffff" text_font="Montserrat;google" text_bold="Y" text_letter_spacing="0″ text_shadow_panel="Y" text_shadow_vertical="1″ text_shadow_horizontal="0″ text_shadow_color="#0eb9cb" text_shadow_blur="0″ styling_width="20″ styling_height="17″ styling_border_color="#027381″ styling_border_size="1″ styling_border_radius="6″ styling_border_opacity="100″ styling_shine="Y" styling_gradient_start_color="#0eb9cb" styling_gradient_end_color="#027381″ drop_shadow_panel="Y" drop_shadow_vertical="1″ drop_shadow_horizontal="0″ drop_shadow_blur="1″ drop_shadow_spread="0″ drop_shadow_color="#027381″ drop_shadow_opacity="50″ inset_shadow_panel="Y" inset_shadow_vertical="0″ inset_shadow_horizontal="0″ inset_shadow_blur="0″ inset_shadow_spread="1″ inset_shadow_color="#0eb9cb" inset_shadow_opacity="50″ location="optin_box_style_12″ button_below="Y"]Access Now[/optin_box_button] [/optin_box]