Do you struggle to come up with engaging and captivating images to share on your blog or social media channels? Enter Canva Pro!
Canva is the answer and it's a tool I've been using for years now and I wouldn't know what to do with myself if I didn't have access to it, particularly as I don't have Adobe Photoshop nor do I plan to ever learn it — Hello, have they heard of "user interface"?!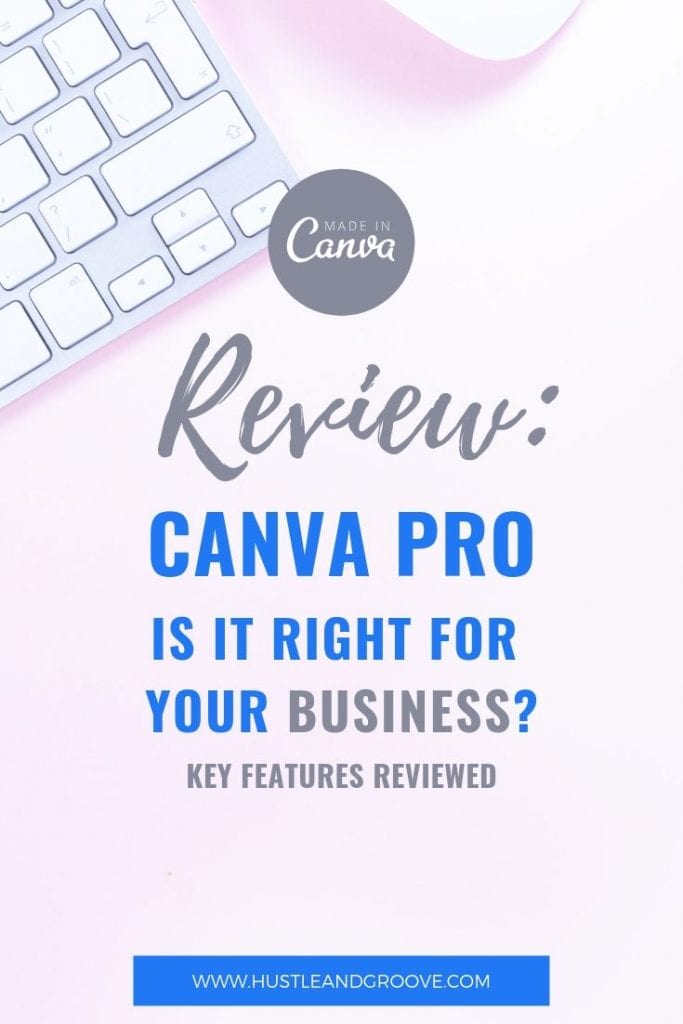 Not only do I use Canva to create images for this blog… I've used it to create invitations (like for our wedding!) and other arty endeavours, because as someone who is a little creative, Canva calls out to me on a daily basis!
Just before Canva for Work (now Canva Pro) launched a number of years ago, I was approached by them to see if I'd like to give their new platform 'Canva Pro' a run through its paces… before it was released out into the public.
To say I was more than a little chuffed to be asked to do this… well, if you don't know me by now, you never will — I couldn't wait to get my hands on it!
I spent a good portion of one Wednesday morning going through all the new stuff, setting up all the templates and branding for the H&G blog! To say it's addictive is an understatement…
In 2019 they changed the name to 'Canva Pro' and it's now available on iOS and Android. They release new features monthly and as a Canva Certified Creative, I am fortunate to get beta access to these before they're released to the public. So if you've ever wondered why I have such gorgeous graphics, it's all thanks to Canva!
Here's some of the official media release for the launch:
[feature_box style="5″ only_advanced="There%20are%20no%20title%20options%20for%20the%20choosen%20style" alignment="center"]
"Bloggers, marketers and small-business owners will be able to join existing Canva Pro users such as Huffington Post, Upworthy, Lonely Planet, Hubspot and Yelp that already use the platform to create their social media graphics and marketing materials. Canva Pro's features will appeal to both individuals and teams."
[/feature_box]
What's really cool about this upgraded tool is that it not only works for large companies but for cool peeps like you and me, us awesome solopreneurs, hustlers and groovers…
So, are you ready to join me on a quick tour? Let's get started!
Introducing Canva Pro — A Review
Here's the quick intro, then I'll take you through what it looks like inside H&G branding headquarters…
Canva Pro's key features include:
[bullet_block style="size-16″ small_icon="11.png" width="" alignment="center"]
Centralise brand colors, logos and fonts. Keep your brand guidelines up-to-date and in one place. Enable your entire team (hint: you can share the templates with your outsourcers WITHOUT having to pay for them to have access!) to access and use your colours, logos and fonts in the designs you're getting them to create.
Save branded templates.

Create templates for everything from social media graphics to presentations. This ensures consistency and empowers your social media, marketing and sales teams (or outsourcers) to create on-brand graphics.

Magically resize designs. Quickly resize a design into all the formats you need. Create a design once, and optimise it for different social media channels, or campaign collateral.
Organise images and assets into folders. Centralise images and assets for your brand. If you do have a team, they will never get stuck searching for the right logo again.
Access upgraded images for free.
[/bullet_block]
By far, my fave part of this tool is being able to have my logos, colours and fonts all in one spot. I'm always trying to find them, and flipping through my post-it notes that I have stuck everywhere is not a great filing system… but I love post-it notes!
Anyway, what I love is that now, I can just log into my Canva dashboard, click on my brand and viola! There's my stuff!
Here's how it looks for H&G:
[img_text_aside style="1″ image="https://hustleandgroove.com/wp-content/uploads/2021/08/Screen-Shot-2021-08-12-at-12.59.04-PM.png" image_alignment="left" headline="H%26amp%3BG%20Brand%3A%20Colours" alignment="left"]You can choose as many colours as you want! What I love about this is that it provides the colour code and shows you what the colour looks like as well. Love, love, love!
[/img_text_aside]
[img_text_aside style="1″ image="https://hustleandgroove.com/wp-content/uploads/2021/08/Screen-Shot-2021-08-12-at-12.59.14-PM.png" image_alignment="right" headline="H%26amp%3BG%20Brand%3A%20Fonts" alignment="left"]While these aren't my exact fonts (they don't have all the ones I use on the Blog) they are pretty close and soon, I'll be able to upload my own! How awesome is that?!
[/img_text_aside]
[img_text_aside style="1″ image="https://hustleandgroove.com/wp-content/uploads/2021/08/Screen-Shot-2021-08-12-at-12.59.21-PM.png" image_alignment="left" headline="H%26amp%3BG%20Brand%3A%20Logos" alignment="left"]Now, this is one thing I'm pretty good at, being able to locate my logos pretty quickly. But I love that they are now paired up with my colours and fonts and easily accessible inside Canva. I don't have to upload them ever again!
[/img_text_aside]
My other fave part is being able to create branded templates that I can then share with my team. This helps keep things consistent and it lets everyone know how I want things to look.
Here's a peek at what my initial branded templates looked like in 2014 when I got started!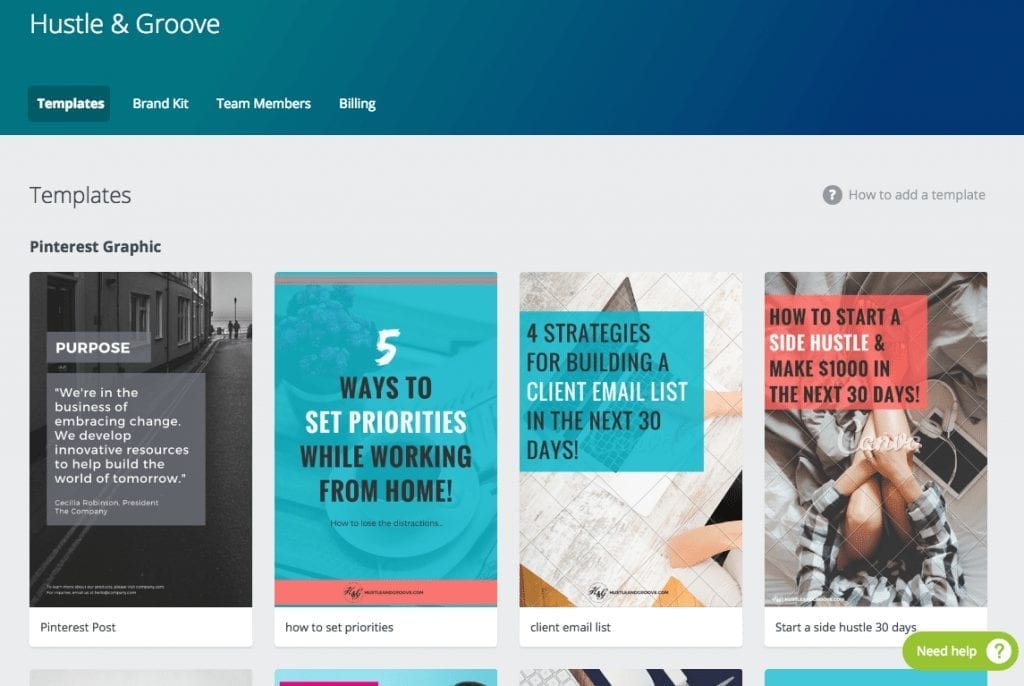 And this is what they look like now!
And last but not least, the other cool feature is the magic resize button.
You will love this if you're sharing images across multiple platforms and want them to all look the same or similar branding and elements.
Simply create the first image and then click "File" in the top left-hand corner. Then click "Magic Resize" — from there, you can choose from all the sizes you want that image to be in and then abracadabra, it's done! Perfect looking images, all ready for distribution to your favourite social media platforms.
So don't think that Canva Pro isn't for you and your business because you're a solopreneur. I can assure you, it will save you loads of time and when you do expand and take over the world (Isn't that what we're all trying to do? No… just Lise?… awkward!), you've got everything in place.
Canva Pro will save you loads of time in onboarding new outsources and team members too. Simply add them to your team and they then have access to all your brand information. No more bothering you with emails about which logo should be used where. All they have to do is review the branding information, check out the templates and get going… now that's working smarter!
If you've got a Canva account already, you'll be asked if you want to upgrade to Canva Pro when you next log in. Check it out for yourself and let me know how addicted you become with it too.
Already joined Canva Pro? Share your own thoughts in the comments below!