Sometimes, (actually, most times!) the income you're earning as a freelancer could be better, like double. When I first started out freelancing as a writer, I mainly worked with clients through Upwork, but found it difficult to really increase my freelancing income because I was somewhat limited by the fees associated with using these platforms.
After a couple of chats with Sean Ogle, Location Rebel founder, I realised that there were some things I could be doing to increase my income, in fact, double my income in a short space of time.
Tips for Doubling Your Freelancing Income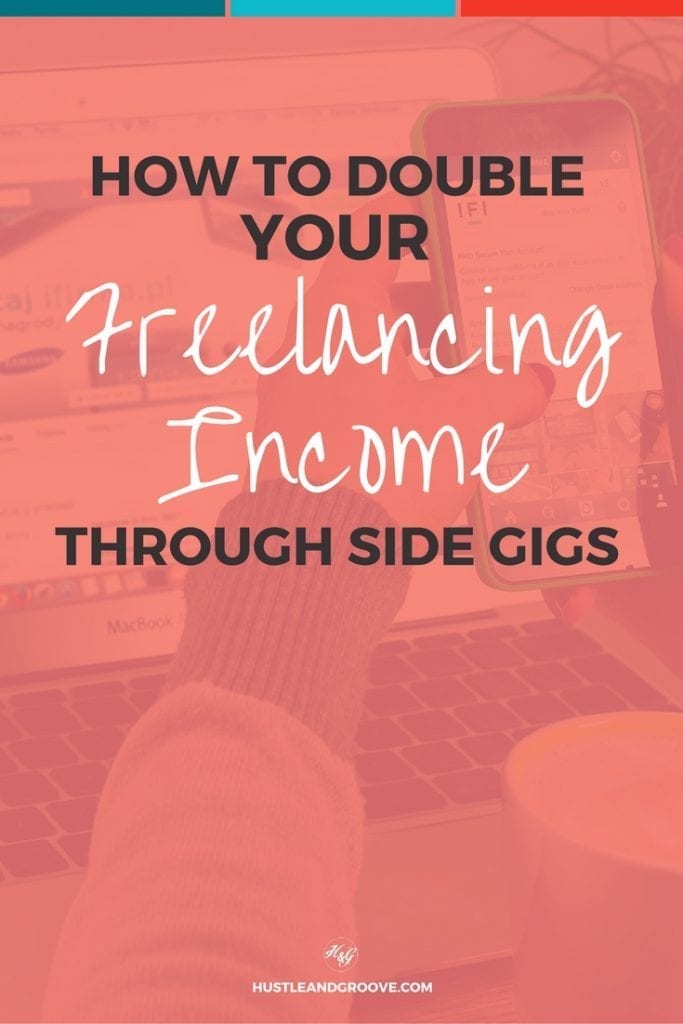 Let's start with what it is you're currently doing to land clients and how you can improve on these avenues without too much additional work on your part, because let's face it, if you're just starting out as a freelancer, the last thing you want to do is add to your workload with stuff that takes up your billable hours!
[bullet_block style="size-16″ small_icon="15.png" width="" alignment="center"]
Don't charge by the hour, charge by the project! Use your base hourly rate and factor in time + profit and you'll quickly double your income
Raise your rates! Ha, you thought it was going to be some secret. It's not, raise your rates with each new project until you're making double what you are now!
Ask for referrals. I use Freshbooks to bill my clients and it actually prompts them to leave me with feedback, if they do I follow up and ask for referrals. It's a great way to double your income through word of mouth.
Jump on Pro job board sites like Problogger.net and apply to jobs listed there.
[/bullet_block]
Once you've got that stuffed nailed, there are some other ways you can double your income.
The following gives you some ideas on how you can expand your skill base, no matter what type of freelance work you're currently doing.
Additional Freelance Writing Side Gigs
Here I'm going to cover a whole bunch of side gigs that will compliment the skills you already have as a freelance writer. Or they might be new skills you can learn.
It pays to diversify so you don't burn yourself out and end up hating what you're doing, just like you did when you had your "day job."
So, what are some potential side gigs and how do you get in on them? It really depends on the type of writing you do. Read the options below and decide for yourself if each one is something you can do or something that you want to learn and add to your repertoire of skills.
#1: Social Media Content Curator
If you are a copywriter who enjoys writing 'salesy' type stuff, or if you just like to share content that you find, managing a client's social media content could be the perfect job for you.
So what does this entail? Basically, you would research and locate content to share across a client's social media channels.
Remember that what you share on Twitter might not work on Facebook, Pinterest, LinkedIn, etc.
Once you've found great stuff to share (or written something worth sharing), it's time to craft some catchy copy to compel people to click on the information, comment on it, like it, retweet it, repin it, or share it in some other way with their own networks.
This is very similar to curating, so if you have done this before, definitely consider adding it to your portfolio of writing skills.
#2: Content Curator
In a similar vein to the above, content curating is another great side gig to have. This type of work is best suited to someone who has great organisational skills and is able to clearly communicate with bloggers or other writers. It is very similar to social media content curating, but the focus is more on looking for things that can be repurposed for your client's blog or ideas for new content for their site.
You will be tasked with reading a lot of information on the web and distilling that information to the appropriate people for reworking. You will also be in charge of editing any content that is requested, so make sure your editing skills are up to par. Utilize tools such as EditMinion andGrammar Girl to ensure that your editing is spot on.
This is a great skill to have as many companies don't have the skills in-house to have someone do this. This is a great freelance writer side gig/skill that you should openly promote in your portfolio and on your personal website.
#3: Editor
This is by far the easiest side gig to get into. Everyone is always looking for an editor, and you will find a lot of work on Upwork if you search for this keyword. Couple it with your specific niche or locality and you will quickly find that many editing jobs are available.
Other places you could offer your editing services would be to SEO companies. They often outsource their blog article generation and don't always have the time to edit it properly. Send out emails to all the SEO companies in your area or country and you will get some responses.
Editing is easy for someone who is a good creative or technical writer, so if you need to brush up on your editing skills, see the links in the previous side gig description for help. Don't forget to take the Upwork editing test as well if you are looking to get work on Upwork for this skill.
#4: Language Translator
If you can speak another language fluently, then this is an excellent freelance writing side gig to add to your skill base. This is another area in which you can find work on Upwork. Just make sure you have taken the corresponding tests on oDesk to support your claims, as well as uploaded a few portfolio documents that show the original text and the translated text.
Besides Upwork, there are other companies who pay top dollar for this type of work.
Check out Gengo if you are looking for some continuous translation work. They cover a multitude of languages, with a lot of jobs available for Japanese-English translation in particular. This is a definite skill to capitalize on if you have it. Why not get paid to do something that you can already do well?
#5: Captionist
Captioning is another area that people are looking for qualified writers in. Captioning means watching a video or looking at a photo, then providing a 120-150 word caption. Sometimes the caption can be shorter.
If you've had any experience at writing product descriptions or if you're someone who Tweets a lot, this should be fairly easy. You do need to be creative and able to think quickly on your feet, though.
You will also find this type of work on Upwork, but more often than not, you will find this sort of work in other places, depending on the niche you are looking to focus on. If you want to do voice captioning, a simple Google search will bring up plenty of voice captioning jobs.
Of course, these are not the only options available for freelance writing side gigs, but they are a great start. Basically, anything to do with writing could be considered a side gig, from editing to content curating, image research, and creating content for tweets, Pinterest and other social media channels.
The point is to diversify, and if you diversify early, you'll find that you won't burn yourself out and you'll be able to find more opportunities to work with a variety of different clients.
Here's what you need to remember:
[bullet_block style="size-16″ small_icon="12.png" width="" alignment="center"]
Add some freelance writing side gigs to your bow to ensure diversification and avoid having all your eggs in one basket.
There are many options for side gigs. Choose the one that is best suited to your already excellent skill base.
Don't forget to advertise your extra skills by including them in your resume and portfolio as well as on your personal website.
[/bullet_block]
Another great way to increase your income is to give your time away, for free. Now I know that this might seem counter-intuitive, but hear me out.
There is a new economy around helping others, could the 'helpful marketing strategy' where you help clients, with say a question or problem they are having over a Skype or Google Hangout. You provide 30 minutes of your time and in turn, find out pain points and develop relationships with the people you can actually help and work with further down the track.
SoHelpful.me is a new site that is helping freelancers do just that. Check it out for yourself to see if this is a good option for you.
Not only does this lead to warm fuzzies with your clients, but it can also help to further increase your income, because one you've made a personal connection with someone, it's far easier to provide them with additional value through paid services.
I'd love your thoughts – have you tried any of these ideas already? Share in the comments and if you have your own unique way of doubling your income and would care to share, we'd all love that too!
[optin_box style="12″ alignment="center" email_field="email" email_default="Enter your email address" integration_type="convertkit" double_optin="Y" thank_you_page="https://hustleandgroove.com/thanksforsubscribing" list="42312″ name_field="name" name_default="Enter your first name" name_required="N" opm_packages=""][optin_box_field name="headline"][/optin_box_field][optin_box_field name="paragraph"]PHA+PGEgaHJlZj0iaHR0cDovL3d3dy5odXN0bGVhbmRncm9vdmUuY29tL3dwLWNvbnRlbnQvdXBsb2Fkcy8yMDE2LzA0L0pPSU4tVEhFLUhHLVNFQ1JFVC1WQVVMVC5qcGciPjxpbWcgY2xhc3M9ImFsaWduY2VudGVyIHNpemUtZnVsbCB3cC1pbWFnZS0zNDYzIiBzcmM9Imh0dHA6Ly93d3cuaHVzdGxlYW5kZ3Jvb3ZlLmNvbS93cC1jb250ZW50L3VwbG9hZHMvMjAxNi8wNC9KT0lOLVRIRS1IRy1TRUNSRVQtVkFVTFQuanBnIiBhbHQ9IkpvaW4gdGhlIEgmYW1wO0cgU2VjcmV0IFZhdWx0IHRvZGF5ISIgd2lkdGg9IjcwMCIgaGVpZ2h0PSIzMDAiLz48L2E+PC9wPgo=[/optin_box_field][optin_box_field name="privacy"]We value your privacy and would never spam you — that's just gross. You can unsubscribe at anytime.[/optin_box_field][optin_box_field name="top_color"]undefined[/optin_box_field][optin_box_button type="1″ text="Access Now" text_size="20″ text_color="#ffffff" text_font="Montserrat;google" text_bold="Y" text_letter_spacing="0″ text_shadow_panel="Y" text_shadow_vertical="1″ text_shadow_horizontal="0″ text_shadow_color="#0eb9cb" text_shadow_blur="0″ styling_width="20″ styling_height="17″ styling_border_color="#027381″ styling_border_size="1″ styling_border_radius="6″ styling_border_opacity="100″ styling_shine="Y" styling_gradient_start_color="#0eb9cb" styling_gradient_end_color="#027381″ drop_shadow_panel="Y" drop_shadow_vertical="1″ drop_shadow_horizontal="0″ drop_shadow_blur="1″ drop_shadow_spread="0″ drop_shadow_color="#027381″ drop_shadow_opacity="50″ inset_shadow_panel="Y" inset_shadow_vertical="0″ inset_shadow_horizontal="0″ inset_shadow_blur="0″ inset_shadow_spread="1″ inset_shadow_color="#0eb9cb" inset_shadow_opacity="50″ location="optin_box_style_12″ button_below="Y"]Access Now[/optin_box_button] [/optin_box]