I don't know about you, but I've always been really fascinated by the publishing world, in particular, Amazon and the ebook phenomenon. Writing eBooks has become a bit of a passion of mine, one I would never have thought I'd take to.
Many of you already know that I started my own ebook journey over 5 years ago, where I started learning aggressively how to make money writing ebooks and self-publishing them.
Now, let's get one thing straight. Anything that you do that's outside the norm, i.e., not making money from your job, is going to require some extra effort on your part.
The reason why many self-published authors are successful is that they got up off their asses and did something – they didn't sit around waiting for the book to write itself or market itself – they researched, tested and made things happen.
If you want to make an extra $1000 writing ebooks – it's gonna require some effort on your part!
Since I started writing ebooks in July 2014, I've self-published 20+ since then. I'm making between $1500-$2000 USD per month from these books and while that might not seem like a lot – it does make a difference to our bank balance!
[images style="3″ image="http%3A%2F%2Fhustleandgroove.com%2Fwp-content%2Fuploads%2F2014%2F12%2Fpicwithngngals.jpg" width="480″ caption="My%20first%20self-published%20ebook%20(seen%20here%20as%20a%20paperback!)%20%22No%20Gym%20Needed%3A%20Quick%20%26%20Simple%20Workouts%20for%20Gals%20on%20the%20Go!%22″ link_url="http%3A%2F%2Flisecartwright.com%2FNGNWomen" new_window="Y" align="center" top_margin="0″ alt_text="My%20first%20self-published%20ebook!" full_width="Y"]
I hope you're excited by that because if you're anything like me, you'll be thinking to yourself, "Wow, if Lise can publish another 20 books, she could double that income…"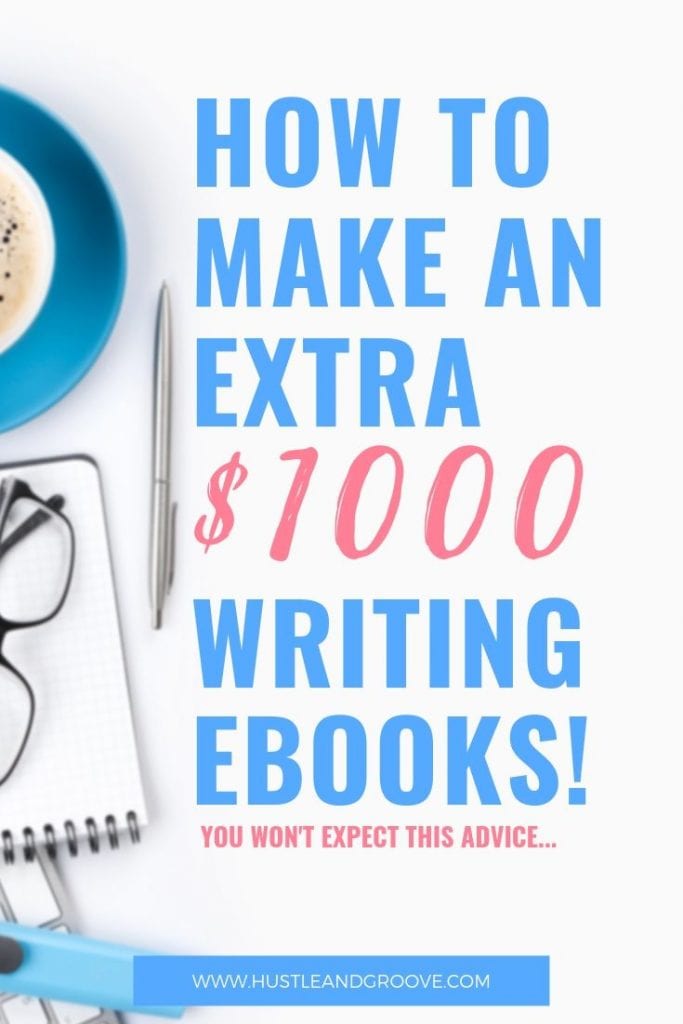 Just think about that for a second – now I don't know about you, but I'd rather write ebooks over taking on a second job to pick up that sort of cash. You too? Thought so…
If you're still not sure about this whole ebook thing, read on to learn more about how you can make an extra $1000 writing ebooks right now – as a ghostwriter! Whoa, bet you didn't see that coming…
Make an Extra $1000 Writing eBooks
How? As a Ghostwriter!
If you've never heard of the term 'ghostwriting' before, here's a brief explanation so you can understand what the heck I'm talking about!
A ghostwriter is a 'writer for hire' who is paid to write an ebook, but takes none of the credit for the ebook once it's completed. This means that your name does not appear as an author for the book nor would it appear as a contributor. You are giving all rights to the work your write to the person paying you to ghost write the ebook.
This might sound odd to you, but it's quite a common practice. Many people use ghostwriters, not just to write ebooks, but to write blog posts, speeches, social media posts etc. In fact, for many of my clients, I ghostwrite their social media posts. I act like I'm them – this is ghostwriting at a simple level.

And just in case you're wondering – no-one ghostwrites MY blog posts or my ebooks 🙂
Ghostwriting ebooks is a great side hustle to do because it allows you to charge higher rates, get paid what you're worth for the writing you do, but take on none of the responsibility (or recognition) associated with being the author of a book.
As a ghostwriter, you can charge higher rates because you're doing all the work. You can charge even more if you're an expert in a certain field, such as a doctor, nurse, vet etc, etc. Imagine getting paid to write about your current job or expertise…
You can also negotiate different deals with an author, depending on what you're writing about.
An Example:
You could take a lower fee if the book you're writing is likely to sell widely and sell well. You could opt to take a $10,000 advance to write the book (we're talking large books here, in excess of 300 pages) which could be a lump sum or part payment. Then you could opt to take 10-20% of the books gross profits over a specified period of time or once it hit a ceiling cap that you'd agreed on.
This type of deal would only work when the book is nearly guaranteed to be published for high profits. This would be a traditionally published book in most instances.
From a self-publishing viewpoint, you could take a lower fee if you were listed as a contributor or editor of the book and would receive some of the gross profits. Similarly, if the book was less than 25,000 words, you might accept a lower payment.
Conversely, if an author approaches you with a tight deadline, you could charge a premium price for the quick turnaround. This is the great thing about being a ghostwriter – because there is such a demand for this service, you can charge rates that are fair and just for your experience.
But there is a lot of competition in this space for cheap, quick ghostwritten books, more often than not, these are low-quality books.
You want to find the clients that are prepared to pay you what you're worth and are looking for quality. Leave the cheap stuff to those people willing to write for peanuts – that's not you!
#1: Finding Good Clients
To find good clients, review some of the sites below:
Once you've found a few options, submit your proposal and get yourself hired!
#2: Find High Paying Ghostwriting Gigs
If you want to get started quickly, then you need to find the high paying ghostwriting gigs now. If you've taken my advice and jumped on Upwork, you'll probably be finding a lot of the cheap and low-paying ghostwriting gigs.
The quickest way to get through all of that crap is to figure out what you want to be paid as a ghostwriter and then search for those jobs by following these steps:
[bullet_block style="size-16″ small_icon="12.png" width="" alignment="center"]
Step 1 – Make sure your Upwork profile is completed and optimised appropriately
Step 2 – Decide on your per project fee, i.e., $500 etc
Step 3 – Bring up the job search page and enter in your dollar amount, i.e., $500
Step 4 – Filter the jobs by category
Step 5 – If there are a lot of jobs at this price point, you can refine your search. Enter in your fee + ghostwriting. This would look like this "$500 ghostwriter"
Step 6 – Submit your proposal!
[/bullet_block]
From there, it's just a matter of selling yourself and listing the reasons why an author might want to work with you.
If you're not set up on Upwork, then try a couple of the other sites. The same theory applies when searching for jobs, always put in the dollar amount first then refine your search from there.
Have you ever tried ghostwriting ebooks before? What was your experience? Leave your thoughts in the comments below!
To get more clarity on your online business, check out Cultivate Your Hustle Workbook. It's got everything you need to get clear on your idea, create a plan, and make money in your online business.
If you want to jump straight to the meat of how I'm making this work for me right now, pick up my ebook, "Side Hustle Blueprint: How to Make an Extra $1000 per month Writing eBooks!" – you can hit the ground running now and be receiving your first payment from Amazon in 3 months (Amazon pays out 60 days following any sales made).