When I first started thinking about what it was that I was going to do with my life, Chris Guillebeau's book, "The Art of Non-Conformity: Set your own rules, live the life you want and change the world" and his blog of the same name, set off a series of sparks that lead me down the path I'm now on.
If you've ever thought, "There must be more to life than this," then you're gonna love this book, because it's exactly the thought that was going through my mind in January 2011.
It took me almost another 7 months before I came across Location Rebel and found my path to escaping my 9-5, but during that time, I also spent a lot of time reading, and a lot of what I read was in Chris's book and on his old site, which has now morphed into a brand new site with loads of cool stuff on it, so definitely check it out.
I wanted to provide you with a succinct review about this book, because while you can read a ton of books and even blog posts about starting a side hustle or getting into freelancing, I feel it's important that you know exactly what kind of life you're looking to create.
The Short and Curly's…
The book is broken up into three parts as follows:
The Remarkable Life
Reclaiming Work
The Power of Convergence
Within each of these 'parts' are chapters that delve deeper into each overarching theme.
Here's what the chapters look like for each part:
Part #1: The Remarkable Life
[bullet_block style="size-16″ small_icon="64.png" width="" alignment="center"]
Sleepwalkers and the Living World
Setting the Terms of Your Unconventional Life
Smashing Through the Brick Wall of Fear
How to Fight Authority and Win
[/bullet_block]
Part #2: Reclaiming Work
[bullet_block style="size-16″ small_icon="64.png" width="" alignment="center"]
Competence is Your Security
Graduate School vs. the Blogosphere
The Power of Your Own Small Army
The Personal Finance Journey
[/bullet_block]
Part #3: The Power of Convergence
[bullet_block style="size-16″ small_icon="64.png" width="" alignment="center"]
Radical Exclusion and the Quest for Abundance
Contrarian Adventures
Your Legacy Starts Now
Conclusion: Dangerous Ideas
[/bullet_block]
Now that we've got all of the boring stuff out of the way, let's jump into what you really want to know — is this book worth reading and will it actually help you?
The Review
In the very first chapter, Chris is very upfront and says that he doesn't want to disappoint and that it's his hope that he helps you to see that you CAN live your life on your own terms…
Before we go any further, I want to make sure I don't waste your time. To make sure this book will be useful to you, I'm going to make a number of assumptions right here at the beginning… you must be open to new ideas, you must be dissatisfied with the status quo, you must be willing to take personal responsibility, and you must be willing to work hard.
I really like this. It forces the reader to answer those questions for themselves and if you can't answer them, then the book isn't the right fit for you right now…
Once I read that, I was all in!
The first four chapters are designed to ease you into the concept of leading a life that you actually want to live. As someone who had been looking for something more for a while, I absolutely gobbled up these first four chapters, as they reaffirmed that there was, in fact, something more to life than what I had so far experienced…
At the end of the first section, Chris introduces a little 'interlude' to deal with the perceived obstacles you might be facing at this point. In Chris's own words, "When you brush up against the internal obstacles of fear and insecurity and the external obstacles of gatekeepers and critics, it's easy to be intimidated into giving up."
The best part about this interlude is that Chris goes onto slash those fears by stating that you don't need experience, you don't need years of preparation, you don't need paperwork (degrees etc), and you don't need a mentor to live the life you want.
He follows this up by saying what you actually do need, and it was at this point that things started to really fall into place for me in my own mind, about just how awesome life could be when it was on my own terms…
You need passion. You need a vision and a task. You need the answers to the two most important questions in the universe: #1 – what do you really want to get out of life? #2 – how can you help others in a way that no-one else can? You need commitment to stay the course.
I have to admit that part two was my favourite out of the whole book… mainly because it completely focuses on helping you figure out how to do work you love.
While you might believe that the secret to happiness is probably doing less work, the reality is that we all need something to do with our time, so why not find something you love doing instead?
Take your life in your own hands, and what happens? A terrible thing — you have no one to blame… ~ Erica Jong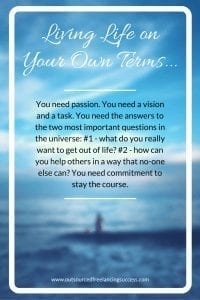 This is a quote from the first chapter in part two. I love it, because it sums up nicely what part two is really all about — taking back the reigns of your own life and setting your own course.
Chris addresses the issue of paying for an education, offering a solid argument why you could learn more doing a one-year, self-directed, alternative graduate school experience that would cost you less than $10,000… you'll have to read the book for the full details on what this experience involves, but suffice to say, if I had my time over again, I would have taken this option versus getting my business degree that I've never used (and that cost me over $50,000).
In this second part of the book, Chris illustrates a lot of his points with anecdotes and stories of others doing what they love. It's these stories that drive a very compelling argument for why wouldn't you choose to live a life you want?
At the end of part two, we're presented with another interlude, one that deals with what can happen when you set course for a life less unconventional…
If you want to make a lot of people hate you, all you need to do is make a lot of money doing something you love. ~ Hugh MacLeod
Chris then points out this fact: "When you set out on an unconventional journey, you'll attract attention and criticism. If you succeed in your quest, you can expect more of both."
I can certainly agree with this statement now that I'm 4 years into a path I've chosen to tread. It is surprising to me just how many people have an opinion on your life and what you do when it's something they know nothing about…
In the last part of the book, Chris pulls it all together so that you can build your own legacy that's designed to outlast your time on earth.
I love this idea of legacy… "Increase the percentage of legacy work as opposed to busy-work (or even just "good work")."
The Last Section
In the last section of this book, Chris focuses on setting continual goals that have measurable metrics that will help keep you focused on what you are trying to achieve, and it's definitely something I've now implemented into my own life since reading this book and Chris's subsequent blog post on creating an annual review process.
In closing, Chris has this to say… "It's far easier to be a cynic than a believer. Whatever you decide, don't do that. Stand for something! Come join the living world. The rest of us are waiting…"
I have the paperback version of this book because I wanted something that I could highlight and refer back to often, which I have done over the past 2-3 years.
If you're sitting on the fence about this book, this might seal the deal… Chris provides some awesome resources at the end of the book that you can access and download to further help you along this path.
And that's it from me! If you get the book, I'd love to know your own thoughts on it and if you've read it, let me know in the comments below what your fav part was!