This is part 1 of 2 in a series about how to make money with your blog or website. You can read the next installment about how to turn your blog into a business here.
Something I'm asked all the time by my readers is "how do you make money with your blog?" 
It's actually really simple. 
It only feels complicated because there are so many different ways to actually monetize a blog. So many options… How do you decide which is going to work best for you?
That's what you're about to discover in this blog post!
How to Make Money With Your Blog
Now, when I say blog, I'm actually just talking about your website. Because your blog and website are generally one in the same. 
When you're hanging out here at HustleandGroove.com, it's my website but it's also my blog. The blog is literally just a part of my entire website. So whenever I say blog or website, those terms are interchangeable. They do not need to be separate things and I think sometimes that's where people get confused. 
So let's look at the top ways to monetize your blog (or your website ?) , perhaps even the fastest and easiest way to do that…

Option #1: Using Ads
Your blog is where you are writing all that beautiful content, so one way to monetize it is to  add in things like advertising. 
There are lots of different networks, like Google AdSense, that you could sign up to that will place ads strategically on your blog. That can either be within your blog posts, a sidebar, or sometimes at the top or bottom of your blog. 
I'm personally not a fan of ads on my blog because they're super annoying from a reader's perspective. Depending on the ad platform you're using, they can sometimes seamlessly integrate with your content, but it's still distracting.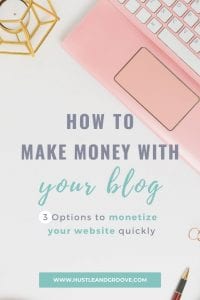 We're already bombarded with ads on Facebook, Instagram, Twitter, and YouTube. When someone arrives on your blog, do you really want them bombarded by more ads from you? 
I'm always looking at it from the viewpoint of what makes sense for my reader. I'm very reader focused on my website so I want that experience to be really nice for them. They're looking for the information I've got on my site and I don't want them distracted from the reason they came in the first place. 
You'll notice I don't have a sidebar either. I just have pure content because that's what I want the reader to focus on. 
Option #2: Affiliate marketing
Affiliate marketing is really just referral marketing and is another way to make money on your blog. It's where you're promoting somebody else's product and you get a slice of the sales pie when someone buys via your link. 
All that is required is just either writing a blog post specifically about a product, or linking out to a product that you're an affiliate for. 
One of the most popular affiliate programs used to be Amazon Affiliates. But since they changed the affiliate payout significantly (not in our favour), I no longer recommend them.
If you're going the affiliate route, try promoting specific products that you already use and work directly with the company. You'll get a much better percentage on the sales you drive to their product.
Option #3: Promote your own offers
Personally my favorite way–and actually what I think is the fastest way–to make money with your blog is to promote your own offers. 
There are a few ways to do this: 
Integrate them into your content and make it look like an ad,

Treat it like you would as an affiliate and write an entire blog post about your product, or

Simply hyperlink out to your offer sales page.
Now, you need to have offers in place to do this. The fastest offers to set up are anything digital that are easily delivered online. 
I'm talking digital offers like:
mini courses,

anything printable like worksheets, planners, calendars, etc,

downloadable PDF files,

voice or video recorded tutorial

any product that can be instantly delivered.
My Favorite Digital Offers For Making Money With a Blog
My favorite digital offer for making money with your blog is results-oriented printables. 
Now, these are not just your average downloadable PDF files. Ideally, they help people achieve a result, are beautifully designed, and are really pretty to look at. At the end of the day, people buy stuff that looks pretty.
These are low cost offers too. You can sell them for $5 – $27 and people spontaneously purchase them because of their low price. It's a no brainer in terms of cost, time saved, and immediate benefit to them. 
Some ideas for results-oriented printables are: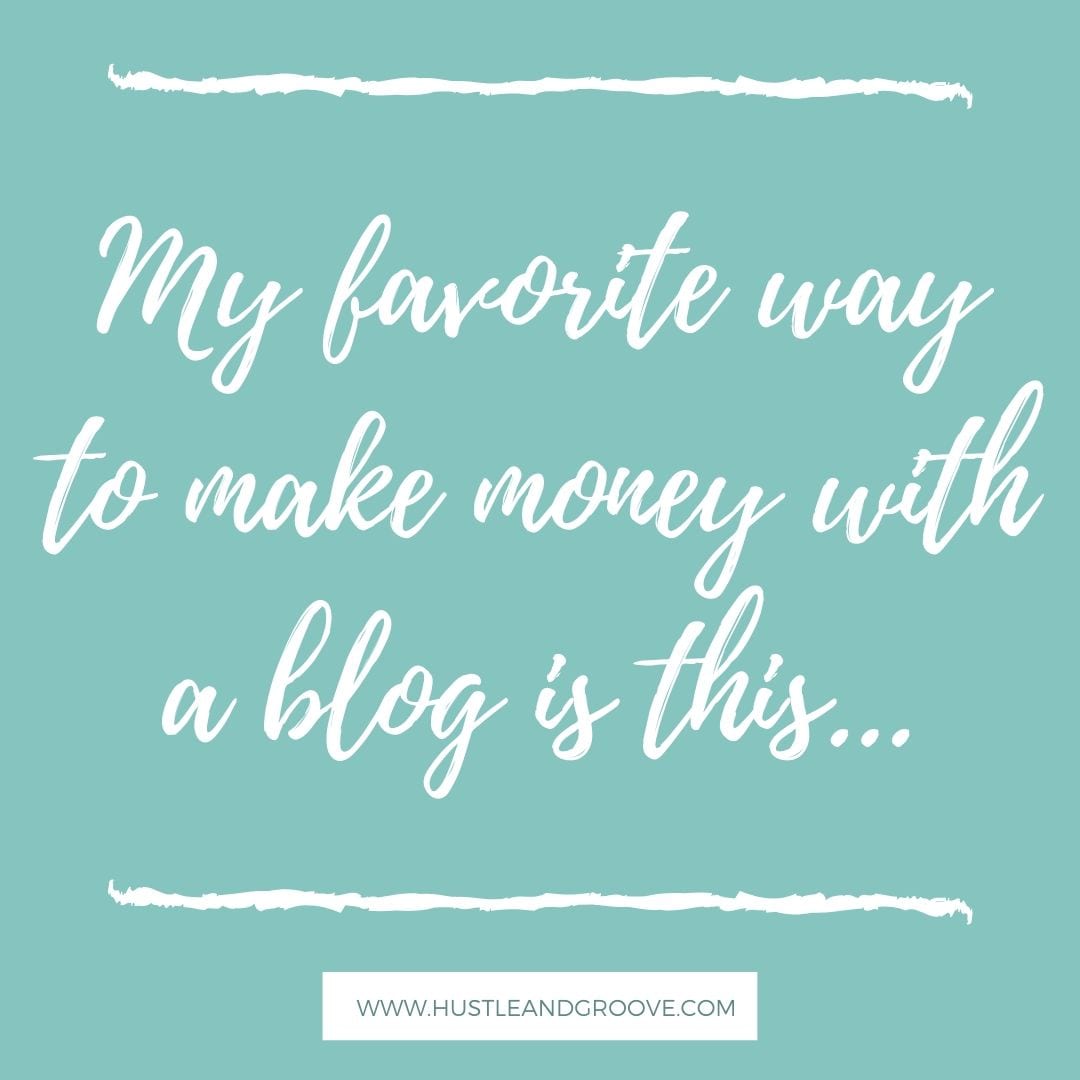 Ideas for blog post content

Social media engagement prompts 

Ideas for recording Facebook lives

Calendars and planners
Content and Pricing When Monetizing Your Blog
The easiest way to monetize your blog is to start with low-cost offers. And as I mentioned, printables fit this criteria to a T. 
The price of your printable will depend on things like how many pages it has and what else is included.
Generally, a content planning printable is probably going to be about 12 pages, depending on if you choose to create it from a month-to-month or week-to-week perspective. Either way, it should be beautifully designed so someone can either download it, print it off, and write in it, or they can fill it in online.
You can sell those for between $5 – $11, or $27+ if it's a whole system. A whole system would be something that is around 50 pages of content and also comes with a tutorial video.
I'm currently creating a content calendar that is a printable product but includes a tutorial video and a whole bunch of prompts as well.
It will help bloggers communicate with their audience and plan content for their calendars and social media feeds. 
It has conversation starters for Facebook group engagement, prompts for sharing on social media, and blog post prompts as well. I'm also including a video tutorial on all of that and selling it as a system. 
Pricing for that will probably be around $27 to $47. 
Think about pricing and go with what feels good to you and what provides value for the customer before you finalize the price of your offers.
When pricing my offers, I always ask, is this a no brainer? I want it to be a no brainer for someone to just go, heck yeah, I'm going to buy this! 
That's what you want to think when you're pricing your own stuff. Is it a no brainer? Can your customer justify it like the price of a few coffees? 
So for the price of three coffees, they can grab your printable…
Adding Printable Offers to Your Blog
If you are just getting started with your blog or you've had your blog for a while and you haven't really thought about this, I highly recommend adding printables as a product to your blog. You can do this in a couple of different ways.
Sidebar 
If you do have a sidebar on your blog, you could list all of your printable products that you have available there. When someone clicks on the image, they are taken to a checkout page so you'll need to have a payment system set up. (I go into detail on that in the next post)
Hyperlink
If you're even smarter, for every single blog post that you write you will either hyperlink out to the printable that makes the most sense for that post, or create a printable specifically for that blog post. 
Then it's just a case of promoting that blog post wherever you can. 
This is where you can start to do some fun things, like run Facebook ads to your blog post at a low budget of $5 a day. Run those ads to your warm audience, people that are already in your world that like and trust you. Do not run them to a cold audience because that will cost more. 
All you're doing is promoting the blog post, not the printable you're promoting inside the blog post. The blog post talks about different things and the printable is going to be a natural fit for that content. That is how this part of the content ecosystem works. 
When you do it that way, a printable that costs $5 or $7 but is selling every day is so much easier than having to be constantly chasing the sale. 
Think about how this might work for you, how to really monetize your blog in a way that makes you the most amount of money. This is like putting the whole content upgrade strategy on steroids!
And why shouldn't you charge for your content? If someone has gone through and read your blog posts, that's your free content. You do not need to be giving away your stuff for free all the time. 
I have two main lead magnets that I give away for free, and the Facebook lives that I deliver regularly also provide free information. Everything else is something that I charge for. Don't ever think that you have to create free content all the time and never monetize it.
In a nutshell, that's the fastest way to make money with your blog. 
Create an offer for your own low-cost product, like printables. Then create content like a blog post to support it. Then promote the blog post, not the printable.
Develop Your Business With Printables
If you've got an inch of creativity in your bones, offering printables is one of the fastest ways to monetize your website. And then who knows… if you start to get lots of people grabbing those printables, it might inspire you to create a course! This is how you start to really develop an online business.
You never want to offer just one thing. That's why I offer multiple products that span a range of price points. 
I offer low-cost products like workshops, mid-cost products like courses and bootcamps, and high-end coaching. My business, like me, is multifaceted. I like to deliver things in multiple different ways to keep it interesting and creative. 
So if you're just starting out or just trying to revive your blog, then add a printable element for your audience. It's the easiest way to monetize your blog.

If you want to dig in deeper, check out the Profit With Printables Mini-Course.
Inside you'll find a simple, straight forward mini-training created to help you go from uncertain and frustrated to a money-making machine – because those who buy from you once will buy from you again and again.
Included is a step-by-step strategy that you can use RIGHT NOW to get your printable business up and running in 2 hours or less, as well as a walk-through on the automated funnel set up.
Profit With Printables will simply, and quickly, give you what you need so that you can make money on autopilot without the drama.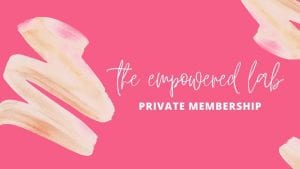 If your goal is to start an online business, or grow the one you have to be more profitable in less time, then I can't wait for you see what's going on inside The Empowered Lab.
It's a membership I created called The Empowered Lab. Accountability, mindset, productivity, and creating content that converts is all covered when you become a member of this amazing community of online entrepreneurs. It was designed to answer the question: "What's my immediate next step?" You'll get targeted strategies, wherever you're at in your business, to make more money and truly create a business that's easy and fun.
Action Steps:
I really want you to sit down today and visualize what would it look like if you were to create some printables for your blog. 
What posts would you pair them with and what would be your plan to promote those posts? 
Now go do it!