We've previously talked about when you shouldn't try to monetize your list.  So now let's talk about what a monetization plan would look like for your blog or online business if this is what you feel is your best next step…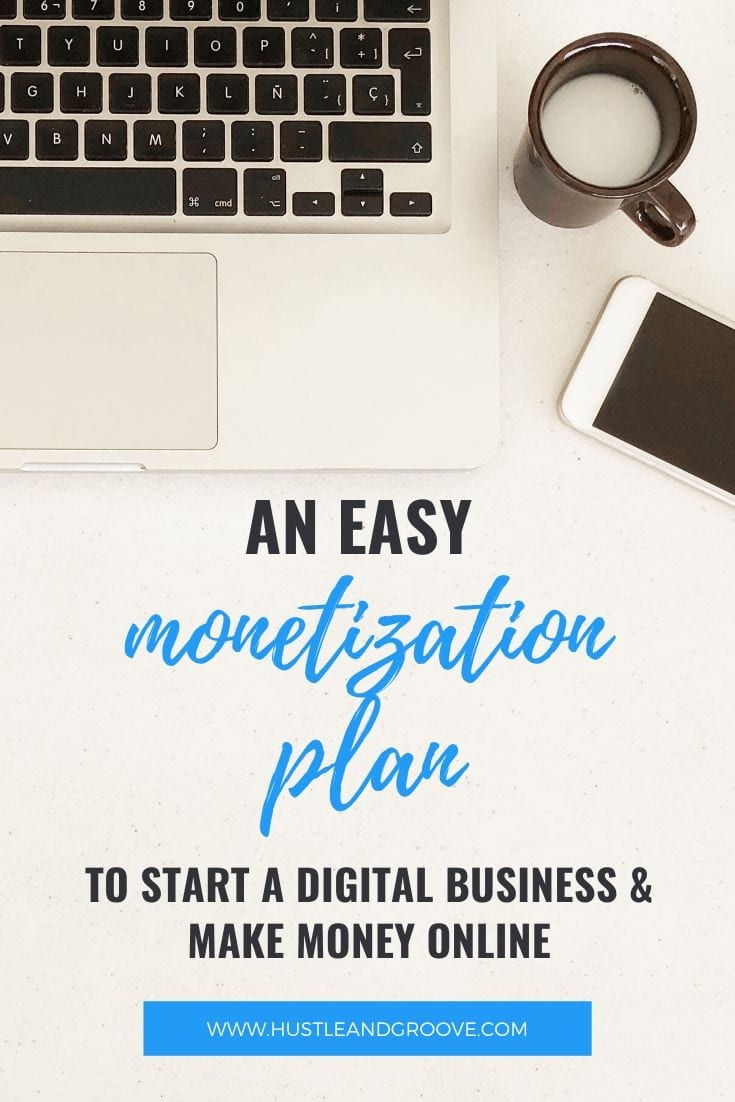 First, let's clear up some misconceptions… 
A blog and your website are one in the same thing. Your blog lives on your website. 
Let's look at it this way… think of your website as your home, and your blog as a room inside your home. Landing pages and sales pages are different rooms in your home and also live on your website. 
But you aren't limited to needing a website to start an online business…
Monetization Plan For Your Blog
Start an Online Business Without a Website
Fun fact: you don't actually need a website to have an online business when you're just starting out!  
What you do need is a way to:
capture email addresses

take payments 

deliver your offers
If you're stuck starting your online business because you think you need a website, you don't! 
If you don't want the hassle of a website right now but still want to start an online business, here's what you'll need:
A domain name
You'll need a domain name to use inside your email platform with your domain email. Your business looks more legit and you won't be marked as spam when messaging comes from your domain rather than a Gmail account.
An email platform
I love ConvertKit, but there's also Mailerlite, ActiveCampaign, or Constant Contact. You do need to choose a platform that can host your landing page (since a landing page would normally be a room on your website). Then you can email directly from there to communicate with your subscribers. I have experience with many different email platforms and prefer ConvertKit above all because the terminology they use is so easy to understand and their user interface is simple.
A checkout or payment processor
I use SamCart and like that, it has fully integrated sales pages, but other options include GumRoad, SendOwl, or even a PayPal business account button link would work.
A way to deliver your offers.
Both Dropbox and GoogleDocs can make the delivery of your product simple. If what you're selling is solely digital, you only need to add a link in your email as an automated sequence for stress-free delivery. 
If you're selling courses, you can host it on Teachable or–even easier–create a Dropbox folder and put the videos in there for customers to access. 
You really can make it simple so this is why I feel you don't need a website to have an online business. 
However…
If you still want a website, this is what you need to do when you're just starting out.
The Core Starting Point to Monetize Your List With a Website
Monetization comes down to two things:
Having an audience to sell to

Have something to sell
If you don't have one or the other, you cannot monetize. Simply, that is the core starting point. So decide on an audience and start building that audience now. 
Then you can either present offers from others (ie. become an affiliate) or sell products that you've created yourself. 
Monetization Plan #1: The 3 Point Affiliate Plan
If you want to start your online business promoting products that other people have created, you'll be using an affiliate business model. Your monetization plan would look like:
1. Research and write 10 blog posts to schedule out over 30 days  
The reason behind this is that when someone finds your blog, they want to look at your site and check out your home. Make sure you've written some content for them to read. 
But don't post them all on the same day! You can backdate, and/or schedule posts to go out at a future time, depending on the platform you're using. However, you want to schedule them out over a 30 day period is up to you. That could be two per week or whatever feels right for you. 
Be intentional about those blog posts. If you're looking to monetize straight away, make sure those posts directly correlate to your offer and link to whatever it is you want to sell. 
Supercharge Sales With Specific Funnels for Specific Blog Posts
In each of the 10 blog posts, you will funnel people into a paid product. 
Now, a funnel just means that you either send people to the free thing that then upsells to the product or link to the sales page. Do a mixture depending on the nature of the blog post.
For instance, if your blog post is a how-to, then I would intentionally direct people to the sales page. If you're walking them through how to do something, it's a natural progression at the end to go into a paid product that goes over and above what you just did in the blog post. 
Whereas if it was a list-style blog post, or more inspirational, or case study, then I would want to funnel them into a lead magnet. That lead magnet within ConvertKit would then take them through a sales email sequence. That then upsells them into your affiliate product. 
Remember, that you don't need to be blogging regularly until you're making money. Don't spend a bunch of time writing armloads of blog posts hoping people will buy a bunch of your stuff. I would rather you spend time building an audience and selling on the back end. 
You can make this easy! Why do we make things hard for ourselves? It's not as complicated as you might think. 
2. Choose your affiliate product
If I wanted to start making money fast, I'd choose affiliate marketing. 
If you're going the affiliate marketing route, you need to put a lot of effort and time into keyword optimization. Because at the end of the day, to make money as an affiliate it's all about traffic. So you better have a plan.
You need a plan that includes:
blog posts that align with and link back to the affiliate product you want to promote, and 

a plan to get traffic to that post, which starts with having really good keywords so Google can find you. 
You also need to set up an affiliate account so you can get a percentage of the sales you send them. Every time I mention ConvertKit on my blog, I'm linking to my affiliate account and get a kickback for recommending something I use and love.  
Amazon Associates used to be one of the most popular affiliate programs, but due to changes in late April 2020, I would no longer recommend them. 
Amazon affiliate income that used to be 3-8% has gone down to 1-3%. Personally, I don't feel it's worth it to spend long hours trying to build up any kind of income that way. 
However, if you do start there, don't make it your number one focus. You would be better off signing up directly with companies to promote the products that you use. For instance, I'm an affiliate for ConvertKit and the OptimizePress theme because I use them in my business. 
So find products you are going to use in your business and promote those. You'll have better returns on the time spent.
You can also promote courses as an affiliate too.
3. Promote your blog posts hard for 30 days
You can rank pretty quickly in Google if you go hard in promoting your blog posts for 30 days. Every single day you need to share that blog post on multiple social media outlets and even run an ad to that blog post either from Pinterest or Facebook. Spend time sharing them everywhere you can, every blog post, every day.
That's what gets you noticed by Google and gets traffic to your blog. 

The best web platforms
For web platforms for your business, the two I recommend are either WordPress or Squarespace. 
Squarespace is great if you want something low tech and all-inclusive. You can purchase a domain name there, get hosting, and everything is included in the cost. 
But if you want more customization and functionality, choose WordPress. It gives you access to tons of plugins to fully customize your site and it powers over 35% of the internet. 
I've got both. I use WordPress for Hustle & Groove, and SquareSpace for an individual book if it doesn't align with H&G. 
Alternative website platforms
Other platforms that are available are Wix or Weebly, but they are not good long term solutions. 
They don't have good SEO and the servers are not as robust as they are over at Squarespace and WordPress. From a search engine perspective, Wix and Weebly don't allow you to rank inside Google so they'd be a terrible choice if you're wanting to focus on affiliate marketing and ranking for keywords.
What would that look like if you don't want to do a blog?
You still need a plan. You would still pick an affiliate product then write your "blog" inside your email. An amazing example of this that I've come across is Meera Kothand who doesn't have a blog, but instead writes a "blog" style email to her email list very regularly and you can only get the info if you're on her email list.
A "blog post" is just content. How you choose to get that content in front of people is up to you. You don't need a website and blog to do that. As far as your audience is concerned, an email and a blog can be the same content, just remember to have a call to action inside the email!
Monetization Plan #2: My Approach
If I was Starting Over in my Online Business
It's harder to start a blog and go down that path than it is to build an email list and sell directly to that email list. That is way easier. 
If I was just starting, I would not be running out and starting a website. I'm saying that in hindsight with a lot of experience behind me, so that you know you don't have to do that right away too.  
If I was starting out right now, I would focus on building my email list. Then I would be presenting them offers that are easy for me to create and low cost to them. Anything under $47 is easy to sell and an easy decision for the customer to make. Things like:
printables

checklists

daily planner pages

journal prompts

meal prep and planning…
These are all relatively easy to create and easy to deliver because it's all digital. There is no barrier to you being able to do that.
And Finally…
Want a custom business strategy that is completely unique to you? It's a strategy call + plan designed to answer the question: "What's my immediate next step?"
Stop wondering if you're focusing on the right things.
Get the personalized guidance you need to prioritize #allthethings and start intentionally creating a business that's easy, fun, and profitable!