In its simplest form, book sales funnels are a way to get readers to find your book and buy it, in an automated way. But we want more than that as authors and entrepreneurs — we want to connect with those readers, nurture a relationship and encourage them to join our tribe and buy more of our stuff!
There are different types of book sales funnels, and I'm going to provide a few examples in this post so that you can decide what one is right for you and your business — because not all book sales funnels are created equal.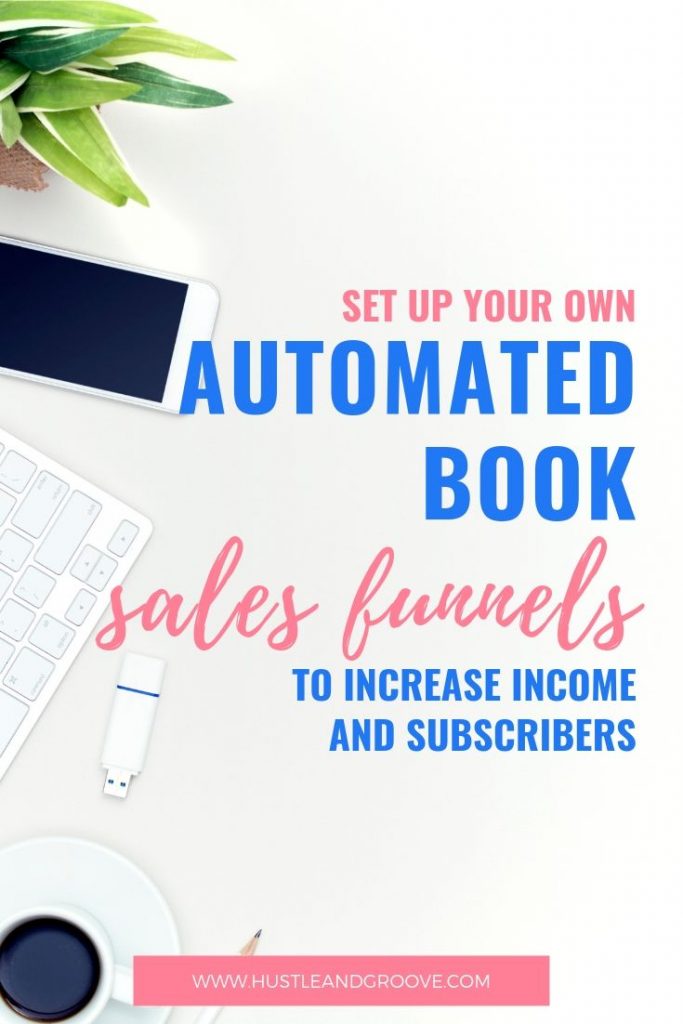 Why would you want a funnel for your books, you might be thinking? Well, I don't know about you, but I love automation and I get a kick out of putting the work in once and then automation rules taking over and putting my book sales on autopilot.
Is this something that sounds good to you?
Here's what I'm going to cover in this post:
What a book sales funnel is
How to set up a book sales funnel
The tech involved
What to write in your email sequences
Some book sales funnel examples
I first considered book sales funnels back in 2015, when I co-write this book, Better Book Funnels
with my good friend, Liz Froment. This book is more focused on increasing email subscribers and really only talks about the beginning of the funnel. It's still extremely relevant and valuable but doesn't cover what this post is about.
So if you wanna know how to connect with your ideal audience AFTER they've bought your book or grabbed your freebie, and also make more money, then hold on to your seats because I'm about to drop a ton of knowledge-bombs on ya.
The Assets You Need to Setup Your Book Sales Funnels
Ok, here's where things can get overwhelming, so let me break things down for you a little bit in a way that's simple and easy to understand.
#1: A book
Yep. You're gonna need a book for your book sales funnels. Ideally, it should be your best work represented in your book. You wanna put your best foot forward, right? Right!
#2: A freebie
Whatever you call this… a lead magnet, freebie, free gift, reader magnet… the end result is the same — to get the new reader to subscribe to your email list!
Now, whatever you do, don't go offering your potential subscriber another book as the freebie… UNLESS it's the next book in the series.
If it's a standalone book, you'd want your freebie to be something like an audio version of the book, or a video course, a cheat sheet, or a workbook. Think high-value to your reader, low-cost to you.
#3: Cornerstone content
You'll need a blog post or other piece of content that you will be driving traffic to. This content should be at least 2,000 words or more, or a pre-recorded workshop or tutorial.
You'll be linking to your freebie inside this content, so make sure your freebie relates both to your book AND your cornerstone piece of content.
#4: An opt-in page
This is where you're sending those new readers to get onto your list. You'll be linking to this inside your cornerstone content.
Aim to keep your opt-in page clean with no links to other pages, so they don't get distracted and forget to opt-in!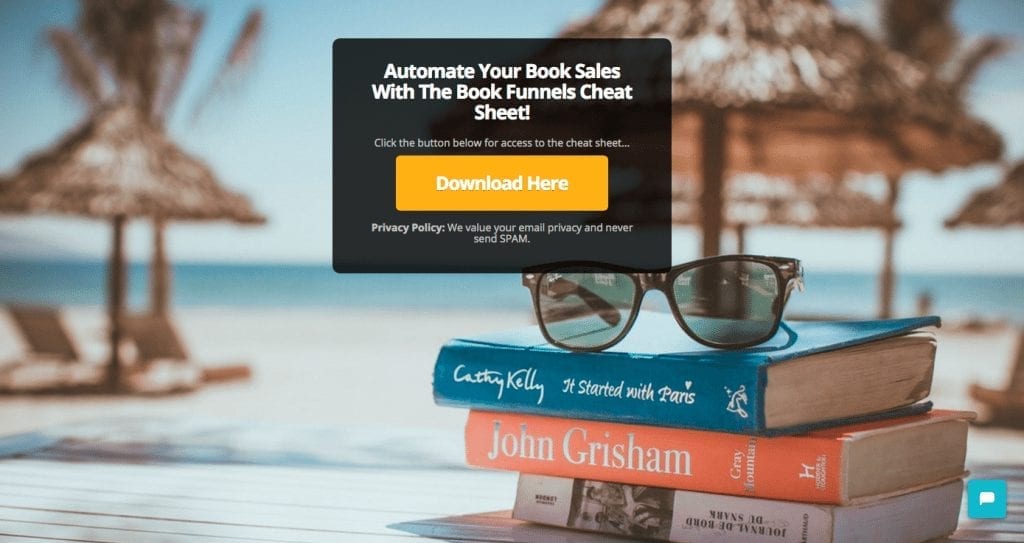 SIDE NOTE: Are you using an exit pop-up or full-page pop-over screen from Sumo, Optin Monster etc? Make sure you turn these OFF on your opt-in pages. There's nothing more annoying to your new subscriber than landing on your opt-in page only to be prompted to opt-in to something else as well!
As part of the opt-in page, you'll also need a simple thank you page too, which is presented once someone enters their email details and clicks the button to confirm.
#5: Email service provider
I'm gonna assume you've got this covered already. Personally, I use ConvertKit. I LOVE how simple it is to use but how powerful the automation side of things is.
If you need help with setting up your email service provider, check out this blog post I wrote on ConvertKit and why I recommend it + how you can get started.
Read: Is ConvertKit Right For You?
#6: A blog/YouTube/content creation channel
A big key to your book sales funnels being effective requires you to be providing high-value content to your subscribers. You'll need a content platform/channel to do this.
Personally, I use a blog and my YouTube channel to achieve this. Do what works for you.
#7: A product and/or service
#realtalk time. As an author and entrepreneur, if you really wanna serve your audience in the best way possible, you'll have a product/service that solves a problem they have. Without this last piece of the book funnel pie, all you'll ever be able to do is sell books.
Ok, now that you've got all the assets in place, let's go and set up your book sales funnel.
How to Setup Your Book Sales Funnels
Right. Here's where we get a little technical, so bear with me as I explain it to you. If you just wanna watch the tutorial video, you can do that now.
The video below walks you through the setup, not the creation of your assets, which I'll assume you've already got in place.
Here are the steps to follow to set up your book sales funnels:
#1: Create your freebie
I'm not going to cover writing your book here. I'm going to assume you've got that covered. So the next step is to create your freebie.
Think about the products or services you offer, is there something within those assets that you can pull content from to create a freebie?
What about the content of your book? Is there information inside it that can be repurposed into a high-value free gift?
I love creating workbooks for my nonfiction books. These are actionable workbooks that take the reader through actionable takeaways as they progress through the book.
They are super easy to create and really help the reader out. What can you provide that will help your reader to have an even better experience as they read your book?
That's what your freebie should be. Your freebie should also relate to your cornerstone piece of content, which I'm going to cover next.
Read: How to Find Ideas for Your Best Lead Magnet
#2: Cornerstone content
For this part of the process, you'll need to create content that is high-value, that really showcases you know your stuff. Think a how-to blog post or tutorial video.
You'll want to make sure that the freebie you're giving away relates to your content as well as loosely to your book that you're looking to sell inside your book sales funnel.
You can see an example of this type of funnel in action by checking out this blog post: How to Start a Side Hustle — Make an Extra $1000 in 30 Days!
You'll see that the freebie I'm giving away is the Side Hustle Ideas Cheat Sheet, which relates both to the blog post and to my book, Side Hustle Blueprint.
If you opt-in to grab the cheat sheet, you'll see first-hand how these automated book sales funnels works 😉
#3: Create your opt-in form
Start inside your email service provider platform. With ConvertKit, I'll create a form for my opt-in. As part of this form, I'll be able to set the first email up to both confirm the subscriber's email AND deliver the freebie.
Once that's done, we can move onto the next step: creating the opt-in page.
#4: Create your opt-in page
Now, depending on the resources available to you, you could do this in a number of ways. You could use:
LeadPages
Instapage
Your WordPress website + premium theme
I opt for the latter because I have the OptimizePress theme installed on my WordPress website and it allows me to create high-converting opt-in pages.
To create your own opt-in page, you want to make sure it has the following:
A clear heading that tells the reader what they are going to get when they sign up
A clear call to action that tells the reader what you want them to do
Some type of image, either as the background or an image of the freebie
Here's another example of an opt-in page. This one is from the cornerstone piece of content I mentioned above: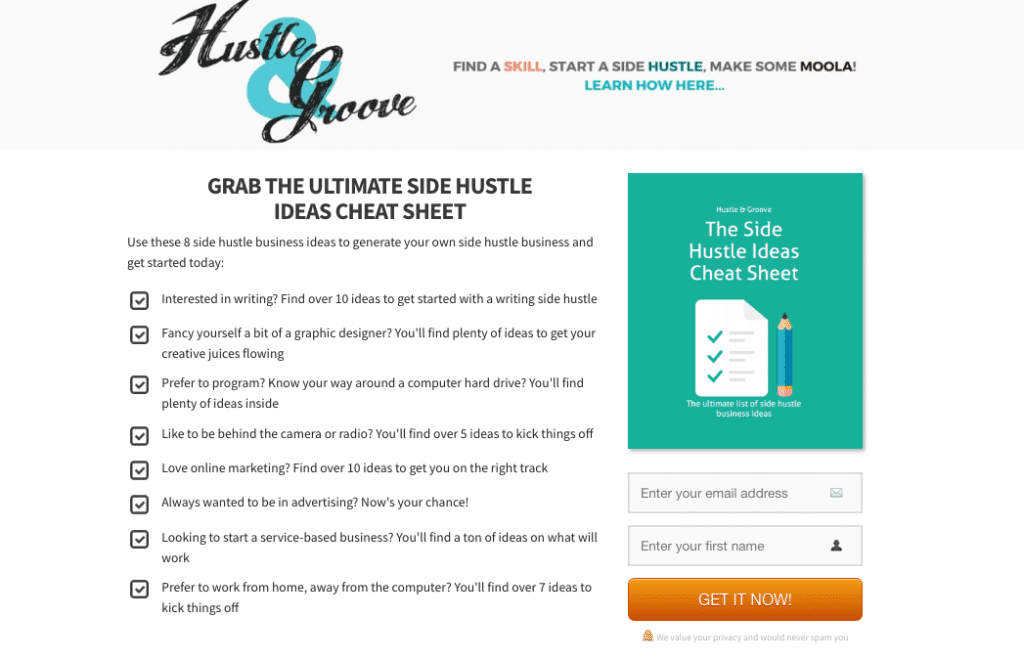 In the example above, all they have to do is enter in their details and click "get it now".
This is connected to the form on ConvertKit. Once they click "get it now" on the opt-in form, they are taken to a thank you page.
#5: Thank you page
On your thank you page, you want to let your reader know what's going to happen next. Below is the thank you page shown to a new subscriber after they opt-in for the Cheat Sheet above.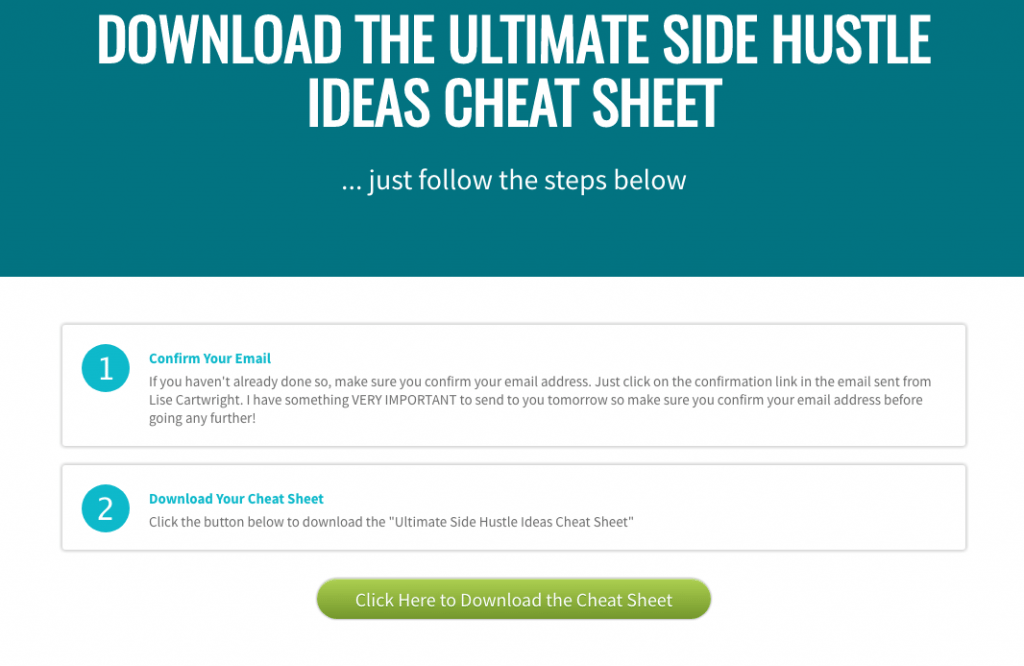 You'll see that I deliver the freebie straight away. You can do this too, or you can just deliver them via email. Below is another example of a thank you page WITHOUT the freebies included: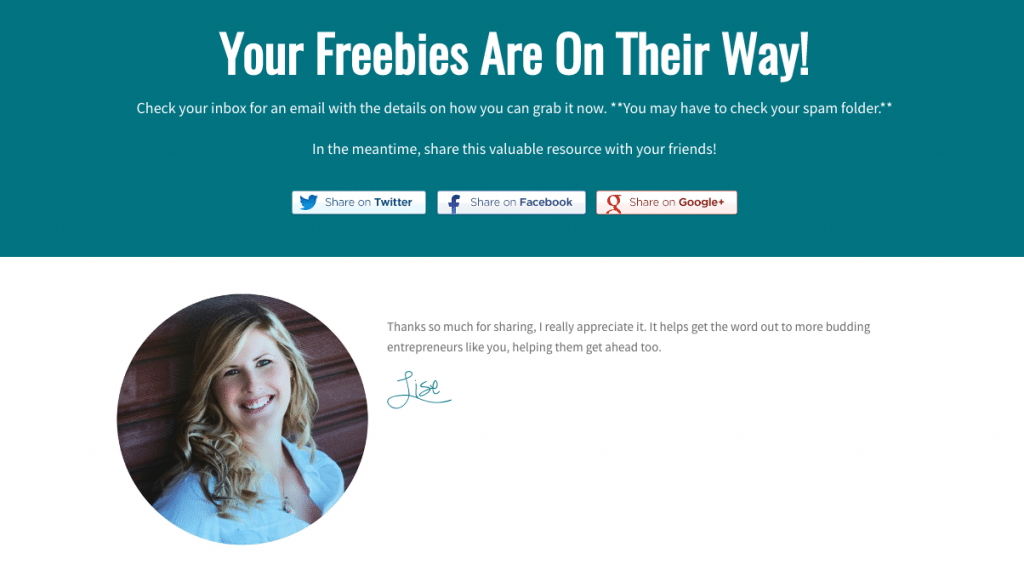 Both options work, it really depends on what you're delivering. Either way, you should deliver the freebie via email too.
Which brings us to the most important part of setting up your book sales funnels: your email sequences.
#6: Automated email sequences
For the purposes of this book sales funnels, there will be six emails in total, including the confirmation/freebie delivery email, which is counted as the first email in the sequence.
Here's the outline of the emails involved:
Email 1: Confirmation email with freebie delivery (shares link to download page)
Email 2: Reminder about freebie plus explains who I am and how I can help
Email 3: Highlights the problem and provides a simple hack/solution (quick win)
Email 4: Big mistake I made and my solution — the book (48 hour sale)
Email 5: If didn't buy, reminder re 24 hour window
Email 6: If didn't buy, thanks them for reading and tells them what to expect next
Now, this is where the automation magic happens inside ConvertKit. I've recorded a separate video for this part of the process because it really is a lot easier to 'see' it in action.
Want the email scripts I used?
You can grab them here!
And you're done! Your book sales funnel is complete.
Now, if you're smart, and I know you are, you'll have another automated sequence to send them through which introduces your other products and services.
This is the key to making more income off your subscribers while helping them in the process.
Book Sales Funnel Examples
How about a visual of this book funnel plus a few more? I understand funnels much better when I see them in picture format, so feast your eyes on these puppies: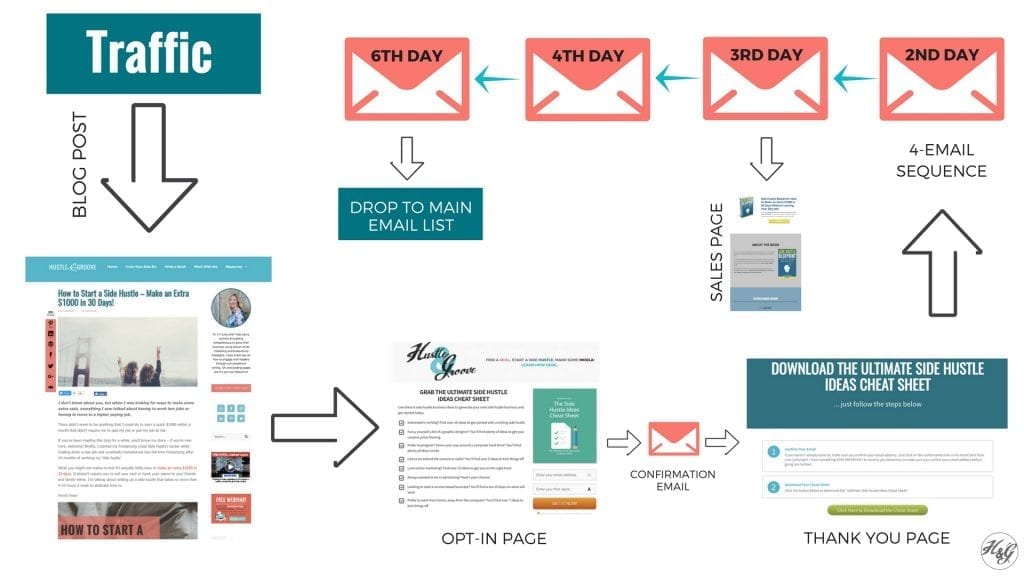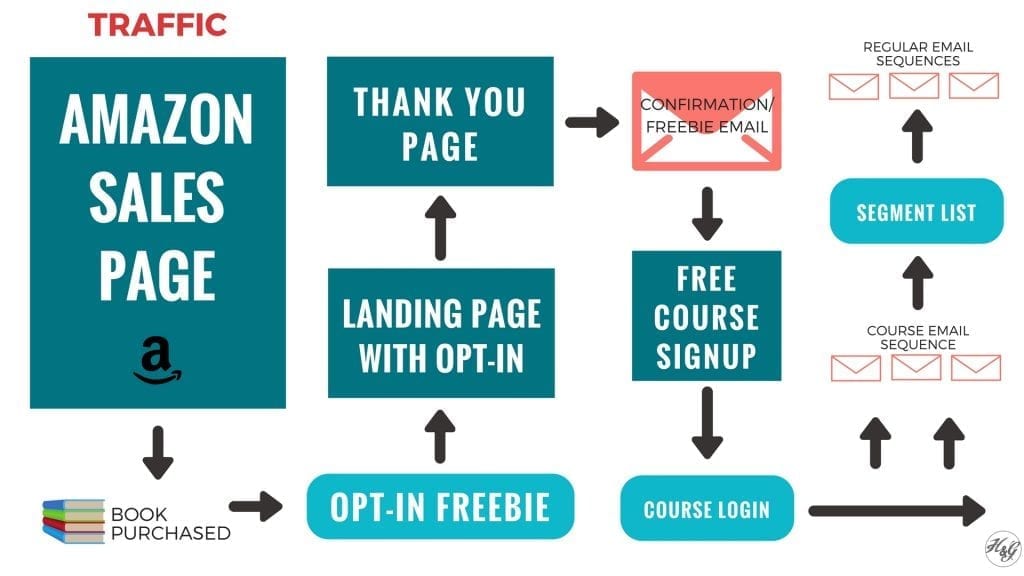 Now It's Your Turn!
I know that was a lot of stuff coming at ya, but it's really simple once you get it all set up. Set aside half a day to get this in place and just take it step-by-step.
Break it down into chunks and you'll get there promise!
Don't forget to grab the email sequence scripts too, as these will greatly help you in setting up your book sales funnel.