Welcome to Hustle & Groove
A place to learn how to inspire and connect with your tribe and make consistent, predictable income month after month.
I'm super excited that you're here because that means you have a real interest in inspiring and connecting with your tribe in authentic and effective ways.
Whether your brand new to the online entrepreneur landscape or are a seasoned pro, I hope you'll find real value in the resources I've created for you on this site.
Back in August of 2011, I had never run an online business before, let alone run one on the side of my job. I had no idea how important things like starting an email list were, or what self-publishing can do for your business, or how important it would be to hone in on my writing skills. My first website was appalling and I'm embarrassed to say there was NOTHING about that first site that was good 🤣
After stalking following Steve Scott's journey online and reading how Pat Flynn was making a living online, I was inspired to do the same. In August 2011, I joined Location Rebel Academy and dipped my toes in the side hustle waters of freelance writing.
Getting started as a freelance writer wasn't easy at first. It was a massive learning curve, but one that I quickly enjoyed as I started to get small wins. I struggled to find the right resources to help me inspire and connect with my audience, particularly as I grew my business and transitioned from full-time freelance writer into full-time author and coach.
That's how Hustle & Groove was born. I've since written and published over 25 books, all of them #1 international best sellers on Amazon, and I coach and consult budding entrepreneurs who are looking to inspire and connect with their tribe.
I wish you all the best on your own journey and look forward to connecting with you more.
Check out the H&G YouTube channel for even more tips, tricks, and strategies for getting your side hustle up and profitable!
Step One: Understand Key Terms
As you get started on your own online entrepreneurial journey, there will be some terms you may not be familiar with as you navigate through this site. Below are the most common ones you'll see and what they mean...
Side Hustle

This is probably one of the most common terms I'll use on Hustle & Groove. Simply put, a side hustle is a business you run while still working a full-time job. You can have multiple side hustles or just one. It's kinda like having a part-time job, with the difference being that YOU determine how many hours you'll spend working your side hustle.

Productivity

A lot of the success I've had in my business is through implementing the right productivity systems and strategies. But what is productivity? Basically, it's any tool, service, idea or hack that allows you to get more done in a shorter space of time. It's about working smarter, not harder. It also includes automating repetitive tasks as much as possible, to free up your time to focus on the things you love to do.

Self-Publishing

Always wanted to write and publish a book but put it off as a pipedream because you doubt you'll ever be good enough to get picked up by a publisher? Well, that 'pipedream' WILL become reality when you learn all about self-publishing. This term is all about using strategies that allow you to cut out a traditional publisher and publish books yourself using sites like Amazon, Kobo, iBooks, Google Play etc. It's liberating publishing your own book and getting to hold it in your hands!

Email Marketing

Email marketing is the term used to capture everything that you might do to connect with your tribe. From building your email list, through to creating lead magnets, building opt-in pages or landing pages, through to sending out broadcasts, setting up marketing funnels, and nurture email sequences. There is a lot that goes into email marketing, so take the time to learn and implement. It is the backbone of your business and without it, you won't have much success. It's a must-have for EVERY online entrepreneur.
Step Two: Read Most Popular Blog Posts
Get started now by jumping into the blog posts and resources that suit where you're at in your online journey...
Step Three: Be Part of the Community
Hustle & Groove is updated frequently (at least once a week), so I've got a few different ways to make sure you're up-to-date with what's happening:
Join private Facebook group, The Empowered Hustle Comunity!
Step Four: Website Essentials
A website is the first and most essential part of any profitable online business.
When you're getting started, it can be tempting to opt for the free options like Blogger, Tumblr, Wix, or WordPress.com. These are great for hobby sites, but not for budding entrepreneurs. Here's why:
Most free services will create a domain that has a few "extras" in it, including the service provider's main URL. What do I mean by this? It's easier if I show you. Let's say I decided to create Hustle & Groove using Tumblr. The website address might be "http://hustleandgroove.tumblr.com" instead of https://www.hustleandgroove.com
When it comes to customization, you'll be limited in design, functionality, and revenue with a free service. For instance, if you opt to go with a free WordPress.com site, you are limited to the types of plugins you can use, and you can't advertise.
When you choose to build your business on someone else's platform, you leave your business vulnerable to changes that they might make. Think about it. If you created your site on Tumblr, and they decided to close tomorrow, you'd lose your entire business!
For those three reasons above, this is why I recommend you opt to go with a self-hosted website. You have the control, lots of options for customization, and just like owning your own home, you can truly make and call it your own!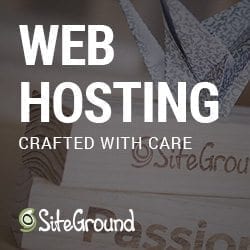 THE WEBSITE HOSTING COMPANY I USE AND TRUST
I've used SiteGround for over a year now and trust them completely. Their customer support is amazing and they are super reliable. In the time that I've been with them, I've NEVER been let down, and that's saying a lot, as there are plenty of opportunities for a hosting provider to trip up. [Full Disclosure: As an affiliate, I receive compensation if you purchase through this link.]
I've experienced the horrors of being with a hosting company that is not great, from my sites getting hacked, right through to poor customer service. I do not want you to EVER experience the sheer frustration and anger that goes along with dealing with an inept hosting provider. This is why I wholeheartedly recommend SiteGround. It just works, and provides me with peace-of-mind. I know that I can count on them.
I highly recommend using SiteGround for your first website, and you can get started now at $4.95/month, which is an exclusive deal only available here on Hustle & Groove!

THE WORDPRESS THEME I USE AND TRUST
I've used a self-hosted WordPress theme right from the start, but only purchased a premium theme for my site three years ago. That theme? OptimizePress 2. I wanted a theme that would allow me as much customization as possible and would work in well with WordPress. The team behind OptimizePress are responsive and are always coming out with new features, like their new blog theme called SmartTheme. I love it so much that I'm now a beta tester for ALL new products that are being developed! [Full Disclosure: As an affiliate, I receive compensation if you purchase through this link.]
It can be super frustrating to use a free theme on your WordPress site, thinking it's going to give you what you need, only to find that half-way through your site creation process, it's not. OptimizePress 2 is a fully drag-and-drop site builder. And if you love the landing pages that LeadPages create, then you'll love OptimizePress 2 because you won't need LeadPages — you can create exactly the same thing on your own site!
I highly recommend using OptimizePress 2 and WordPress.org for your first website, and you can get started now for just $97 (3 licenses and 1 year of support).
An email list and email service provider are the backbone of any profitable online business.
Aside from your website, your tribe is the most important aspect of having a profitable online business. To get people into your tribe, you need to build your email list NOW. To support and serve your tribe, you need a reliable and user-friendly email service provider. Here's why:
You pay for what you get. Not all email service providers (ESPs) are created equal. Make sure you check the email deliverability of the ESP you're looking at joining to make sure YOUR emails will make it to your readers.
Automation is Queen. When assessing an ESP, you'll want to make sure that you can create automation rules, particularly when it comes to setting up funnels and sequences. While you might not use it now, it's a lot easier to implement if you've started with the right ESP.
A email address is counted only once. Some ESPs charge per subscriber, rather than per email address. This means that if a reader were to sign up for all your lead magnets or free courses (let's say you have five), if the ESP counts by subscriber, they are counting that person five times, which means you're getting charged for them five times! Look for an ESP that charges you based on email addresses only.
For those three reasons above, I recommend you work with email service providers like ConvertKit, Drip or Active Campaign.
THE EMAIL SERVICE PROVIDER I USE AND TRUST
I've used ConvertKit for over a two years now and trust them completely. I love their customer support team, which you can access through three different channels — Facebook Group, Slack, and inside your ConvertKit account. I switched from MailChimp (after being with them for four years) and haven't looked back since! [Full Disclosure: As an affiliate, I receive compensation if you purchase through this link.]
ConvertKit charge by email and have visual automation, automated sequences, as well as the ability to host your landing pages with them, perfect if you're just getting started and want something simple.
I highly recommend using ConvertKit for your first online business, and you can get started now with your first 30 days FREE!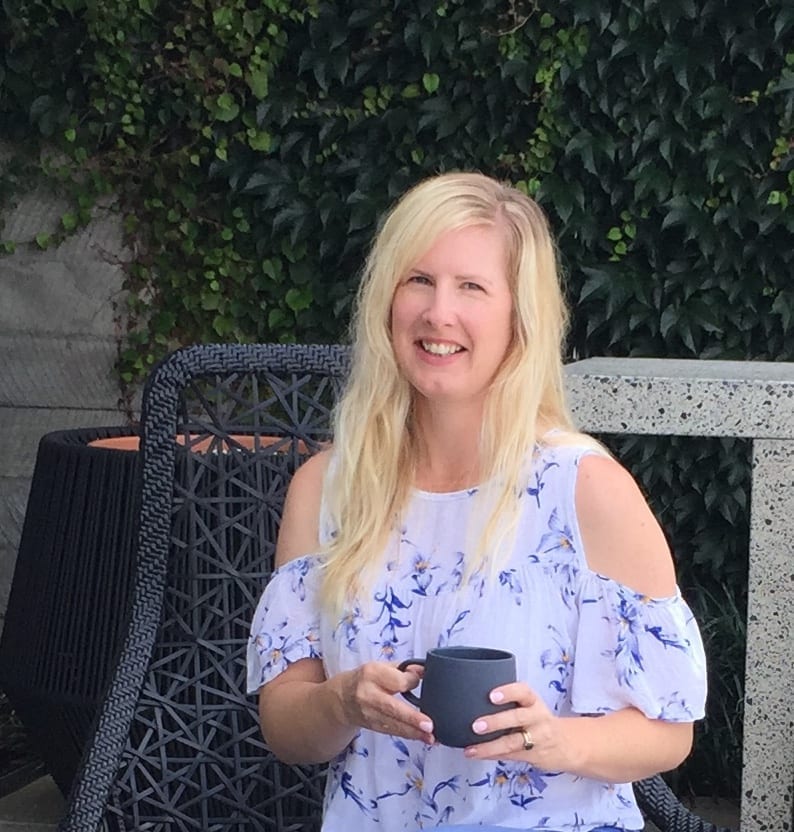 Thank You For Being Here
I appreciate you and all the gifts you have to offer to your tribe. My intention is to always provide value and assistance in the way I communicate with you.
I look forward to learning more about you and your business and what it is you're wanting to share with the world. Together, we can make a difference to the people you're trying to connect with.
Don't hesitate to drop me a line anytime you need help: lise@hustleandgroove.com.
Ready to Create Consistent Income in Your Creative Business? Oh Yeah You Are!
Join one of the many LIVE group coaching programs and courses Lise run's regularly here at Hustle & Groove. The latest one you can join right now by click the button below!