Stepping into any new career can be tricky and I feel maybe even more so for a freelance writer. How to set your rates can be daunting, especially if you've never had to think about it before.
Writing is such a subjective craft, with the owner of this craft generally being the most subjective of their writing. And because it's so subjective, picking a starting rate is one of the hardest things to do.
As a seasoned writer, setting rates is difficult, although it does get easier with time.
Figuring out what to charge people for what you write can be determined by a few key factors:
Your experience
Knowledge of the topic
Overheads (personal and business expenses)
Hours actually worked
Tax
[Tweet "Figuring out what to charge people for what you write can be determined by a few key factors"]
What can often cause issues for new freelance writers is figuring out what all of these factors actually amount to.
How to Set Your Rates as a New Freelancer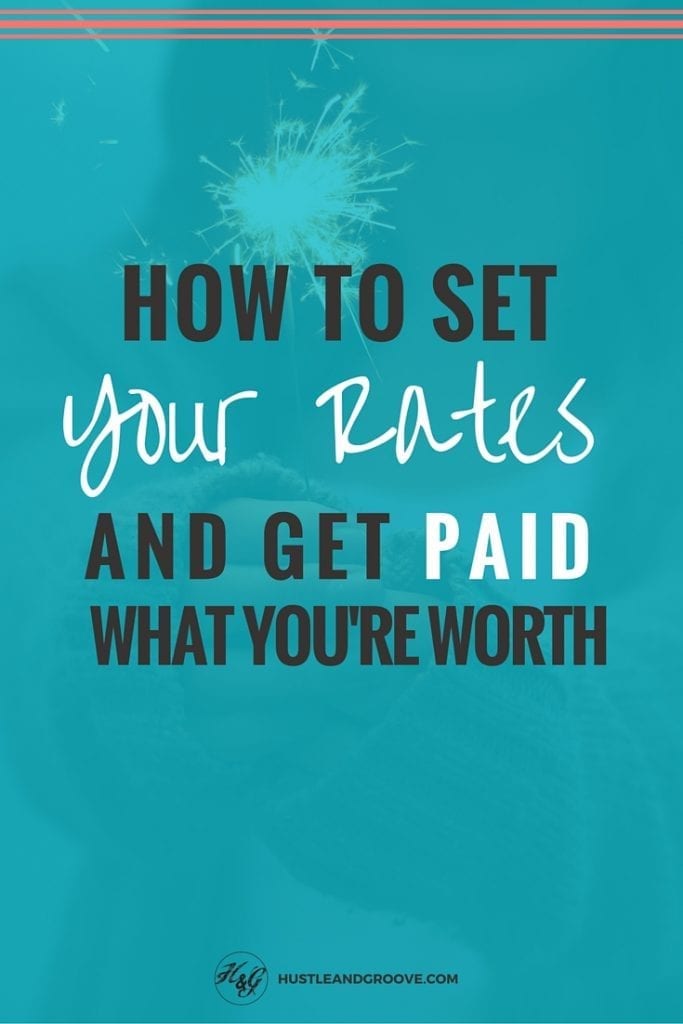 #1: Overheads
Start with your overheads.
These are generally pretty set in stone – you want to include your rent, power, water and food expenses. All your personal expenses that you pay to keep a roof over your head and food on the table.
With your business expenses, this should include things like your Internet connection, software you need on your computer, cloud services you use etc.
Add these all together and arrive at a monthly figure = this is what you will use to help calculate your hourly rate.
#2: Hours Worked
This can be a little harder to determine, but if you are working in a full-time job, I find that using this as your base is a good place to start.
If you work a 40 hour week, how much are you paid by the hour? Use this as your base figure.
At this point, you should have all your expenses written down, one for personal and one for business and have a rough idea of how many hours you'll work and a base rate to start with.
#3: Tax
This can be a little harder to determine, and you'll need to refer to your local laws to figure this one out.
Typically, you'll be classed as a sole trader/sole proprietor or something similar.
Your previous tax rate is probably a good place to start with. Chat with your accountant to get an exact figure.
Where possible, try and pay your taxes monthly, so that they don't creep up on you and are due in one, large lump sum  at the end of the tax year.
Talking to an accountant will help you to figure out your tax rate and ways to save on your tax.
Kyle Durand is a tax specialist and is familiar with a lot of tax laws worldwide. You should check him out as a starting point and then go from there.
#4: Other Factors
Now you've got a pretty good base rate, but there are a couple of other factors to consider, such as your experience and knowledge on a topic.
Both of these can be hard to pin down, which is why charging by the hour is probably not a good way to build your freelance business, at least not for the long-term.
Where possible, charging by project is a better option.
You can use your 'hourly rate' as worked out above and then add another amount to cover your experience and knowledge.
This will be different for each job you work on, but here's how it looks in practice:
[feature_box style="3″ only_advanced="There are no title options for the choosen style" alignment="center"]
Let's assume you're a freelance writer. Your base rate (tax + hours worked + overheads) is $55. A client approaches you with a project to write 8 blog posts (600-1000 words each) over a month.
This is how I would work this out, as a new freelance writer:
Base hourly rate x approx. hours to complete = starting point + $50
Then I would think about how my (perceived) inexperience would look to the client and discount the price by 15%.
So for this example, the workings would look like this:
$55 x 8 hours = $440 + $50 = $490 – 15% ($73.50) = $416.50
I would probably round this up to $420 to make it more of a flat fee.
[/feature_box]
One thing that I feel is important to remember when you're starting out – you don't stay a new freelancer for long. Once you've completed a few projects, say five, then I would raise my rates and only offer a 5% discount.
Really, what it comes down to when you're starting out, is working out how much you NEED to survive and then how much more you WANT to earn.
There are some great resources to help you even more with this:
These resources helped me to increase my rates, but they will also help you to set your rates from the beginning.
Here's what you need to remember:
Don't price yourself out of the market – check and see what other freelance writers are charging in your niche and match or discount it (initially)
What are your overheads? These need to play a factor in what you're charging so you can cover your bills and business expenses – this is your bottom line
What's the demand like? This will change with more experience, but keeping in mind supply and demand for your skill set will ensure that you don't scare potential clients away
Your rates are not permanent – you can change them at any time and I'd recommend doing this for each new client
[optin_box style="12″ alignment="center" email_field="email" email_default="Enter your email address" integration_type="convertkit" double_optin="Y" thank_you_page="https://hustleandgroove.com/thanksforsubscribing" list="42312″ name_field="name" name_default="Enter your first name" name_required="N" opm_packages=""][optin_box_field name="headline"][/optin_box_field][optin_box_field name="paragraph"]PHA+PGEgaHJlZj0iaHR0cDovL3d3dy5odXN0bGVhbmRncm9vdmUuY29tL3dwLWNvbnRlbnQvdXBsb2Fkcy8yMDE2LzA0L0pPSU4tVEhFLUhHLVNFQ1JFVC1WQVVMVC5qcGciPjxpbWcgY2xhc3M9ImFsaWduY2VudGVyIHNpemUtZnVsbCB3cC1pbWFnZS0zNDYzIiBzcmM9Imh0dHA6Ly93d3cuaHVzdGxlYW5kZ3Jvb3ZlLmNvbS93cC1jb250ZW50L3VwbG9hZHMvMjAxNi8wNC9KT0lOLVRIRS1IRy1TRUNSRVQtVkFVTFQuanBnIiBhbHQ9IkpvaW4gdGhlIEgmYW1wO0cgU2VjcmV0IFZhdWx0IHRvZGF5ISIgd2lkdGg9IjcwMCIgaGVpZ2h0PSIzMDAiLz48L2E+PC9wPgo=[/optin_box_field][optin_box_field name="privacy"]We value your privacy and would never spam you – that's just gross![/optin_box_field][optin_box_field name="top_color"]undefined[/optin_box_field][optin_box_button type="0″ button_below="Y"]ACCESS NOW![/optin_box_button] [/optin_box]