If you're in major hustle mode, the thought of taking a break from your side hustle might send you into further hustle overdrive… How could you possibly take a break when you've got so many ideas and plans to do to be successful?!
Because, if you don't take a break from work—from your side hustle—you're gonna burn yourself out.
When I started my side hustle, I was working full-time. My 'normal' hours of work were 8:30am – 5:00pm. The reality was I was working from 7:30am – 5:30pm with maybe a half hour for lunch, if I was lucky.
Add in travel time (30 minutes each way) plus the amount of time it took to get ready, and get to public transportation and home again…
The time I was 'working' ended up being from 6:00am – 6:30pm.
Throw in my side hustle hours… and a normal work-week day looked something like this:
[feature_box_creator style="1″ width="700″ top_margin="5″ bottom_margin="5″ top_padding="5″ right_padding="" bottom_padding="5″ left_padding="" alignment="center" bg_color="#75d7e1″ bg_color_end="#0eb9cb" border_color="" border_weight="" border_radius="" border_style="" font_size="14″ font_font="Montserrat" font_shadow="none"]
5:00am – Alarm goes off, out of bed, fire up laptop and set my Focus@Will app for 80 mins, and start doing client work (no email check unless I was waiting on a response from a client).
6:20am – Shower, drink breakfast (my go-to was Up&Go breakfast drinks from Sanitarium!), do my hair, put makeup on and then decide on what to wear!
7:05am – Walk or drive down to the CityCat (public transportation in Brisbane) to get to work
7:30am – Work day starts
5:30pm – Walk to CityCat and wait for next available (not full!) boat.
6:30pm (approx.) – Arrive home
6:45pm – Sort something for dinner, shower and relax a little
7:30pm – 2 hours of side hustle work
10:00pm – Time for bed
[/feature_box_creator]
What this doesn't take into account is interruptions from family and friends etc.
It also doesn't take into account what would happen when I had a social engagement or work event to attend…
Which is why I learned early on in my side hustle that I needed to schedule everything into my calendar, otherwise it was so easy to mess something up.
Of course, I did about 5-10 hours on the weekends as well.
If you do this kind of schedule for 6+ months without a real break from work and you can imagine why I was thinking to myself, "I need a break from work."
And I meant all work, both my day job and my side hustle.
I'm telling you right now, you need to take a break from your side hustle and your day job (if you're balancing them both). If you don't, well, something's gotta give (also the title of one of my all time fav movies!).
5 Reasons You Should Take a Break
If what I've outlined above isn't enough to scare you, here's more reasons or 'taking a break signs' that you shouldn't ignore:
#1: You can't remember the last time you had some real fun.
I'm talking about the type of fun where you aren't clock watching, where you're laughing out loud, enjoying life… Without worrying about missing a deadline or knowing you have to deal with an email or project once you get home.
#2: Your significant other has been dropping some not-so-subtle hints that they haven't seen you for a while… and you live together!
This was a key sign to me that I needed to take a break because I was living with my fiancee.
He's a manly man, definitely not someone to be so vocal about 'wanting to spend time together'.
If you're noticing little huffs and sighs from your partner when you say you can't join them for a movie date or go out for dinner because "I've got a deadline or client project due", then it's time you step back and ask yourself, "when was the last time I had a real break?"
#3: You can't remember the last time you did something for yourself.
I'm talking self-care here people.
Things like getting a pedicure (my personal fav), going for a run, getting outside and going for a walk, getting a facial, or playing golf etc.
If you can't remember the last time you had some one-on-one time, then it's time you did.
#4: Life is starting to feel boring and monotonous.
This is another sign that made me stop and regroup. Life has it's share of ups and downs, yes. But it should never feel boring or monotonous, particularly if you have loved ones and friends in your life. If you feel like you're in Groundhog Day, then you need to make some changes. Taking a break needed, stat!
#5: The quality of your work is sub-par.
This one is the biggest sign, both in your day job and your side hustle. If the work you're producing is sub-par and you're starting to get called out on it, then you've got a big issue. Aside from taking a break, you really need to sit down and ask yourself some questions…
[bullet_block style="size-16″ small_icon="16.png" width="" alignment="center"]
What can I change to increase the quality of my work?
Is there an underlying reason why this is happening? Do I not enjoy what I'm doing, so I'm putting in less effort?
Is it time to quit something? Something's gotta give – day job or side hustle? Something else?
[/bullet_block]
Once any of these signs pop up, then you need to take a break, like right now my friend.
And guess what? Taking breaks increases productivity — who doesn't want that?
How to Take a Break From Work (including your side hustle)
Ok, so you're on board with me, you need to take a break.
But how do you do that, particularly when you're running a service-based side business, or a creative side hustle where you're making things?
It's simple.
First, if you're still working a day job, arrange to take some time off from that. Plan it with your boss and lock it in the calendar. This part shouldn't be hard, because you've got allocated time to take, right?
Even if you can only get away for 2-3 days, try and add it to a weekend so that you get 4-5 days, that's plenty of time to recharge the batteries.
Ok, now that you've got the day job sorted, it's time to look at that side hustle and work out how you're gonna take a break from that.
Review Your Work
Review your current client projects and anything you've got planned in the future. Compare that with the dates that you're looking to take off — are there any projects scheduled within that time? Are there any deadlines due then too?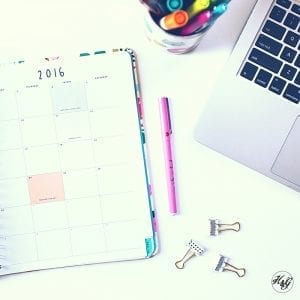 If there are, then you need to do some creative planning. It might need a bit more effort and work upfront on your part, but it will be worth it once you get that break.
If you've got projects scheduled to work on at that time, but no deadlines due, then reschedule the projects around your break.
If that means putting in a few extra hours to get them done by their deadlines, then so be it.
Your other option would be to consider outsourcing parts of the project. If you've got the funds to do this, do it.
If you've got deadlines due in your break, then you need to make sure that those projects finish before taking your break.
Simple right?
If you're sitting there thinking, "Lise, this is just creating MORE work!" — I hear you.
The key to not burning yourself out before your break is to sit down and review how you're spending your time working on your side hustle.
You should only be working on the stuff that makes you the moola… i.e., the stuff that your clients/customers are paying you to produce.
All the other stuff, like dealing with emails, managing expenses, issuing invoices etc, can all be handled with some automation rules and/or outsourcing those tasks.
If you're bootstrapping, then go the automation route. You can automate a lot of your email management, expenses and even invoice issuing.
My new gal pal Brittany Berger has written a great post on some popular IFTTT recipes you could use, so check that out.
Planning Your Break
Once you've taken care of all the business, now it's time to do a bit of planning for your break.
Are you going to do a staycation or go away? Use Pinterest for inspiration and then book it in.
If you decide on a staycation… then lock your laptop away and block off the time in your calendar so that no coaching clients can book time with you!
This last tidbit is important… if you don't block off that time in your calendar — if you use a scheduling app like Calendly or ScheduleOnce — you could find yourself doing a coaching call in the middle of your break.
Not cool.
Now, all that's left to do is enjoy your break, recharge and then come back to it all again…

This time, be smarter with how you're spending your time in your side hustle and put in place some automation rules or outsource the minutia.
Now it's your turn…
Have you got tips on how to take a break from your day job or side hustle when you think you can't or don't have the time? Share below.
[optin_box style="12″ alignment="center" email_field="email" email_default="Enter your email address" integration_type="convertkit" double_optin="Y" thank_you_page="https://hustleandgroove.com/thanksforsubscribing" list="42312″ name_field="name" name_default="Enter your first name" name_required="N" opm_packages=""][optin_box_field name="headline"][/optin_box_field][optin_box_field name="paragraph"]PHA+PGEgaHJlZj0iaHR0cDovL3d3dy5odXN0bGVhbmRncm9vdmUuY29tL3dwLWNvbnRlbnQvdXBsb2Fkcy8yMDE2LzA0L0pPSU4tVEhFLUhHLVNFQ1JFVC1WQVVMVC5qcGciPjxpbWcgY2xhc3M9ImFsaWduY2VudGVyIHNpemUtZnVsbCB3cC1pbWFnZS0zNDYzIiBzcmM9Imh0dHA6Ly93d3cuaHVzdGxlYW5kZ3Jvb3ZlLmNvbS93cC1jb250ZW50L3VwbG9hZHMvMjAxNi8wNC9KT0lOLVRIRS1IRy1TRUNSRVQtVkFVTFQuanBnIiBhbHQ9IkpvaW4gdGhlIEgmYW1wO0cgU2VjcmV0IFZhdWx0IHRvZGF5ISIgd2lkdGg9IjcwMCIgaGVpZ2h0PSIzMDAiLz48L2E+PC9wPgo=[/optin_box_field][optin_box_field name="privacy"]We value your privacy and would never spam you – that's just gross![/optin_box_field][optin_box_field name="top_color"]undefined[/optin_box_field][optin_box_button type="0″ button_below="Y"]ACCESS NOW![/optin_box_button] [/optin_box]