Does the thought of marketing yourself stop you dead in your tracks? Is this the one thing that is stopping you from starting your side hustle or from growing it to the next level?
I understand. I hate selling myself too. I'm not very good at it and I always sound like one of those used car salesmen or one of those infomercials on TV…
Of course, to be successful in business, you do have to market yourself and your business. There's no way around it.
So… how do you market yourself when you hate selling?
It's simple, you change the way you think about marketing. You change the words you use. You 'trick' your brain into thinking you're not marketing, when really, you are.
How? That's what I'm gonna share with you right now.
Here's what you're going to learn in this post:
How to write your elevator speech (pitch)
How to start branding yourself
How to brand yourself on social media
How to create your personal brand
How to market yourself without sounding like you're doing it
How to Market Yourself When You Hate Selling
The basis of this whole marketing and selling 'ickiness' comes down to how you feel about yourself, your business, and what you have to offer the world.
You might be sitting there thinking that what you have to offer is no different to Katie or Jim on blog A and blog b. Wrong.
Wrong.
Katie and Jim don't live your life. They don't have your life experience, your unique look on the world, nor your approach to the skill, service, or product you have to offer.
So that's where you've got to start.
It's about uncovering your unique bits and figuring out how to share those with your audience in a way that doesn't feel like you're always trying to sell.
No-one likes to feel like they're being sold too, so we're not even going to use the word "selling" from this point forward.
What we are going to talk about instead is how you can market yourself by creating a brand. And step one in that process is your elevator speech.

#1: How to write an elevator speech
If the word 'speech' freaks you out, then replace that word with something else, like chat or secret sauce. It's what makes you unique.
I know, I know… I hate this part of the process too, but once you sit down and do this, it's not so bad.
Do the following exercise:
Write down what you're currently telling people when they ask you what you do
Write down the skill, service or product you're providing
Write down the benefits a client or customer gets when receiving your product or service (aim for at least 3)
Once you've done this exercise, it's time to start crafting your elevator speech.
Step 1: To start, look at Twitter profiles of people you follow or like. Is there anything you see there that strikes you, that makes you want to find out more?
Take a screenshot of their profile and move onto the next step.
Step 2: Looking back over the exercise that you just did, start to look for words you use all the time to describe what it is you do or provide. Write these down on a piece of paper.
Step 3: Grab a pen and paper and a timer. Set the timer for 15 minutes. With pen and paper, write down one to two sentences explaining what you do or offer using the words from step two and some of the ideas from step one.
Keep writing as many combinations as you can during that 15 minutes. No self-editing!
Once the timer is up, put your pen down and walk away from the stuff you just wrote.
Go and do something else for at least an hour, before coming back to the exercise and refining until you're happy with what you've got written down.
You've pretty much got your elevator speech sorted! It doesn't need to be long at all. No more than a few minutes.
Let's look at an example:
Say you're an SEO writer. We all know that there are thousands of SEO writers out there. Why would a client choose to work with you over another writer?
Here's some ideas on how your elevator speech might look if you're an SEO writer:
"I'm an SEO writer who specialises in Finance writing. I will turn your words into understandable, practical advice that your readers will eat up and share with their social networks."
"I provide SEO articles within 24 hours of receiving your brief, on any topic you provide, all copyscape passed and without error."
"You can expect copyscape passed SEO articles with a conversational voice that encourages your readers to engage with your brand and share your content."
Hopefully, the above examples give you an idea of what you can come up with and what direction to take.
Now, I'm not saying you need to memorise what you come up with…
But if you've written this using your own words and you read it each morning and night, it will start to stick in your mind and become a lot easier to roll off the tongue when you're in networking situations.
Bonus Tip: Add this to your social media profiles and to the little blurb on your website that is a brief introduction to you. The more you see it, the easier it becomes to say it.
You can see mine in action by looking to the right of this blog post… at the top right there, where my pic is? That's my elevator speech just below it…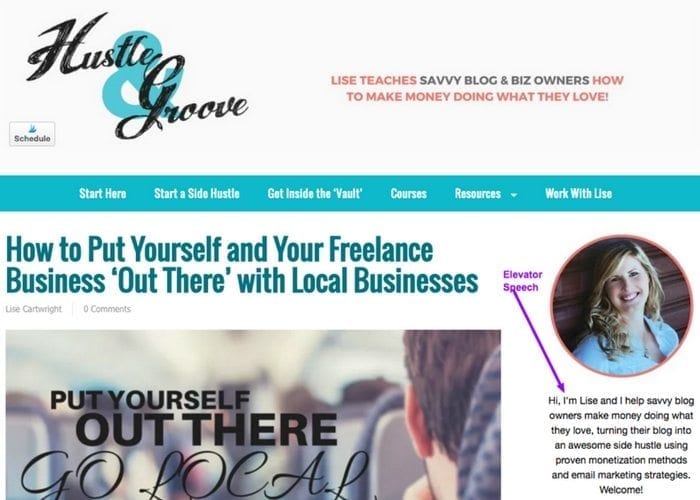 #2: How to start branding yourself
I know, it freaks me out too! When I first read that, I was like, "I don't know the first thing about branding!"
But here's the thing:
You don't need to know anything about branding, all you need to know is who you are or who you want to be when it comes to your business.
You are your brand, whether you're a solopreneur or starting a company, you are your best asset.
What is branding yourself? What does it look like?
This article from Forbes provides a quick overview:
"Developing a personal brand is similar to product branding. The overall goal with branding is to differentiate yourself (the product) in the market so you can attain your objectives…"
What I love about this quote is the word 'differentiate' — this is what I choose to focus on when creating my personal brand.
To help get you in the right mindset, think of your personal brand like this:
The focus is on you and how awesome you are
Get clear on what you are offering
Read your elevator speech
In the end, it's not really about marketing. It's about sharing what you have to offer; changing the way you look at what it is you think marketing is and instead, focusing on what it is you want to provide and help people with.
Once you reframe it in that way, it makes the next part a lot easier.
#3: How to create your personal brand
I find this to be the fun part of the process. The nuts and bolts of branding yourself.
It's where you get to decide on what your website and social media colours will be, what fonts you want to use, the layout of your site, your logo etc.
The only part you might not like is that you're going to need some cool photos of you.
The key to good photos is ensuring the photographer captures you or captures the feeling you're wanting to portray in your brand.
You'll notice that my two photos on my site are smiling and fun. Because that's who I am and that's what I want to portray.
I want people to feel like they can approach me.
The first step in creating a brand for yourself is deciding on the following:
What 3-5 colours will you use? It's all about consistency here, so these are what you'll use across all your branding opportunities, i.e., social media headers, blog images, blog headers, logo, business cards etc
Decide on 3 different font options. As you can see, I use three fonts here on the blog. If you're not sure what fonts look best with each other, check out the font pairing guide that Canva provides here.
Get some ideas for your logo. The best place to start is on Pinterest. Are you wanting a vintage logo or a script logo? Do you want it in a square or a circle? It's best to have a good idea of what you want before you approach a designer. I recommend using Fiverr to get some initial mockups of your logo and then pay a little more to get it professionally created, ensuring you get the source files (including the .eps file).
What do you want people to feel when they land on your site? Make sure this is conveyed in your colours, fonts, and imagery.
Once you've got all this stuff in the works, you can start applying it to your website and social media accounts.
You can learn about the process I took to rebrand this website from 'Outsourced Freelancing Success' to Hustle & Groove here.

#4: How to brand yourself on social media
Part of the process in marketing you is branding yourself on social media. It's about getting consistency across all the touch-points that your target audience will find you on.
This is where I LOVE Canva. You can create all your social media headers and blog images from within Canva.
If you're using Canva for Work (subscription required) then this process is even easier.
The other piece of the puzzle is ensuring your descriptions on your social media accounts are the same. Remember that elevator speech we did earlier? This is where you can use this in your social media branding.
Make sure that you use the same profile image across your social media account as well. Basically, you want your brand to shine through and be recognisable—no matter what platform your target audience finds you on.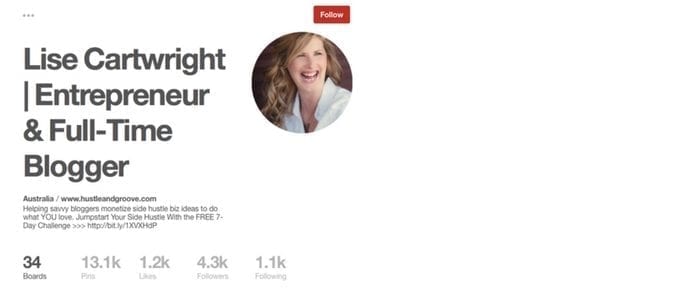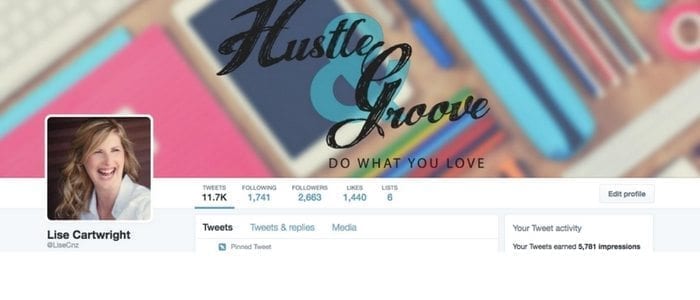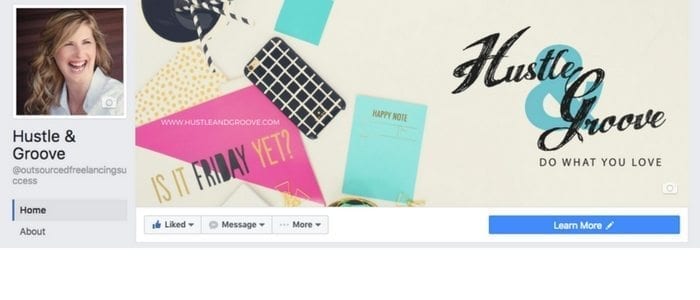 Branding yourself is about being consistent, using the same colours, fonts, images, and messaging across the board. Unless you want to confuse your peeps… then by all means, keep it inconsistent 🙂
#5: How to market yourself without sounding like you're doing it
Now we get down to the 'meat and potatoes' of the process: Marketing yourself without sounding like you're doing it (or when you hate selling yourself).
The #1 way that I can tell you to market yourself is to be you, be honest and be upfront. Ok, that's three things, but you get what I'm saying 🙂
It doesn't have to be hard and it doesn't have to be a sales pitch. Utilise your elevator speech and then expand on that when you're sharing helpful content across your social media platforms.
If it helps, create a marketing calendar (or content calendar) so you know what you're doing and when.
Marketing, to me, is about making connections and finding the right people who need my message.
It never feels salesy because I'm genuinely trying to help someone and why shouldn't I get paid for delivering something that is helpful to someone else?
It comes down to having belief in what you're offering. If you don't have that, then it can come across as a sales pitch and that used car salesman (see the video at the beginning of the post!)?
He's gonna rear his ugly head and drive everyone away!
I know you're thinking… "well that's all good Lise, but how do you do this? HOW do you make connections and find the right peeps?"
It starts with knowing who your ideal audience is. Who are you looking to make connections with or provide your service too? Once you know that, then you can start to find those people…
Look for Facebook groups that these peeps belong to and join them
Connect with people on Twitter, follow those who are doing similar stuff to you
Join Pinterest group boards that your ideal customer, client, audience would be following
Once you've done that, then you can start to be you and be active. The key to making connections and finding the people who need your message is to be natural and being active in the groups that your peeps are hanging out on.
As an example, a lot of the people I'm trying to help are in some great Facebook groups. I try to always offer advice and help whenever I can, which means I have this participation scheduled into my calendar.
Remember, if it ain't scheduled, it isn't gonna happen!
From there, marketing yourself becomes a lot easier because you don't really need to 'market' yourself so-to-speak.
You need to let people see how helpful you are, how genuine you are about finding solutions for them. And then when the opportunity arises, you can let people know what it is you do…
But I can almost guarantee you don't even need to do that. People will reach out to you once they find your website and realise how awesome you are.
What are you going to do to brand yourself and sell yourself in the next seven days? Let me know in the comment below!