Start side hustle… I don't know about you, but when I was looking for ways to make some extra cash, everything I saw talked about having to work two jobs or having to move to a higher paying job.
There didn't seem to be anything that I could do to earn a quick $1000 within a month that didn't require me to quit my job or put my job at risk.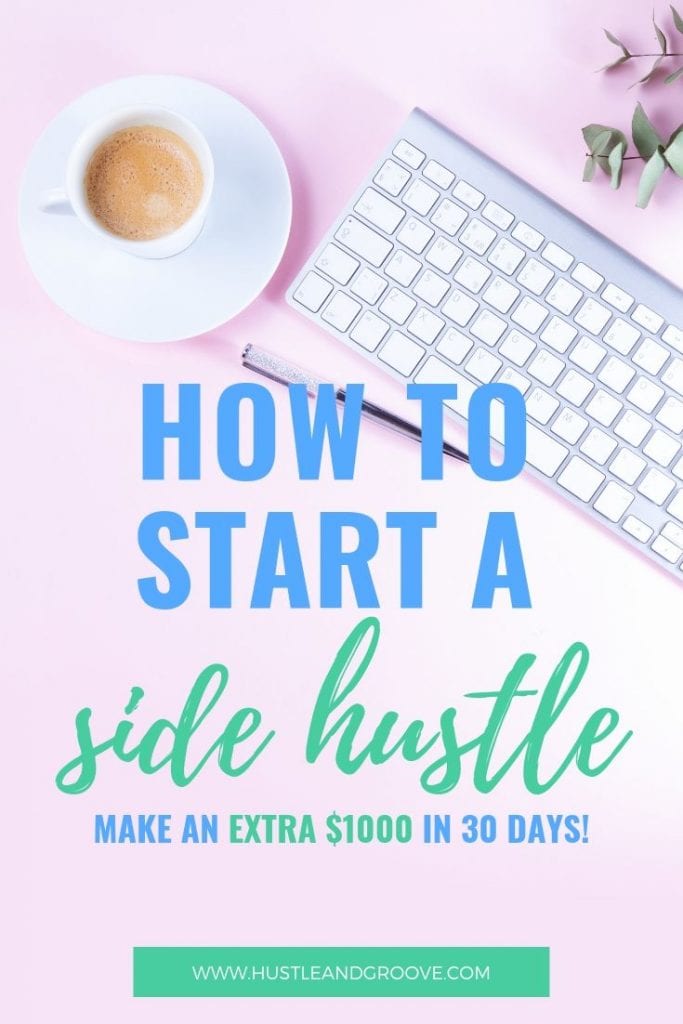 If you've been reading this blog for a while, you'll know my story – if you're new here, welcome! Briefly, I started my freelancing (read Side Hustle) career while holding down a day job and eventually transitioned into full-time freelancing after 10 months of working my 'side hustle'.
What you might not realise is that it's actually fairly easy to make an extra $1000 in 30 days. It doesn't require you to sell your soul or hawk your wares to your friends and family either. I'm talking about setting up a side hustle that takes no more than 5-10 hours a week to dedicate time to.
Here's how!
Step 1 – Pick Your Side Hustle
This is easy! I know you're probably thinking that you don't have any skills that you can utilise but I'm here to tell you that you're wrong! Below is a list I compiled myself when I was thinking about the types of side hustle's I could start – it's not conclusive either – there are so many more options, but it should get your juices flowing.
Here's what you need to keep in mind when determining what skill you're going to focus on:
Is there a skill that you already have from the list below?
Which skill will allow you to get started as soon as possible?
If you do need some additional training, how long will this take?
Writing
Blog writer
SEO articles
Website content
Resume writer
Report writer
Essay writer
Podcast transcriber
Ebook writer
Ghost writer
Proof reader
Copy editor
Content editor
Graphics
Logo designer
Banner image designer
Ebook cover designer
Facebook Header designer
Twitter Header designer
Cartoons
Illustrator
Kindle comic book creator
Presentation designer (think PowerPoint)
Programmer
.Net coder
C++ coder
PHP coder
App designer
App coder
WordPress websites
WordPress plugins
Audio/Video
Podcast editor
YouTube video creator
Animated videos
Promo videos
Ebook trailers
Audio book narration
Online Marketing
Web analytics
Search engine optimisation
Blog mentions/commenting
Forum posting
Domain research
Keyword research
Social media manager
Facebook ad manager
Advertising
Radio adverts
Banner advertising (physical and online)
Flyer management
Business
Event planner
Program manager
Project manager
Brand strategy
Consulting (your specific skill set)
Business advice/planning
Virtual assistant services
Accounting/Bookkeeping services
Other
At-home hairdresser
Beautician services
Dog walker
Pet carer
Babysitter
Tech support (computer help)
If that doesn't get your juices flowing, I don't know what will!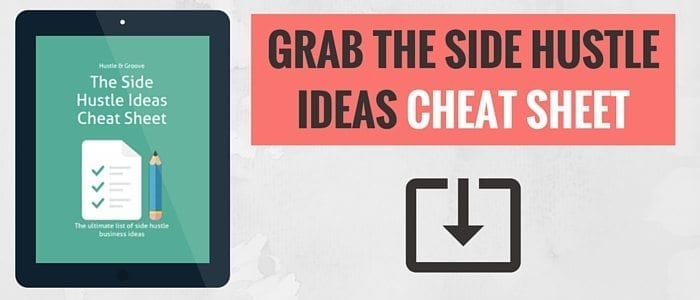 The aim is to choose something that you already have experience with – this is so you can get up and going quickly. You can, of course, also choose a new skill set, just remember that if you do that, you'll need to get some training, which reduces your ability to earn $1000 in 30 days, unless you are a quick study!
You can find further training on sites like:
[bullet_block style="size-16″ small_icon="16.png" width="" alignment="center"]
[/bullet_block]
Step 2 – Online Presence
The next thing you need to do is to set up your online presence the right way. Your online presence isn't just one site though. It consists of all your social media profiles and any personal websites you might have.
You don't have to have all of them in place, but I'd recommend you consider most of them if you want to give your side hustle a serious shot. The more your name is out there, the more avenues for potential clients to find and connect with you.
[bullet_block style="size-16″ small_icon="16.png" width="" alignment="center"]
[/bullet_block]
Before we delve in too much further, let's address that nagging thought in the back of your mind, the one about your boss or company finding out about what you're doing!
Depending on where you work and your company's policy around taking on extra work, this could be a real concern for you.
You need to consider your options carefully:
[bullet_block style="size-16″ small_icon="11.png" width="" alignment="center"]
Have you checked your contract? What does it say about working another job or selling your skills outside of work?
Can you talk to your boss about it? Do you have a good relationship with your boss to discuss what you're wanting to do?
How badly do you need the extra income? Are you prepared to do whatever it takes, even if your work 'won't' allow it?
[/bullet_block]
If your workplace doesn't technically allow you to do work outside of your job, there is an option you can consider. You can work under a pen name or pseudonym and use a logo in place of a profile image. It's really your call.
When I started my side hustle, my workplace didn't technically allow it – I went full steam ahead anyway. Sometimes it's better to beg for forgiveness and plead ignorance than ask and be denied.
I didn't use a pen name, but I also knew that my boss wasn't going to be looking into my personal life because I made sure that I was still performing at work – this is key. If you start to fail at work, then you've got some issues. The choice is up to you.
To optimise your profiles, there are some key things to ensure you have right:
[bullet_block style="size-16″ small_icon="16.png" width="" alignment="center"]
A profile image – make this the same across all your profiles for consistency
A completed profile – this really applies to LinkedIn (if you're using it) and About.me – you want to include as much info as you can about your skill set
A way to get in touch with you – Skype deets, email etc (no address though!)
Portfolio (where applicable) – you want to showcase what you can do!
[/bullet_block]
If you have a personal website, make sure you have a clear way for people to get in touch with you and some samples of your work for potential clients to see.
Step 3 – Finding Clients
"If someone offers you an amazing opportunity and you're not sure you can do it, say yes – then learn how to do it later." ~ Richard Branson
Finding clients is the cornerstone of any business. Whether you're freelancing to make a bit of extra income or running a full-time business, without clients you can't make any money.
It can be daunting trying to find clients, particularly if you've never had to do this in your normal day job. This step is the most important part of the process.
Sure, you can wing a lot of things in the beginning; I definitely did, but if you want to put your best foot forward, make sure you've ticked off the following items first:
[bullet_block style="size-16″ small_icon="11.png" width="" alignment="center"]
You have your website or some sort of online presence completed
You have some portfolio items on your site
Your site shows a way for clients to contact you
You have at least two social media profiles set up (I'd recommend Twitter/LinkedIn at a minimum)
You have Skype or Google Hangouts operational
[/bullet_block]
Ok, now that we've got that covered, let's find some clients!
The Beginners Guide to Finding Side Hustle Clients
Depending on the service you're providing, there are some obvious places to start. If the service you're providing is something that you've been doing for a while, it makes sense to reach out to your immediate network.
Think friends and family here, not your co-workers or close clients, definitely a no-no, particularly if you want to keep your workplace in the dark about what you're doing!
For now, you want to keep your day job and your side hustle separate. Use your network, but be smart about whom you are approaching.
If your side hustle is something new that you've just learned or have been doing as a hobby for a while, you can still tap into your network, but the approach you use will be different.
Tips for Tapping Your Side Hustle Network
[bullet_block style="size-16″ small_icon="12.png" width="" alignment="center"]
If your network is familiar with your service because it's something you were doing (or are doing) in your day job, then a simple email, message on LinkedIn or direct message on Twitter is a good way to go. A simple announcement letting them know what you're offering and that you're providing a 25% discount (or similar) for first-time users of your service should garner you a few clients fairly quickly.
If your network is not familiar with the service you're looking to provide, still chat with them, but offer to do your service for free for the first 5 people that get in touch with you. By doing this, you build your credibility, and you will have some real-world items to add to your portfolio!
Another option you might not have considered is to check your smartphone. You may have contacts there that you've likely forgotten about. Make sure you check your phone as well to ensure you're hitting these people too. Don't be spammy though – if you don't 'know' someone, then don't contact him or her.
[/bullet_block]
Your network is full of people who are your biggest advocates. They are the people who will help you get something going if you reach out and ask. If you don't ask, nothing will happen and you'll be like I was, listening to crickets …
Use Job Boards
This is my favourite place to start, outside of your network. It's also your best place to start if you don't want to tap into your existing network.
Job boards are excellent for specific side hustles and are a great way to find people who are looking for your specific skill set.
This is how I got started finding clients. I used oDesk (now Upwork) to find clients and make my first $1 as a freelancer. Actually, I made $1000 with my first client on oDesk.
I'll let that sink in… When I started thinking about doing something on the side to increase my income, oDesk was one of the first sites that came up in my Google search, which is the main reason I went for it.
I had no previous knowledge of oDesk or what to expect, so I just jumped in and got started with completing my profile and applying for jobs.
In the section below, you'll learn how to 'pimp' out your profile on sites like Upwork and how to write a proposal that gets you an interview. But for now, just focus on deciding where you'll look for your first few clients.
While oDesk is not quite the marketplace it used to be, it's a great place to get started, particularly if the service you're providing is a newly developed skill set.
Here's a list of some good places to start as a freelancer:
Craigslist— this is a good place to find people locally that you don't know. Use this option if you're providing services like writing or hairdressing. In fact, you'll probably find at least one job here no matter what service you provide
Fiverr — similar to Upwork, you need to have a complete profile, and it may cost you a subscription fee to access specific jobs
Dice— if you're side hustle is tech related, this is a good option for you to start
Problogger Job Board— any type of writing gig can be found on the job board at Problogger with a focus on blogging and copywriting
Smashing Jobs— designers and programmers will have the most success on this job site
We Work Remotely— if you're not quite ready to enter freelancing, there are some remote job options here, a good stepping stone if you just want to test the waters and leave your current job for more flexibility
Hire Writers— any writing gig can be found here, cheap but a good way to build your portfolio
Authentic Jobs— lots of different options here, both freelancing, moonlighting, and if you want a career change, there are also full-time options available
This is by no means a definitive list, but it's a great place to start. A job board is a really helpful place to find clients. It's a way for you to build a client base and kick-start what could lead to a full-time career change!
Step 4 – Pitching Clients
We're going to focus on how to best pitch a client and what to include in a proposal. Because if you don't get this right, no matter how many gigs you apply for, all you'll get in response is … crickets.  (cue chirping noise!)
I don't think I have to say this, but I will. If you can't write a strong proposal or pitch, it's going to be difficult to land a gig with a client, no matter how great your profile or website is.
The art of communicating with clients requires the ability to communicate well while also getting across what you will provide to a client in less than two pages.
If you disagree with what I've just said, then I think you need to stop right here, rewind and maybe give yourself a bit of a slap!
HELLO – if you can't effectively articulate in your proposal or pitch why a client would benefit working with you, how will you make any extra income and be successful in your new side hustle?
Um, you won't; it's that simple.
When writing your proposal or pitch, you want to grab a potential client's attention fast.
Here's how you can do that:
[bullet_block style="size-16″ small_icon="12.png" width="" alignment="center"]
Be straight to the point – tell them what you're applying for (clarify the position using their words.).
Use bullet points – list your qualifications and experience in a bullet list. Just provide them the highlights as they relate to the job. They can learn more about you by viewing your profile or website.
Answer any questions – whether directly asked or implied. Make sure you understand the job, and answer any questions they ask. Failure to do this will result in your landing in the 'no' pile.
[/bullet_block]
Use headings to separate your information. You want your proposal to be easy to skim and digest. If the client needs to know more info or delve deeper, they'll do this by looking at your online profiles and/or website.
Sample Proposal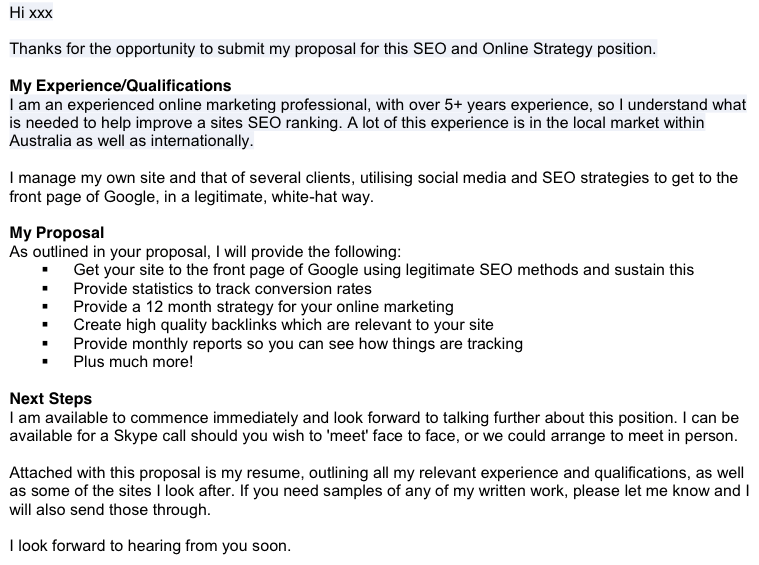 Make sure that you always attach your one-page resume (or online resume) and link to your portfolio items, either through your online profile (if applying via Upwork) or your website.
Step 5 – Nailing Your Interview
Once you've submitted a few proposals to clients, you'll start to get interviews! This is the most exciting part of the process.
If possible, you'll want the interview to take place via Skype. Some clients may wish to video chat with you, but most will just stick with calling you.
Another option for clients is to hold a Google Hangout with you. This is not all that common, but you should be prepared for either eventuality.
Make sure that you have both of these profiles set up correctly and that the audio and video work.
Once you've confirmed that your system is all set up and your profiles are complete, you can move on to focusing on your interviewing skills.
Follow these tips to ensure you nail your interview:
[bullet_block style="size-16″ small_icon="16.png" width="" alignment="center"]
Always dress professionally – regardless of whether this will be an audio or video chat. How you dress influences how you come across. Give yourself the best opportunity by dressing like you would for a 'normal' job interview.
If you're doing the call via audio only, stand up during the call. Don't stay seated. This allows you to stay focused, and you'll feel more confident. It also allows you to punctuate what you say with body movements, which come through well over audio.
Smile during the interview, regardless of whether they can see you or not. It will come through in your voice and adds to your personality.
Listen! Wait until the client finishes speaking before replying. Talking over a potential client NEVER turns out well.
Come prepared with questions! Don't think you've got any? Ask something anyway. Always have at least 2 questions such as: "Would you like daily email updates on progress, or would an update a few days out from the deadline suffice?" or "Will you or someone else be available via Skype should I have questions during the project?" and "Skype chat is a great way to communicate and get immediate answers. Is this something you or your company would be willing to do during the project?"
Follow up – most likely, the client will let you know when they will be back in touch. But it doesn't hurt to shoot off an email 10 to 15 minutes following your interview to let them know how much you're looking forward to working with them. And should they have any further questions, you'd be happy to answer them.
[/bullet_block]
Once you've nailed your interview it's likely you'll be hired. Congratulations – you're now officially a Side Hustler!
A few points to consider to finish off this rather lengthy post!
1. Ensure Contracts Are in Place
This means that if you've agreed to work with a client, whether directly or via a job board site, the terms of your agreement need to be in writing so that all parties know exactly what's expected. Don't budge on this and certainly don't start working until you have something formal in writing from the client.
This should include the deadline, how much you'll be paid and when. You will probably be asked to sign a confidentiality agreement, which is quite normal.
2. Figure Out How You'll Invoice the Client
Simply put, you need to figure out how you'll invoice the client for the work you complete. If you are hired via a job board, this is already taken care of. If you are hired direct, then you need to send the client an invoice.
Here's a couple of options:
Initially, PayPal is probably your best option.
3. Time Management
You need to ensure that your side hustle doesn't affect your day-to-day job. The best way to do this is to put in place a solid time management system. Figure out how you're going to fit in your side hustle around your day job.
The easiest way is to create multiple calendars within your Google Calendar. You can colour code these so you can see which is work, which is side hustle related and which is personal. Ensure you include deadlines (giving yourself a 24 hour buffer) and you'll be able to manage things properly.
A word on deadlines: if you've followed my advice to date, you should have already set deadlines with your clients. Make sure that you always allow yourself a 24 to 48-hour buffer.
What do I mean by this? Give the client one deadline and hold yourself accountable to one that is 24 to 48 hours earlier than that deadline. By doing this you'll avoid other things, like your day job, disrupting your best-laid plans.
Next Steps
Now, you're all set to go.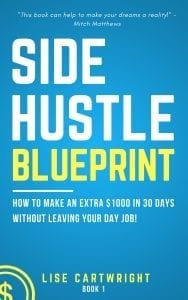 If you want to dive deeper, check out my book, Side Hustle Blueprint: How to Make an Extra $1,000 per month Without Leaving Your Day Job!
Starting a side hustle isn't hard, but it does require effort on your part. You have to take action, otherwise, it will remain just an idea. Don't you owe it to yourself to at least give it a try? After all, what have you got to lose? It's called a "side hustle" for a reason… because you're doing it ON THE SIDE!
And don't forget to Download Your Copy of the Side Hustle Ideas Cheat Sheet!